Summer Dessert: Rosé, Apricot and Lemony Mascarpone
It doesn't happen often, but occasionally we have some leftover rosé, and here is a delicious solution. The following recipe combines rosé and apricots with mascarpone into a light summery dessert. Toast the end of a lovely evening with La Réserve or any aromatic, Grenache blend rosé, such as our Etoile.

Rosé Apricot and Mascarpone Pudding Pots
The mascarpone base creates a rich-tasting dessert with delicious stone fruit flavours. This is a perfect summertime dessert.
Ingredients
1

tub of

Mascarpone

8

Apricots

3

Organic Egg Whites

or vegan alternative

a few

leaves of

Lemon Balm

or basil as an alternative

a glug of

Rosé Wine

2

tbsp

Brown Sugar

or agave syrup

a handful of

Shelled Pistachio nuts

halved
Instructions
Add the sugar to a pan at medium heat, make sure that the sugar doesn't burn.

Add some rosé wine and let it bubble up to thicken and dissolve. Then, add the lemon balm to infuse. 

Halve the apricots, de-stone and place on top of the syrup in the pan.  Cook until soft. Remove the skins if you don't like them, and set aside the mixture to cool.

Whip up the egg whites until stiff.  Gently mix with the Mascarpone to have a lighter cream (you can also use pure Mascarpone or mix it with yoghurt if you don't like the egg whites or use a vegan replacement for raw egg).  Spoon the cream into four short glasses or ramequins.

Add the cooked apricots on top, make sure there is some of the syrup left to pour over the top. Decorate with halved pistachios and serve immediately or keep it in a fridge for a couple of hours and remove just before serving.

Serve these Rosé Apricot Dessert Pots with a shortbread biscuit and a glass of rosé.
Summer Desserts
Lavender Ice Cream
Lavender ice cream is an excellent way to cool off during a warm summers' day without an overly-sweet treat. This ice cream is easy to make and sure to impress, even if you don't have access to fresh-cut lavender from Provence.
Check out this recipe

Apricot and Lavender Ice Cream
Don't shy away from making ice cream. This recipe takes advantage of ripe stonefruit (apricot, peach), and needs little sugar. The lavender flavouring gives it that hint of Provence.
Check out this recipe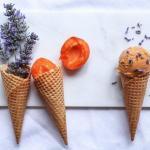 Absinthe Ice Cream
Based on the recipe by my friend Jill Colonna, the sweet combination of cream, sugar, and Absinthe will pretty much guarantee there are no leftovers.
Check out this recipe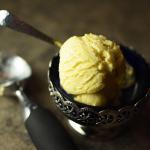 Lemony Sweet Verbena Ice Cream
It's not hard to make ice cream, and even easier with an ice cream maker. This version made with fresh verbena is a lovely tangy summer treat.
Check out this recipe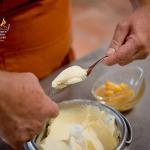 Floating Islands (Iles Flottantes)
This is a classic dessert with a few steps, but you can skip the Crème Anglaise and use vanilla ice cream (see "out of time" note).
Check out this recipe