Slow-Cooked Lamb Shank (Souris d'Agneau)
Slow-cooked lamb (agneau) dishes are typical on menus in Provence. You see sheep herds grazing in farmers fields or often free-range in the hills of the Alpilles, Luberon, Var and Haute Alpes de Provence. The animals may appear at liberty to roam but are under the watchful eyes of shepherds and their trusty dogs. The Great Pyrenees (pastous or patous) look like big white teddy bears, but they have a job to do and will snap from half-sleeping mode to attack in a matter of seconds. So, it is better not to approach a herd of sheep.
The lamb from Sisteron is by reputation some of the best quality in the region. Alternatively, buy direct from your butcher or the local farmer to ensure top quality.
Click here for other recipes with lamb.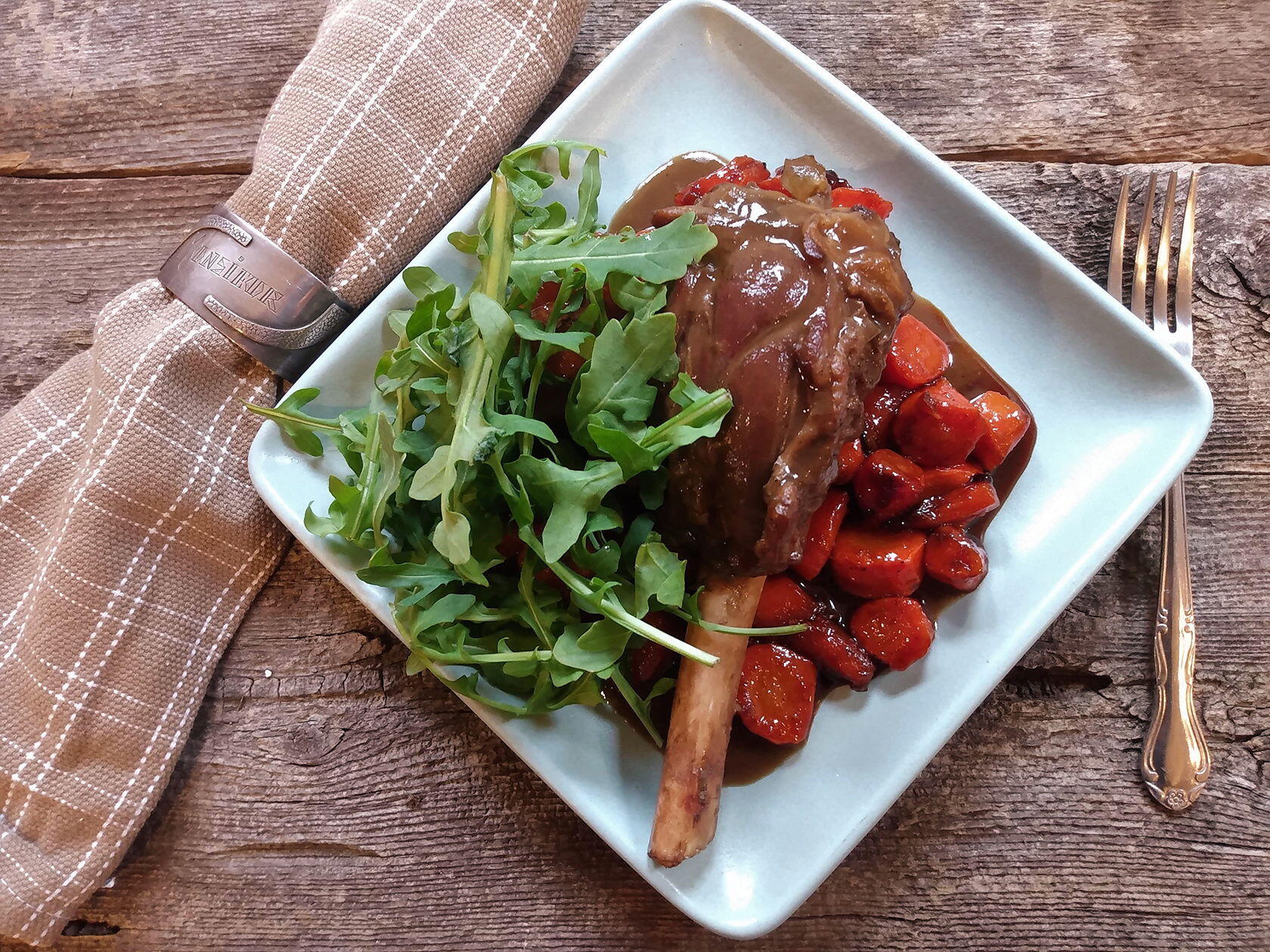 Souris d'Agneau Slow-Cooked Lamb Shank
This recipe is one you can pretty much leave alone. Set a timer for the 1/2 waypoint, so you don't forget to turn the meat over. Check occasionally to make sure there is enough liquid. The mouthwatering aromas will fill your house.
Ingredients
8

Lamb shanks

4

oz (120 ml)

olive oil

4

oz (120 ml)

Balsamic Vinegar

Salt

Pepper

2

tbsp

Soy sauce

1

tbsp

Herbes de Provence

4

cups (960 ml)

Chicken stock

may vary depending on your pan

2

oz (60 g)

Butter

2

oz (60 g)

Flour

all-purpose
Instructions
Brush a mixture of olive oil, honey, balsamic vinegar, salt, pepper, soy sauce and herbes de Provence on the lamb shanks.

Place in ceramic roasting pan, then add chicken stock to cover the shanks.

Slow cook for 9 hours, flipping at 4.5 hours in a 350˚F (180˚C) oven.

Before serving turn the heat up to 400˚F (200˚C) and brown each side for 10 minutes.

Make a roux using 2 oz of butter and 2 oz of flour. Using the juices of the lamb and the stock add to the roux and reduce until the juice begins to thicken.

Serve with caramelized carrots and rocket salad.