Provencal Roasted Pork Tenderloin
This pork recipe from David is an easy dish, spiced with the flavours of Provence and served with 2007 Coteaux d'Aix en Provence from Château Vignelaure, one of the top rated red wines from the region. The meal (and the wine) marked the celebration of a 10-year anniversary of their relocation to Tuscon, Arizona – please read David's original post here the recipe is below.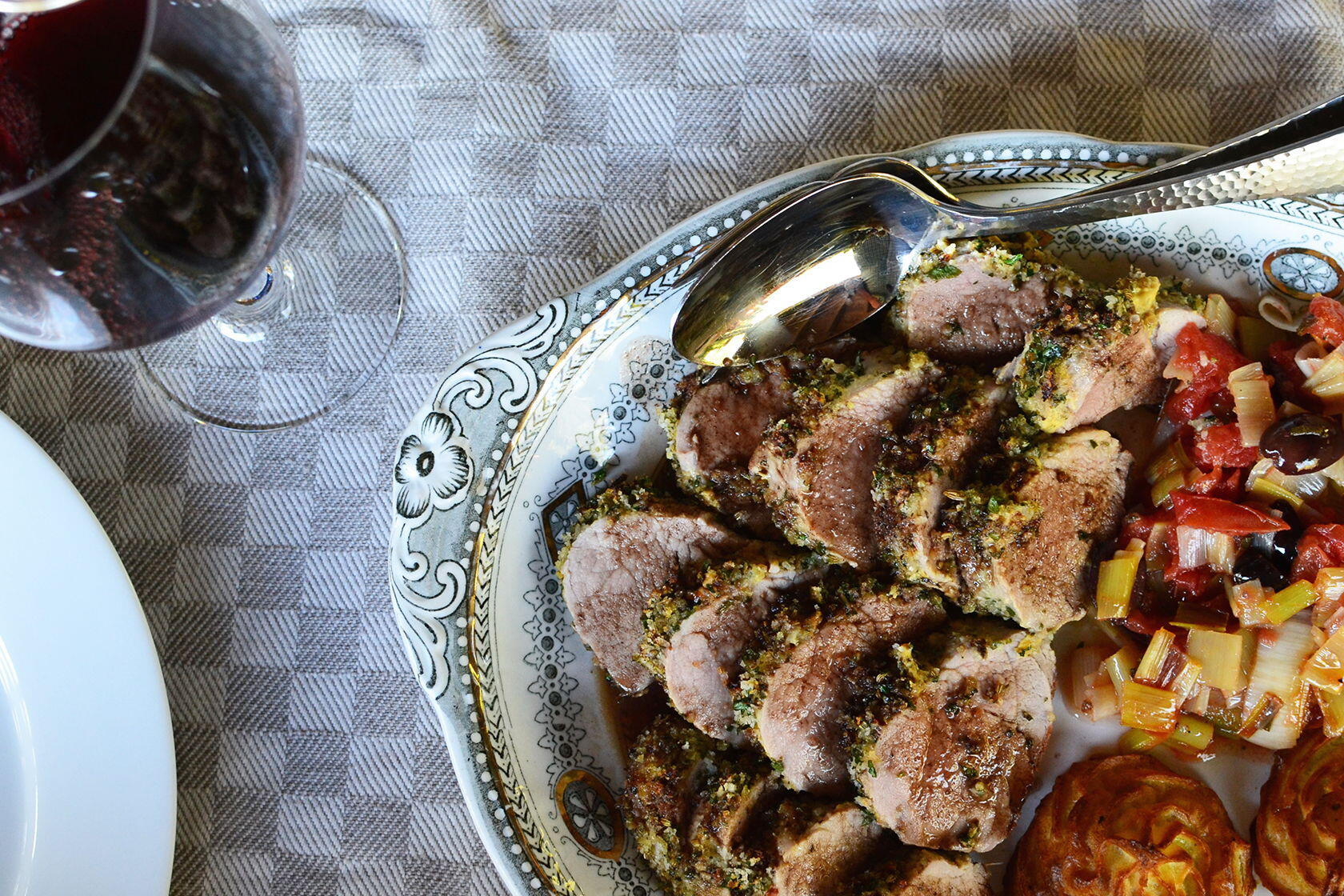 Porc rôti Provençal Roasted Pork
Tender juicy slices of pork tenderloin encrusted with fresh herbs and shallots.
Ingredients
1

small bunch fresh parsley

1

tsp

fennel seeds

1

tsp

culinary lavender buds

1/4

cup

fresh bread crumbs

1

small shallot, minced

to taste

salt and freshly ground black pepper

1

pound

pork tenderloin, trimmed of silverskin and fat

1

tbsp

olive oil, plus extra for pan

3

tbsp

butter, divided

1/4

Red wine
Instructions
Preheat oven to 400°F. Place a rack in the upper third of the oven.

Using a mezzaluna or a spice grinder, mince together the parsley, rosemary, fennel, and lavender.

Place in a small bowl.

Add in the minced shallot and bread crumbs. You should have about 1/2 cup of this mixture.

Oil an ovenproof pan, and place the trimmed tenderloin in the pan.

Slather the top and sides of the pork with the mustard, and press the herbed crumbs into the mustard.

Melt together 1 tablespoon olive oil and 1 tablespoon butter, and drizzle over the pork.

Place roasting pan in the oven and roast for 20 minutes.

Remove from the oven and place pork on a cutting board.

Add remaining 2 tablespoons butter and the wine to the pan, and place over medium heat. Stir to make a sauce, and keep warm.

Slice pork and place on a warmed platter, and drizzle pan sauce through a sieve onto the pork. Serve immediately.