Flavours of Morocco Lamb Tagine with Prunes and Almonds
Last year we travelled to Southern Spain. It's hard to imagine how quickly the days have passed since that trip. This year we headed to Morocco. As always, for me, learning about food is part of our preparations for the trip. Markipedia is doing his bit to ensure we don't miss anything en route!
Since my first trip to Morocco 30 years ago, Moroccan cuisine has been a favourite. Some might find it interesting or surprising how readily available Moroccan cuisine is in Provence. The proximity to North Africa and the large population with roots in that region drive the demand for spices and ingredients to make recipes like this lamb tagine. And, of course, both apricots and plums (prunes) grow in the South of France. Please continue reading here for the original blog and photos by Cocoa & Lavender. The tagine in my photos is one we purchased in Marseille years ago.

Lamb Tagine with Prunes and Almonds
A delicious Moroccan recipe that can easily be prepared in Provence!
Equipment
1

Tagine

or another ovenproof casserole
Ingredients
3

tbsp

Olive Oil

2

lbs

Leg of Lamb

in 2-inch chunks

2

inch piece of

Fresh Ginger

peeled and finely grated

1

tsp

Turmeric

2

medium

Onions

1 diced and 1 thinly sliced

1/2

cup

Chicken Broth

1/2

cup

Beef Broth

1/2

tsp

Saffron Thread

1

cup

Pitted Prunes

1/2

cup

Marcona Almonds

1

tbsp

Honey

1

tsp

Ground Cinnamon

freshly ground

Black Pepper

Salt

1

tsp

Sesame Seeds

lightly toasted
Instructions
Heat the olive oil in a Dutch oven and sauté the lamb, ginger, and turmeric until lamb is lightly browned — about 3 minutes. Add the diced onion and sauté for an additional 2 minutes. Add the saffron and stir to incorporate it evenly. Let cook for 30 seconds, then add the broth. Bring to a boil, then reduce the heat to medium-low and cover. Simmer for 1 hour, or until lamb is tender.

Preheat the oven to 200°F. Transfer the meat to a tagine or other ovenproof casserole and place it in the oven.

Return the stovetop liquid to a lively simmer and add the sliced onion, prunes, almonds, honey, cinnamon, salt, and pepper. Let cook uncovered for about 15 minutes until the sauce has thickened and coats the back of a spoon. This could take more or less time, depending on how briskly you simmer the sauce.

Remove the tagine from the oven and pour the sauce over the meat, making sure to distribute the prunes and almonds evenly. Check for seasoning. Sprinkle with the sesame seeds, cover with the tagine lid, and serve at the table with crusty bread or, as is done in the U.S., with a side of couscous.
Additional Lamb Recipes:
Lemon, Garlicky, Rosemary Lamb Shoulder
Cooked over hot coals (or a gas BBQ), the lamb shoulder is infused with a lemon, garlic, and rosemary mixture before cooking. Enjoy this epaule d'agneau au citron, ail et romarin from the French Grill cookbook by Susan Herrmann Loomis.
Check out this recipe

Slow-roasted Lamb Shoulder with Za'atar
The slow roasting process creates a juicy lamb and the za'atar will add a little spice!
Check out this recipe

Grilled Lamb Chops with Parsley and Mint Vinaigrette
This dish is a crowd-pleaser. Start the potatoes in advance and prepare your mise-en-place (chopped herbs), the rest can be done when your guests arrive.
Check out this recipe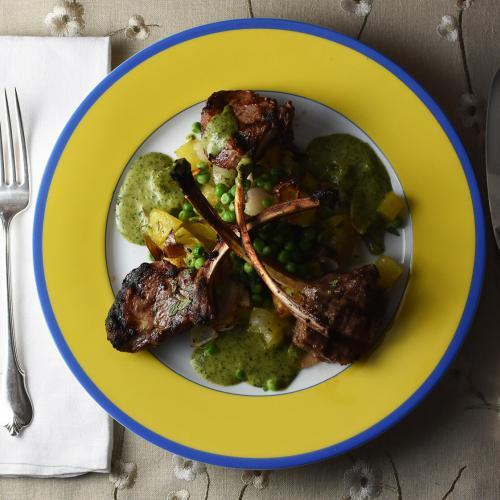 Slow-Cooked Shoulder of Lamb with Garlic and Rosemary
There is no easier dish for a heartwarming meal among family and friends. You can use a leg of lamb, but the shoulder is juicier because there is a bit more fat. Cooked in a heavy casserole dish (such as a Creuset) that can go in the oven, I like to place the meat simply on a bed of several rosemary sprigs, onion, and garlic for a beautiful dish that serves 4.
Check out this recipe

Roast Lamb with Rosé Glaze
Slow-roasted leg of lamb might is very easy to make. The rosé with pink peppercorns and honey make for a delicious glaze. The lamb looks almost lacquered when it's finished cooking.
Check out this recipe