Roasted Pear Tart with Almond Pie Crust
This sweet dessert recipe combines some of the best local ingredients from Provence – almonds and seasonal pears. Gilles at Provence Gourmet brings Perfectly Provence readers his pear tart recipe. It is easy to make, and definitely will have your guests raving about your baking skills.

Roasted Pear Tart with Almond Pie Crust
This dessert, made with pears and almond flour, is perfect for an autumn dinner party.
Ingredients
5

Pears

a seasonal variety

1 (250g)

cup

White Flour

1/2 (150g)

cup

Unsalted Butter

plus a little extra

2

large

Fresh Eggs

1/4 (50g)

cup

Almond Flour

1/2 (150g)

cup

Powdered Sugar

3/4 (20cl)

cup

Heavy Cream

zest of

1/2 a lemon

pinch of

Salt
Instructions
Prepare the Pie Crust
Mix together in a bowl 1/2 cup of butter, 1 egg, the almond flour, 1/3 of the sugar, the lemon zest and salt.

Add the flour and mix by hand briefly, until well blended.

Make a sphere out of the dough and allow to rest for 30 minutes.
Prepare the Pears
Peel the pears and scoop out the center part.

Cut the pears in slices of about a 1/4 inch (½ cm).

Brown the pears on the stove top in a heavy pan with two tablespoons of butter.

Stir softly, but steadily and add 1/3 of the sugar part-way through cooking. The cooking time will depend the variety of pear that you selected.

Check cooking status with a sharp knife - the slices should be soft. Remove from the heat.
Prepare the Tart
Spread your dough in your baking tin with your fingers, and place the dish in a hot oven for 10 minutes at a temperature of 350F° (180C°).

Remove from the oven and arrange the pear slices on top of the dough.

In a bowl, whisk together 1 egg, the cream and the balance of the sugar.

Pour this mixture over the pears and put your pan in a hot oven for 30 minutes at the same temperature.

Take out of the oven and let the tart cool, before serving with vanilla ice cream or whipped cream.
Notes
Note: To make serving easier you want to use a pie pan that has removable sides.
Additional Tart Recipes:
Apple Tarte Tatin
The wonderful thing about an upside-down dessert is that they are never too dry. Enjoy the caramelized flavours of this traditional apple dessert à la mode with vanilla ice cream.
Check out this recipe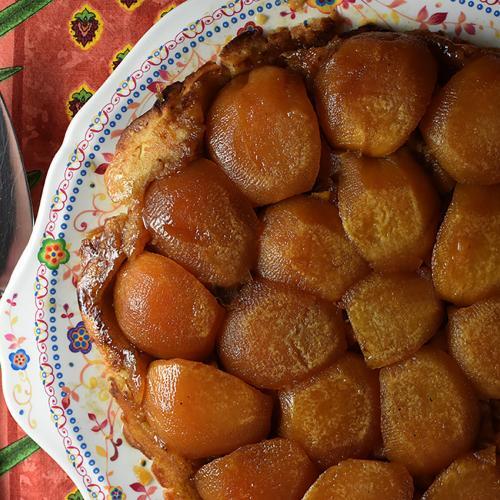 Pear Frangipane Tart
This pear tart is an excellent choice if you're looking for a delicately tart to add to a pastry table or serve with your afternoon tea. It's light, flaky, and the perfect accompaniment for a steaming hot pot of Earl Grey.
Check out this recipe

Chocolate and Pear Tarts
These tarts are easy to make and a delicious finish to a fall menu. Make sure to leave enough time to prepare and rest the dough.
Check out this recipe

Apple Creme Brûlée Tart
There are several steps to creating this dessert, and the dough should rest overnight. The end result is delicious, so don't rush the process. Enjoy the results!
Check out this recipe

Swiss Chard, Raisin and Pine Nuts Tart
Tarte niçoise aux blettes et pignons de pin is such mouthful, of words, for a dessert. On my last visit to Nice, I tasted this fabulous local délice. French cooking is absolutely regional like its weather, and you can only find certain specialities in specific towns. Ok, I have to say this tart is not for everyone. Dessert with veggies in it does sound strange. Some might sprinkle confectioner's sugar before serving. The tart is even better the next day.
Check out this recipe