Tarte Tatin aux Pommes a French Classic
As you know, I am a big fan of traditional foods. One of my favourites is the Tarte Tatin, an upside-down apple tart. While there are many upside-down tarts and cakes in French cuisine (tartes renversées, gateaux renversés), the Tatin is made with apples.
The Tarte Tatin was created (by mistake) in the 1880s by sisters Stéphanie and Caroline Tatin, owners of the Hôtel Tatin in Lamotte-Beuvron near Paris. Stéphanie did most of the cooking and is said to have created the Tarte Tatin accidentally one evening when in a rush. The dessert became wildly popular at the hotel and even caught the owner's attention at Maxim's in Paris, where he added it to the menu in the 1950s as "la tarte des demoiselles Tatin."
Please read the original article by: Cocoa & Lavender for the tempting photos.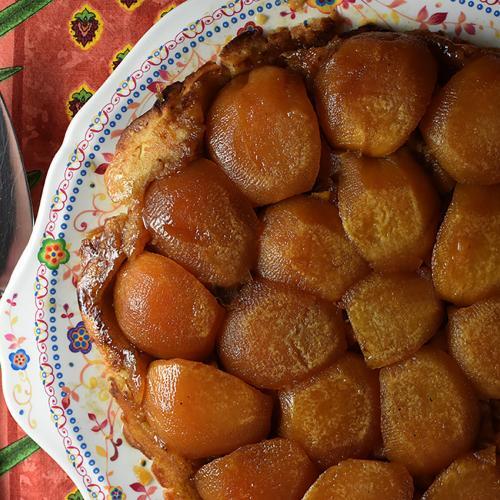 Apple Tarte Tatin
The wonderful thing about an upside-down dessert is that they are never too dry. Enjoy the caramelized flavours of this traditional apple dessert à la mode with vanilla ice cream.
Ingredients
For the Crust:
1

cup

Flour

2

tbsp

Granulated Sugar

6

tbsp

Chilled Unsalted Butter

preferably French

1

Egg Yolk

egg white reserved

2

tbsp

Ice Water
For the Filling:
7

medium

Gala Apples or any good tart-sweet baking apple

8

tbsp

Unsalted Butter

preferably French

1/2

cup

Granulated Sugar
Instructions
Place the flour and sugar in the bowl of a food processor. Pulse once to mix. Add the chilled butter, cut into 12 pieces, and pulse quickly ten (10) times. Add the egg yolk and ice water; pulse quickly three times, then give approximately 20 long pulses until it begins to form a dough. Remove the mixture from the processor and place it on a floured board. Bring it together into a disk, wrap it in plastic, and chill for 30 minutes.

Meanwhile, place the sugar in a 10-inch cast-iron skillet over medium heat. Add the butter and allow to cook, stirring occasionally, until the colour is a medium caramel. (About 10 minutes.)

While the caramel is cooking, peel, core, and quarter the apples. When the amber colour is achieved, remove the skillet from the heat. Add apple quarters, toss them to coat, and put back on medium-low heat for 10 minutes, stirring occasionally. Turn off the heat.

Preheat oven to 400°F (200°C).

Remove about half of the quarters from the skillet and place them in a bowl. Start arranging the remaining quarters tightly in the skillet in concentric circles, rounded side down, taking additional quarters from the bowl, as needed.

You will most likely have leftover quarters in the bowl. Chop these remaining quarters and put them on top of the apples in the skillet. Set aside to cool slightly.

Roll the dough into an 11-inch round, and place on top of the apples and caramel. Tuck the edges inside and down a bit among the outer part of the apples. Whisk the egg white and use it to brush the pastry lightly. Make a small slit in the middle to allow steam to escape.

Bake for 40 minutes, or until golden brown on top. Allow the tart to cool for five minutes before turning upside down onto a platter.

Serve warm or room temperature with vanilla ice cream.
Other Variations for Tarte Tatin
Banana Tarte Tatin
This delicate and flavourful dessert is a twist on the French Apple Tarte Tatin, a classic. Enjoy it with some creamy vanilla ice cream for a delicious treat that's sure to impress!
Check out this recipe

Quince Almond Tarte Tatin
This tart tatin aux coings et aux amandes (quince and almond) is a twist on the classic apple version. Quince takes a bit of work to peel, but the result is worth the effort.
Check out this recipe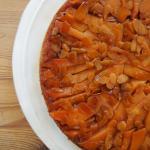 Apple Tarte Tatin aux Pommes
This variation of Tarte tatin uses puff pastry. Alternatively, you can make your own shortcrust pastry.
Check out this recipe

Apricot and Pistachio Tarte Tartin
This apricot tarte tatin is not only beautiful it is easy to make.
Check out this recipe

Savoury Versions:
Tomato Tarte Tatin
Allow enough time to prepare the key ingredients (onions and tomatoes) in advance. This savoury tart is a great lunch dish with a green salad or s starter course at dinner time. Serve at room temperature or slightly warm.
Check out this recipe

Tarte Tatin aux Tomates (Savoury Tomato Tart)
It helps that everyone already knows and loves Tarte Tatin, the upside-down caramelised apple tart, so it's great fun to adapt this technique for vegetables. The crust is easy to make and given that it's baked upside-down the lovely juices only really soak into the pastry once it's already crispy and baked, a big bonus in tarte terms. It's easy, cannot really go wrong and is guaranteed to give your guests a big vibe of Provence, so just have a go at making one!
Check out this recipe