Hands-Down Delicious Cooking Class with Provence Gourmet
Cooking Class in Provence
The ladies came from Louisiana and Alabama to celebrate a milestone birthday in Provence. They were busy with activities that included a visit to Saint-Paul-de-Mausole and the antique stores in Isle sur la Sorgue. Along with the cultural and shopping activities, theses food lovers wanted to learn some Provencal recipes at a cooking class. The day started at St Rémy's Wednesday morning market, where they met Gilles Conchy – The Provence Gourmet – and shopped for ingredients. We joined the group at the Domaine d'Eole vineyard in Eygalières for a wine tasting before the start of the cooking class.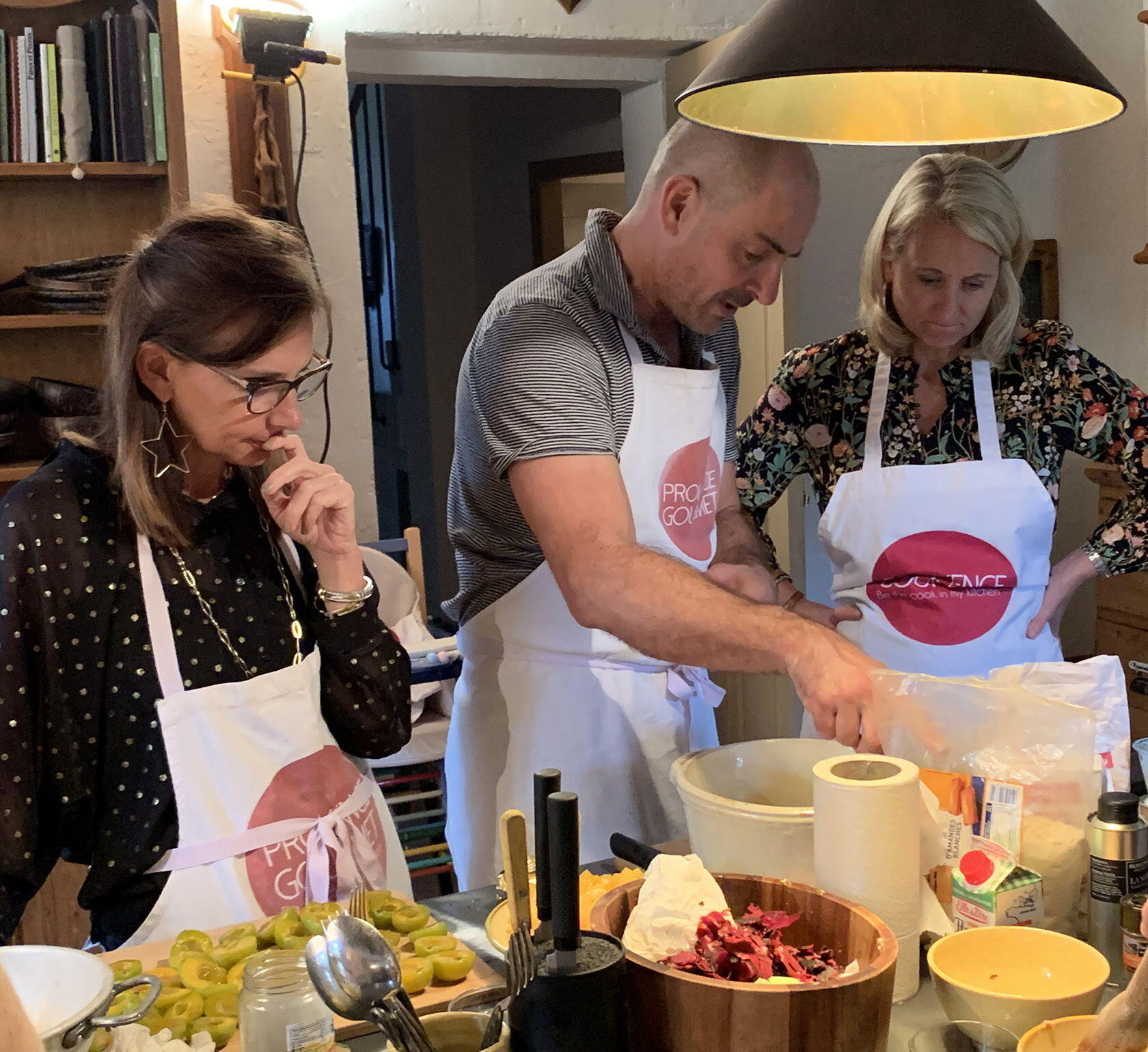 But, first the Wine
Domaine d'Eole is a mid-size vineyard in the heart of the Alpilles. Since 1993, the winery owners and winemakers have followed organic growing practices. We tasted three (3) of the wines from the vineyard, while Gilles explained the typical grapes grown in the region. He also described the bio-dynamic and organic (bio) growing practices followed by many vineyards in the area. It was time to start cooking, but not before Gilles purchased the wine – one bottle of each colour and a couple of extras.
Le Domaine d'Eole
Route de Mouriès (D24)
Chemin des Pilons
13810 Eygalières
All Hands-on Deck
On a chilly autumn morning, we probably could have remained in the cozy wine boutique learning about assemblages (wine blends), monocépages (single grape wines) and sulphates. But, it was time to get to work. The venue for the Provence Gourmet cooking classes in Eygalières is a beautiful old mas with thick stone walls, low-slung ceilings with sturdy wooden joists and a sizable kitchen.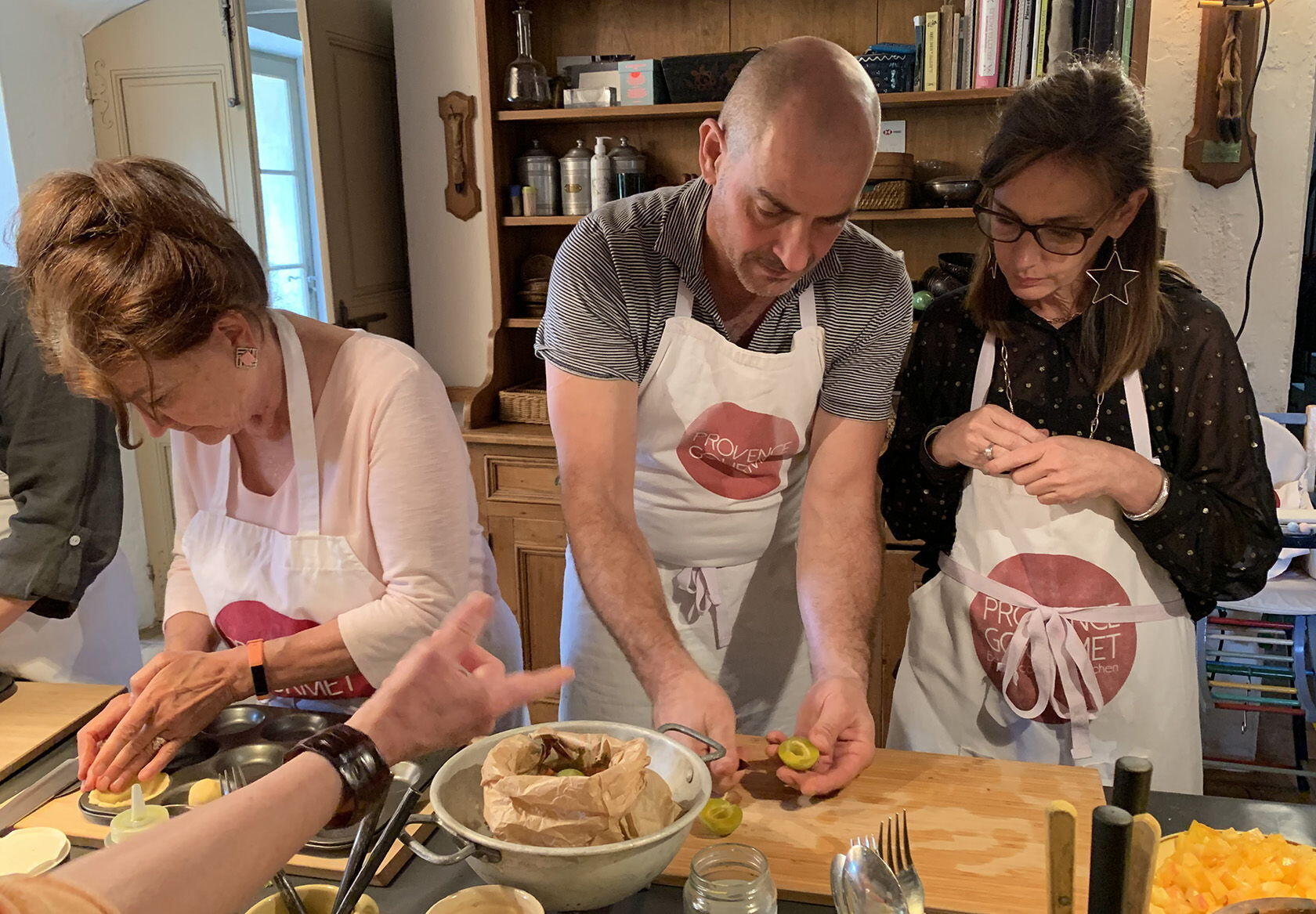 At the long work counter in the kitchen, a workstation (apron, cutting board, and knives) awaited each of us. It was time to wash our hands, tie-up our Provence Gourmet aprons and start chopping. If you are looking for hands-on cooking classes, then book with Gilles Conchy. He put us all to work after demonstrating each step. He showed us how to cut the onions into a medium chop. Then we turned our attention, and knives, to the artichokes (removing leaves, cutting, scraping out the fuzzy "choke" interiors). After completing those first ingredients, Gilles masterfully divided us into groups with specific tasks – main course, salad, appetizer, dessert, and setting the table.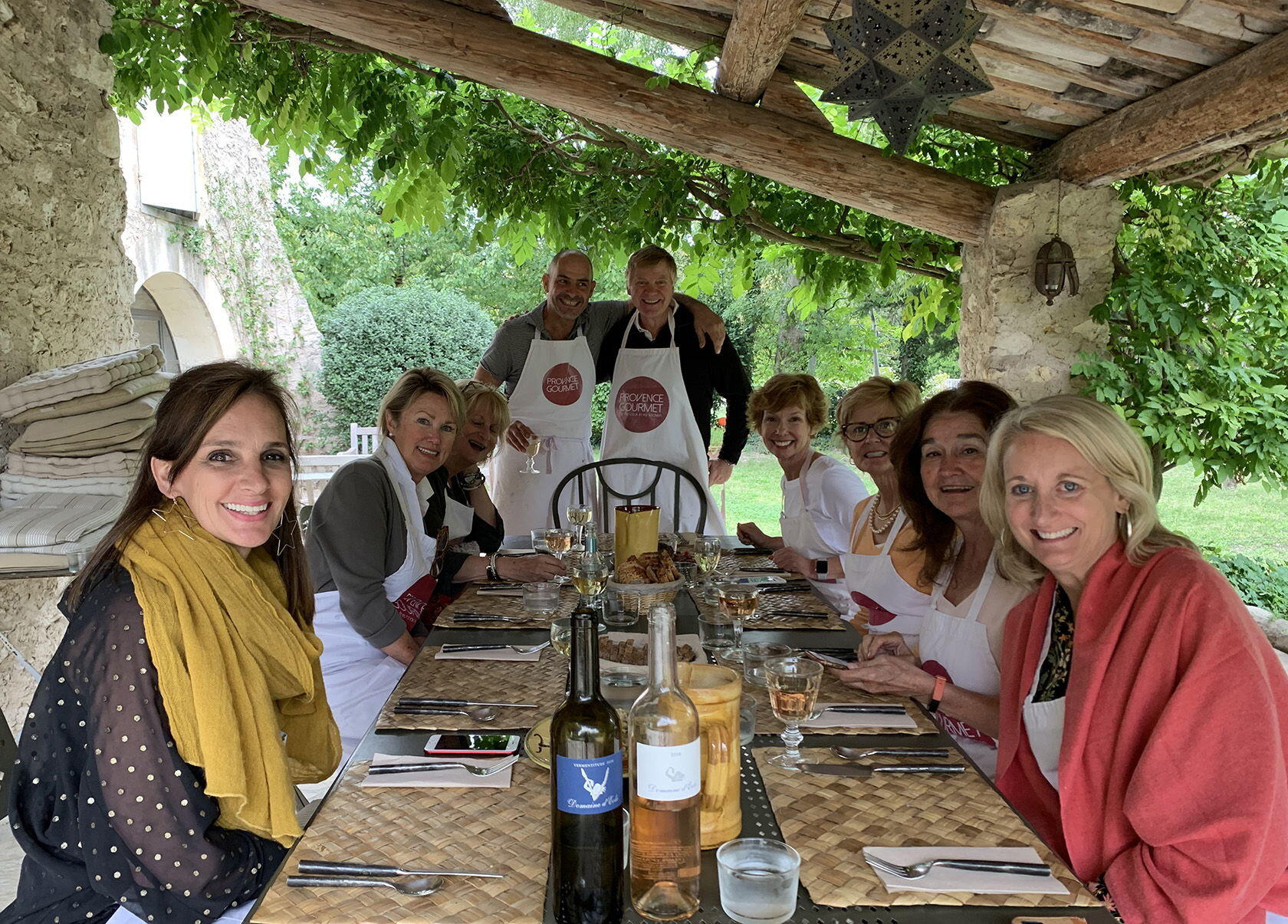 It was a little after 14h when we sat down at the outdoor table for lunch. The temperature might have pushed the seasonal limits a little, but the sheltered terrace covered in bright green vines won our hearts. We finished the five-course meal around 16h, vowing not to eat another thing for the day and promising to try all the recipes at home.
The Menu:
Apero:
Green olive tapenade on crostini, sliced cured sausage and caillette (traditional pork pâté from the Ardeche) with bread
Starter:
Frisée salad, roasted beet salad and goat cheese tartlets with olive tapenade,
tomatoes and goat cheese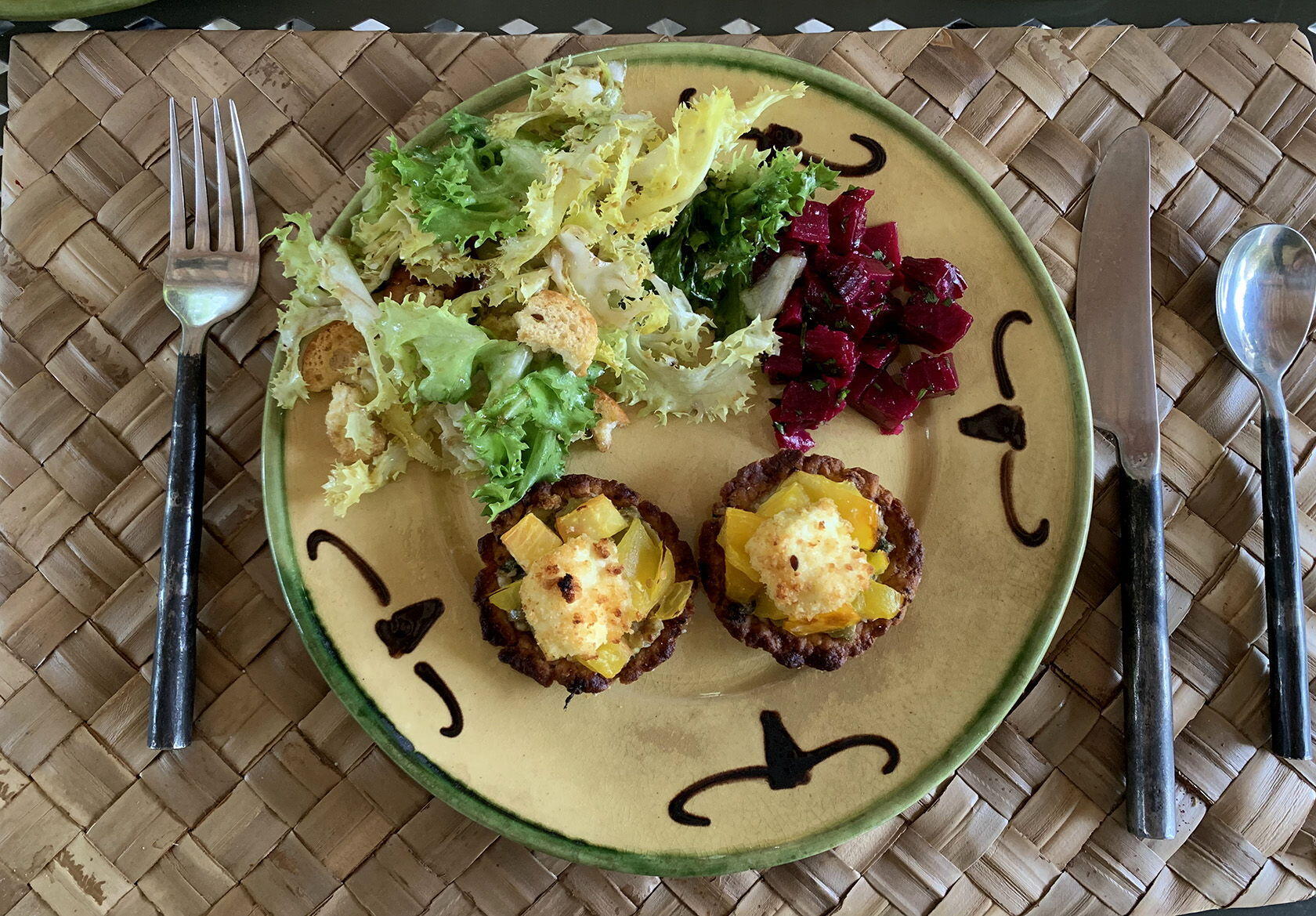 Main Course:
Artichokes Barigoule
A traditional Provencal dish with artichokes cut in a mushroom shape.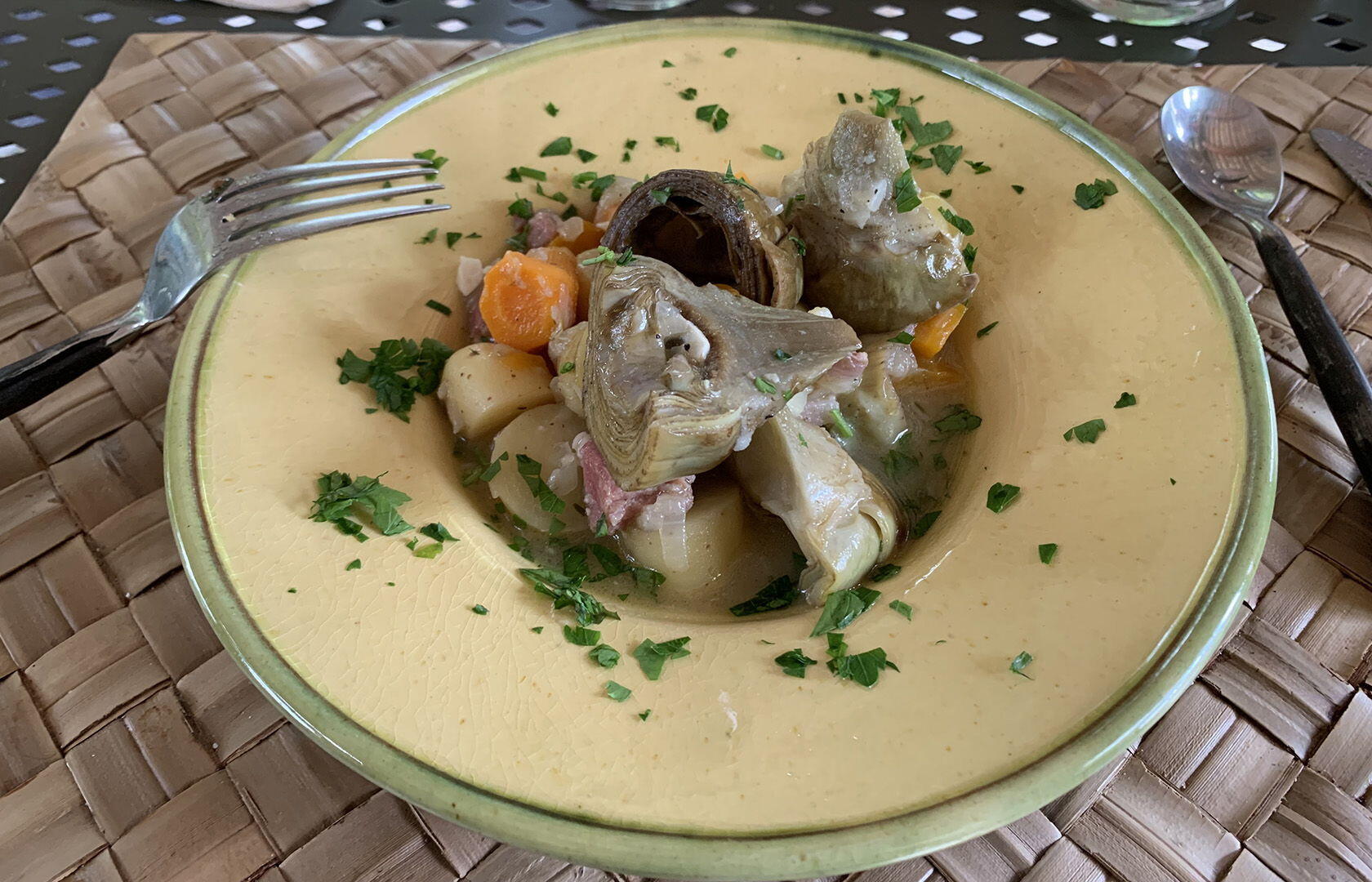 Cheese Course:
A selection of local cheeses
Dessert:
Reine Claude Plum Clafouti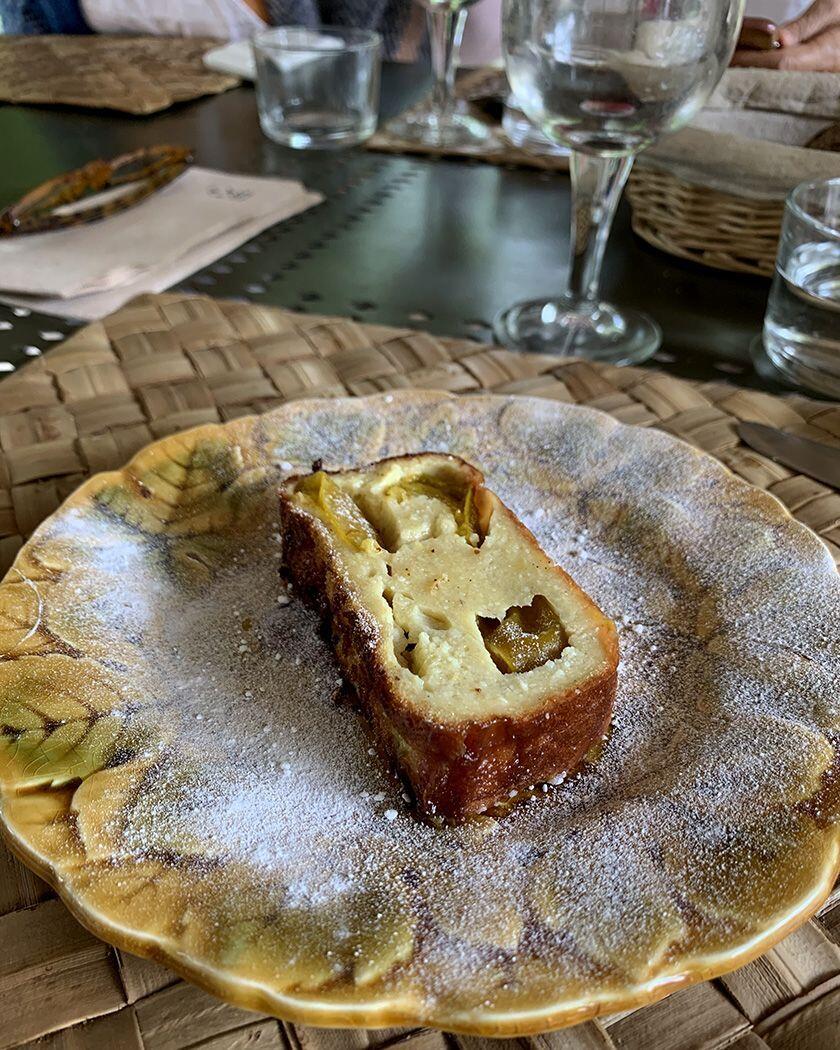 Regular Provence Gourmet classes are available in Aix-en-Provence, Marseille and Eygalières. Gilles also offers private cooking classes on demand. Please use the contact form below to find out more or to book a class.