Pot au Feu is a Classic Provencal Recipe
Pot au Feu is a French recipe that you should have in your repertoire. A bit like a pot roast you need a large casserole a selection of meat, a few root vegetables and an afternoon. Once you have done the initial prep work, this meal pretty much cooks itself. Warning: tempting, delicious aromas will fill your home!
For some of our favourite recipes, explore the full Cook'n With Class recipe index. If you share one of these recipes on social media, please use this hashtag #AlwaysCooknWithClass so we can see what you made.
Sign-up for a Cook'n with Class hands-on cooking class in Uzès or our original location in Paris. Use this code – PERFPROV10 – when you book to get 10% off on any regular workshop or culinary week it's a vacation for food lovers.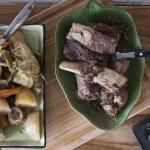 Traditionally the stew is served in 2 services. Meat and vegetable first, then the broth and the bread...
| | |
| --- | --- |
| | Traditionally the stew is served in 2 services. Meat and vegetable first, then the broth and the bread... |
Cut one of the onion in half, don't peel. In a nonstick frying pan, "burn" the onion. (The colour needs to be dark like a charcoal. This won't give flavour, but will give a dark colour to your broth.)

In a very large, heavy-bottom casserole, add: Meats, (not the bones marrow) the burned onion, the other onion cut in half and poked with the cloves, the garlic head cut in half, bouquet garni, parsley, celery, black peppercorns, salt and cover with water, start the cooking, as soon as it starts boiling, lower the heat to a simmer and skim any foam that is floating.

In the meantime: Peel carrots, turnips, potatoes and reserve. Clean the leeks under cold water, strain and dry them.

After 3 hours of cooking add all the vegetables (except the potatoes) and cook for 30 minutes.

Add the potatoes and the bones marrow, cook for 30 more minutes and let rest in the saucepan for 1 hour before serving.

Serve with pickles, fleur de sel and Dijon mustard and a fresh, crusty bread.
*According to Wikipedia, There is no generic recipe for bouquet garni, but most French recipes include thyme, bay leaf and parsley.
Please share this with friends and family.