Roasted Pumpkin Risotto Recipe 
The appearance of squash and pumpkins signals the turning of the seasonal page to autumn, in Provence and other parts of the world. Typical varieties include bright orange courge, often sold in slices, a deeper orange potimarron (red kuri) squash, butternut and others.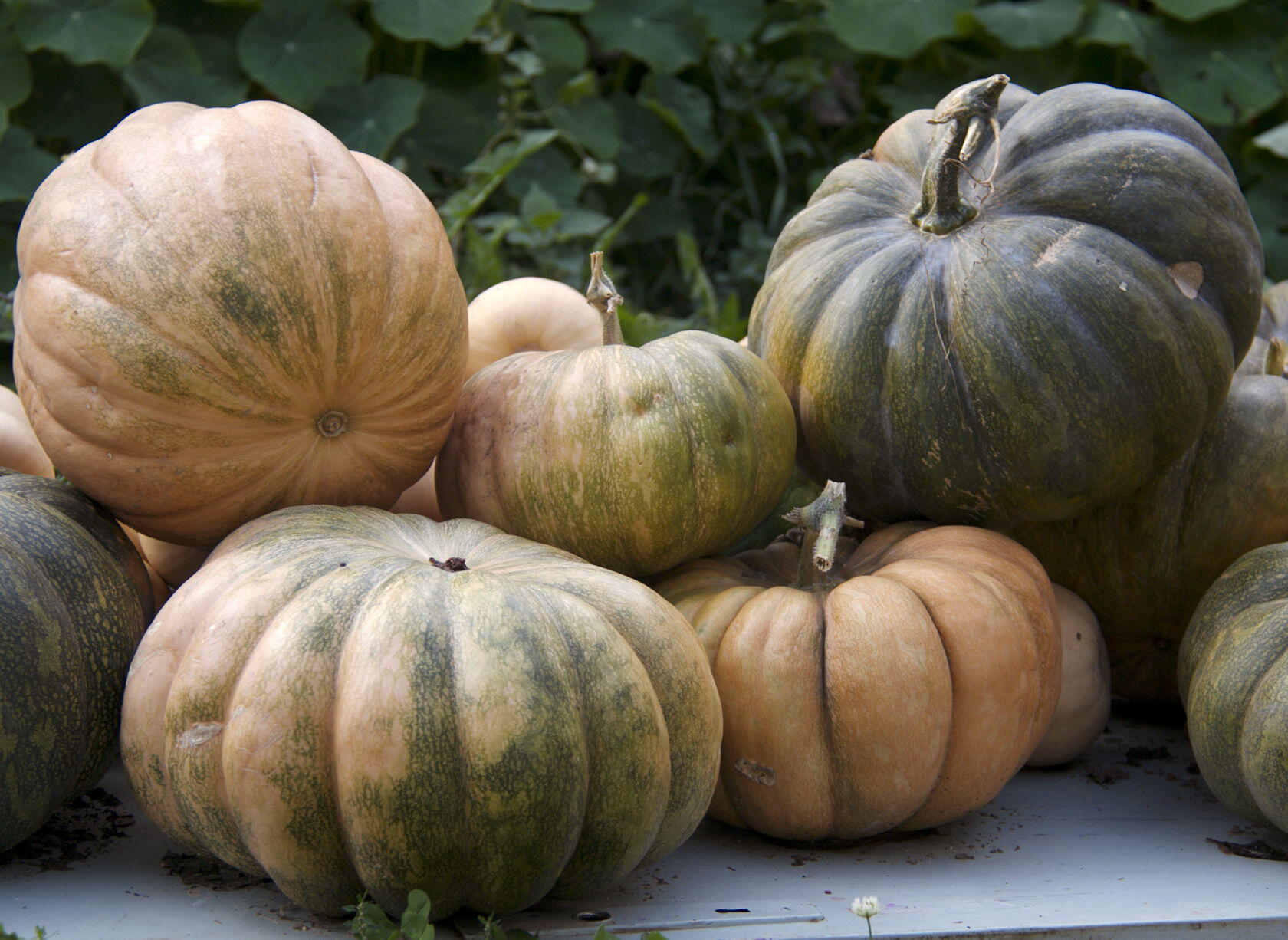 Inspired by a beautiful Marina di Chioggia variety that we found at a Sunday morning Farmers Market, I decided to make this Roasted Pumpkin Risotto (recipe follows).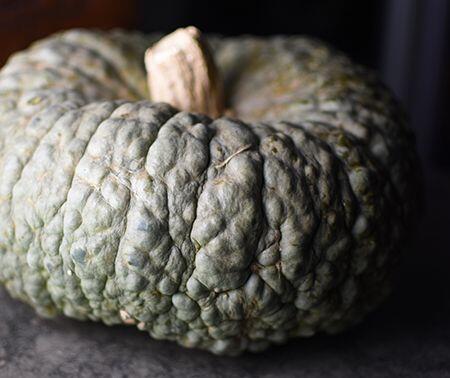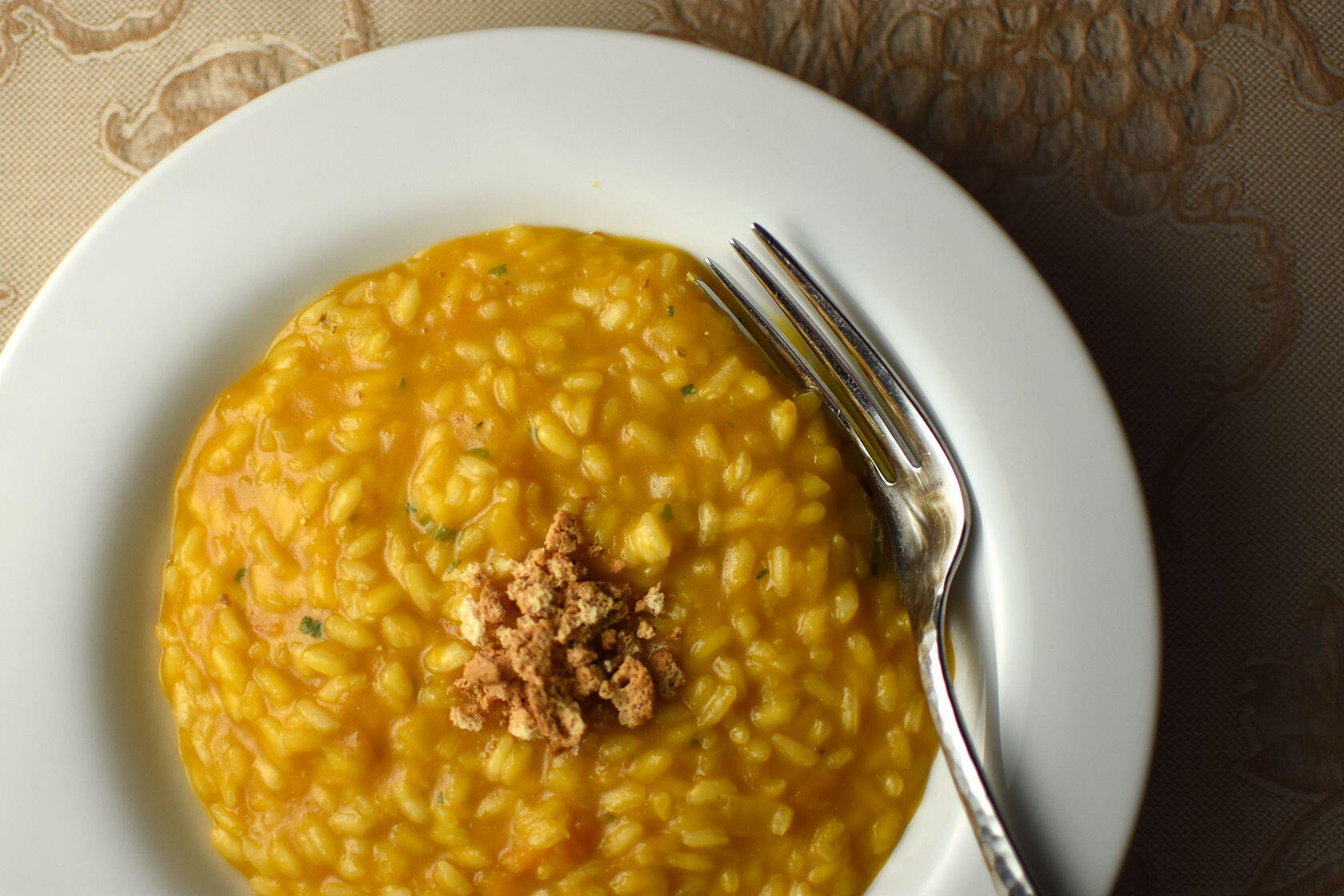 Roasted Marina di Chioggia Pumpkin Risotto
Note: this is not a traditional version of risotto, per se, although it is inspired by traditional Italian flavor combinations and simplicity.
Ingredients
Roasted Marina di Chioggia Pumpkin Purée 
1

10-12 lbs

Marina di Chioggia Pumpkin

or other pumpkin variety

olive oil
For Risotto:
6

cups

Light Chicken Stock

or vegetable stock

1

tbsp

olive oil

1

tbsp

Butter

1

shallot

minced

1 1/2

cups

Arborio rice

1

cup

White Wine

1 1/2

cups

Roasted Pumpkin Purée

warmed

6-8

Fresh Sage Leaves

chopped

Salt and Freshly Ground White Pepper

1/2

cup

Parmigiano-Reggiano

grated

4

Amaretti Cookies

crushed
Instructions
Roasted Pumpkin:
Preheat oven to 350°F. Line a baking sheet with aluminum foil, and brush it liberally with olive oil.

Wash pumpkin and cut in half. Scoop out seeds and the thin fibrous layer. Slice into 1 1/2-inch slices, and place as many slices as possible on their sides on the oiled foil. You will need to roast in batches.

Roast the squash for 30-40 minutes, turning once, until it is caramelized and pierces easily with a sharp knife. Remove slices to a cutting board, and repeat the roasting with remaining slices until they are all roasted. You may need to add more oil or replace the foil if it rips.

Once cool. Cut off the skin with a sharp knife; discard skin, and add roasted flesh to the bowl of a food processor. Process in pulses until smooth, then freeze in 1 1/2-cup amounts for future use.
For the Risotto:
Bring broth to a boil on the back burner, then reduce heat and keep it at a low simmer.

In a large pot over medium-high heat, melt olive oil and butter together.

Add the shallot and sauté until clear, but not brown.

Add the rice and cook, stirring, for a few minutes until rice turns opaque.

Add the wine, and continue stirring until almost all the liquid has evaporated.

Then, add a ladleful (1/2 cup) of the hot broth and continue stirring until the rice has absorbed most of the liquid. You can tell it's right when you drag your spoon across the bottom of the pan and it briefly leaves a clear trail. Continue adding the broth, one ladleful at a time, in the same manner until you have but one ladleful left.

Add the pumpkin and sage, and cooked for a couple of minutes until fully warmed through.

Then add the final ladleful of broth, season with salt and white pepper, and stir until the risotto is al ondine (literally "wavy" - not too dry or too wet).

Stir in the Parmigiano-Reggiano, and then divide among 4 bowls.

Sprinkle each serving with a quarter of the crushed amaretti crumbs.
Notes
Note: I did not season the squash purée so that it can be used in both savory and sweet preparations in other recipes.
Note:  Cooking time indicated above is for the risotto only, it does not include the prep time to make the roasted pumpkin purée.