A Twist on a Classic Recipe Apricot Pistachio Tarte Tartin
Recently, the team at Mirabeau Wine was joined by a Hamilton-based Canadian chef Jake Laderoute, for some fun culinary experiences in Cotignac.
A tarte tatin is a classic French dessert, that one might shy away from making because it looks complicated.
It's not.
Here, is what Jake and Jeany had to say about this Apricot and Pistachio Tarte Tartin. It is a quick and easy dessert to round off a perfectly Provençal meal, the tangy sweetness of the apricots is a lovely antidote to the richly astringent thyme flavour. Sounds odd I know, but it works beautifully.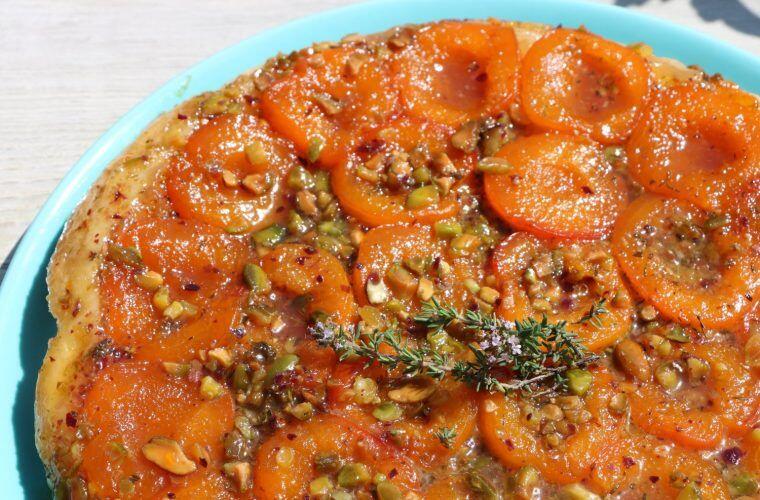 Apricot and Pistachio Tarte Tartin
This apricot tarte tatin is not only beautiful it is easy to make.
Ingredients
75

g

Caster Sugar

40

g

Unsalted Butter

cubed

7-10

Fresh Apricots

halved and stoned

2

handfuls

Pistachios

peeled and crushed

1

sheet

Puff Pastry (ready rolled)

pure butter if possible

15

g

Fresh Thyme

chopped
Instructions
Put the butter in the pan (see note below regarding pan size and type) and set it over a medium heat until it melts.

Add the sugar and cook until it first melts and then caramelises and turns golden brown. Don't stir the sugar but swirl it around the pan every now and then.

Remove the caramel from the heat and stir in the pistachios with a wooden spoon. The caramel will be extremely hot so watch out for splashes and don't dream of tasting it.

Add chopped thyme.

Continue stirring for 2–3 minutes as the caramel cools and thickens. It will look oily and separated to begin with, but will become smooth and toffee-like as you continue stirring.

When the caramel is smooth, carefully arrange the apricots on top, cut-side down.

Leave to cool for 20 minutes.

Preheat the oven to 200C/400F/Gas 6.

Unroll the puff pastry sheet on a lightly floured surface and use a rolling pin to roll it out until it is 2cm/1in wider.

Place a dinner plate or 25cm/10in cake tin on the pastry and cut around it.

Gently slide the pastry on top of the apricots and push down the sides with a round-bladed knife.

Prick the surface to allow steam to escape.

Bake the tarte tatin for 25 minutes until the pastry is golden-brown and the apricots are cooked.

Remove the pan from the oven using an oven cloth to hold the handle of the pan – don't forget – it will be very hot.

Leave the tart to stand for a couple of minutes to allow it to settle, then loosen the edges and place a large serving plate or board on top of the frying pan.

Very carefully, but quickly, turn it over, using a folded dry tea towel to help you hold it, and allow the tarte tatin to drop gently on to the serving plate.

Serve warm with a dollop of mascarpone or vanilla ice cream if you fancy.
Notes
For caramelising the apricots, you need a small ovenproof frying pan with a base that measures about 20cm/8in in diameter.
More Recipes with Apricots
Apricot and Lavender Ice Cream
Don't shy away from making ice cream. This recipe takes advantage of ripe stonefruit (apricot, peach), and needs little sugar. The lavender flavouring gives it that hint of Provence.
Check out this recipe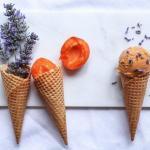 Apricot Cake - Gâteau d'Abricots
Très vite fait, très vite mangé, ce gâteau est parfait pour tenir le rythme rapide de Juin. This apricot cake is quick to make and disappear even faster. This recipe is suitable for lactose-free diets, and perfect for busy summer months when the stone fruit are the ripest.
Check out this recipe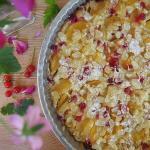 Roasted Apricots with Honey and Almonds
This dessert recipe can be made on the BBQ or in the oven. Easy to prepare the combination of roasted apricots and yogurt-cream are a match made in Provencal heaven.
Check out this recipe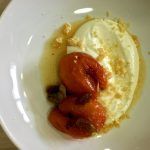 Apricots with Dark Chocolate Ganache and Tarragon
This dessert is ultra easy and is guaranteed to impress your friends.
Check out this recipe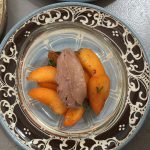 Apricot Tart
This sweet apricot tart recipe is very easy to make and tasty enough for seconds. It is even better the next day. Note: You can prepare this tart with other stone fruit such as peaches or plums.
Check out this recipe