Provencal Inspired Roasted Apricot Dessert with Honey and Almonds
This recipe comes from a cooking class at Jean Martin in the Alpilles village of Maussane. The light-filled boutique is a the store front for all the Jean Martin products including tapenades, ratatouille blends, dips, sauces and much more.  Many of the Jean Martin products are found in large grocery chains in Provence and available online in Europe.
The Jean Martin company was started in 1920 with a family recipe for olives cassés (literally translated as broken olives) a local delicacy in early autumn every year. Today, the third generation of the Martin family are involved in this prepared food business with 45 products sold under the brand name. The company prides itself in using local ingredients…
"In 2008 we planted the biggest organic olive grove in France and in the 'AOC Provence' region, in partnership with a local producer."
We prepared (and sampled) this roasted apricot dessert at a cooking class lead by Yvan Gilardi a chef who works in collaboration with Jean Martin. His catering company is Toquadom a delicious solution for your entertaining needs in Provence.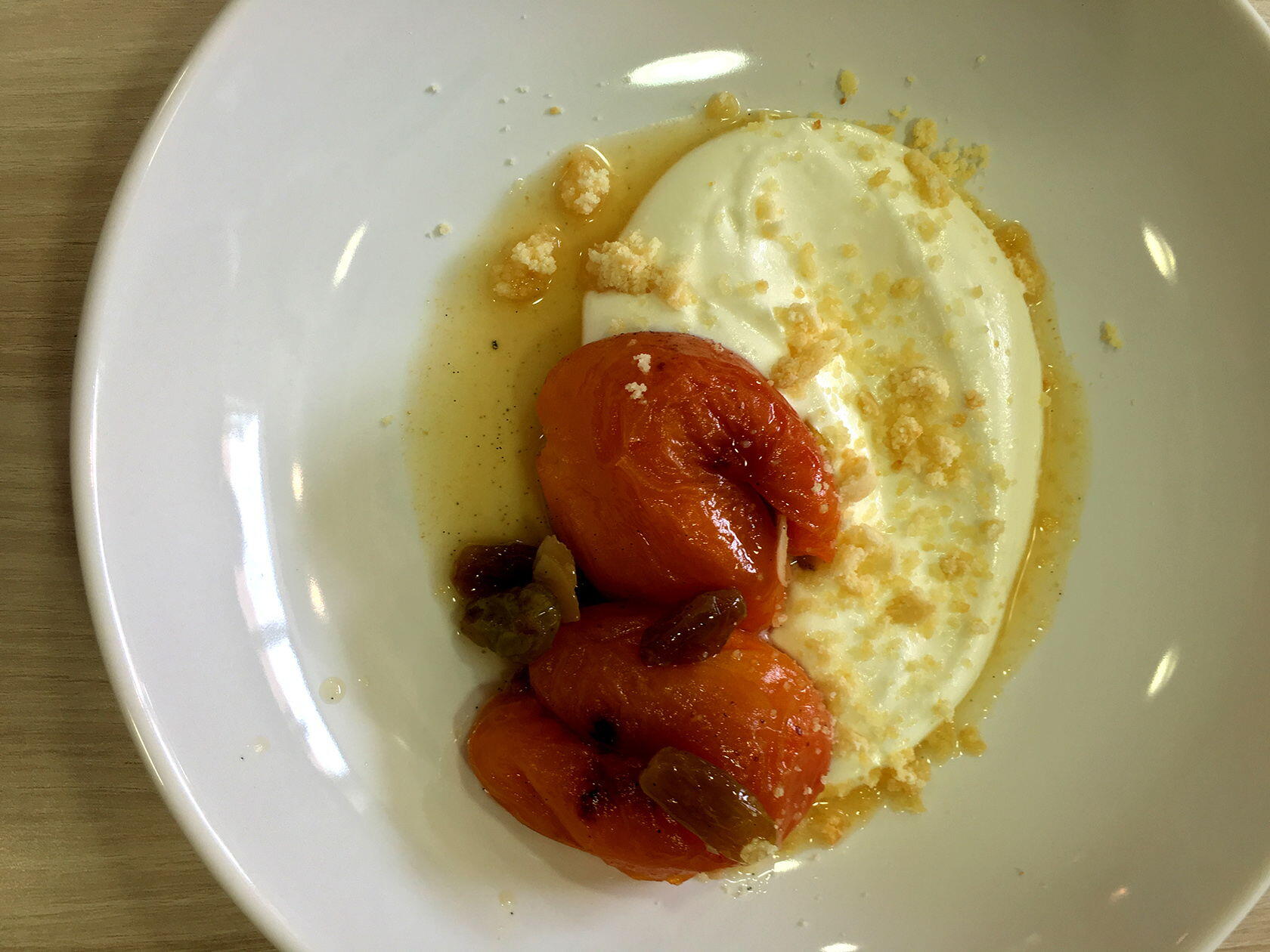 Roasted Apricots with Honey and Almonds
This dessert recipe can be made on the BBQ or in the oven. Easy to prepare the combination of roasted apricots and yogurt-cream are a match made in Provencal heaven.
Ingredients
24

Apricots

Look for a slightly larger "red" varietal

24

Amaretti

(dried Italian cookies)

500

grams (1.5 cups)

Liquid Honey

2

pods

vanilla

1

Lemon

2

Aluminum BBQ containers

100

grams (2/3 cup)

Raisins

100

grams (2/3 cup)

Almond silvers

500

grams (1.5 cups)

Plain Greek Yogurt

500

grams (1.5 cups)

Heavy cream (35%)

150

grams (1 cup)

Sugar

1

tsp

Almond extract
Instructions
Wash the apricots and cut lengthwise along the natural seam. Do not cut the full length, only as much as required to remove the pit.

Replace the pit with one amaretti cookie and put the apricot into the aluminum baking container.

Add enough apricots (one layer) so that they are able to "stand-up" in the container without falling over.

Pour liquid honey, sprinkle raisins and almond slivers over the almonds.

Slice the vanilla pods lengthwise and scrape out the vanilla interior - spread over the apricots.

Wash the lemon and cut in half, squeeze the juice over the apricots.

Place the containers on the BBQ grill at med-high heat.

Cook with the BBQ cover down for approximately 20 minutes.

Remove from the heat and allow to cool.

Mix yogurt, cream, sugar and almond extract together and beat well. Set aside in the fridge or a cool spot until you are ready to serve.

For each serving allow two apricots per person and serve with a generous portion of the yogurt-cream.
Notes
Note: The apricots can also be served with vanilla ice cream.