Choosing Provence For Your Retirement Home: Gayle Padgett's Expat Story
Mention Provence as a destination to your friends, and most people have either been and want to return or are dreaming of their first visit. Gayle Padgett and her husband "flirted" with Provence for two decades, often travelling during their vacation time from US government jobs in Germany.
As their retirement years approached, the "Where are we going to live?" question loomed. The couple chose a sensible "go-slow" approach of house sitting in a few areas, to see where they felt at home, and whether their Provence infatuation was just that or a more profound feeling.
The result?
The couple is now quite entrenched in a Franco-American lifestyle based in St Remy de Provence in the Alpilles. Padgett has recently published her first book, a memoir, called "Passion for Provence: 22 Keys to La Belle Vie." Please read our review of this book here.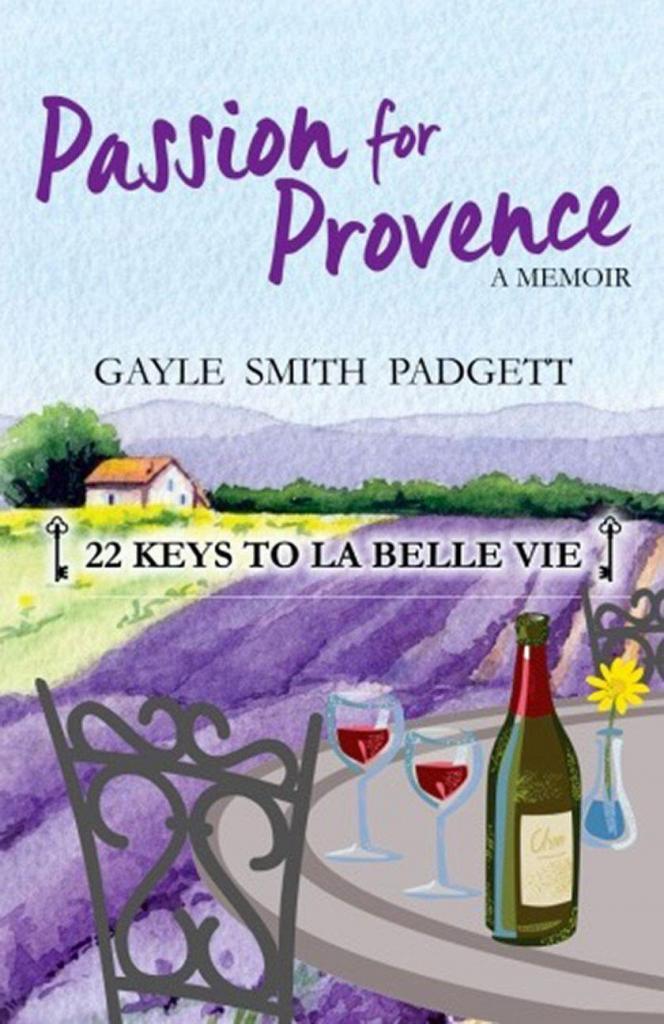 You can order Gayle's book here Passion for Provence: 22 Keys to La Belle Vie
.
---
What is Provencal Lifestyle?
How would you describe the lifestyle in Provence to someone who has not visited?
Think slow, simple, sensual pleasures—sipping a chilled glass of dry rosé on a sun-dappled café terrace overlooking vineyards that stretch to the horizon.
When you think of Provence what are the images that pop into your head?
Villages perchés (hilltop villages) like Roussillon and Gordes in the Luberon – shout Provence to me. These towns are crammed with little village houses that you see on postcards. These classic Provençal buildings have terracotta tile-roofs, honey-hued stone walls and grey-blue shutters. It's always a joy exploring these places.
To some degree, Provence lives on its clichés in photos – scenes of lavender, sunflower fields, and boules players. Is this your Provence?
Absolutely. Those iconic Provençal scenes are genuine. But perhaps what is most striking about the region is the relaxed pace and simplicity of the life here. For example, people walk or ride a bike to the patisserie for their baguettes, shop at the weekly market, are serious about the quality of their food and take time to savour their meals.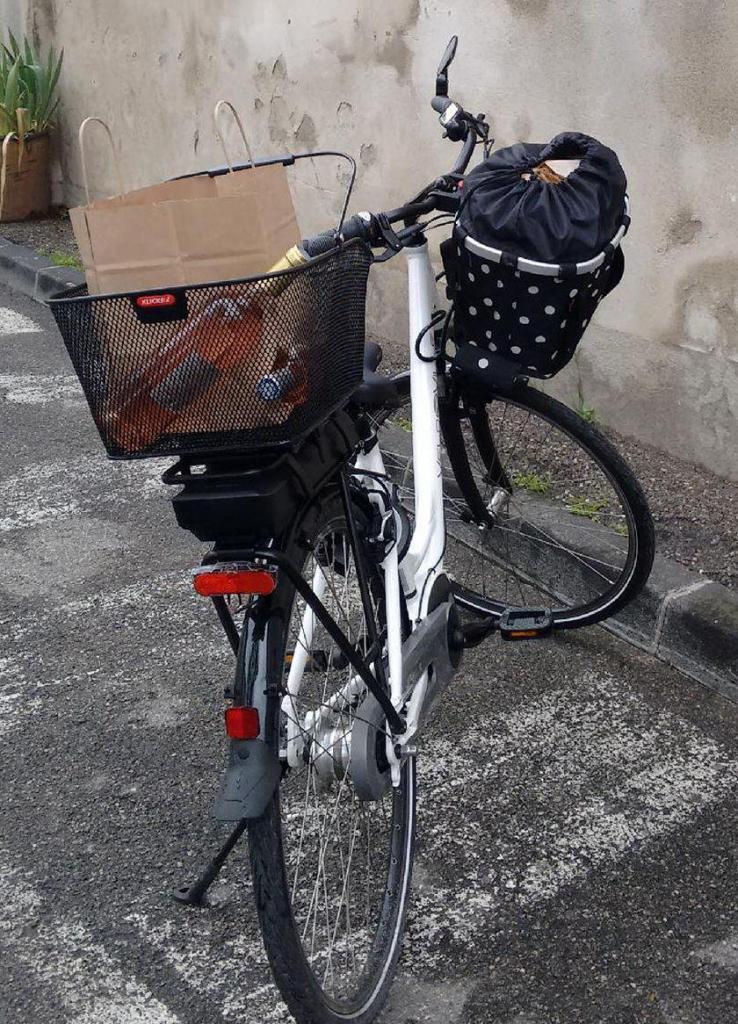 What does Mediterranean climate mean to you?
Warm temperatures with cool breezes and rarely a blizzard! In reality, here in Saint-Rémy, the mistral wind can rage on for days on end with gusts topping 70 mph, and the summer heat can be punishing reaching over 100 degrees Fahrenheit. In fact, a heat wave, known as a canicule, is officially declared when temperatures rise to the high 90s, with little relief at night, and continues for several days. Without AC, sleeping can be challenging during a canicule.
What is your favourite season in Provence and why?
Ok, this is a bit non-committal, but any day when the sun is shining, and temperatures allow for eating outside, is a happy day. In Provence, that can happen in any season.
What is your favourite activity in Provence?
I adore exploring outdoor markets and discovering new artisans like the lavender wand maker I first saw in Saint-Rémy ages ago. For years I've been trying to visit every market listed in Markets of Provence: A Culinary Tour of Southern France by Dixon Long (1996-04-19) and the foreword by Patricia Wells. When I finish, I'll start all over and love every minute.
Click here for a listing of daily markets in Provence and the Cote d'Azur.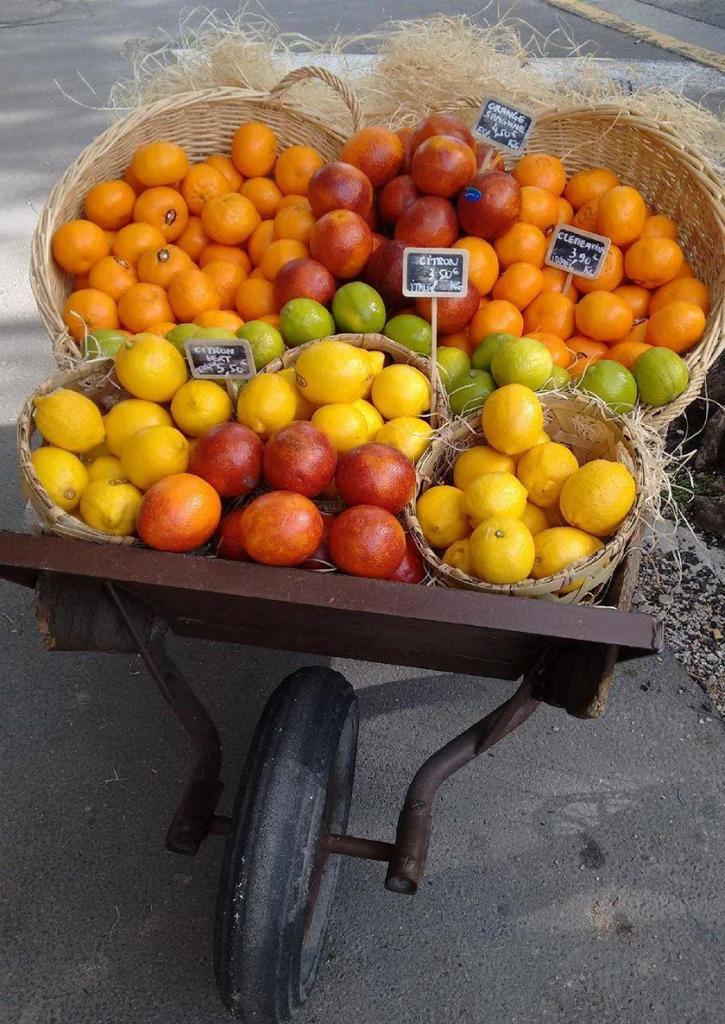 When you first return to Provence what aroma "says" I have arrived?
The lusciously addicting smell of freshly baked baguettes wafting out of the open door of our neighbourhood patisserie. I can't resist the rustic ancestral version—crusty outside, chewy inside.
When you leave Provence what is the thing you miss the most and wish you could take with you?
The slow, easy pace tops my "what-I-miss list".
When you hear or see the term "Provence-style" what is your first thought?
In terms of architecture, it would be the big old farmhouse called a mas like Peter Mayle had in A Year in Provence. In the markets and shops, you will see lots of items made of brightly hued cotton by Jacquard Français, Souleiado and Olivades—but nowadays I gravitate toward linen and a more neutral palette of taupe, cream and pale grey. I also love Flamant furniture and Ravel torchons (tea towels).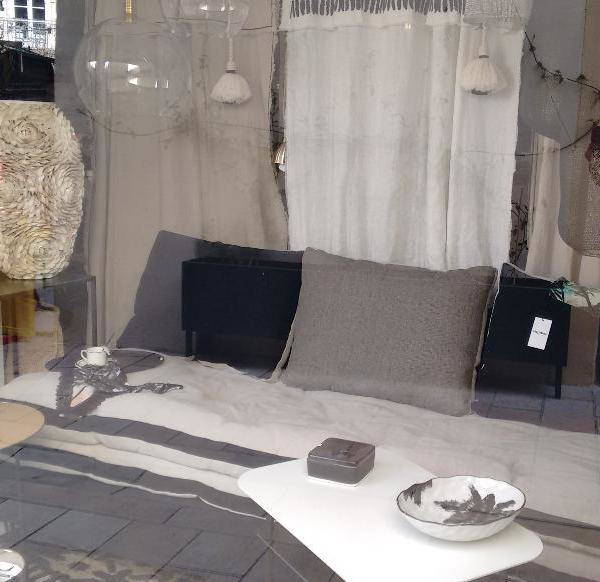 Provence and the Côte d'Azur appear to evoke a decorative style in homes, restaurants and hotels. How might you describe this trend? Is this decorative style transferable to other locations (in your opinion)?
If a designer wants to evoke at least a teensy bit of the Provence/Côte d'Azur decorative style, Anduze pots fit the bill. For ideas, check out Le Chêne Vert, Poterie de la Madeleine and my favourite, Poterie Ampholia.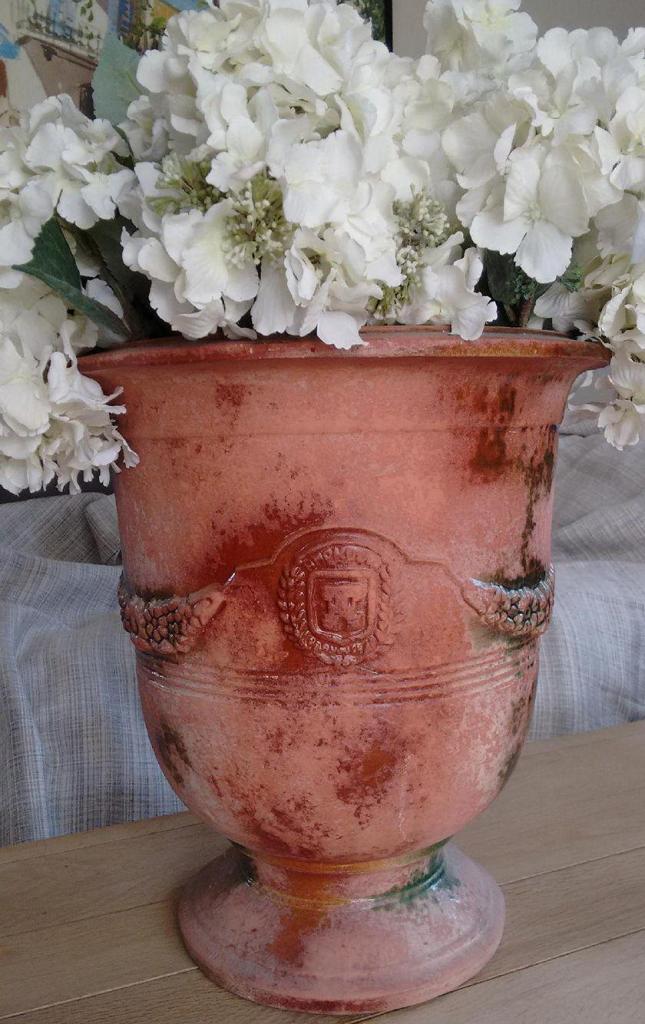 The Provence that many imagine today is relatively "new" thanks to the likes of Peter Mayle and others.  What is "Authentic Provence" to you?
Celebrations of tradition and heritage. Here in Saint-Rémy, the events calendar is packed with fêtes honouring everything from renown composers like Charles Gounod, who wrote the opera Mireille (local heroine), to the transhumance, the movement of thousands of sheep and goats to higher pastures for the summer.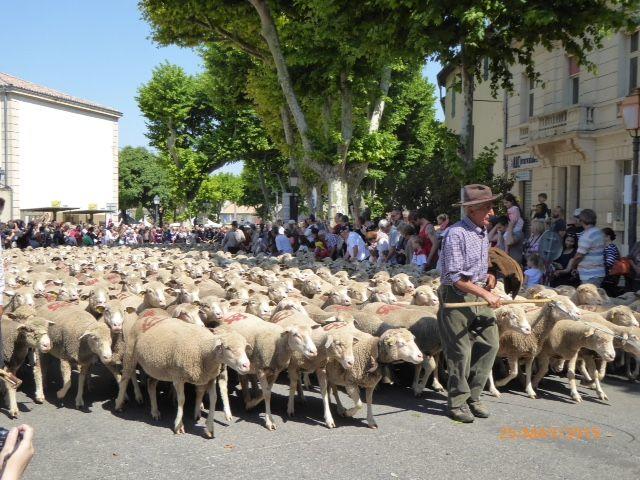 Food in Provence
Life in Provence seems to revolve around food. How would you describe the food in the region to someone who has not visited?
The stars of the show are the abundant varieties of seasonal fruits and vegetables, not to mention the stunning selection of cheeses. Dishes are typically not spicy and ooze with olive oil; portions are modest. Adventuresome eaters will be pleased to know taureau (bull) dishes are typical, as is andouillette, a sausage of untold ingredients covered with a mysterious thick sauce.
What are your favourite things to eat in Provence?
Salade de chevre chaud—melted goat cheese on toasted baguette rounds sitting on mixed greens—is my perfect light lunch.
Do you have some favourite Provencal recipes?
Ratatouille made from local fresh veggies with olive oil is a world apart—so vibrant and flavorful. It's not so much the recipe but the freshness of the ingredients that makes or breaks the dish.
I point out to our visitors that in this region of France, food is vibrantly flavorful but never spicy-hot. Overall, it's much lighter with a focus on vegetables—eggplant, zucchini, tomatoes (ingredients for ratatouille), for example. More substantial dishes like confit de canard and cassoulet are classics of the southwest.
Is there a food or ingredient that you wish you could find outside of Provence?
Butter laced with chunky salt crystals—especially from Guerande—is ubiquitous in France. I'm a fool for the product and keep a spare chunk in my freezer. It's probably a good thing that it's hard to find in the US!
How would you describe the markets in Provence as compared say to your local farmer's market?
Most Provençal markets offer an excellent selection of seasonal vegetables and local specialities. For the Saint Rémy market, that means a dozen or so varieties of olives.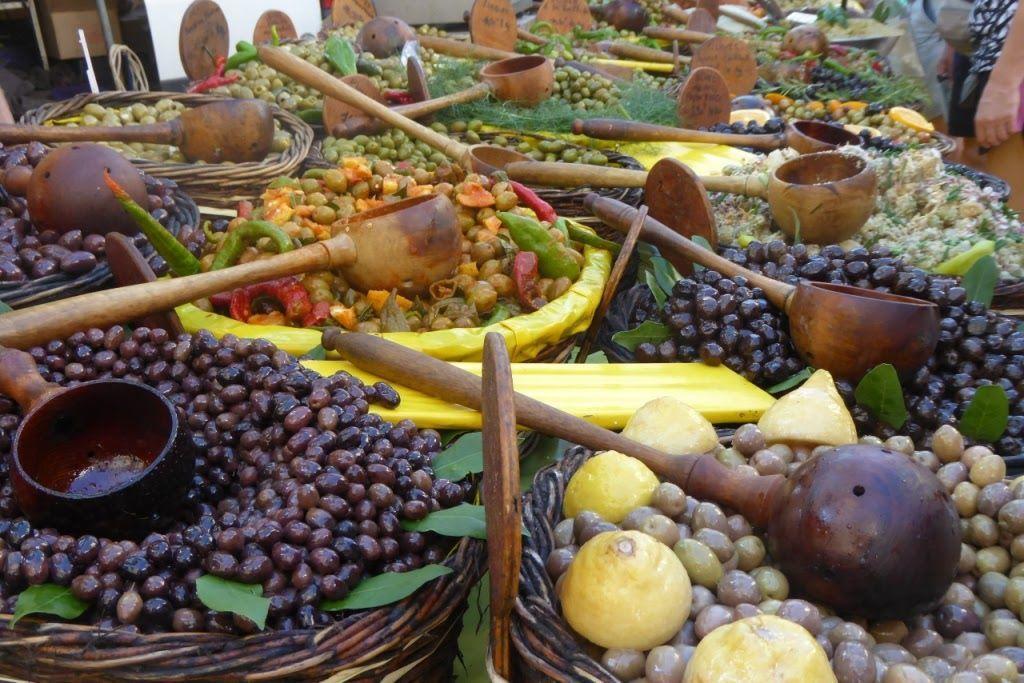 Expat Living in Provence
How would you rate your French Language skills?
I'll be in the learning stage for eternity because the linguistic bar is always on the move, ever moving up.
How important would you say French language skills are for someone hoping to visit the South of France?
Before a visit, learning a few French words and phrases will go a very long way to making the trip much more enjoyable and gratifying.
How important do you feel it is to have a decent level of French comprehension and speaking skills in Provence as an expat?
Provence offers so much to enjoy that is outside the realm of language—the scenery, food, wine, markets—for starters. But, relationships with the locals will be deeper and fuller, the more French one learns and uses.
What resources might you recommend to others to improve their language skills?
The marketplace is flooded with French language programs, so it's a question of choosing one and getting started. And sticking with it over time—learning to listen, speak, read and write (across subjects) is far from a speedy operation.
What resources might you recommend to expats and those considering a move (or short-term stay) to Provence?
Check out the Anglo-American Group of Provence and The Connexion (France's English-language newspaper directed at expats). Both sources offer tons of terrific information, advice and inspiration. Highly recommend materials by the Centre International d'Études Pédagogiques, particularly the basic textbook, Réussir le DILF A1.1.