Aprons Required Foraging for Food a French Immersion Cooking Class in Provence
The following article is a guest post by Juli James, a Canadian who has settled in the charming perched village of Saignon. Discover this part of the Luberon Valley from her comfortable vacation rental suites. La Maison des Arts Et Lettres has four (4) fully furnished, self-catering apartments. These flats are located in the old rampart walls of the village and just waiting for you to settle into Provencal life for a visit.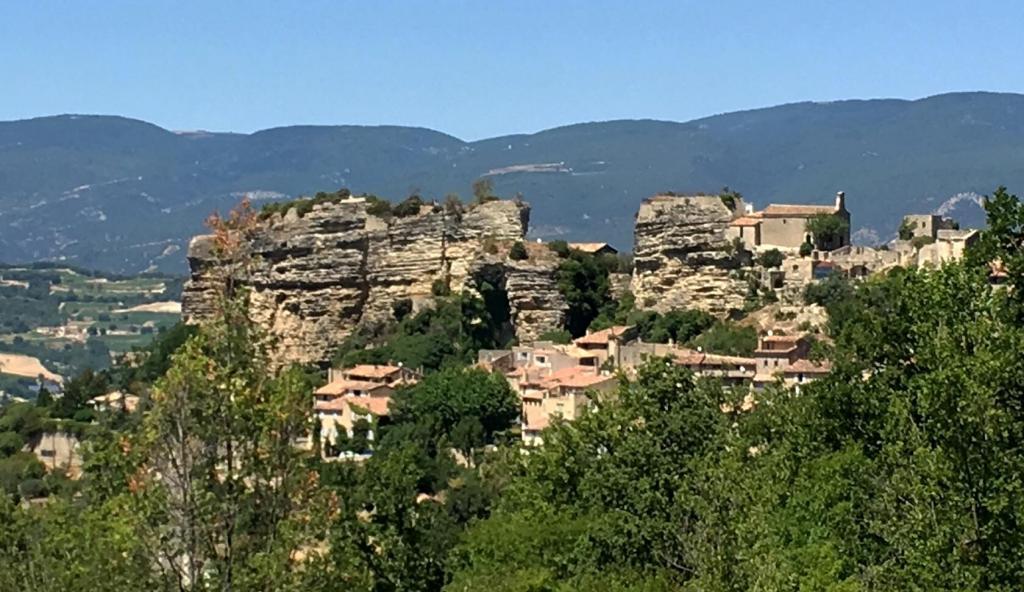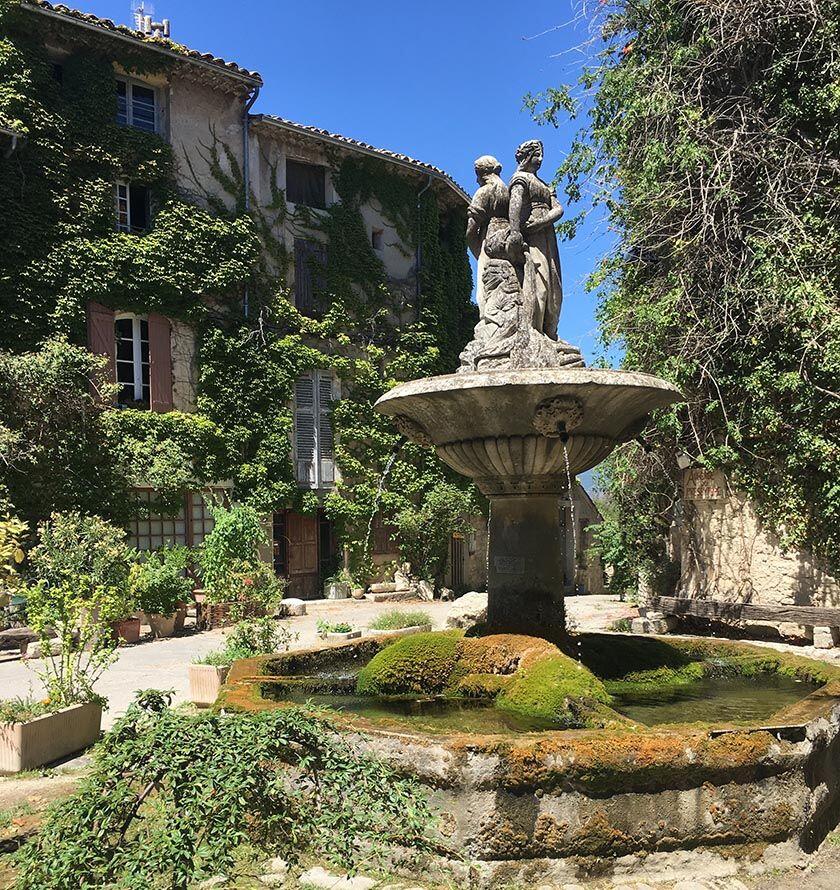 ---
Learning French in Provence
Learning a new language can be intimidating, but it is also one of the best ways to understand and deepen your experience with a new culture and it's people.
When I moved to France a few years ago I sought out someone to help me learn the language. What I found was someone who not only taught me the language, but as a local, she helped me navigate the culture around me, introducing me to other new French speakers as well as other locals; neighbours, business owners, local markets and traditions, and the food! The wonderful food.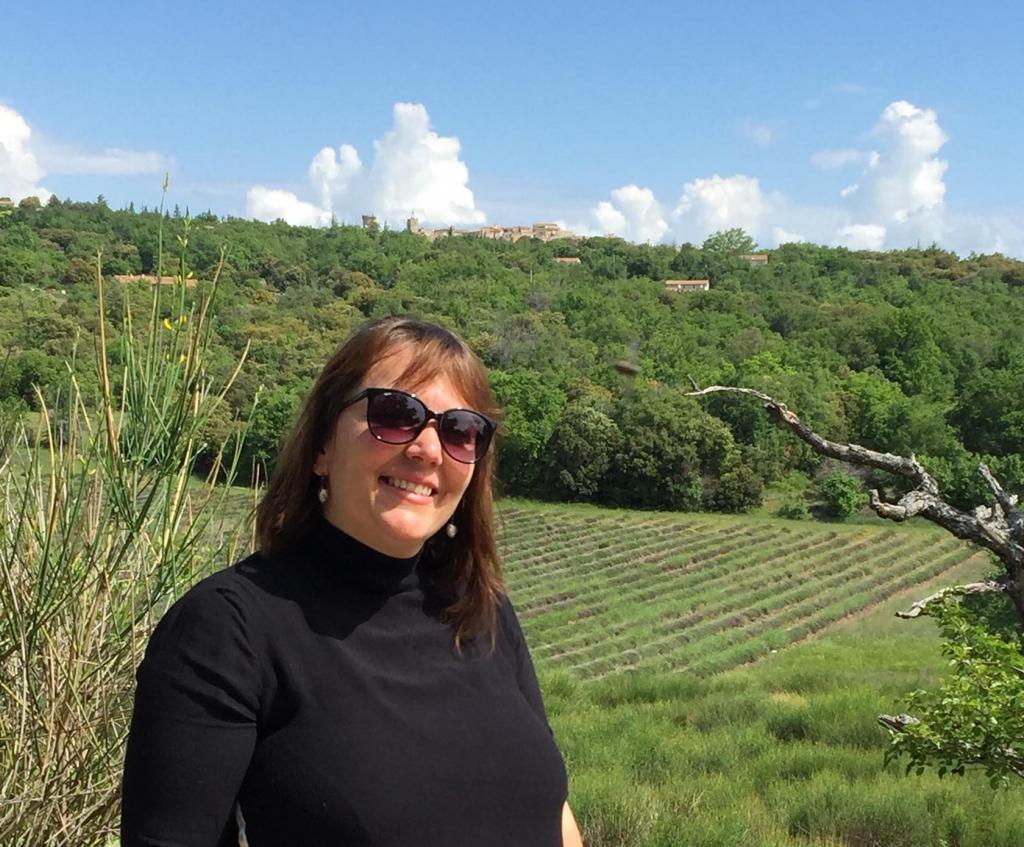 I am speaking of Marina Depoorter, head-teacher, and director of the language school Ecole Franci Discendum, located in Viens. While Viens is a beautiful drive and a lovely location for embarking on an adventure in language learning, Marina also offers the opportunity for lessons within other locations such as your holiday home, or in Saignon, or other locations within a reasonable radius of Viens.
The classes are bespoke, created with the student in mind, including age, the level of proficiency (ex: beginner, intermediate, advanced), time (a one-week vacation where you want to add a little flair to interactions at the restaurants, or a new expat wanting to immerse in your new home) and several other factors are considered to make the experience not only practical and unique but also fun.
For more background on these programs please read: Learning French in Provence with Flexible Programs for Visitors and Expats.
Forage to Fork, de la cueillette à l'assiette
One of the recurring classes offered throughout the year at Ecole Franci Discendum is about French cuisine. A local French chef teaches these classes, though Marina is also present. The student is provided with a list of new vocabulary and a few simple recipes that are traditional Provençal favourites. The instruction is provided in French (of course) and the students are guided and helped to an understanding of the directions, but you also have the opportunity to experience, hands-on, the creation and differences within French cuisine.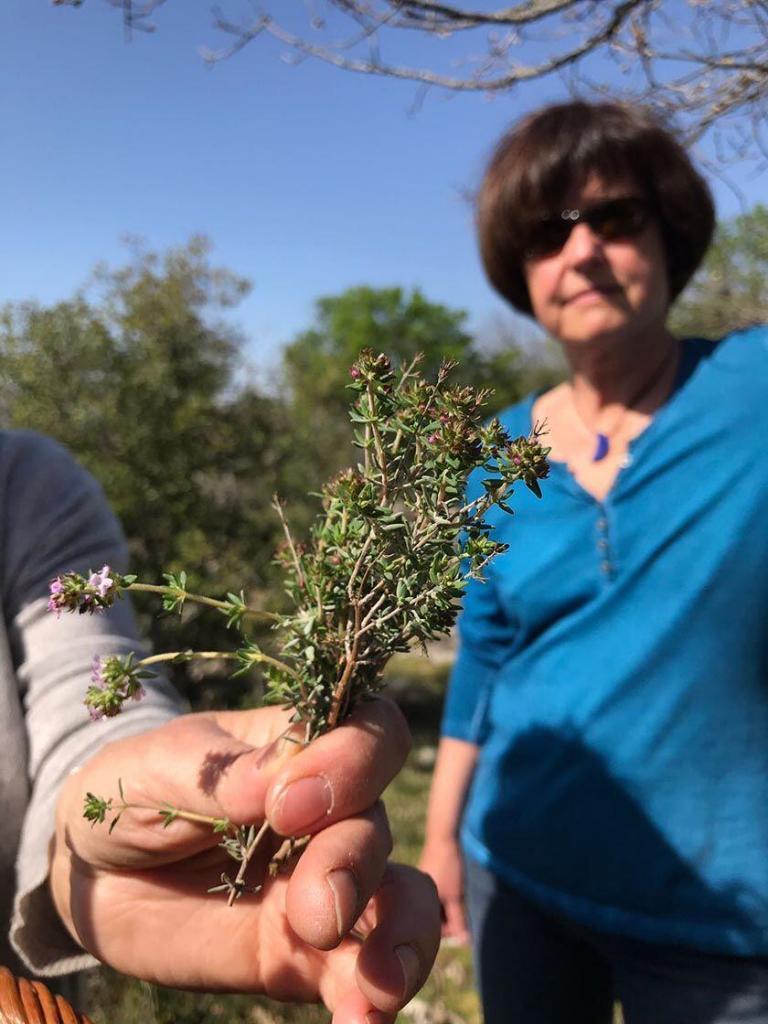 Recently I attended a session where the focus was on foraging, a class generally offered only in spring or autumn when plant life is either young and tender, or mature and ready for harvest. Provence is famous for its flora and fauna, and what better way to learn about it than to follow a knowledgeable guide on a walk through nature and learn about which plants are safe to eat and which have particular health benefits, the best time of year to collect as well as sustainable ways to harvest.
As we walked and learned, breathing in the amazing scents of flowers and grasses that grow unpolluted in the hills and fields of Provence, we gathered several specimens to add to the recipes we created that day in class including two plants that were new to me; wild leeks and wild broccoli. Just two weeks earlier the time was right for the language students to find and enjoy young wild asparagus. And, while we didn't collect any fauna (thank goodness) we did learn to watch for signs of some of the fauna that inhabits Provence, such as the churned-up ground beside a tender tree was evidence of the sanglier or wild boar, that is popular with hunters and a menace to farmers.
Back at Marina's home, tucked into its own naturally beautiful location on the edge of Viens, we gathered in her spacious kitchen and listened carefully to Alex as she instructed us how to make a salad with the gathered greens, tea from tender young growth of wild thyme, and then added some of the wild thyme to fougasse as well as a savoury onion tart tatin. For the aperitif, Marina prepared the day before a "vin blanc basilic." Aromatic plants took pride of place in that French cuisine class.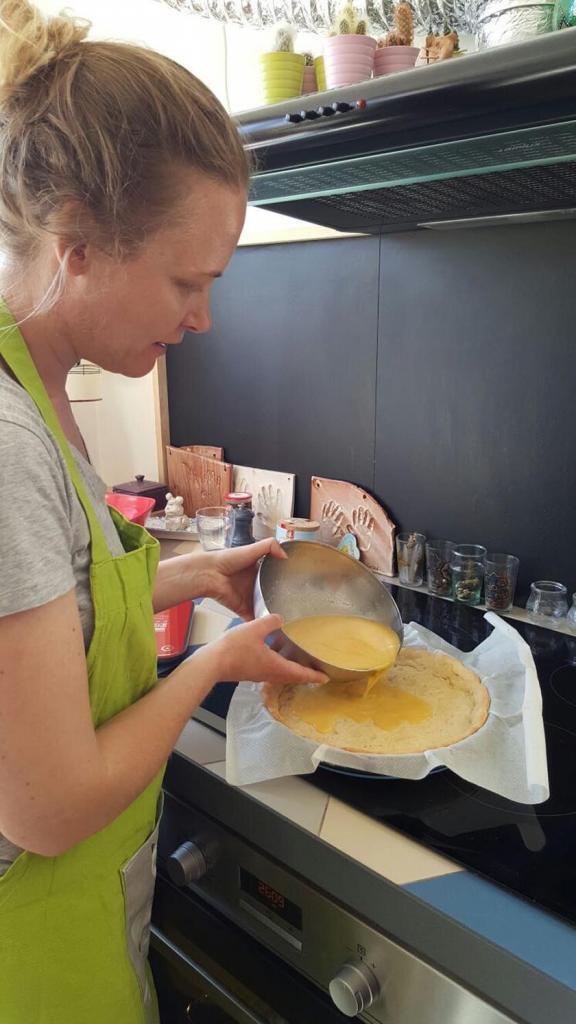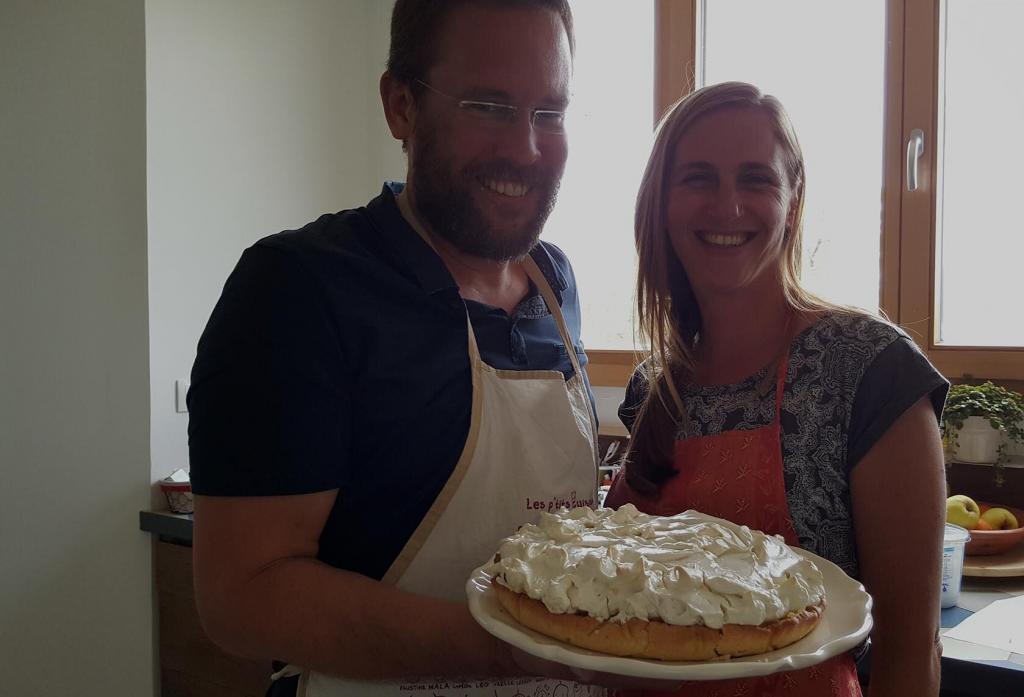 What is a French cooking class without a French dessert? Tarte au citron meringue was the crown of our experience with French cooking and foraging for ingredients (or 'forage à la fourchette' as we called it that day). While the dessert didn't contain any of the ingredients we had foraged, it certainly became part of several forks to mouth, and produced many smiles!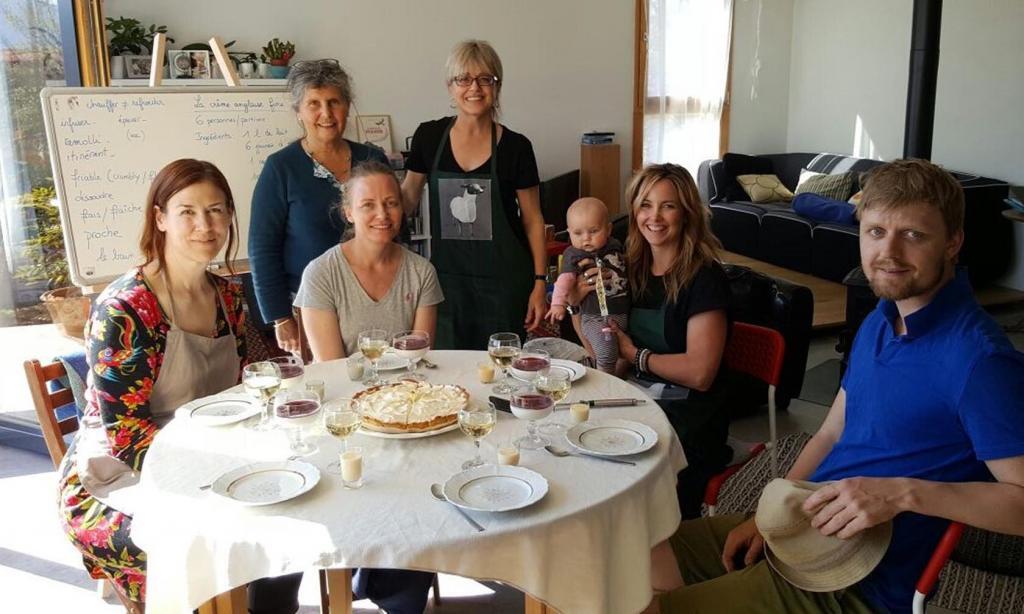 Building Language Confidence
From Marina; "The goal of the cuisine class is to build self-confidence, link the people, and improve language skills by translating from reading the page of instructions, hearing the instructions around, and then following through with the action using several senses in the learning process. Nous faisons ensemble une cuisine typique et traditionelle du Sud de la France, de la Provence, chère à mon coeur, dans une ambiance familiale et amicale. Des accents se mélangent, des expressions idiomatiques culinaires se partagent, des liens d'amitiés se créent, on conjugue le temps au présent… Ce partage est très précieux."
Contact Information
Different fully customised programs are available depending on your time and personal needs. We offer programs "à la carte": 15h/week; 20h/week; 25h/week etc.
SKYPE is an option for distance learning and a way to maintain your skills.
For more information or to begin the journey of creating your personal learning adventure in Provence, please contact:
Marina Depoorter
Association Franci discendum: Learn French in Provence
www.learnfrenchinprovence.com
www.francidiscendum.com
Tel: +33 (0)6 76 64 71 50
All rights reserved. Perfectly Provence articles and other content may not be published, broadcast, rewritten (including translations into other languages) or redistributed without written permission. For usage information, please contact us.
Syndication Information
Affiliate Information
As an Amazon Associate, this website earns from qualifying purchases. Some recipes, posts and pages may have affiliate links. If you purchase via these links, we receive a small commission that does not impact your price. Thank you in advance for supporting our work to maintain Perfectly Provence.