Roussanne with Lobster Salad and Blood Orange Dressing
Due it the acidity, a citrus dressing is tricky for food and wine pairing. The Acquiesce Winery Roussanne (2019) was a match for this seafood salad. Baked lobster tails dressed in a tart citrus vinaigrette are quick to prepare for a summer lunch. Or as a starter course.
My recipe for Lobster Salad with Blood Orange Dressing (below) showcases how rich seafood is a perfect pairing with this hearty white.  A backbone of minerality and acidity keeps this wine gorgeously balanced and delicious alone or with pairings from seafood to foie gras.
More on Roussanne Grapes
Although no one is precisely sure where Roussanne originated, it seems likely the varietal is native to the Rhône Valley and the Isere Valley in eastern France. The varietal has not ventured far from its origin; most of the world's Roussanne grows throughout the Rhône Valley. Traditionally Roussanne is a blending grape.

Wines made from Roussanne are rich and complex, with distinct honey, floral and apricot flavours.  While Roussanne is perhaps the most ageable of Rhȏne white varieties—and is often referred to as the white wine for red wine drinkers thanks to that ageability and all-around richness–it does have a bit of a reputation.
Roussanne has a well-deserved reputation as a difficult varietal to grow (the plant nursery NovaVine calls it "the princess").  Roussanne grapes are susceptible to powdery mildew and rot, and the vine is a shy and erratic producer even under ideal conditions. Planted in Spring 2011, Acquiesce Winery has two acres of the 340 total acres grown in California.
Read more about Lodi's Acquiesce Winery Focused on Rhône-style Grapes.
About the Wine
2019 Roussanne from Acquiesce Winery

Double Gold Medal International Women's Wine Competition 2020

The essence of tea rose, ginger, Asian spices, lemongrass and jasmine on the nose.  The mouth is rich and inviting with ripe pear, apricot and custard.   The finish lingers with flavours of almonds and honeycomb.
As with all Acquiesce Wines, it is produced in 100% stainless tanks and never goes through malolactic fermentation, allowing the pure fruit flavour of our unique Lodi-Mokelumne River AVA terroir to really shine through.

Lobster Salad with a Blood Orange Dressing
Quick to prepare this seafood salad is a tangy summer dish.
Ingredients
Blood Orange Vinaigrette:
1

cup

Olive Oil

2

tbsp

Rice Wine Vinegar

4

tbsp

Blood Orange Juice

1

tbsp

Dijon Grain Mustard

1

tbsp

Sugar

a pinch of

Sea Salt

a pinch of

Ground Pepper
Blood Orange Lobster Salad:
2

Lobster Tails

baked

a handful of

Fresh Basil

chiffonade or chopped fine

¼

cup

Fresh Peas

or frozen

¼

cup

Fennel

diced

2

Golden Beets

roasted and peeled

¼

Alfalfa Sprouts

¼

cup

Japanese Cucumber (or regular)

sliced
Instructions
For the vinaigrette – Place all ingredients in a mixing bowl and whisk until well combined.
Bake the Lobster Tails:
Prepare lobster tails first by cutting the top of the shell down the centre to the tail but not cutting the tail.

Place the tails flesh-side up in a baking dish at 425ºF with a small amount of water or wine at the bottom.

Depending on the weight of your lobster tails, bake them for 1 – 2 minutes per ounce, making sure not to overcook.

Cool, then pull lobster meat out of the shell, dice into cubes and set aside. Save the shells.
Roast the Golden Beets:
Wrap the beets in aluminium foil.

Bake for approximately 20 minutes or until you can easily pierce the beet with a knife and it comes out easily.

Cool and rub beets with fingers to remove skin; it will come off easily.
Lobster Salad Assembly:
Place all ingredients in a bowl and toss with just enough Blood Orange Vinaigrette to coat the salad. There may be extra vinaigrette leftover to refrigerate and use on salads, steamed vegetables or other dishes.

Place an empty lobster shell on a plate and place salad on top.

Garnish with Alfalfa Sprouts on top of the salad and serve with a glass of Roussanne.
Notes
Note: You may use any citrus that you prefer; tangerine, orange, lemon, or lime will work!

Other Seafood Recipes:

Crab Cakes - Galettes de Crabe
Crab cakes are easy to make. The longest part is frying the crab cakes. Serve on a zesty salad and your company will be happy. This recipe was minimally adapted from the recipe by Chef Georges Perrier, Le Bec-Fin.
Check out this recipe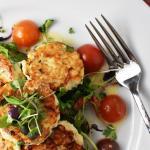 Moroccan Pastillas - Vegetable and Shrimp
The methodology for making pastilla is the same whether you create vegetarian, poultry or seafood versions. First, prepare the filling, wrap it in the dough and bake until hot. Enjoy!
Check out this recipe

Zucchini and Shrimp Fritters, Saffron Mayonnaise
Crispy fried zucchini and shrimp fritters topped with a fresh and creamy saffron mayonnaise.
Check out this recipe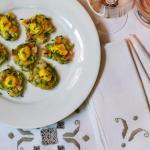 Scallops with Lemon and Caper Butter
These delightful scallops are a perfect appetizer to serve at your next dinner party. The bright citrus complements the creamy butter and vinegary capers for a delicious starter you can share with friends, family, or enjoy on your own!
Check out this recipe

Seared Scallops with Blood Orange Beurre Rouge
These succulent scallops pair exquisitely with the tart citrus flavour of blood orange. You can quickly whip this dish up at home that will fool your dinner guests into thinking you're a 5-star chef. Then, pair it with a buttery, full-bodied white wine for an incredible meal!
Check out this recipe