Best Summer Entertaining in Provence Apéro Dînatoire
With the summer heat in Provence, I find that an apéro dînatoire is the best way to entertain. I prepare all the dishes in advance except a fig and onion mini puff pastry. Then, 30 minutes before guests arrive, I put out my spread and pop the pastry hors d'oeuvre in the oven! I notice that people prefer lighter fare with the high outdoor temperatures. Also, I can spend all my time with my guests, filling glasses of rosé rather than spending time in the kitchen whipping up a 5-course meal. I'll wait until the cooler months for the sit-down dining experience. Here is the menu from my latest Summer Apéro Dînatoire.

• Fruit Plate: grapes, figs, watermelon and cherries
• Prosciutto di Parma and Charentais melon plate
• Salted Marcona almonds with Herbes de Provence
• Crystalized ginger
• Fig jam and onion mini puff pastries
• Caprese salad with basil and Burrata cheese
• Roasted peppers and potatoes with pepper coulis
• Saucissons, pickles, olives, icicle radishes & cheese plate
• Crackers and pain croustillant (crunchy, grilled bread slices)
• Beet / cucumber gazpacho soup
• Endive with blue cheese, chopped Granny Smith apples, lime vinaigrette and pistachios
• Apricot clafoutis
• Quatre-Quart (pound) cake made with creme fraiche, served with a dollop of lemon curd and a few fresh strawberries

The French style of entertaining called the apéro dînatoire is a favourite way of throwing parties in France. Since I am in France for an average of 3 to 5 months every year, we have grown roots in Provence, specifically in the area of Aix-en-Provence! I love apéro dînatoire gatherings and the spontaneity of inviting friends over. When you mention apéro dînatoire, your guests will know there will be plenty of food, yet it's casual. This type of party is becoming more common as it is the perfect balance between the apéro cocktail party and a formal dinner party.

More Cocktail Party Recipes
Pink Elephant Martini Cocktail
This cocktail is festive, fun and easy to mix. Enjoy!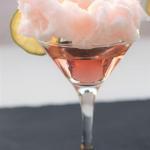 Cocktail Time Pomegranate Gin and Tonic
A refreshing gin and tonic drink alternative for any occasion
Check out this recipe

Stuffed Zucchini Blossoms: Goat Cheese, Sun-Dried Tomatoes, and Tapenade
This recipe is easy to prepare and delicious to eat. Serve hot with chilled rosé.
Check out this recipe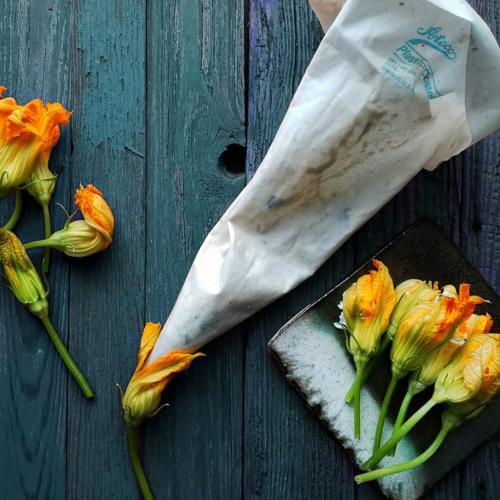 Olive Tapenade, Caviar d'Aubergine and Goat Cheese and Basil Dips
These three dips include classic ingredients from Provence. Each one is very easy to make, all you need (besides the ingredients) is a blender.
Check out this recipe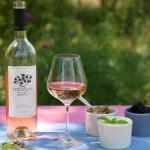 Truffled Brie is Cheese Heaven
Serve this as an appetizer or with your cheese course.
Check out this recipe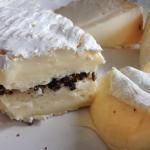 Tarte Soleil - Puff-Pastry Appetizer
From the chef, "Provençals like things sunny and pretty, so this is a popular take on the local, traditional fougasse. It can be filled with any strong-flavoured spreadable mixture such as tapenade or anchoiade or a sundried-tomato paste or even a spinach/ricotta or goat cheese." 
Check out this recipe

Chilled Tomato Gazpacho Soup
Tomatoes, peppers, onions, and more blended together. You will need a good blender, a sieve and some patience but otherwise, this is such an easy recipe. No cooking required!
Check out this recipe


Food Styling, Plating and Presentation
Simple. Abundant. Seasonal.
Ask me how to build your appetizer party: how to choose plates and surfaces, and use complementary colours! I will show examples of how to create a cheese and fruit plate and individually plate dishes.
We will use food styling techniques to build an appetizer party presentation in French, an apéro dînatoire.
Create height on the plate or platter.
Use multiple textures.
Highlight the key ingredient.
Incorporate contrasting colours.
Choose

a variety of plates and platters.

Use edible garnishes.
Keep it simple.
Use the correct tools.
Helpful tools for a beautiful spread:
Oversized tweezers
Squeeze bottle
Silicon brushes
Circle template (mould)
A variety of plates and platters – different sizes and colours
Piping bag (or plastic bag) and star tip
All rights reserved. Perfectly Provence articles and other content may not be published, broadcast, rewritten (including translations into other languages) or redistributed without written permission. For usage information, please contact us.
Syndication Information
Affiliate Information
As an Amazon Associate, this website earns from qualifying purchases. Some recipes, posts and pages may have affiliate links. If you purchase via these links, we receive a small commission that does not impact your price. Thank you in advance for supporting our work to maintain Perfectly Provence.