This Apricot Tart Recipe is Made for Sweet Dreams
Once again, I was awakened by a dream about food. This one, though, was even more specific than the one for Bistecca con Crema di Porcini. This dream was about a dessert and included all the parts of the recipe — the crust, the fruit layer, and the custard. I made these Apricot Saffron Rose Tarts as a special dessert for my friend Jennifer's birthday. We all loved them, and they felt light after a big meal. They are a bit more work than many of the desserts you on Cocoa & Lavender, but they are worth it!
About Saffron
The number of local farmers producing saffron in Provence is increasing – it used to be widely grown in the south of France, but phylloxera wiped it out early in the last century. Harvesting is a hands-on job for the safranieres, and it has to be done in the morning that the crocuses flower.
Saffron comes from the Arab word zafaran, which means yellow – the colour imparted to food by the dried stigma of the flowering crocus. The Crocus sativus is part of the Iris family. This tiny Iris cousin, a perennial, flowers in the fall. The plant grows from a bulb to a height of 20-30cm; the purple flower itself is no more than 4 cm. Each flower contains three styles or stigma, not much larger than the size of a thread; these are harvested and dried to produce saffron. The flowers only bloom for a remarkably short span of time, a matter of hours. It takes 250,000 stigmas to make just half a kilo of saffron. You can only expect to reap 2.5-3 kilos of saffron on one acre of land.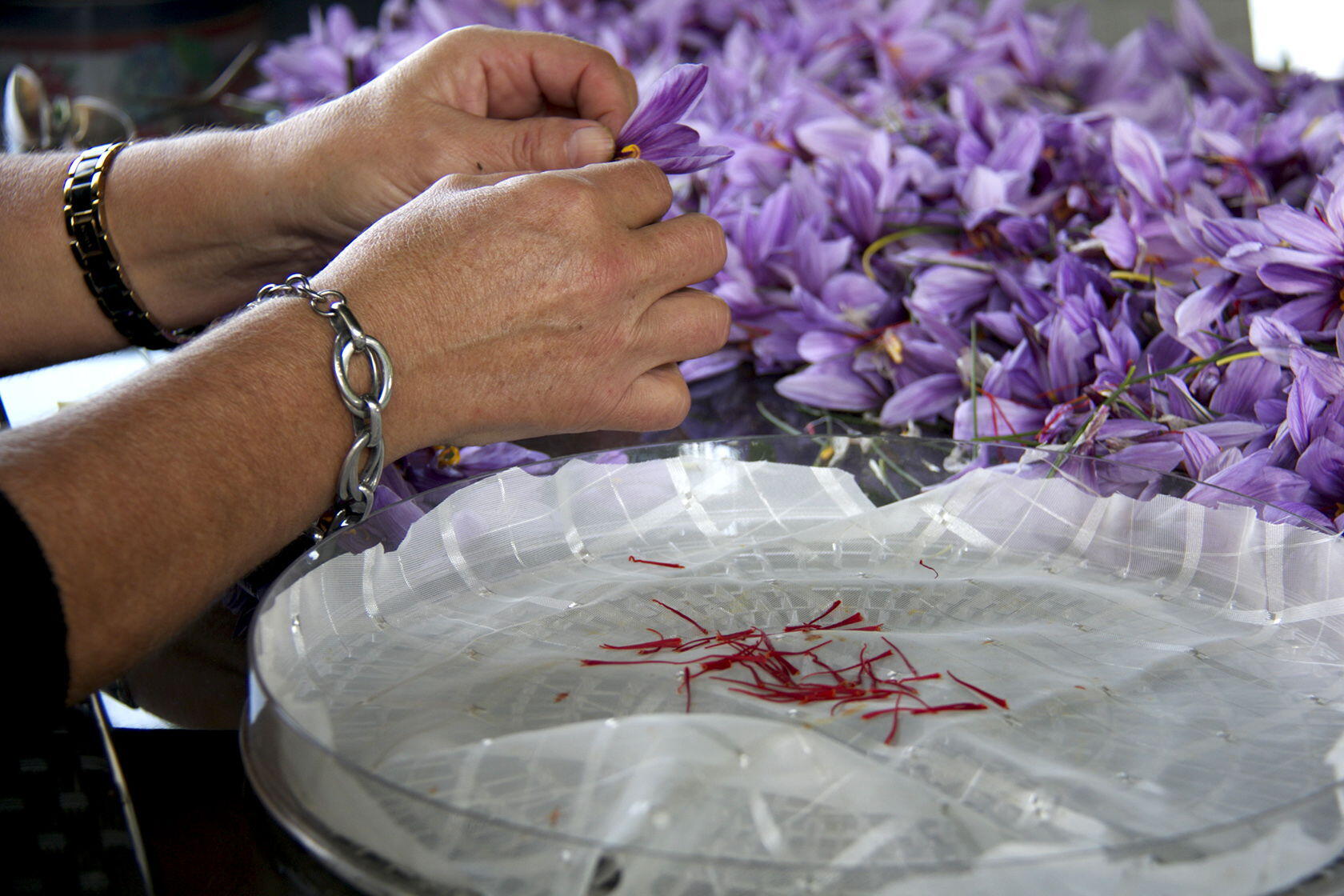 Apricot Saffron Rose Tarts
Apricot Saffron Rose Tarts is a delicious dessert created to share. The tart is made with fresh saffron that can be found at local farms in Provence. 
Ingredients
3/4

cup

Flour

1/3

cup

Confectioners Sugar

1/3

cup

Pistachios (shelled unsalted)

plus a few for garnish

8

tbsp

Unsalted Butter

1

Egg Yolk

Cold Water

1

Egg White

1/2

cup

Apricot Jam

1/2

cup

Milk

1

tsp

Powdered Gelatin

3/4

cup

heavy cream

3

tbsp

sugar

0.15

gram

Powdered Saffron

or 1/2 teaspoon threads pulverized

1/2

tsp

Rosewater
Instructions
Make the Pastry:
Grease and flour four 4-inch tart pans. (Baking spray is acceptable.)

Place flour, confectioners sugar, and pistachio nut meats into the bowl of a food processor and process until nuts are finely ground, like sand. Cut butter into 16 pieces and add to the processor; pulse ten times.

Place the egg yolk in a 1/4 cup measure, break it up with a fork, and add ice water to fill the measure. Add the water and egg yolk to the food processor and pulse 10 to 12 long pulses or until the dough comes together. The dough will be very sticky. Wrap the dough in plastic or wax paper and chill for 30 minutes.

Preheat oven to 350°F. Divide chilled dough into four pieces, and place one in each tart pan. Flour your fingers, if necessary, and press the dough evenly into the mold across the bottom and sides. You can flatten the bottoms with a glass dipped in flour for uniform thickness.

Chill for 10 minutes. Line each tart pan with foil, and place on a baking sheet. Fill each shell with pie weights or dried beans, and bake for 10 minutes; remove the foil and weights and bake an additional 5 minutes. Remove from the oven and immediately brush the bottoms and sides of the hot shells with egg white and let cool.
Prepare the Apricot Layer:
Purée the apricot jam or press through a strainer. Divide the jam among the four cooled tart shells, and spread evenly. Chill.
Make the Panna Cotta:
Put the milk in a small saucepan; sprinkle the gelatin on top and let it sit for 5 minutes. Turn the heat to medium and cook while stirring until the gelatin dissolves. Do not let the milk boil.

Add the cream and sugar to the saucepan and continue cooking while stirring for 3-5 minutes.

Once the sugar is dissolved, turn off the heat. Stir in the saffron and rosewater and set aside to cool a bit.
Assemble the Tart:
When the flavoured cream mixture has cooled somewhat (about 30 minutes, stirring from time to time), spoon evenly into the tart shells (about 1/4 cup each) over the apricot jam. Return to the refrigerator to cool fully (3 hours or more). There will be some leftover cream mixture; put it in a ramekin for a future treat and chill.

Bring the tarts to room temperature about 15-30 minutes before serving. Garnish with pistachios.
Additional Tarts to Try:
Chocolate and Pear Tarts
These tarts are easy to make and a delicious finish to a fall menu. Make sure to leave enough time to prepare and rest the dough.
Check out this recipe

French-Style Apple Tarts
The smell of apple tarts baking in your kitchen is a temptation enough, but these individual pastries in the pretty flower pattern... Well, it takes a lot of willpower to resist. And, these individual tarts are delicious warm or cold, with a glass of our lovely rosé Pure!
Check out this recipe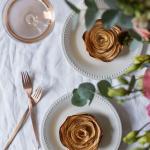 Lemon Tart - Tarte aux Citron - La Tarta al Limoun
A delicious lemon tart that can be baked as one large tart or served in smaller tartlets to share, Enjoy! 
Check out this recipe

Fig Tart with Orange Flower Custard
This is a delicious tart, easy to make a perfect way to use up those figs that your guests brought to your dinner party.
Check out this recipe