Grilled Lamb Shoulder with Lemon, Garlic and Rosemary
Colder weather in Provence, or anywhere else, is the perfect excuse for making hearty dishes and serving wines that compliment the earthy flavours. Below is a recipe for grilled lamb shoulder with a lemon, garlic and rosemary infusion from author, chef, and journalist Susan Herrmann Loomis.
This recipe comes from her cookbook French Grill: 125 Refined & Rustic Recipes, published in 2018. In addition to publishing 14 best-selling books, Susan Herrmann Loomis founded the Dancing Tomatoes website, where you can read more about this talented lady. Based in Paris, with 20 years of teaching experience, Loomis offers live cooking classes via video link and a collection of traditional six 4-course menus in her Plat du Jour video archive.

Lemon, Garlicky, Rosemary Lamb Shoulder
Cooked over hot coals (or a gas BBQ), the lamb shoulder is infused with a lemon, garlic, and rosemary mixture before cooking. Enjoy this epaule d'agneau au citron, ail et romarin from the French Grill cookbook by Susan Herrmann Loomis.
Ingredients
1/3

cup

Fresh Rosemary Leaves

2

Garlic Cloves

green germ removed if necessary

1

Zest of a Lemon

1

Lamb Shoulder, boned

( about 3 to 3-1/2 lbs or 1.5- 1.75kg )

1

tbsp

Olive Oil

2

tsp

Coarse Sea Salt

1

tsp

Coarsely Ground Green

white and black peppercorns
Instructions
Mince together the rosemary leaves, garlic, and lemon zest and transfer to a small bowl.

Make six ½-inch (1.25cm) deep slits in the lamb shoulder.  Insert as much of the rosemary mixture as you can in each slit. Mix the remaining mixture with the olive oil and rub it over the lamb shoulder. Let the lamb sit at room temperature for 2 hours up to overnight. If leaving the lamb overnight, wrap and refrigerate it and remove it from the refrigerator at least 2 hours before grilling, so it is at room temperature.

About 25 minutes before you plan to cook the lamb shoulder, build a good-sized fire.  When the coals are red and dusted with ash, divide them in the barbecue, putting half the coals on either side.  Set a grill pan in the middle of the coals, then set the grill over the coals.

When the grill is hot, place the lamb shoulder in the centre, over the drip pan, sprinkle salt and a bit of freshly ground pepper over the shoulder, and close the grill making sure the air holes are open in the top and the body of the barbecue. Grill for 12 minutes until the shoulder is pale gold on the grill side. Turn the shoulder, season with salt and pepper and grill for another 12 minutes. Transfer the shoulder to the part of the grill over the coals, cover, and grill until the shoulder is deep golden, about 10 minutes. Turn and repeat. NOTE: The interior temperature of the lamb should now be about 150F (65.5C) which means it is medium and, to my way of thinking, perfectly cooked; if you like it rarer, brown it on just one side; if you like it more well done, adjust the initial cooking time in the centre of the grill accordingly.

Transfer the lamb from the grill to a cutting board that will catch the juices, and let it sit for at least 10 minutes and up to 20 minutes before slicing the lamb. Drain the juices into a small pitcher and serve alongside the meat.
More Lamb Recipes to Try:
Grilled Lamb Chops with Parsley and Mint Vinaigrette
This dish is a crowd-pleaser. Start the potatoes in advance and prepare your mise-en-place (chopped herbs), the rest can be done when your guests arrive.
Check out this recipe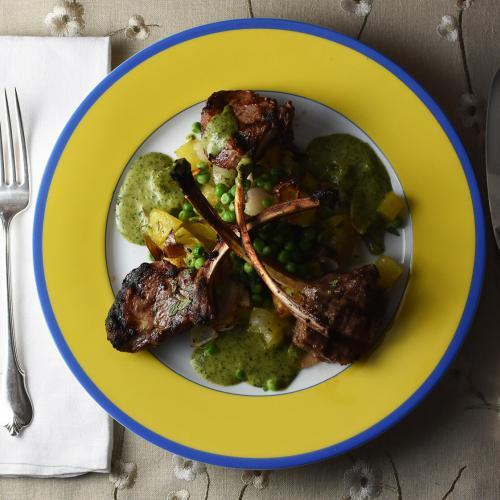 Grilled Lamb Kebabs
Easy to prepare, but allow enough time to marinate before cooking.
Check out this recipe

Moroccan Lamb Mechoui
Since I do not have enough people to feed a proper mechoui to I generally cook a leg or preferably a shoulder of lamb. The shoulder lends itself to the longer cooking time and yields incredibly tender and juicy meat. I marinate the lamb for at least two hours but preferably overnight. I like to cook the mechoui in a hot smoker or charcoal grill but an oven at 375°F will work as well. Serve with saffron rice or golden couscous.
Check out this recipe

Slow-roasted Lamb Shoulder with Za'atar
The slow roasting process creates a juicy lamb and the za'atar will add a little spice!
Check out this recipe

Lamb Stew with Root Vegetables (Navarin d'Agneau)
Local free-range lamb is easy to find in Provence, so there are many typical dishes that you will find on menus. Navarin d'Agneau is a traditional slow-cooked stew made with root vegetables.
Check out this recipe