Lamb Mechoui a North African Recipe
Provencal cuisine is a tapestry of culinary influences from all over the Mediterranean, including North Africa. One dish that is perfect for al fresco festive occasions is lamb mechoui (or méchoui) slow-roasted on a spit. For those unfamiliar with mechoui, it is a festive lamb dish from North Africa. It's usually made from a whole lamb, though small camels, gazelles, or even wild sheep will work in a pinch. Mechoui is intended to serve large gatherings, like a wedding or a joyous celebration. My version starts with a 3-pound boneless lamb shoulder marinated in spiced butter, then slow-cooked over a charcoal fire. But you can even make this in a conventional oven to get an unconventional flavour unto your table.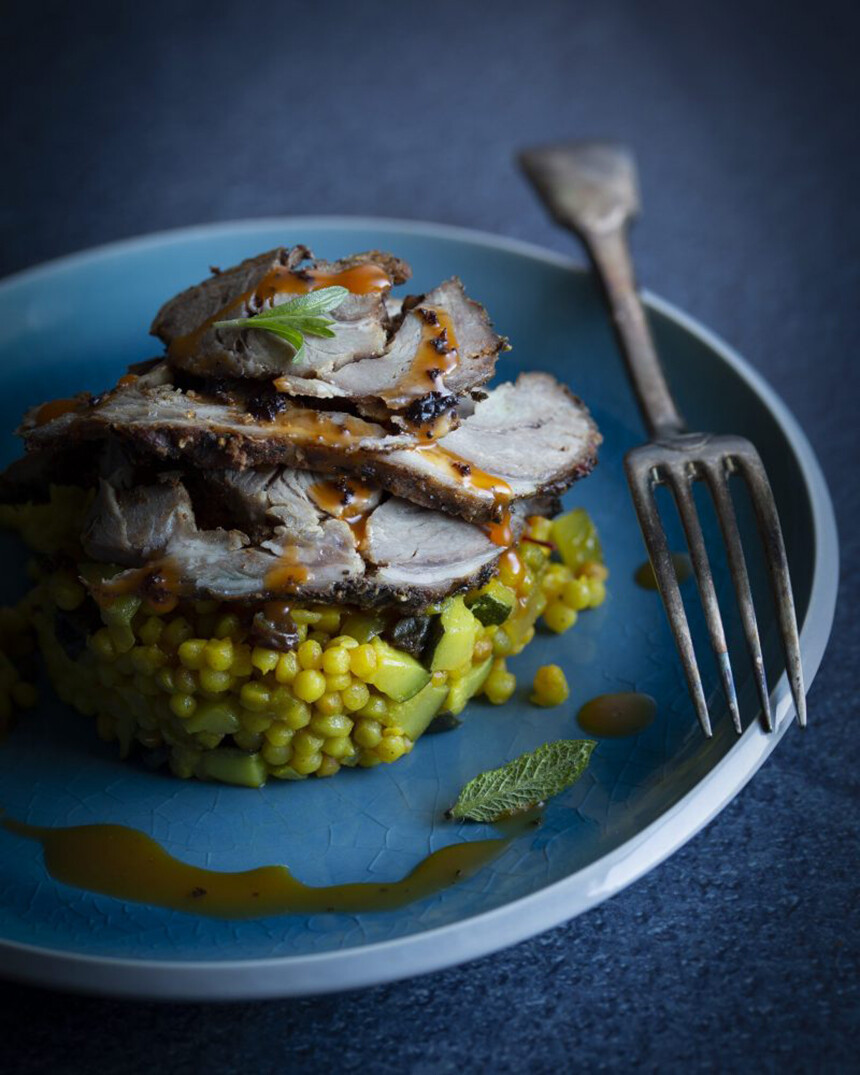 Moroccan Lamb Mechoui
Since I do not have enough people to feed a proper mechoui to I generally cook a leg or preferably a shoulder of lamb. The shoulder lends itself to the longer cooking time and yields incredibly tender and juicy meat. I marinate the lamb for at least two hours but preferably overnight. I like to cook the mechoui in a hot smoker or charcoal grill but an oven at 375°F will work as well. Serve with saffron rice or golden couscous.
Ingredients
For Spiced Butter:
1.5

tbsp

Ground Coriander

1

tbsp

Chopped Garlic

1

tbsp

Cumin

1

tbsp

Sweet Paprika

1

tsp

Sea Salt

1

cup (226g)

Unsalted Butter

room temperature (2 sticks)
Lamb
1

4-5lbs

Lamb shoulder

deboned (1.8-2.2kg)
For Golden Couscous:
1/4

cup (56ml)

olive oil

1

tbsp

Chopped Garlic

1

Onion

peeled and chopped fine

1

Carrot

peeled and chopped fine

1

thin

Zucchini

washed and chopped fine

2

cups (453g)

Israeli Couscous

1

pinch

Saffron

1

pinch

Turmeric

1

pinch

Cinnamon

1

pinch

Cumin

2

tbsp

Chopped parsley

1/4

cup (56g)

Dried apricots or raisins

diced

1/4

cup (56g)

Slivered Almonds

toasted

2

cups (454ml)

Chicken Broth
Instructions
Make the Spiced Butter:
Make the spiced butter by beating all the spices with the softened butter.
Prepare the Lamb:
Remove any excess fat your lamb shoulder might have. Rub 2/3rds of the softened butter into the meat, covering the entire surface. Let marinate for a minimum of 2 hours at room temperature or overnight in your refrigerator.

Preheat oven to 375°F.

Place the lamb shoulder onto a rack in a roasting pan and cook for 2 hours, or until the lamb is fully cooked. If you are using a smoker or a charcoal fire let the lamb cook low and slow for 2 to 3 hours, or until the meat is fully cooked and tender.
Make the Golden Couscous:
While the lamb is cooking, prepare the golden couscous. In a Dutch oven over medium-high heat, warm the oil until hot.

Add the garlic, onion, carrot, and zucchini and cook until softened, about 10 minutes.

Add the couscous, saffron, turmeric, cinnamon, and cumin. Stir briefly, then add the parsley, apricots, almonds, and broth.

Bring to a boil, then lower to a bare simmer and cook covered until the couscous is tender about 20 minutes.
To Serve Your Mechoui:
Remove the cooked lamb shoulder to a cutting board. Carve the meat into thin slices and pour over the remaining spiced butter. Pass the meat and couscous at your table.
North African Recipes:
It is possible to find North African spice mixes at most of the big markets and grocery stores in Provence. However, for a journey to Morocco without the cost of airfare, the head to the Marché de Noailles in Marseille, also called the Marché des Capucins. At this animated market, you will discover all the spices you will need for the following North African dishes. While you are there, browse the neighbourhood shops and make sure to stop for a coffee to absorb the atmosphere.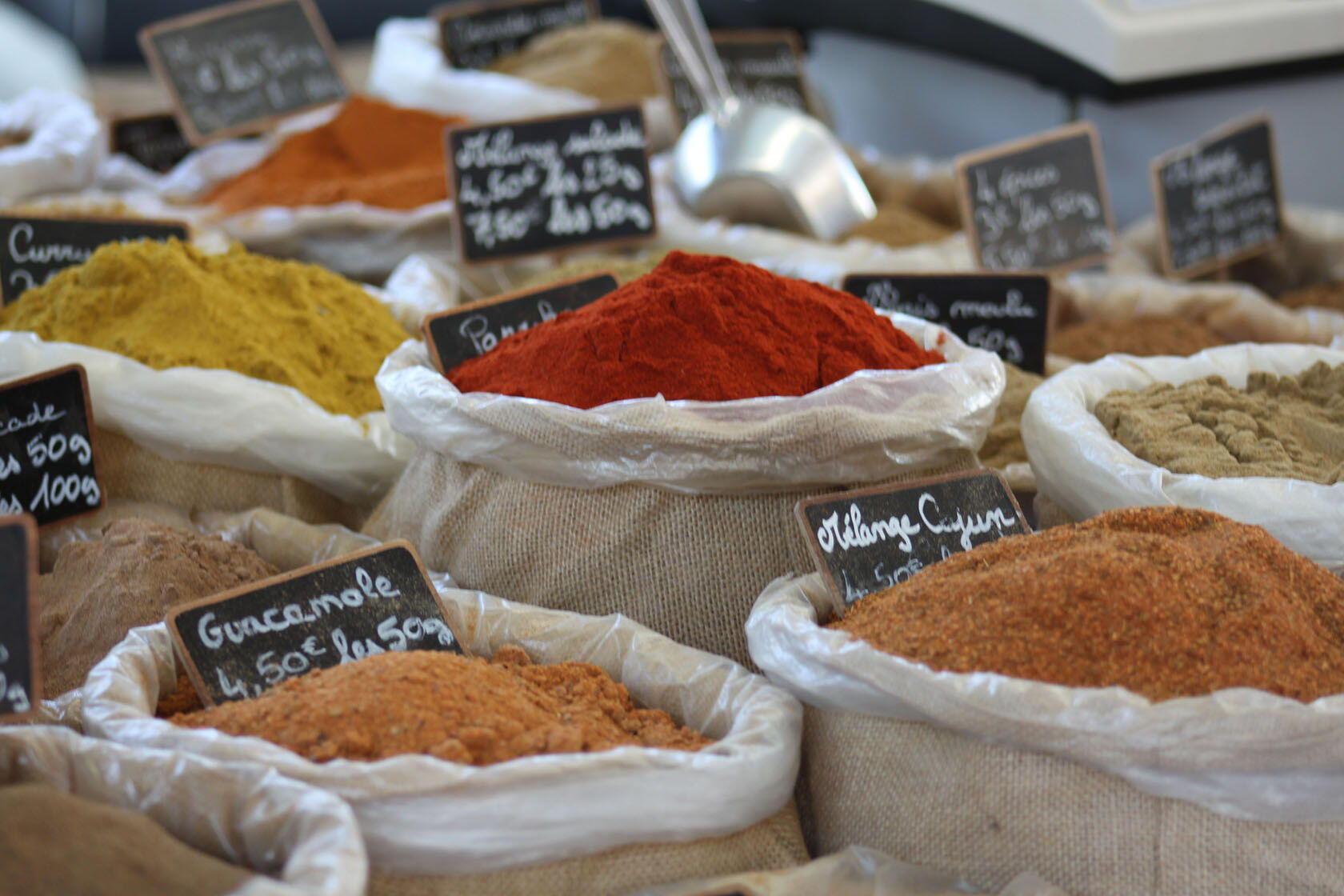 Menu:
Provencal Menu from the Spice Route
Salads:
Moroccan Zaalouk d'Aubergine a Spiced Eggplant Salad
Main Dishes:
B'stila b'djej Recipe a Traditional Dish from Morocco
Moroccan Pastillas with Vegetables and Shrimp
Vegetarian Tagine from Marrakesh
Provencal Lamb Chops with Honey and Moroccan Couscous
Traditional Lamb and Chicken Couscous a Moroccan Recipe
Additional Read: