Market-Inspired Salmon with Onion Compote
Our Sunday morning ritual is a visit to Tuscon's Heirloom Farmers Market in Rillito Park. While it may not be Provence, the selection of seasonal produce is always tempting and often inspires our evening meal. We visit the market so regularly that we know many of the vendors by name. The following salmon recipe was definitely market-inspired. I created the onion compote with tiny I'itoi (pronounced ee-EE-toy) onions, an old-world crop. The name for the variety of onions, I'itoi, refers to Elder Brother, the creation deity of Tohono O'odham narrative. Discovering the markets of Tuscon is always a joy, it's my confirmation of the city's rating as a UNESCO City of Gastronomy.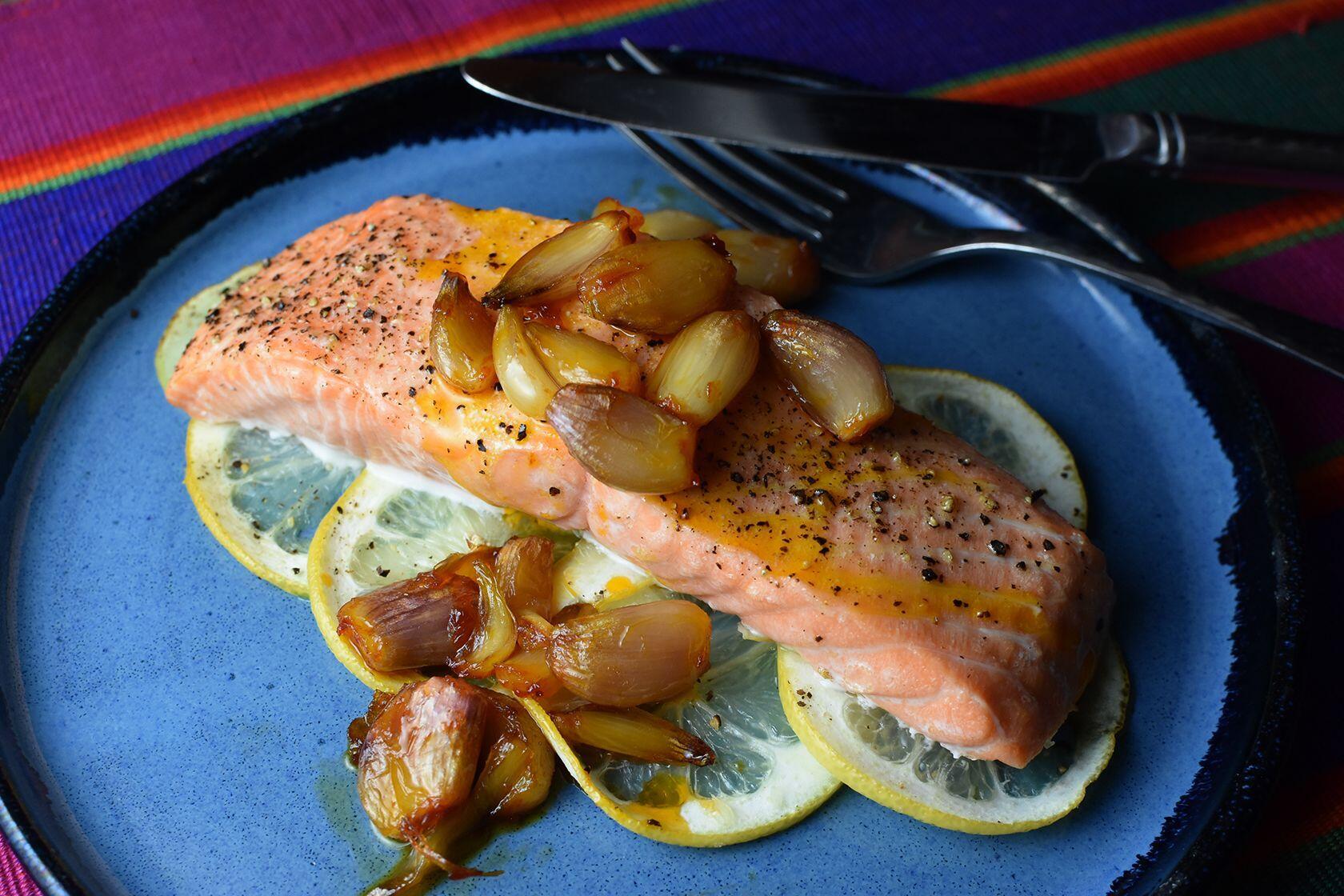 Roasted King Salmon with I'itoi Onion Compote
Allow enough time for the onions to cook slowly, as the caramelizing process will make all the difference in the flavour of the compote. Serve with the roasted salmon for a lovely combination. If you have too much onion compote, it won't go to waste, serve with grilled meat or on a sandwich.
Ingredients
4

6-oz

King Salmon Fillets

skin removed

8-10

clumps

I'itoi Onions

3

tbsp

Extra virgin olive oil

5

sprigs

Fresh Thyme

1

tsp

Tomato paste

1

tsp

Sugar

1

pinch

Crushed Chiltepin

or red pepper flakes

large pinch

Salt

2

Lemons

sliced paper-thin
Instructions
Brush the salmon fillets with a little of the olive oil. Season well with salt and pepper and set aside. Preheat the oven to 400°F/200°C.

Divide the clumps of onions into separate cloves or bulbs; you should have about 40 separate bulbs, but if you end up with more that is great!

Trim and peel them, then rinse them well, as the bulbs can be very sandy. If they come with their greens, reserve them for another use. **

Place the remaining olive oil in a small, heavy saucepan and add the whole I'itoi onion bulbs, thyme sprigs, tomato paste, sugar, red pepper flakes, and salt.

Cook over medium-low heat for about 20 minutes, at which point the onions should be soft and somewhat caramelized. Discard thyme sprigs and set compote aside; keep warm.

Arrange lemon slices on an oiled cookie sheet to make a bed for the fish. Place the fillets on the lemon slices and roast in the oven for 8-12 minutes, depending on thickness and your preference for how well done you like your fish.

Using a long spatula, transfer each fillet, with some of the lemon slices, to heated dinner plates.

Divide the I'itoi onion compote among fish, drizzle any remaining sauce over it, and serve immediately.
Notes
* Chiltepin is a small capsicum pepper that is native to North and South America.
** The greens of the I'itoi onions are very flavorful and should not be discarded. Use them as you would scallions. They are wonderful sautéed as a side dish.
Other Salmon Recipes:
Filo Salmon Pie: A creamy seafood pie with salmon, mushrooms and leeks with a crispy golden top of filo pastry.
Smoky Cinnamon Salmon with Mushroom Lentils is a mid-week "go-to" favourite in under 30-minutes using Spanish smoked paprika, known in Spain as pimentón.
Seared Salmon with Tomato-Shallot Ragoût. Make the tomato ragoût in advance, as it will keep for a few days. The salmon takes less than 10 minutes to cook, so dinner is on the table in no time at all.
Serve Crispy Salmon Fillets with pea and mint salad and roasted baby potatoes, and optional lemon slices, alongside Mirabeau Rosé for a romantic dinner for two.
Seared Salmon with Red Wine Shallot Sauce and Wasabi Mashed Potatoes is Chef Eric's "Signature Dish" from his days as Food & Beverage Manager at Lowes Hotel Vogue in Montréal. One of many delicious recipes from the Cook'n with Class cooking school in Uzès.