Food Favourites and Recipes from Provence to Eat
The following guest article by French Waterways, "18 Foodie Treats to Eat in Provence," is republished below with permission. We have added links to recipes for these Provencal favourites.
If you are looking for cruising inspiration and information, french-waterways.com is the world's most comprehensive and best-loved source of inspiration and information about enjoying the rivers and canals of France – on the water or by the water.
---
Provence Food Favourites
If you're looking for flavour, freshness and traditional cooking, you won't be short of foodie treats to eat in Provence. This region in the south of France offers the very best of Mediterranean cooking, bringing a feast of colour, taste and healthy eating to every single dish. The local cuisine might not be as elaborate as other regions of France, but as the Telegraph Provence Food Guide says, "for the heights of pleasure and health: the combination is unbeatable."
Delicious Bites in Provence
Provence does authentic flavour, perhaps better than anywhere in France. The region's fields and orchards come laden with fruit, vegetables and olives while the Mediterranean offers one big larder of fish and seafood. Then herbs (herbes de Provence) from the countryside – think thyme, rosemary, marjoram and oregano – add the characteristic Provençal scent and taste.
And of course, all washed down with Provençal wines or the anise-flavoured pastis. As the Telegraph says, cuisine in this part of France is all about the "quotidian sensuality of Provençal life."
Provencal Snacks and Nibbles
For the first dishes on our list of delicious things to eat in Provence, we've included starters, snacks and finger foods. You'll find many of these at local markets and food trucks in the region. All perfect for a picnic or food-on-the-go, but don't forget that glass of good Provençal rosé too.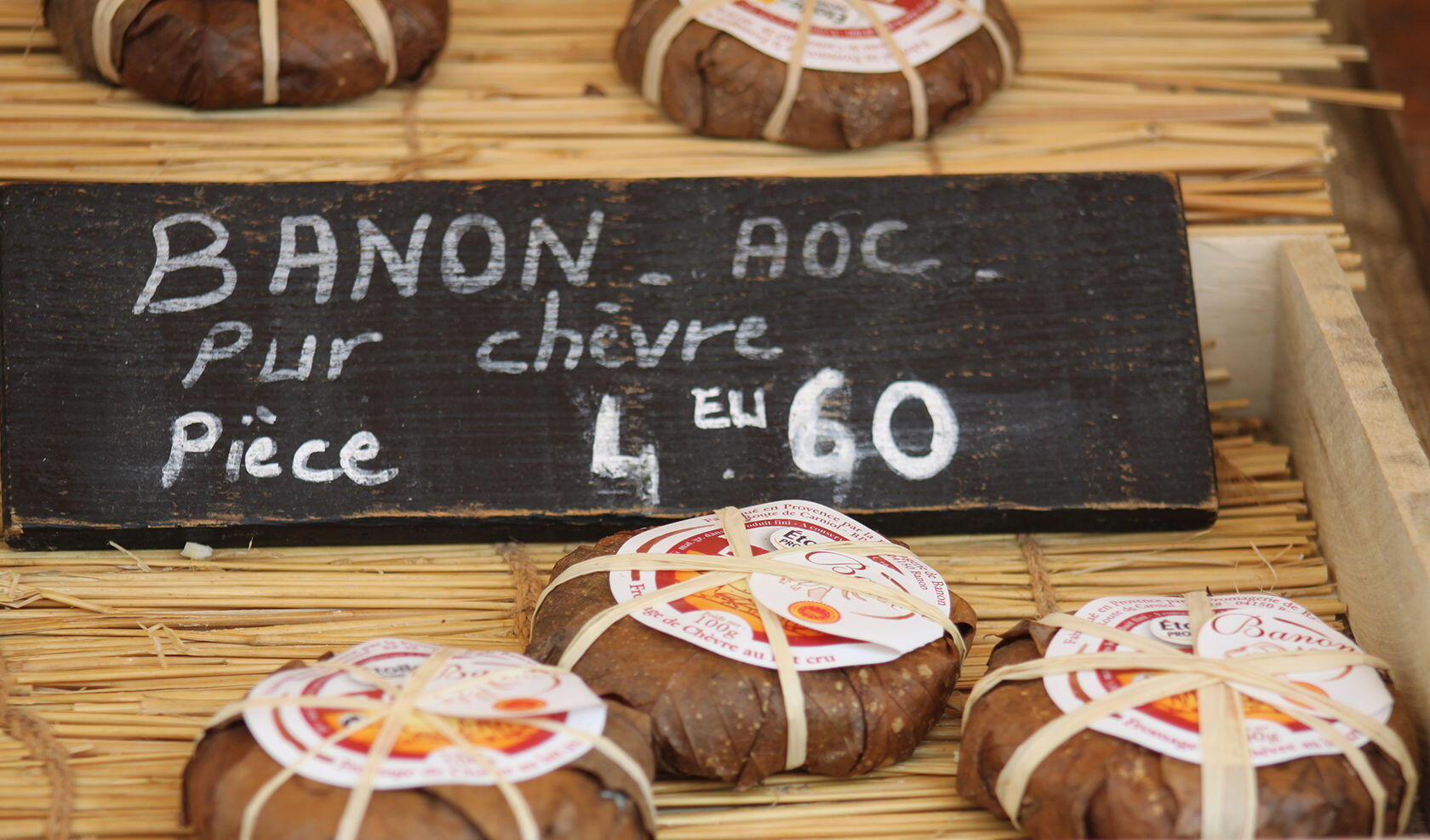 Goat Cheese from Banon. Provence doesn't do cow's milk cheeses, but when it comes to goat's milk, the region creates some of the best fromages in France. Banon, an AOC cheese from the town of the same name, is creamy and delicately flavoured after maturing wrapped in chestnut tree leaves and bound with raffia. Discover this beautiful village.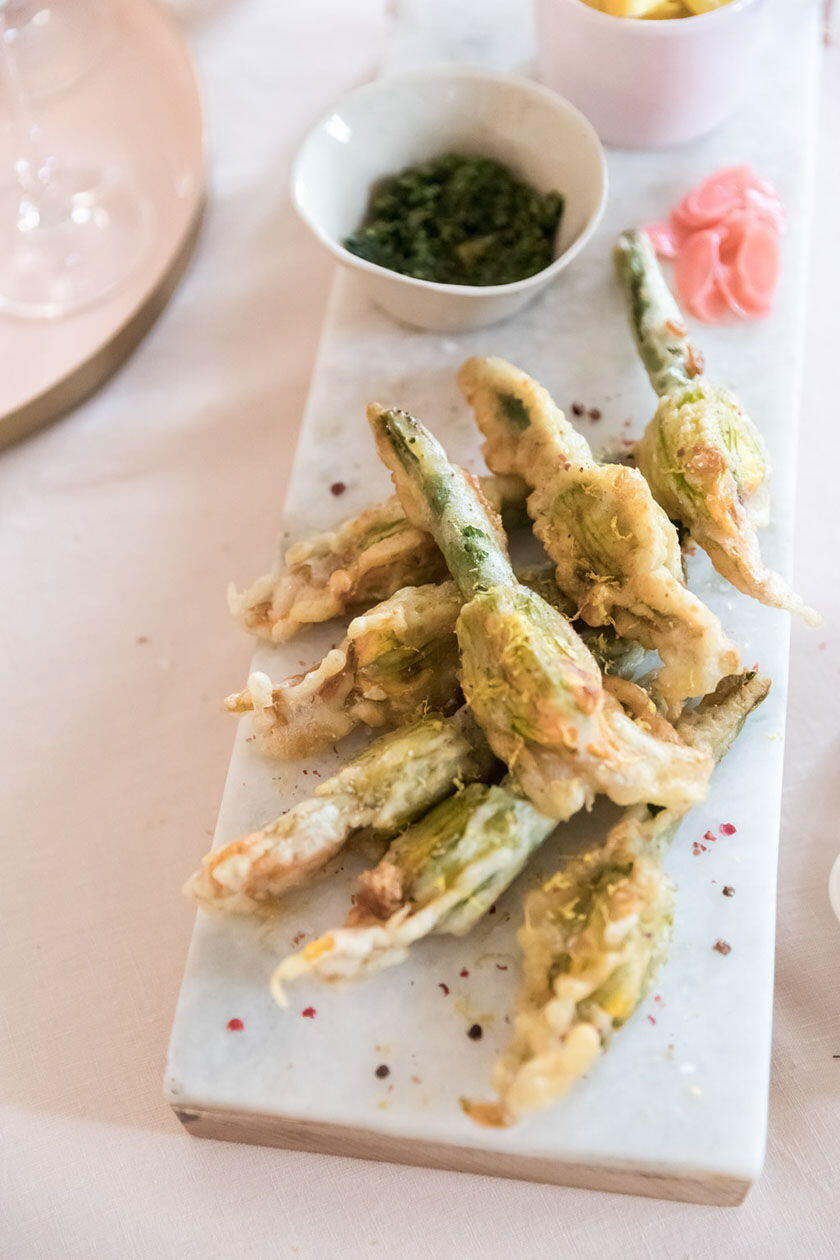 Beignets de fleurs de courgettes. You know summer has truly arrived in Provence when market stalls are laden with courgette flowers. Eat them delicately deep-fried in batter or farci (stuffed with goat's cheese and mint, and baked). Either way, you're guaranteed a feast of flavour.

Fougasse is the Provencal take on flatbread, but in usual local style, this snack isn't just about the bread. Expect (obviously) a good sprinkling of cheese, olives and anchovies in every bite.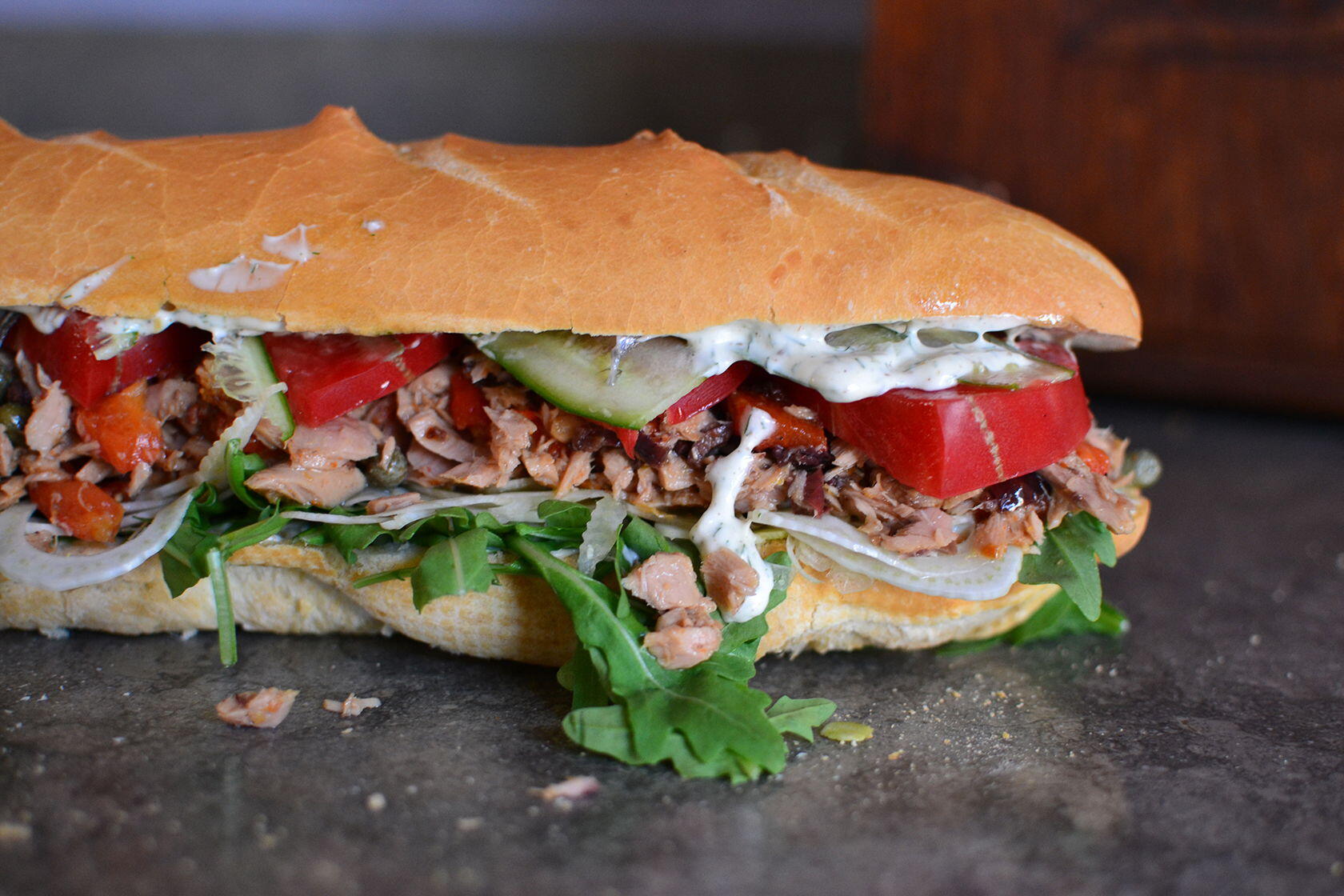 Pan Bagnat. This circular roll of wheat bread comes crammed with ingredients from the salade niçoise (see below). Definitely the ultimate sandwich if you're hungry, but not one for the dainty eater. This delicious sandwich is a specialty from Nice, and it's perfect for a picnic or a day at the beach.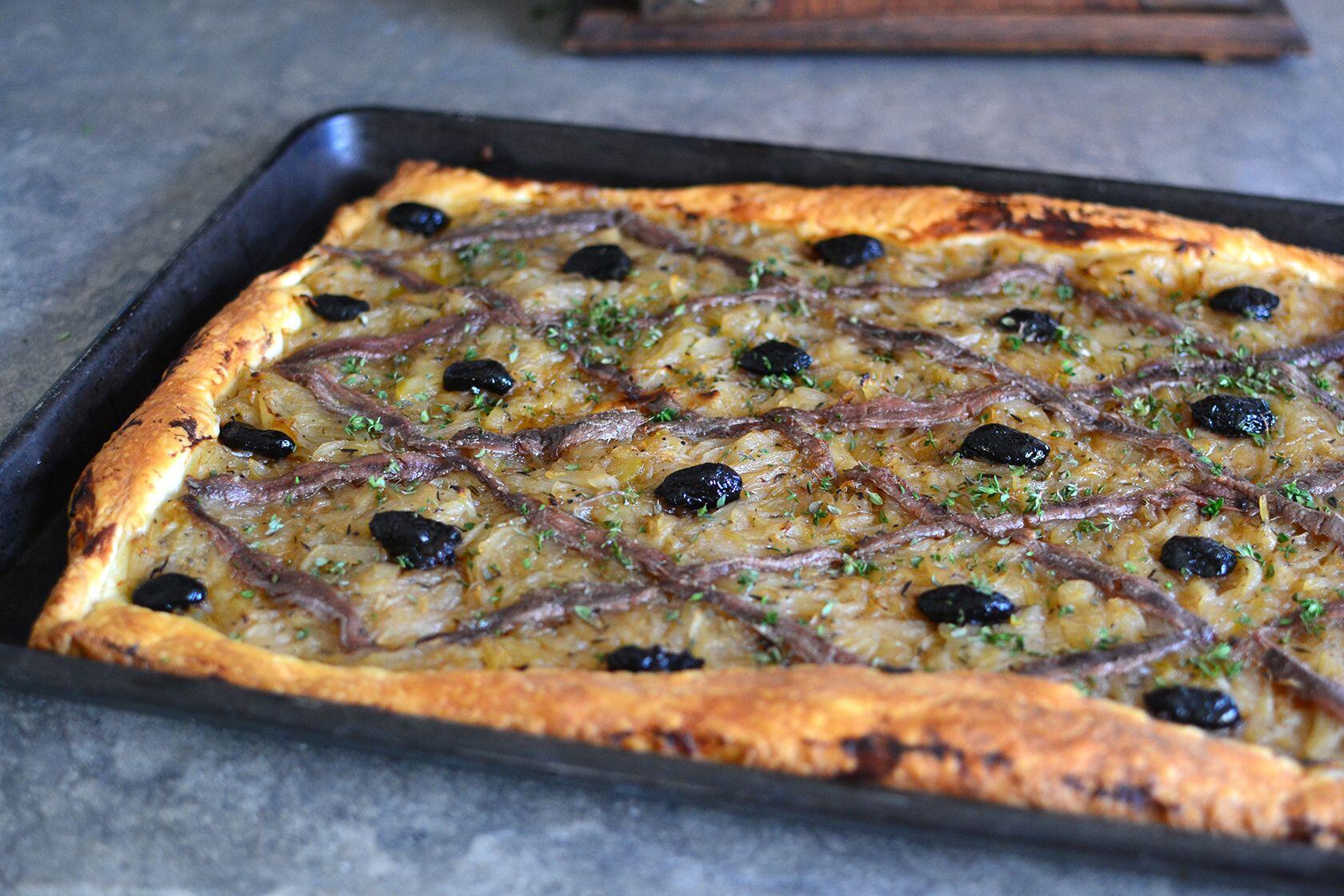 Pissaladière looks similar to pizza, but the base is thicker (more like a focaccia dough) and comes spread with a generous bed of caramelized onions. Black olives sit on top next to the anchovies in true Provençal style. Some recipes also include anchovy paste spread directly on the base.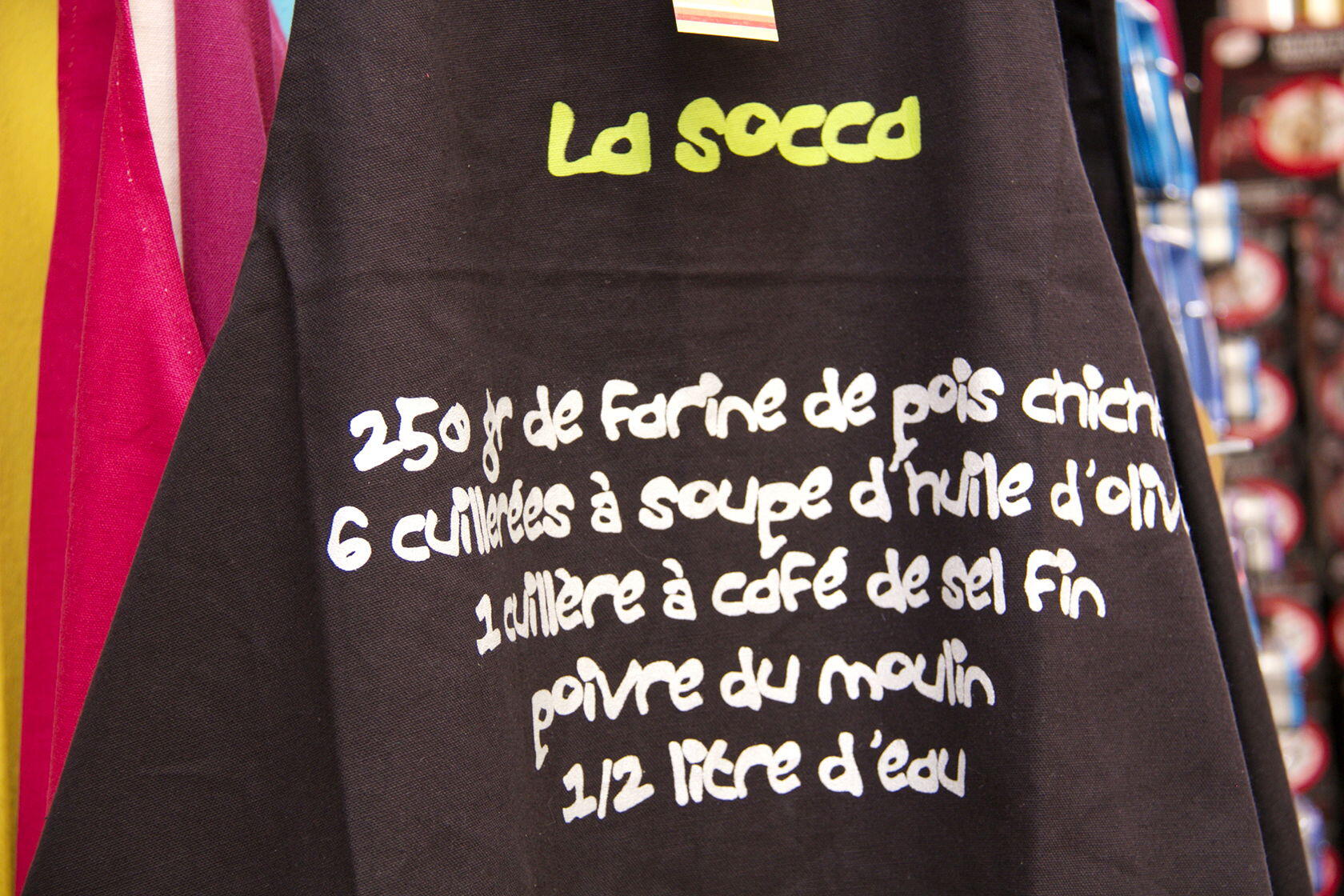 Socca is Nicoise street food par excellence, this wafer-thin pancake is made with chickpea flour and olive oil, and well-browned before served as scrapings. Best eaten with lashings of black pepper on the top.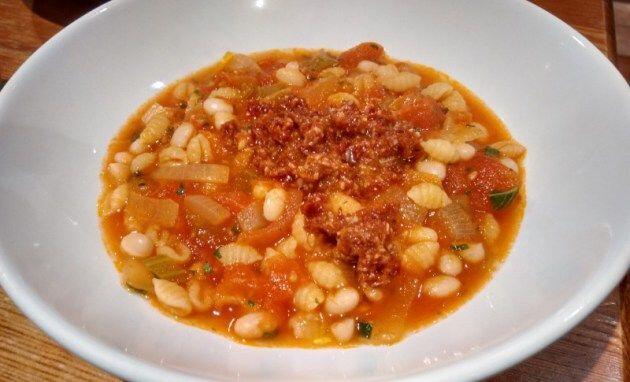 Soupe au pistou is the local answer to a minestrone. This hearty soup includes beans, vegetables and a sprinkling of pasta. Just before you eat it, add a generous dash of garlic, basil and olive oil paste (similar to the Italian pesto).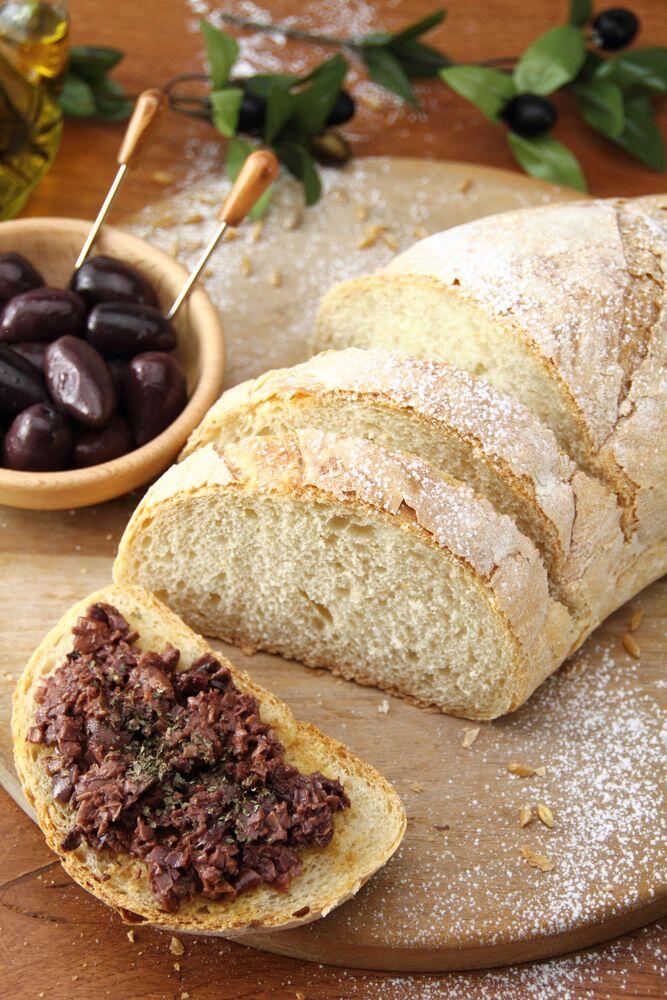 Tapenade made with a paste of olives and capers is a quintessential recipe from Provence, served like pâté – as a dip or spread on bread. Variations include black or green olives, tuna, almonds, sun-dried tomatoes and (of course) anchovies.
Make These: Provencal Poischichade and Other Easy Appetizers.
Mains and Sides from Provence
Not complicated, many traditional Provencal recipes require time to allow for slow cooking (braising, roasting, simmering), and a few seasonal ingredients. Expect to find these dishes on the menu at the finest restaurants in the region. Or on the table of every discerning Provençal family.
It might be confusing, but aïoli is both a sauce and a dish. The mayonnaise-type sauce needs no introduction, but the Provençal version has no eggs, just garlic and olive oil. Expect to find it as an accompaniment to most seafood and fish dishes. Traditionally eaten on Fridays, Aïoli provençal complet or le grand aïoli is a full dish. The typical ingredients include fresh fish (often cabillaud – fresh cod) or salt cod (morue), green beans, potatoes and carrots. However, there are probably as many variations as there are chefs in the region.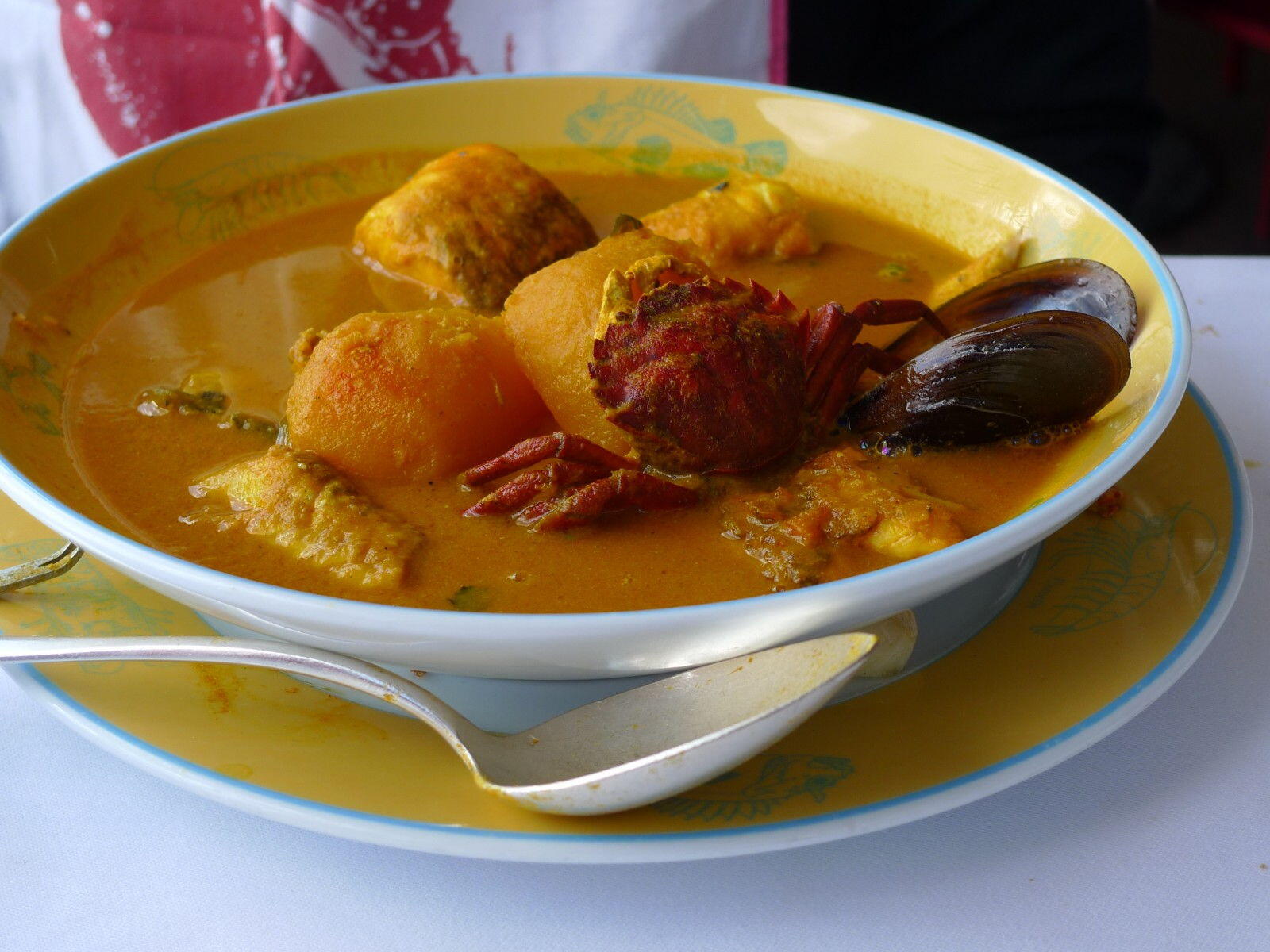 Bouillabaisse is one of the signature dishes of the region, with its roots at the fishing docks in Marseille. It's in this city where you can (and should) try the best bouillabaisse in France. Sticklers (and those restaurants that are part of the Bouillabaisse Charter) claim you can't make it without scorpionfish, which gives the stew its reddish hue. However, in practice, any small fish and seafood works well especially if it's fished from the rock pools near the local calanques (cliffs). Potatoes, onion, fennel, saffron and pastis join the fish and simmer for several hours. You eat it with croutons and rouille – a traditional sister to aioli made from garlic, breadcrumbs and olive oil.
For variations on the classic bouillabaisse, try a terrine created by Michelin 3-star chef Gérald Passédat, a mushroom version by Yvan Gilardi, or Marseille fish soup by Pistou and Pastis.

Provence's answer to Beef Bourguignon is a daube is perfect comfort food for the winter months. Daubes are slow-cooked stews of beef or sometimes lamb braised in wine and vegetables. Served with polenta, gnocchi, or crusty baguette. In Nice, they stuff pasta with the beef to make raviolis à la daube. For the best results, cook your daube in an earthenware dish – a daubiere.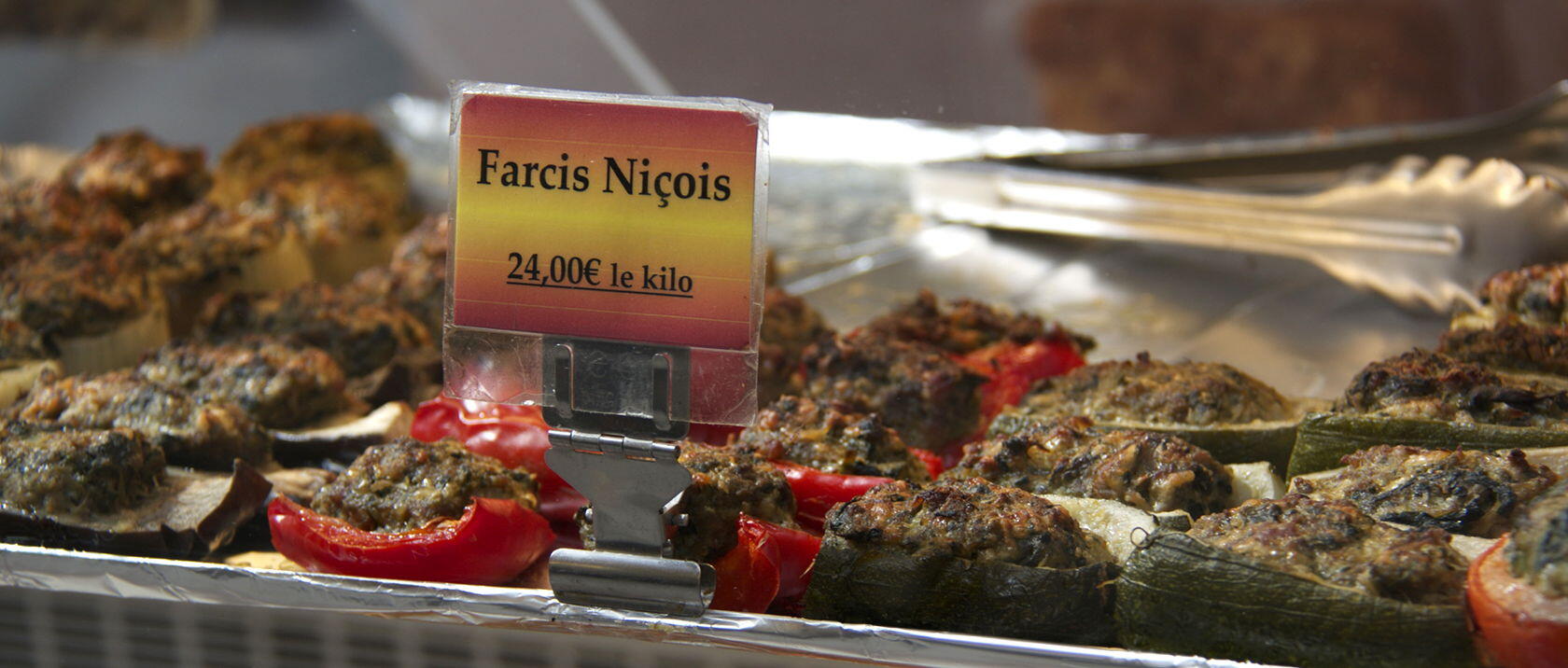 A traditional recipe from Nice, les Petit farcis appear on menus throughout Provence. The dish is meat-stuffed vegetables, which might include onions, aubergines, mushrooms, peppers, zucchini, or tomatoes. Any of these vegetables make delicious containers for the herby mixture of pork and rice.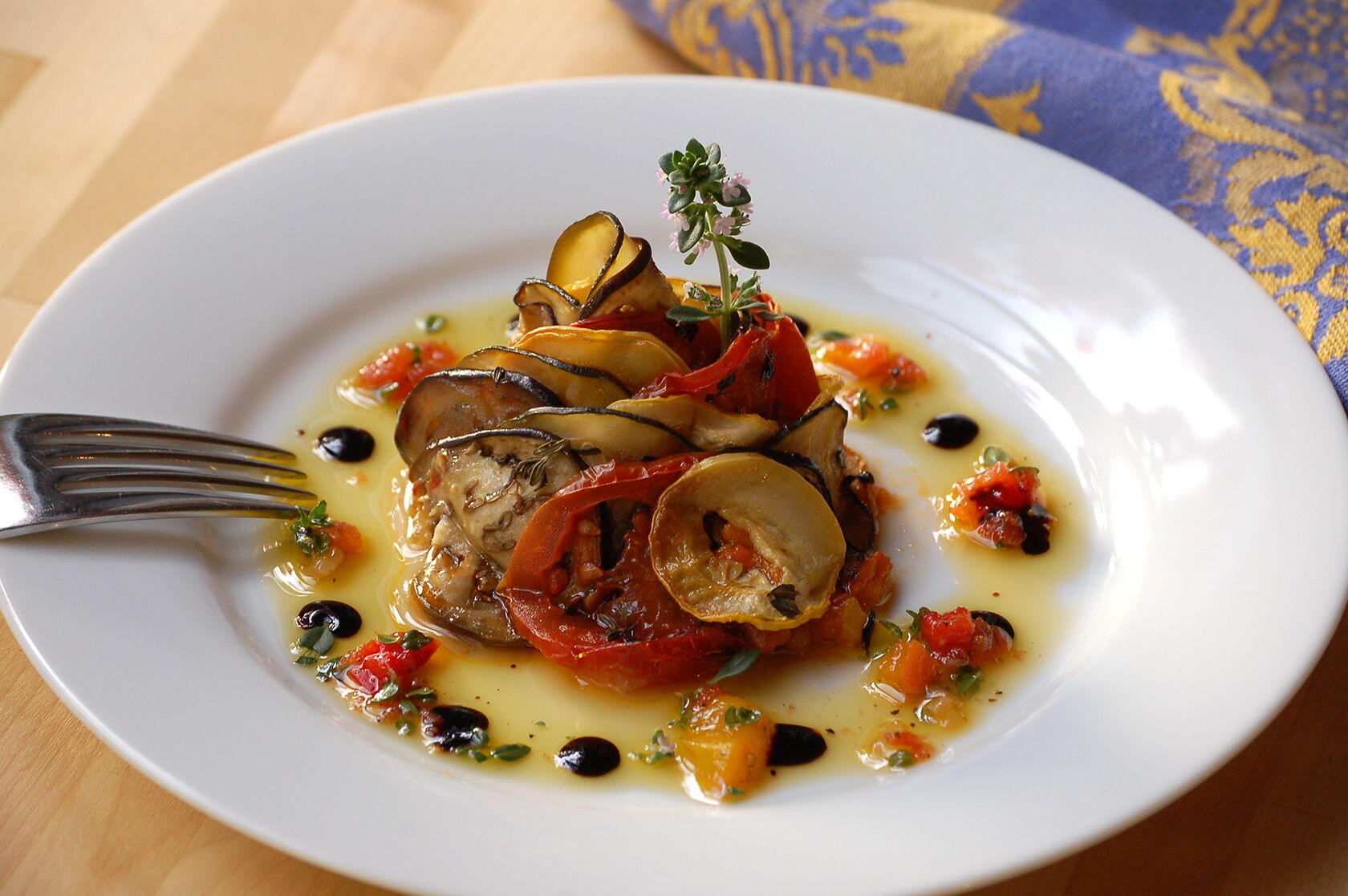 Ratatouille is one of the best things to eat in Provence; this vegetable stew contains the freshest ingredients from the Provencal kitchen garden. Aubergines, courgettes, onions, peppers and tomatoes simmer together with garlic and that delightful bouquet of herbs. Add a hunk of fougasse or slice of pissaladière and lunch is served!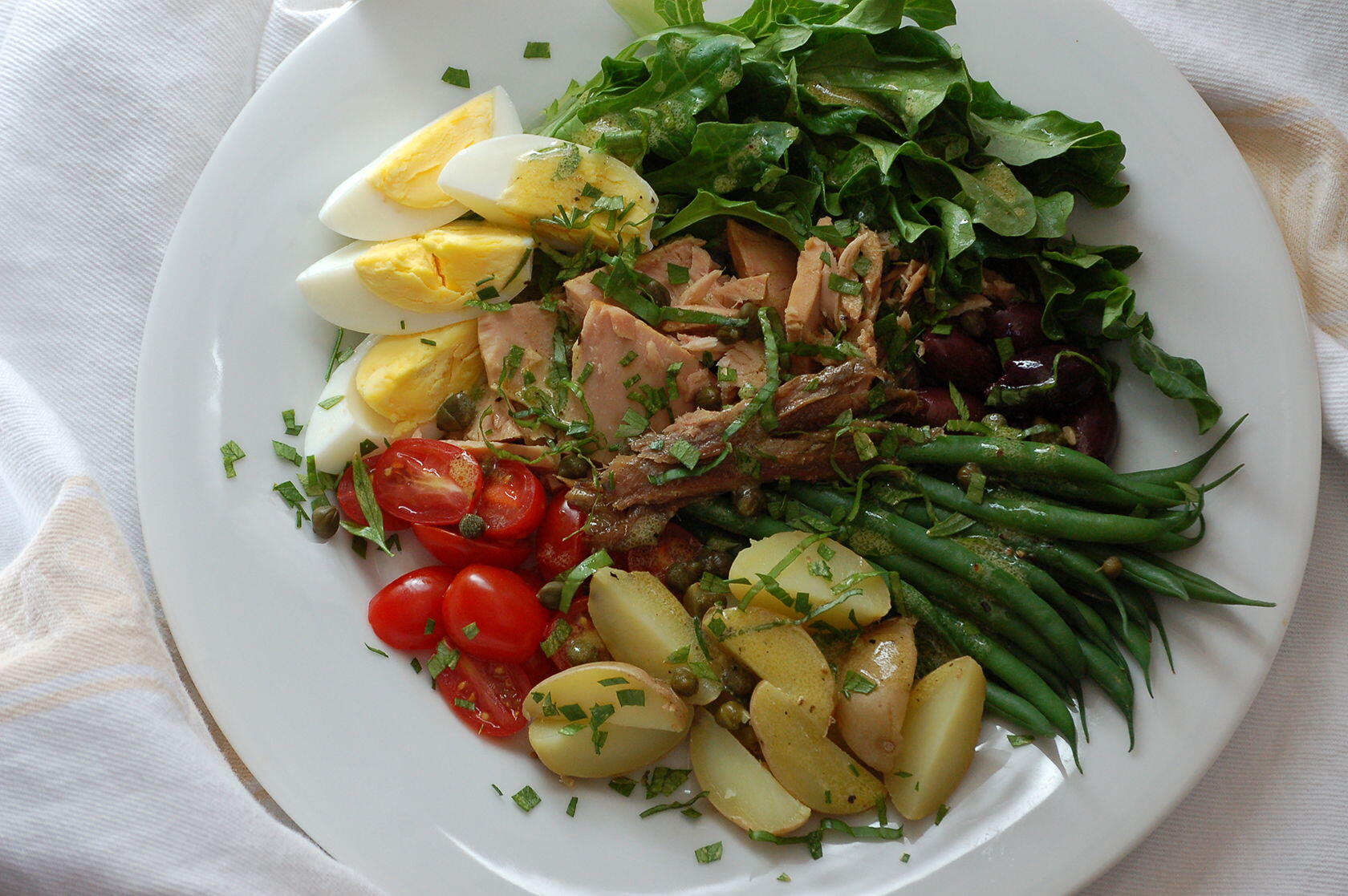 Salade niçoise is a large salad, and the perfect dish for a hot summer's day, this signature dish from Nice combines cooked and raw vegetables to perfection. Green beans sit next to tomatoes, olives, anchovies and tuna with a generous dash of garlic dressing. The jury's out on whether you add potatoes and lettuce.

Tian provençal is a typical dish that takes the same ingredients as ratatouille but presents them differently. Vegetable slices are layered and then baked in an earthenware dish. The tian version shown above comes from Petra Carter at Le Pistou Cookery School in Uzès.
The Sweet Stuff
After all these delicious savoury things to eat in Provence, it's time for dessert. The region offers plenty of options – expect a guaranteed sugar high. And almonds from local groves take centre stage in many of them.

Calissons are a special candy (with a long history) made in, or near, Aix-en-Provence. Ground into paste almonds are mixed with candied melon and orange peel. The paste is spread on host paper and covered in royal icing. Read about Roi René, a company that has manufactured this sweet treat for 100 years.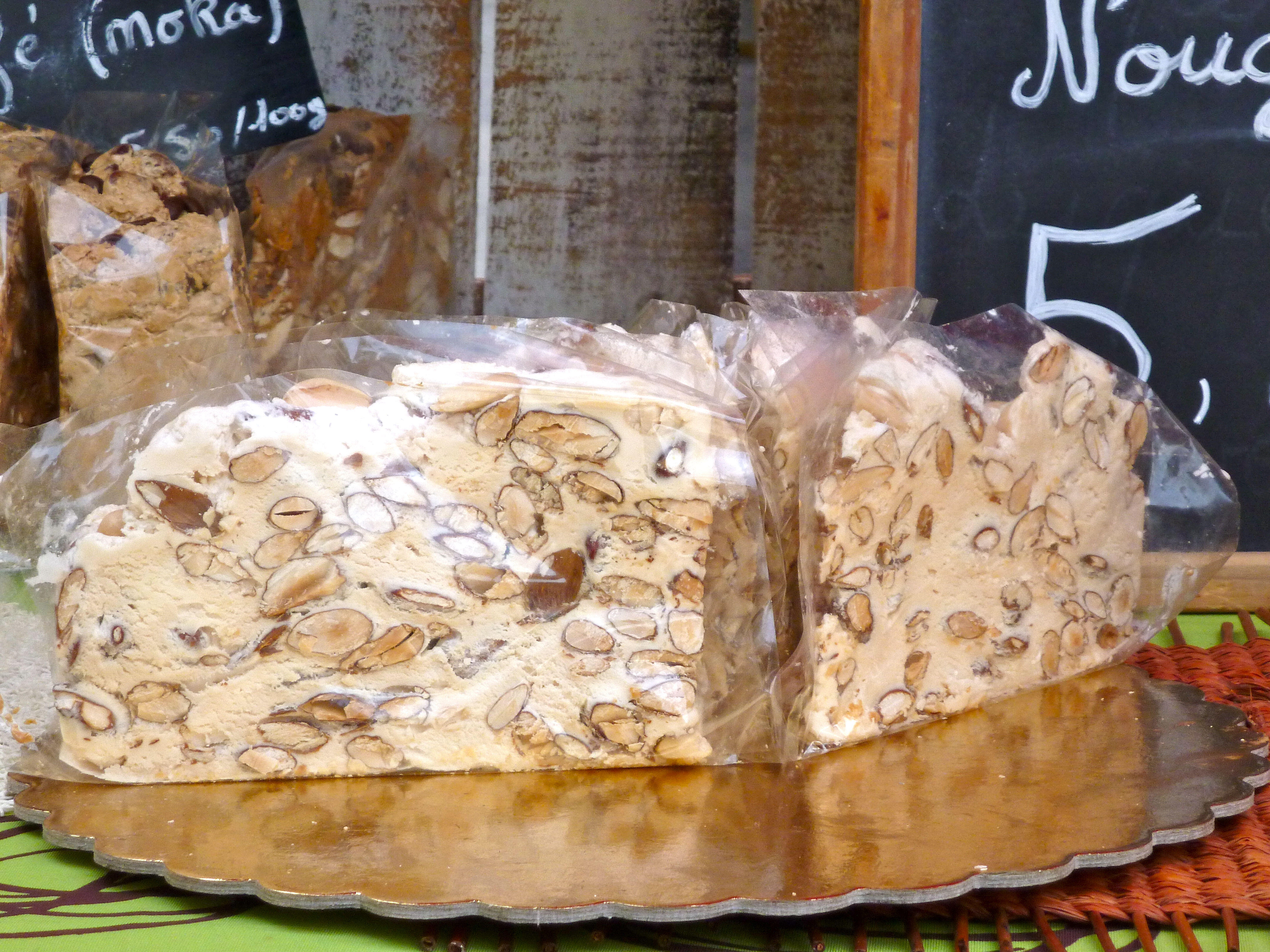 Nougat is another very sweet dessert, Provence-style nougat includes sugar, honey, almonds and egg whites. Nougat remains a traditional Christmas sweet, symbolizing good and evil. The two kinds of nougat (black and white) are amongst the 13 Desserts served after dinner on December 24th. Made with local almonds and honey, but without eggs, the black nougat (nougatine) is a hard candy. The white version has hazelnuts and pistachios; it is generally softer, but sticky. As a note, these delicious sweet treats can be rough on your teeth, so small bites are a reasonable precaution.
For a summer recipe, try this frozen nougat with almonds, pistachios and hazelnuts.

Tarte Tropézienne is a cake that hails from St Tropez. Originally the creation of a Polish baker, the flat, sugar-coated brioche cake comes stuffed with orange-flavoured cream. Brigitte Bardot christened it when she fell in love with the cake while filming And God Created Women in St Tropez.
What to eat in Provence while cruising
Where better to try the delights of Provençal cuisine than from the decks of a luxury hotel barge as you cruise the region's waterways?
All our cruises take in the lovely Provence landscapes and serve the best food and wine onboard. Take a look at our selection of barges and choose your Provence experience now.
---
Thank you to French Waterways for allowing us to reprint this article, with links to recipes and additional information. Whether you are considering a self-driving experience or riverboat cruise, this company provides a full suite of resources. Let their team help to create a wonderful holiday on the waterways in France.
All rights reserved. Perfectly Provence articles and other content may not be published, broadcast, rewritten (including translations into other languages) or redistributed without written permission. For usage information, please contact us.
Syndication Information
Affiliate Information
As an Amazon Associate, this website earns from qualifying purchases. Some recipes, posts and pages may have affiliate links. If you purchase via these links, we receive a small commission that does not impact your price. Thank you in advance for supporting our work to maintain Perfectly Provence.