Roy René the Almond King of Calissons d'Aix
Nothing Without Almonds
Le Roy René factory needs some 200 metric tons of almonds annually for the production of calissons d'Aix and nougats. As almonds are one of the key ingredients in these typically Provencal sweets, a reliable supply chain is critical to the operation. In 2016, 300 almond trees, which included 22 varieties, were planted around the Roy René museum and fabrication centre. The garden is a tribute to the almond growers of Provence to rejuvenate the local industry. Interestingly, not all the trees have survived, which speaks to the difficulty of growing almonds in Provence.

"La réhabilitation de l'amande provençale est aujourd'hui l'une de nos priorités." ~ Olivier Baussan, owner Le Roy René.
France was once the world's largest producer of almonds. However, due to an extreme overnight frost in February 1956, a significant number of almond and two-thirds of the olive trees in the region perished. A crop with a low financial return, at the time, grapevines, olive plantations and housing developments replaced the almond trees in Provence.
Visiting the Garden
Public education is the primary goal for establishing the almond grove and the bastide garden (lavender, herbs, roses and other local plants). Located just outside of Aix-en-Provence, visitors are encouraged to explore the three (3) hectares of the garden – les Jardins du Roy René.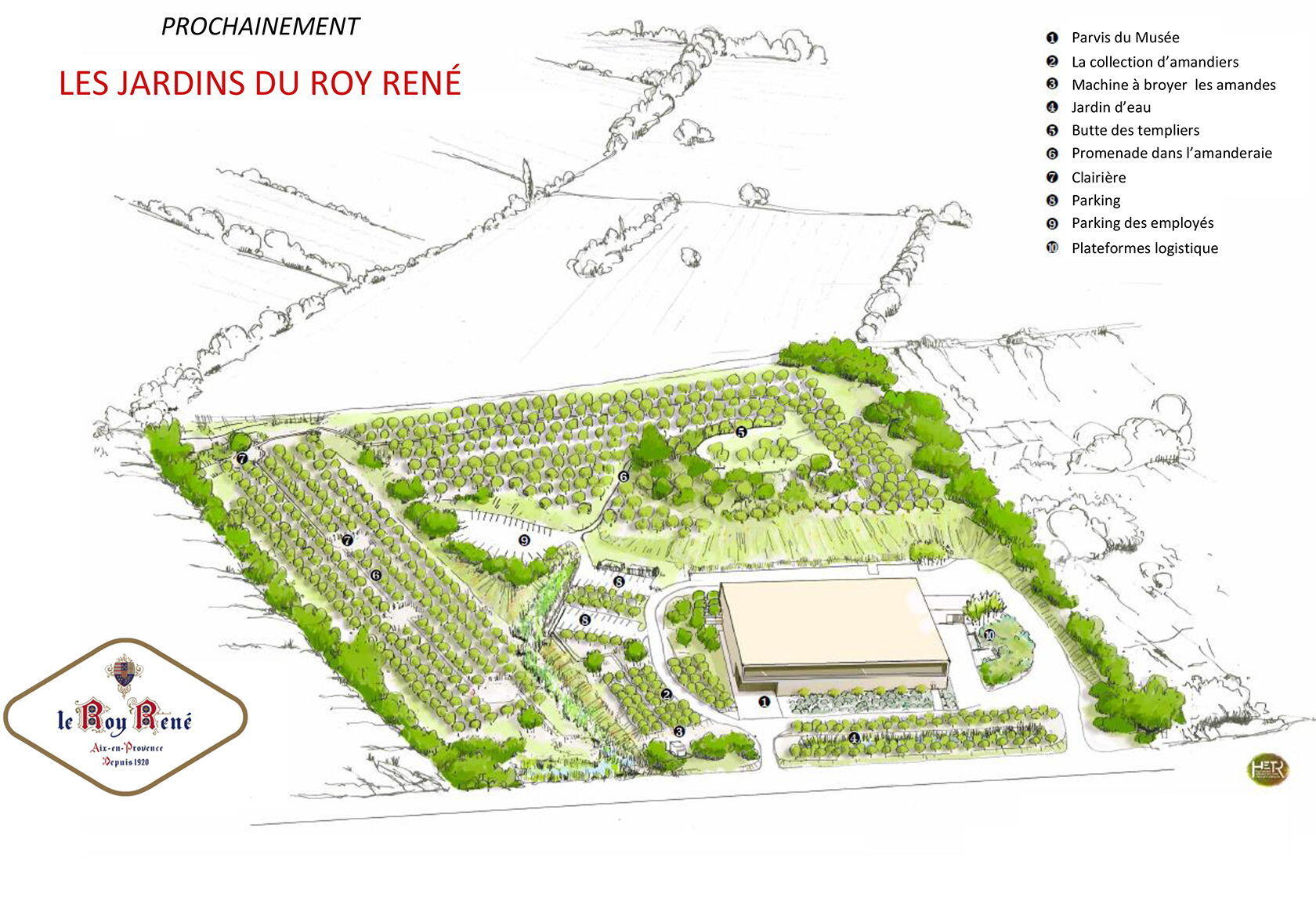 Rendez-vous aux Jardins takes place all over France the first weekend in June. Public and select private gardens open their gates to the public for these two days. In the case of private gardens, this weekend is often the only time of year to visit. We joined a garden tour at Le Roy René as part of the Rendez-vous aux Jardins weekend. In two hours, we toured the garden and visited the Musée du Calisson learning more about almonds and calissons d'Aix than we thought possible.

Centennial Celebrations at Le Roy René
In 2020, Le Roy René celebrates a 100-year milestone of their fabrication of traditional calissons d'Aix and nougats. Much has happened in the last century at the company, including four owners, all of whom have added their mark to the organization.

Olivier Baussan, who founded the face and body fragrance company L'Occitane en Provence in 1976, is the fourth owner to take the reins at Le Roy René. He is environmentally focused, pushing the staff at Roy René to consider greener technology such as the solar panels on the roof of the factory. Baussan remains, as he was during his tenure at L'Occitane en Provence, dedicated to preserving and promoting the best products from the region.
What Goes Inside
There are only a handful of companies allowed to claim that they make the traditional calisson d'Aix. For more background, read Calisson d'Aix the Sweet Almond Candy Made in Provence. The dough for this diamond-shaped candy contains crushed sweet almonds (roughly 1/3) from the Mediterranean, candied melon, mixed fruit and orange peel from Apt. A royal icing goes on top and host paper on the bottom. Initially, the production of calisson d'Aix was quite labour intensive. Today, automated production has eliminated some of the hands-on steps. Building up to the Christmas holiday rush, the Confiserie Roy René runs a continuous production line in the factory.

Practical Information
A visit to the museum at la Confiserie du Roy René, located just 10 minutes from the centre of Aix-en-Provence, would not be complete without a browse through the boutique. The store sells traditional calisson d'Aix, black and white nougats, ice creams, and a whole range of other sweets. The 40 flavours of calissons d'exception are where the sweet fun happens! There are combinations such as Luberon cherry and rose from Vence, chocolate-hazelnut, and chestnut vanilla. The boutique ships globally, and you can order online.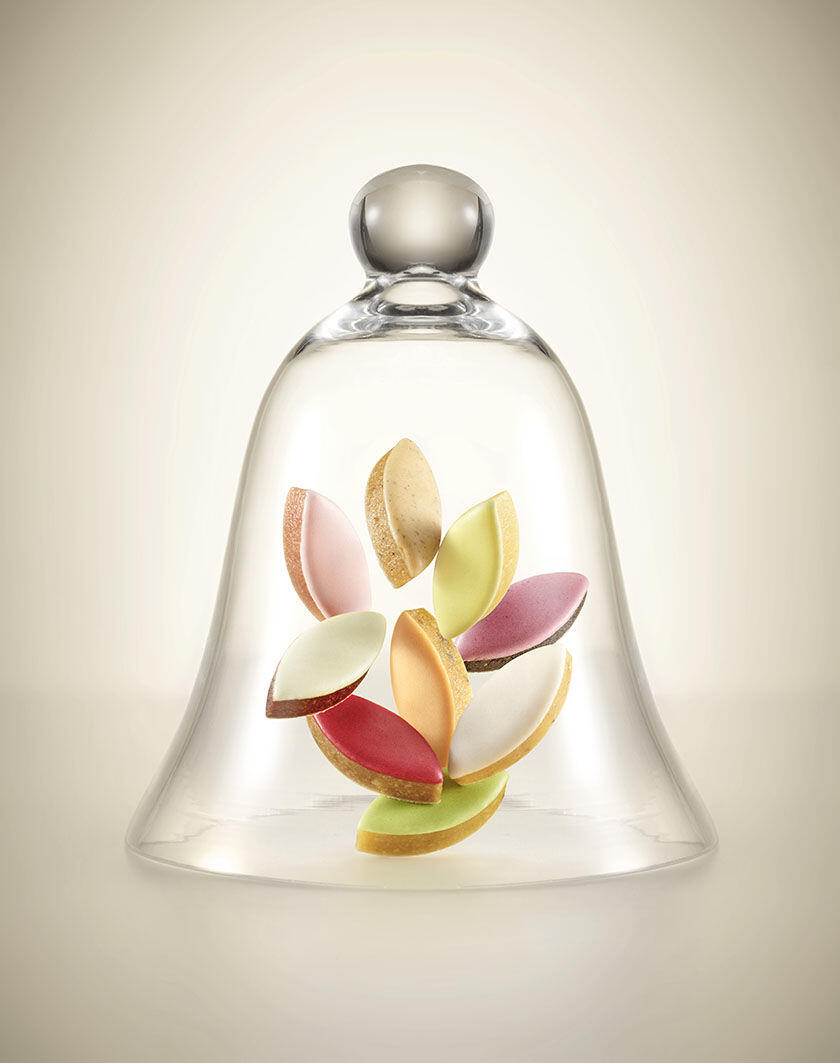 La Confiserie du Roy René (website)
5380 Route d'Avignon (RD7N)
13089 Aix-en-Provence
Email: visites@calisson.com
Tel: +33 (0)4 42 39 29 82
Visiting hours
Monday to Saturday: 9:30h to 12:30h – 13:30h to 19h
Sunday: 10h to 18h
There is an audio guide available in store / Price: 3€
Guided Tours
Available from July to early September:
Guided tour with a tasting of calissons
Monday, Tuesday, Thursday and Friday: 10:30h and 15h
Saturday and Sunday: 10:30h
Price: 5€/pers, free for those under 18 years old
Guided tour with tasting and demonstration of calisson fabrication
Wednesdays 10:30h and 15h
Saturday and Sunday: 15h
Price: €6/pers, free for those under 18 years old

Image credits: All photos provided by and published with the permission of la Confiserie du Roy René.
All rights reserved. Perfectly Provence articles and other content may not be published, broadcast, rewritten (including translations into other languages) or redistributed without written permission. For usage information, please contact us.
Syndication Information
Affiliate Information
As an Amazon Associate, this website earns from qualifying purchases. Some recipes, posts and pages may have affiliate links. If you purchase via these links, we receive a small commission that does not impact your price. Thank you in advance for supporting our work to maintain Perfectly Provence.