Easy Vegetable Side Dish Provencal Tian
Confusingly, the word tian has two meanings: it is both an earthenware dish and whatever you are preparing inside of your tian. Every French person I know has their family favourites. This tian was ours. It is super colourful and will be the star of any meal.
Confession Time. I planted way too many tomatoes this year and looked for the best, most tasty way to use them. I ended up making a Provençale Vegetable Tian – which is a super healthy vegetable casserole. You may remember the hit 2007 movie 'Ratatouille" about a rat who yearns to be a renowned chef.
Here is my video (and the garden).
This recipe is suitable for vegetarians, and if you eliminate the parmesan cheese, it is vegan-friendly too.

Provencale Vegetable Tian
A vegetable tian is quick to prepare. You can use a selection of fresh vegetables that you have on hand. Enjoy my traditional Provencal version below.
Ingredients
2

Japanese Eggplant

cut into 1/4-inch-thick rounds

10

Plum Tomatoes

cut into 1/4-inch-thick slices

1/4

cup

Extra-virgin Olive Oil

split among a few steps

Sea salt and freshly ground black pepper

2

Sweet Onions

thinly sliced

2

Bell Peppers

seeded and thinly sliced

3

Garlic Cloves

smashed (optional)

10

Fresh Basil Leaves

roughly chopped

4

thin

Zucchini

cut into 1/4-inch-thick rounds

1/4

cup

Grated Parmesan cheese
Instructions
Preheat the oven to 400°F (200°C).

Lay the eggplant slices onto a baking sheet lined with a silicone baking mat. Drizzle with olive oil and season with salt and pepper. Bake 10 minutes, just until it softens.

Lay the tomato slices onto a baking sheet lined with a silicone baking mat. Drizzle with olive oil and season with salt and pepper. Bake 20 minutes, just until the tomatoes start to shrink a little.

Heat the olive oil in a large skillet over high heat. Add the onions, bell peppers, and garlic and cook, stirring occasionally, until softened, about 10 minutes. Stir in the basil and cook for 3 minutes. Season with salt and pepper to taste. Spread one-quarter of the mixture in a 9-by-13-inch baking pan.

Bring a large saucepan of salted water to a boil. Blanch the zucchini for 30 seconds; use a slotted spoon to remove them from the water.

Arrange the slices of zucchini, eggplant, and tomatoes in alternating layers over the onions and peppers, with the slices overlapping. Continue making layers until all the vegetables are used. Sprinkle the dish with Parmesan and bake until the vegetables are tender, about 30 minutes.
Notes
To Salt or Not To Salt? I do not salt eggplants before cooking them. A Japanese chef friend taught me to soak them in cold water instead. Where you think they would be soggy - they aren't. All the inherent bitterness washed away.
More Vegetable Sides:
Stuffed Baked Tomatoes
An easy vegetarian dish. Serve as a side or as a main course with other stuffed vegetables. and a salad
Check out this recipe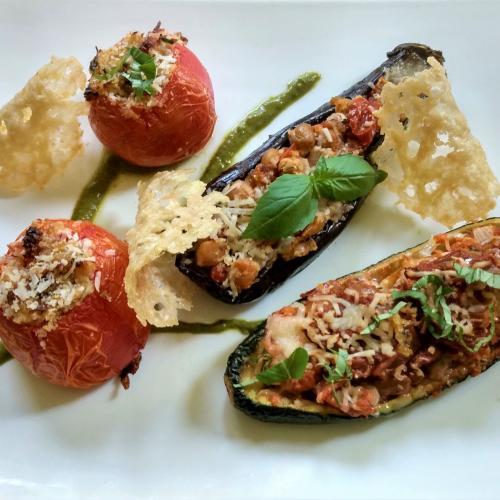 Stuffed Zucchini Halves
Easy to prepare and delicious. A side dish or main course serve warm or at room temperature.
Check out this recipe

Moroccan Carrot Salad
Easy to make and a delicious side dish with roasted meat or fish. Also, perfect for a picnic or just because.
Check out this recipe

Eggplant Cakes with a Pesto Sauce
Think of this as a savoury cake. Once the eggplant is cooked, simply combine it with the rest of the ingredients and bake. The dish can be served with the pesto sauce (below), a tomato sauce or combine the two sauces for a rich flavour experience.
Check out this recipe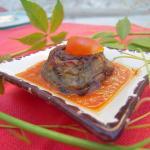 Stuffed Aubergines (Eggplant) with Garbanzo Beans
This dish easy to prepare and you can alter the topping ingredients to suit your taste. Serve warm or at room temperature.
Check out this recipe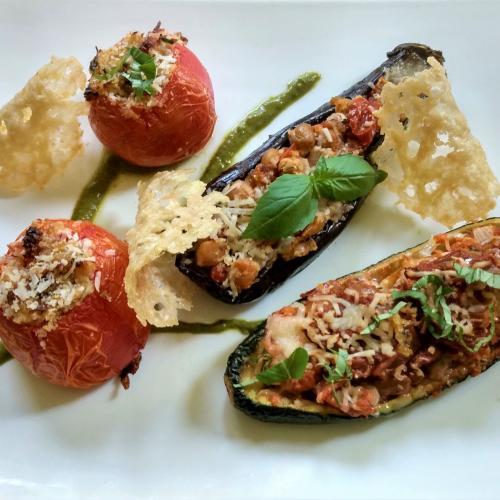 Earthenware = Healthy Cooking
Today, few potters of the – city of clay – continue making the ancient earthenware pottery of Vallauris. However, at Remember Provence, we have selected one artisan who continues the handcrafted tradition of this Provencal pottery. These beautiful kitchen containers are handmade Vallauris ceramics, such as the emblematic daubiere pot, the Provencal tian dish, the large skillet.