A Delicious Recipe from a Friend for Eggplant Lasagna
Eggplants are a market staple in Provence. Although this recipe is more Italian in theme, you certainly can find lasagna on menus in Provence. Deep purple aubergines are a somewhat somber contrast to the bright red strawberries and tomatoes that you might find on display in market stalls. This purple vegetable is a main stay in Provencal cuisine, and certainly is a key ingredient in any ratatouille recipe.
David's original post is called "I Get By with a Little Help from My Friends." In this article he talks about the joys of meeting friends in person that he has gotten to know virtually via their food blogs, cookbooks and other general common culinary interests.
The following recipe is from John Amici, From the Bartolini Kitchen – one of David's many foodie friends.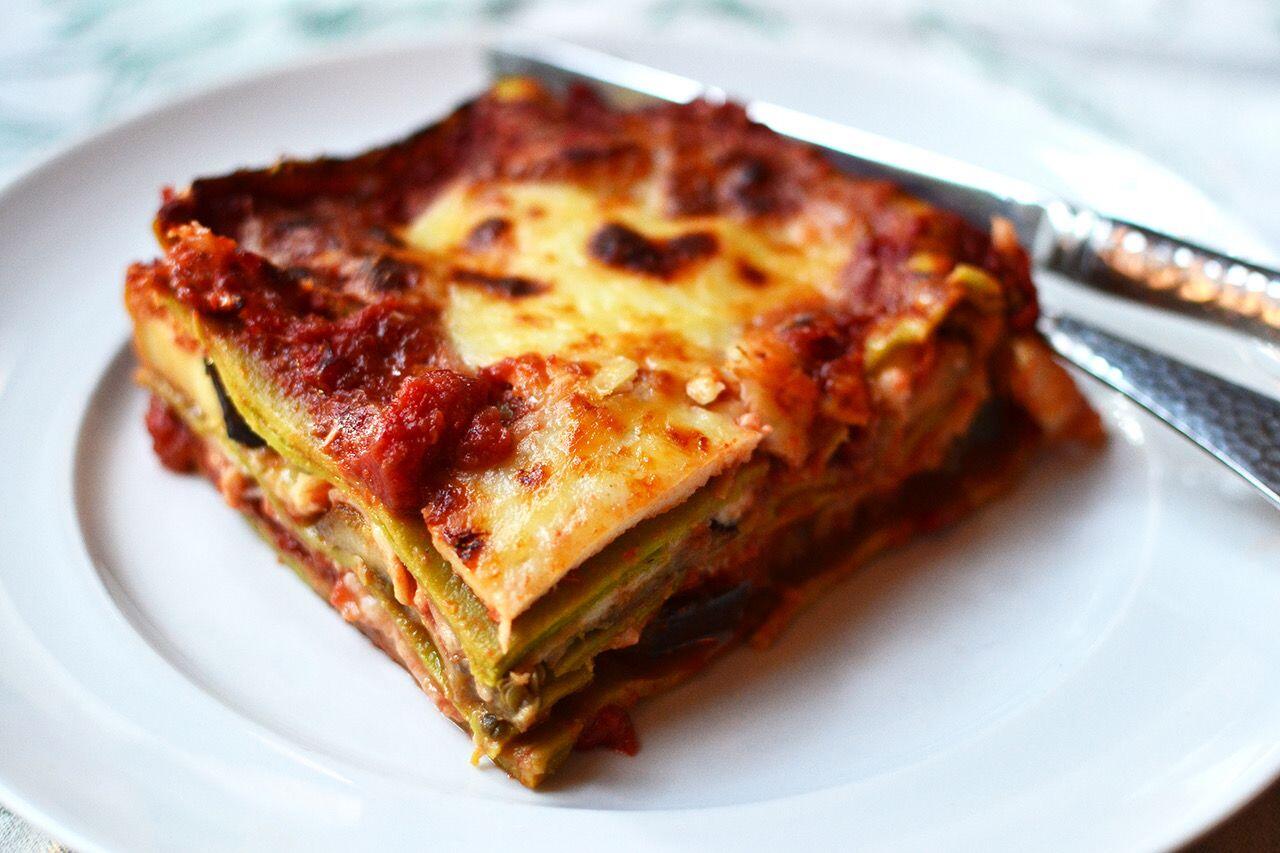 Eggplant Lasagna
A vegetarian lasagna made with eggplant.
Ingredients
1

lb

large eggplant

or a little more

cooking spray

1

quart

Tomato sauce

homemade if possible

Butter

to coat pan

8

ounces

Fresh spinach pasta sheets

3

ounces

Mozzarella Cheese

grated

3

ounces

Asiago Cheese

grated

3

ounces

Pecorino Romano Cheese

grated

5

slices

Fresh Mozzarella

1/4-inch thick

Pecorino Romano Cheese

grated, for serving
Instructions
Preheat oven to 450˚F.

Liberally butter an 8-inch baking dish.

Trim off ends of eggplants, and remove alternating slices of the skin with a vegetable peeler; slice into 1/2 inch rounds. You will need enough to make two layers in your pan. Keep in mind they will shrink while baking.

Place rounds in a single layer on a rack resting upon a baking sheet.

Lightly spray each side and sprinkle with salt.

Bake for 15 minutes; remove from oven and set aside.

Reduce oven to 350˚F.

Meanwhile, cook lasagna noodles for 2 minutes; rinse in cold water and set aside to dry on paper towels.

Mix the mozzarella and Asiago cheeses together in a bowl; set aside.

Lightly coat the bottom of the buttered baking dish with 1/2 cup tomato sauce.

Place cooked pasta sheets on the sauce to create a single layer.

Add a single layer of baked eggplant rounds and cover with a layer of sauce.

Sprinkle half of the mozzarella and Asiago cheese mixture, them sprinkle with a third of the grated Pecorino Romano.

Add another layer of noodles, eggplant rounds, sauce, and cheeses.

Add the final layer of noodles and enough tomato sauce to cover.

Evenly distribute the mozzarella slices and sprinkle the rest of the Pecorino Romano cheese on top.

Cover the lasagne with buttered aluminum foil (buttering the foil keeps the cheese from sticking).

Bake for 20 minutes, uncover, raise the oven temperature to 450˚F (230˚ C), and bake until golden brown, about 20 minutes more.

Allow to rest at least 15 minutes before cutting; serve with grated Pecorino Romano at the table.
Notes
If using dried noodles, cook per the instructions on the package. If using "no boil" noodles, dunk them for a few seconds in water to begin the softening.)