Candied Clementines Confit with Moroccan spices
Frequently when you hear the culinary term "confit" it is related to a slow-cooked meat, often duck or goose. The bird is seasoned and then cooked in a low-temperature oven for many hours submerged in fat. Although it might not sound that appealing, once you have tried confit de canard you will understand how this type of cooking tenderises the meat. At one time this process was a method of preserving the duck for longer-term storage, although today that is not an issue you still buy the duck confit in its fat.
You might think that this recipe Candied Clementines (Clementines Confit) with Moroccan spices has nothing to do with duck but, in fact, it uses a similar methodology of preservation only in this case with sugar and corn syrup.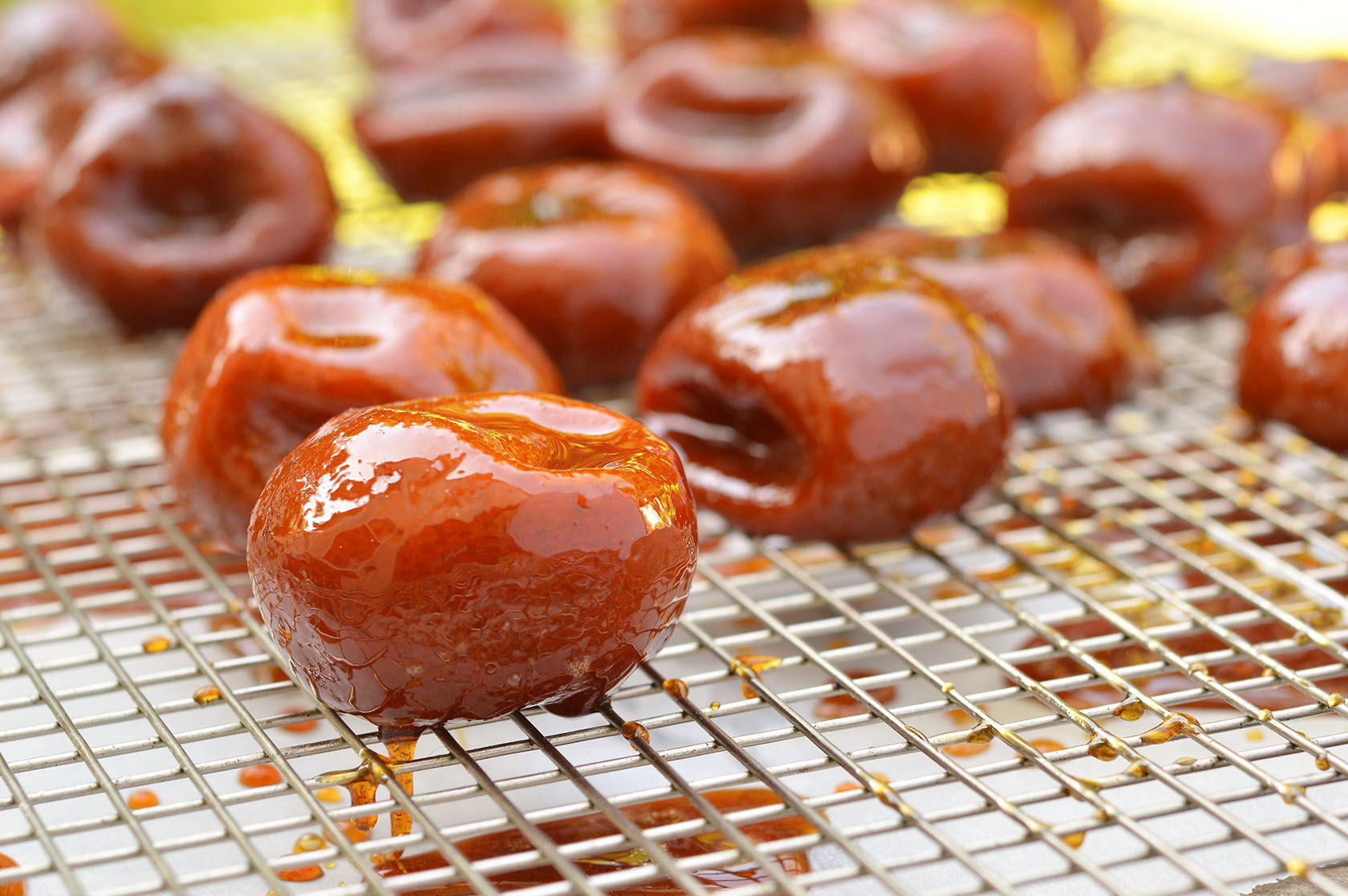 Candied Clementines (Clementines Confits) with Moroccan spices
This dessert can be made year round! When I am in France, I buy clementines from Corsica. In Los Angeles, I can find clementines (sometimes known as Cuties in the U.S.) throughout the year. It's a simple dessert that can be served by itself or cut in julienne strips and served on top of ice cream, yogurt or a pound cake (The French version of a pound cake is Quatre Quart)! Please note that the clementines will be a burnt orange color once they are candied because of the addition of Moroccan spices.
Ingredients
1

pound

Clementines

whole, about 10-13

1

tbsp

Cinnamon

ground

2

pods

Star Anise

dried

2

tsp

Cardamom

ground

2

¼ inch pieces

Dried Ginger

2.5

cups

Sugar

1/3

cup

Corn Syrup

1

Fine Toothpick
Instructions
Prick each clementine 8 times with a fine toothpick.

Fill a pot large enough to hold the clementines with water and bring to a boil.

Blanch the fruit for one minute.

Save 5 cups of the water, add the sugar and corn syrup and bring to a boil, stirring constantly.

Now, reduce the heat to a simmer and return the fruit to the pot and add the cinnamon, star anise, cardamom and dried ginger and cook for 20 minutes.

Let the fruit cool for 24 hours. Now heat the fruit in a pot to a boil, reduce and simmer then let cool for 24 hours.

Repeat this step for 5 more days.

On the last day, reduce the liquid until it is a thick syrup.

Place the fruit on a rack (with parchment paper underneath it).

Pour some of the syrup on each piece of fruit and let cool.

These clementines can be stored in a single layer, airtight container for several months.
Notes
If clementines are not available, it is ok to substitute tangerines, tangelos, mandarins oranges, blood oranges, navel oranges or Valencias for this recipe.
Please share this with friends and family.