Craving Madeleines a Sweet French Fix in Aix-en-Provence
Susan Gish may not have a long history of reading works by Marcel Proust, but she shares his love for the classic French cookie-cake = madeleines. She wrote the following, "All I knew was that I am addicted to them. Not all madeleines, just those from Christophe Madeleines in Aix-en-Provence. Being far from an intellectual, I had no idea what people were talking about when they mentioned Proust in relation to madeleines."
"No sooner had the warm liquid mixed with the crumbs touched my palate than a shudder ran through me, and I stopped, intent upon the extraordinary thing that was happening to me. An exquisite pleasure had invaded my senses…The taste was that of the little piece of madeleine," ~ Marcel Proust
Continue reading here for Susan's full review for Aixcentric.
Christophe Madeleines (no website)
Open Tuesdays-Saturdays at 10 am
4 rue Gaston de Saporta, Aix-en-Provence
Hurry they and sell-out of certain flavours quickly
Telephone: +33 (0)6 33 78 90 22
Sold in packs of six for 3€ or thirteen for 6€.
Recipes for Madeleines
Lovely Lemon: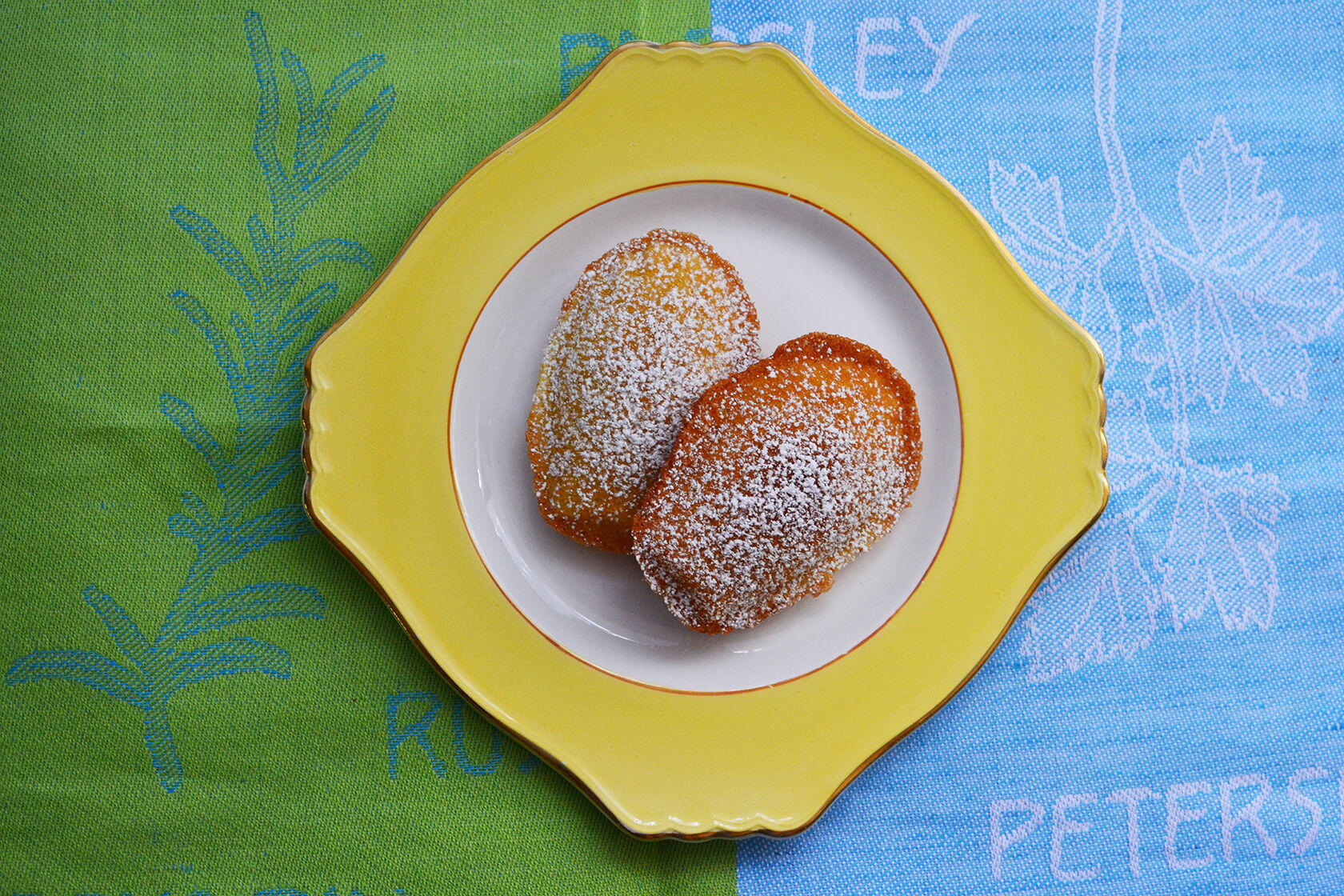 Lemon Madeleines
A light and airy spongecake often referred to as a "tea cake" highly recognized for it's delicate shell shape with a classic buttery lemon taste.
Ingredients
90

gr

All Purpose Flour

1

tsp

Baking Powder

1

pinch

fleur de sel

67

gr

Sugar

2

zest of lemons

finely grated

2

large

Eggs

* at room temperature

1

tbsp

Honey

1

tsp

pure vanilla extract

8

tbsp

Unsalted Butter

* melted and still warm

2

tbsp

whole milk

confectioners' sugar for dusting
Instructions
Whisk together the flour, baking powder and salt in a small bowl; set aside.

Working in the large bowl of a stand mixer, rub the sugar and lemon zest together with your fingertips until the sugar is moist and fragrant.

Add the eggs and, using the whisk attachment, beat at high until the sugar and eggs are slightly thick and pale.

Beat in the honey and vanilla.

In a small bowl, mix together the dry ingredients: flour, baking soda and fleur de sel.

Gently fold in the dry ingredients, stopping when all dry ingredients have been moistened.

Fold in the melted butter and then the milk.

Press a piece of wax paper against the surface of the batter and chill for at least 1 hour.

Using baking spray, coat the molds of two 12-shell madeleine pans.

Divide the batter among the molds, filling them no more than two-thirds full.

Refrigerate filled pans for 1 hour longer.

Preheat the oven to 400°F.

Place the madeleines in the oven and bake for 11 minutes, or until the cakes are golden and the big bumps on their tops spring back when touched.

Remove the pan from the oven and immediately turn out madeleines onto a cooling rack and allow them to cool to room temperature. (Use a small silicone spatula to remove any madeleines that might have stuck to the pan.)

Dust cooled madeleines with confectioners' sugar just before serving.
Notes
Variations to try include, nuts, chocolate or citrus juice.
Clever Clementine:

Clementine Madeleines
A génoise type cake batter flavoured with fresh clementine juice and zest make these light and fluffy sponge cakes even more irresistible.
Ingredients
Preparing the molds:
3/4

tbsp

Butter

1/2

tbsp

Flour
Madeleines
1

Large egg

3

tbsp

Unsalted Butter

melted and cooled

6

tbsp + 2 tsp

Flour

3

tbsp + 2 tsp

Superfine Sugar

1/2

tsp

Baking Powder

2

Clementines

for a finely grated zest

1

tbsp

clementine juice

confectioners' sugar

for dusting
Instructions
Preheat the oven to 350°F.

Prepare the Madeleine pan: melt 3/4 tablespoon butter, then mix in the 1/2 tablespoon flour.

Using a pastry brush, "paint" the insides of the molds with the butter and flour mixture.

Set aside.

Using a hand-held mixer, beat the egg and sugar together until they become thick and pale.

Whisk together the flour and baking powder, then sprinkle onto the egg mix and gently fold in.

Add the melted butter, clementine zest and clementine juice; gently fold into the egg mixture.

Fill Madeleine molds two-thirds full (a heaping teaspoon), and bake for 11 minutes.

When they are golden around the edges, remove them from the oven and let cool 2-3 minutes.

Using a thin spatula, loosen the edges and push the Madeleines out to cool on a rack.

Dust with confectioner's sugar.

Makes 12 Madeleines
The Classic: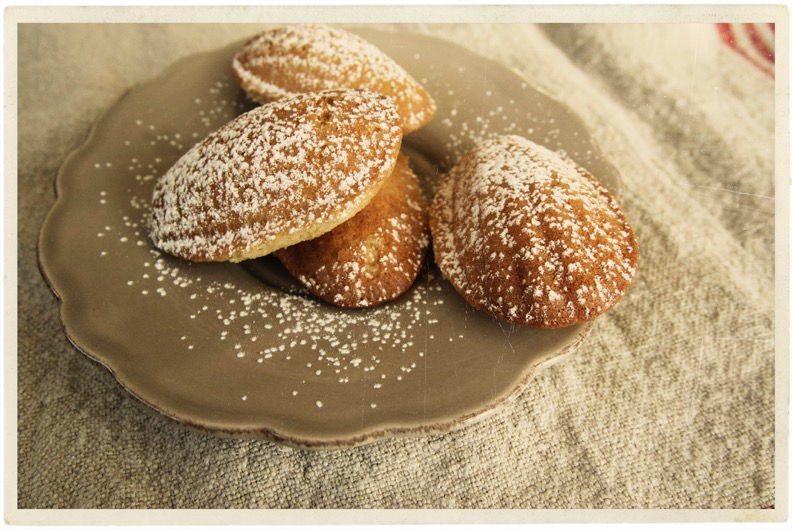 Madeleines
These little sweet treats are not quite cookies and not quite cakes. Easy to make and hard to keep in stock.
Ingredients
1

tsp

Baking Powder

1/2

tsp

Salt

3/4

cup

All Purpose Flour

plus more for dusting

2

large

Eggs

1/3

cup

Granulated Sugar

1

tbsp

Light Brown sugar

1

tbsp

Honey

2

tsp

finely grated lemon zest

or Orange Zest

1

tsp

Vanilla paste*

(if you have. If not, any good quality vanilla)

6

tbsp (¾ stick)

Unsalted Butter

melted and warm

Nonstick Vegetable Oil Spray

or softened butter

Powdered Sugar
Instructions
Whisk baking powder, salt and flour in a small bowl.

Whisk eggs, granulated sugar, light brown sugar, honey and lemon zest in a medium bowl until smooth.

Whisk in dry ingredients until just incorporated, then whisk in melted butter until smooth.

Transfer batter to a pastry bag or resealable plastic bag and chill at least 1 hour.

Preheat oven to 400°.

Lightly coat madeleine pans with nonstick vegetable oil spray (or soft butter) and dust with flour, tapping out excess.

Snip end off pastry bag (or 1 corner of resealable bag) and pipe batter into each mold, filling two-thirds full.

Bake madeleines until edges are golden brown and centers are puffed and lightly spring back when gently pressed, about 5 minutes for mini and 8−10 minutes for regular cakes.

Tap pan against counter to release madeleines.

Dust with powdered sugar and serve warm.
Notes
Special Equipment: Three 20-cake mini madeleine pans or two 12-cake regular madeleine pans
* Vanilla paste is essentially a small jar of scraped-out vanilla pod, so you get the benefit and potency of fresh vanilla with a pretty speckled end product.
Batter can be made 1 day ahead and kept chilled until you are ready to bake.
A Savoury Twist:

Madeleines Salées
This madeleine cake batter combines ingredients that are more typical of Provence into a savoury bite. You can play with the combination to suit your tastes. Other variations might include olive, anchovy and goat cheese.
Ingredients
100

g

Sundried Tomatoes in oil

weighed (measured) without the oil, ½ tightly packed cup

1

tbsp

Chopped Thyme Leaves

a handful of

basil leaves

finely chopped

2

Eggs

80

g (½ cup)

Flour

15

g (1 ½ tsp)

Baking Powder

15

g (¼ cup)

Grated Cheese

Gruyère or Emmental

3

tbsp (1/8 cup)

olive oil

a pinch of

Salt

a few rounds of

Freshly ground pepper
Instructions
Preheat the oven to 240C/475F

Chop the sundried tomatoes into medium fine chunks.

Separate the egg yolks from the egg whites. Mix the yolks (with a spoon) with the flour and the baking powder.

Beat the egg whites just a little bit with a fork to just loosen them up, then stir them into the yolk and flour mix.

Add the olive oil, a pinch of salt and the pepper and mix really well with a balloon whisk.

Stir in the grated cheese, the chopped herbs and tomatoes.

Butter and very lightly flour your Madeleine moulds.

Fill about one tsp of dough into each Madeleine, taking care not to overload.

Bake them at 240C/475F for exactly 4 minutes, then, without opening the oven door, lower the temperature to 210C/425F and bake for another 6 minutes.

Allow to cool and serve with cocktails.