Cocktail Time Pomegranate Gin and Tonic
Originally, we created this gin and tonic cocktail recipe for Halloween, but why wait that long to enjoy this drink? The recipe uses our Maison Mirabeau dry gin.

Cocktail Time Pomegranate Gin and Tonic
A refreshing gin and tonic drink alternative for any occasion
Ingredients
handful of

Pomegranate Seeds

25

ml

Mirabeau Dry Gin

25

ml

Pomegranate Juice

12.5

ml

Lime Juice

50

ml

Indian Tonic

1

Sprig of Rosemary
Instructions
Fill a tall glass with ice. Add pomegranate seeds.

Pour in gin and pomegranate juice. Make sure they are equal. Add a half measure of lime juice.

Top up with a double measure of Indian tonic.

Garnish with a sprig of rosemary.

Additional Drink Recipes: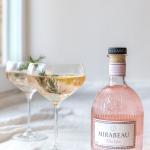 Pink Elephant Martini Cocktail
This cocktail is festive, fun and easy to mix. Enjoy!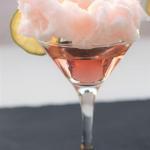 Gin and Rosé Sparkling cocktail
All you need is a cocktail shaker to craft this festive gin-based sparkling start to the evening.
Check out this recipe