Too Hot? Make Cold Soup Cucumber Grape Gazpacho
A friend of mine, Ulrike, first introduced me to this stunning Cucumber Grape Gazpacho last summer. It is a variation of an original recipe "The Sweet Life Cafe's White Gazpacho" published on August 4, 2012, in The Los Angeles Times by Noelle Carter.
Ulrike had the original article taped to a page and then placed it with love and care into a 3-ring binder. The recipe looked as if she had used it many times. So, my heart was pounding because I knew I was in for a culinary treat. My heart nearly stopped after the first gulp because this soup packed a powerful punch of flavour as it visually stunned my senses.

Cucumber Grape Gazpacho Soup
A perfect no-cooking required recipe for hot weather. This cold cucumber soup is easy to make, delicious, and gilded with edible gold leaf!
Ingredients
2

Hothouse Cucumbers

Peeled and chopped

½

bunch of

Green Grapes

about 2 cups, Italian seedless grapes are preferable

3

Garlic Cloves

1

cup

Yoghurt

preferably, Greek-style

½

cup

Sour Cream

or crème fraiche

1/2

Lemon for juice

1

tbsp

Salt

or to taste

Tabasco or Chilli Paste
Instructions
Blend all ingredients until silky smooth.

Garnish: Drizzle Smoked paprika oil (in a squeeze bottle), sprinkle toasted almonds and sliced red grapes.

Garnish options: Use edible gold leaf and edible flowers for an extra special presentation.
More about My Experience:
Armed with this new recipe, I went off to spend another Fall season in Provence. I had the opportunity to use table grapes from a harvest for which I was part of the picking crew. I made this soup for four different sets of friends and each time, I felt that I had achieved culinary greatness.

The presentation has a wow factor, the soup has surprises and it is fun to make. The colours, textures and flavours are all top-notch. A bit like a culinary abstract painting this soup and will delight your guests.
Additional Soup Recipes:
French Onion Soup
Bring a taste of Paris to your home dining experience. Bon appétit!
Check out this recipe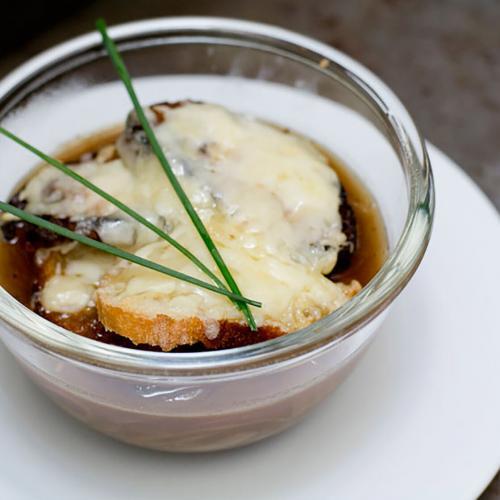 White Bean Soup
This soup is ideal for a dinner party as it can be made ahead. Heat it through at the last moment and serve with toasted country bread.
Check out this recipe

Provencal Chickpea Soup (Fourmade)
Easy to master Provencal chickpea soup is so surprisingly rich and luxurious tasting, that even my 9-year-old son is convinced it has cream in it.
Check out this recipe

Fresh Asparagus and Pea Soup
Like most soups this spring/summer inspired version is really easy to make. Serve it cold on a hot day and your guests will thank you.
Check out this recipe