Perfect for Summer Chilled Tomato Gazpacho Soup Recipe
Since 2010, the Kershaw family, Emma, her husband Chris and their son Louis have lived in the Languedoc-Roussillon. The family settled in the Corbières wine region, one of the largest AOCs in this part of France. Passionate about gastronomy and terroir they chose the foothills of the Pyrenees to establish La Maison du Rire (The House of Laughter) a wine school in an old, now renovated, winery. Emma Kershaw works with winemakers, industry professionals and anyone who wants to learn about the wines and the foods of the Languedoc-Roussillon. Enjoy this recipe from Emma's kitchen for Chilled Tomato Gazpacho Soup.
---
This soup is only worth making in the height of summer when the tomatoes are bursting with ripeness and flavour. Serve chilled, it is pure heaven on a hot summer's day. A good friend in the village, a vigneron, had a terrible accident that left him without any taste sensation and only able to eat liquids through a straw. As you can imagine he was very depressed. I made him some of this gazpacho to cheer him up and it revitalised his palate and restored his good humour. Life changing gazpacho! Serve in shot glasses. ~ Emma Kershaw

Chilled Tomato Gazpacho Soup
Tomatoes, peppers, onions, and more blended together. You will need a good blender, a sieve and some patience but otherwise, this is such an easy recipe. No cooking required!
Ingredients
1

kg

Ripe Tomatoes

stalks removed and roughly chopped

1

Red Pepper

seeded, pith removed and roughly chopped

1

Red Spring Onion

2

large

Garlic Cloves

1/2

small

Cucumber

peeled if the skin is tough

1

large handful of

Fresh Basil

2

tbsp

Sherry Vinegar

Olive Oil

Salt and Pepper

Ice and Water
Instructions
Wash and roughly chop all the vegetables, make sure you remove any bad bits as they will be noticed in the final soup. Pop into the blender and blitz.

Add the vinegar, oil, seasoning, basil and salt and pepper (you will need a good pinch of salt as you tend to need more salt when serving things. Blitz again.

Add a handful of ice and water to loosen it, blitz and taste. Adjust seasoning and vinegar to suit your taste.

When you are happy with the flavour, sieve the soup into a jug. This is a slow process but essential, there is something about the sieving and removing of the fibrous parts of the vegetables that brings out the aromatics and makes the gazpacho 'sing.' Leave this stage out and you will regret it! I do this first thing in the morning, multi-tasking, alternately letting the soup filter on its own and pushing it through with a wooden spoon.

You can usually add another glass of cold water through the mashed vegetables in the sieve and not lose any flavor. Once done decant into a bottle: a cleaned out juice bottle works and refrigerate.

Serve in small glasses, I have a stack of glass yogurt pots that work. Serve, with a swirl of punchy olive oil and a basil leaf. It is traditional to add a teaspoon of chopped vegetables, a combination of tomato, red pepper. cucumber and avocado. Sometimes I do, sometimes I don't. Often I find just sipping it as is without anything in the way or the need for cutlery, rather delightful.
A Wine to Match
Soups are often rather hard to match, liquids and liquids, just too many liquids! And this liquid salad has the added complexity of vinegar -wine's nemesis! However, we have over the years enjoyed it with a glass of the delicious Mescladis from Pierre Clavel ASyrah based rose grown in the dramatic vineyards of Pie St Loup, in the north of the Languedoc. Crunchy raspberry and redcurrant fruits abound, fruity and refreshing. Serve chilled.
Additional Soups to Try
Cucumber Grape Gazpacho Soup
A perfect no-cooking required recipe for hot weather. This cold cucumber soup is easy to make, delicious, and gilded with edible gold leaf!
Check out this recipe

French Onion Soup
Bring a taste of Paris to your home dining experience. Bon appétit!
Check out this recipe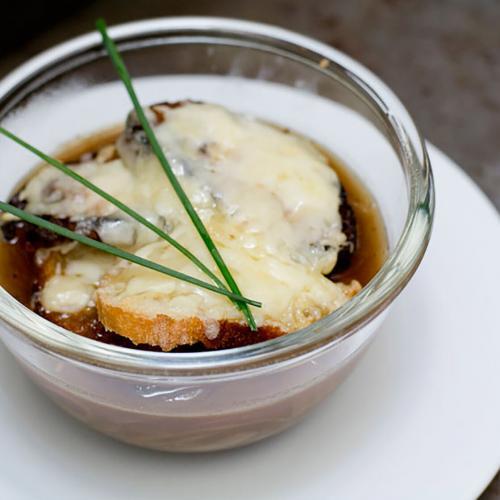 Strawberry Basil Soup for Dessert
This dessert is easy to make and a light, sweet finish to your meal.
Check out this recipe

Provencal Chickpea Soup (Fourmade)
Easy to master Provencal chickpea soup is so surprisingly rich and luxurious tasting, that even my 9-year-old son is convinced it has cream in it.
Check out this recipe