An Olive Oil Lemon Cake Recipe for a Sweet Treat
Regardless of the time of the year, my to-do list never seems to get shorter. Sometimes I want it all to slow down – even just for an afternoon. And this olive oil lemon cake is my answer when you need that sweet treat and a well-deserved break.
I decided to take the day off from the world and make something very simple and tasty. Something like a coffee cake but perhaps a bit more refined. I had one of Pierre Herme's pastry books sitting on the counter, so I thumbed through and found his recipe for a Ligurian Lemon Cake.
It was exactly what I was looking for. I luxuriated in the afternoon with my house smelling divine. The bright sun reflected off the snow in our yard and glistened like a field full of diamonds. I sat on our couch, listening to holiday music and enjoying this cake.
You might be surprised to find just this sort of cake in a bakery in Provence. Along with visitors worldwide, recipes and culinary techniques have also arrived. It is now common to find sweet treats like this lemon cake in 3rd wave coffee shops and roasteries in the bigger cities and towns in France.

Olive Oil and Lemon Cake
A simple and delicious cake to share with friends and family!
Ingredients
1 3/4

cups

All-Purpose Flour

2

tsp

Baking Powder

1

cup

Granulated Sugar

3

Lemons

zested

4

large

Eggs

3

tbsp

Milk

2

tbsp

Lemon Juice

7

tbsp

Butter

melted

2/3

cup

Olive Oil

1

cup

Confectioner's Sugar

2

tbsp

Lemon Juice

1

cup

Mixed Berries
Instructions
Preheat the oven to 350°F.

Butter a 10-inch round spring form pan.

In a bowl, sift together the flour and baking powder.

Whisk together the sugar, zest, and eggs in a stand mixer until the mixture is pale and thick, about 5 minutes.

Add the milk, juice, butter, and olive oil and beat until smooth. Add the dry ingredients and mix well.

Pour the batter into the prepared pan. Bake for 35 to 40 minutes or until a toothpick inserted into the center comes out clean. Let cool on a wire rack.

Whisk together the confectioner's sugar and lemon juice in a bowl until smooth. I sometimes like to add lemon zest to give a bit more flavour and visual appeal.

Place the cake on a serving platter and drizzle with the glaze. Arrange berries on the top and serve.
Additional Cakes:
Lavender Lemon Cake 
Enjoy the hint of lemon and lavender in this delicious cake. The recipe is lightly adapted from a version featured in the National Post on September 8, 2001.
Check out this recipe

Almond and Fig Cake
This cake is quick to prepare. It is a sweet treat that is perfect with a hot cup of coffee or tea or just as lovely with some wine. Delicious, and even better still, enjoyed with friends and a glass of wine
Check out this recipe

Bûche de Noël (Yule Log) Cake
Bûche de Noël (Yule Log) is a thin layer of sponge cake rolled with a creamy mocha filling and covered with chocolate frosting. The Yule log is traditionally French but is popular throughout Europe, Canada, and the United States. Use this beautiful cake as the centrepiece for your table. Display it on a gold tray along with pine cones, pine branches and red ribbon.
Check out this recipe

Grandmère's Chocolate Cake
This is such a special recipe for me. It's been handed down through my mother's side of the family and it's the cake Grandmère always used to make for us when there was a birthday or other celebration. I've never tasted another chocolate cake quite like it (believe me, I've tried many). Whatever you do, don't overcook it. Five minutes too long in the oven and the middle will dry out. Like American brownies, you want the centre to be sticky and squidgy and a little sunken. It will glue your mouth closed and taste heavenly.
Check out this recipe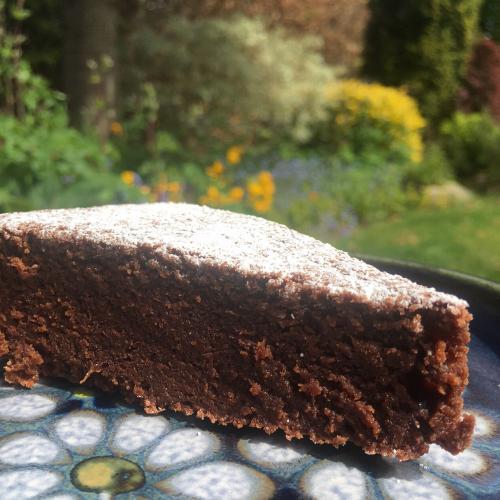 Lemon Olive Oil Mini Cakes
This recipe is easy and delicious. The combination of tangy-sweet will convert even the non-dessert lover.
Check out this recipe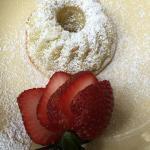 Angel Food Cake with Citrus Sauce
This recipe was minimally adapted from the King Arthur Flour cookbook. Angel Food Cake is a "light" option for dessert. You can add spices to the batter, or change the sauce from citrus to berry or another flavor to suit your tastes.
Check out this recipe