A Sweet Fig and Almond Cake
Life here is never boring, and sometimes, even the simplest of things takes a twist, which leaves us wondering how we manage to get through a day without some disaster, or another. However, the sweet reward of a fig and almond cake makes everything better.
On Saturday, we headed out on the bikes, on one of our favourite little rides, that takes us up to Bonnieux, across to Lacoste, and back via Lumieres and Roussillon. It's a lovely little route, along quiet lanes, where we can take our time and simply enjoy the views and relish the little things that we notice along the way. Continue reading here for the photos of a beautiful day for cycling and the heartache of a lost phone.
---

Almond and Fig Cake
This cake is quick to prepare. It is a sweet treat that is perfect with a hot cup of coffee or tea or just as lovely with some wine. Delicious, and even better still, enjoyed with friends and a glass of wine
Ingredients
2

oz

Unsalted Butter

3

large

Eggs

1

tsp

Vanilla Essence

4 1/2

oz

Ground Almonds

1

oz

Caster Sugar

1

oz

Plain Flour

1

tsp

Baking Powder

1/2

tsp

Cinnamon

10-12

Figs

washed and cut in half
Instructions
Melt the butter in a pan and allow to cool, before mixing in 3 lightly beaten eggs and a teaspoon of vanilla essence.

In a separate bowl mix together the dry ingredients.

Put the dry ingredients into the liquid, and beat them together to make a batter, pouring it into a greased and lined 9-inch springform pan.

Place halved figs, seed-side up into the batter, sprinkle with a tablespoon of sugar and pop it in the oven (preheated to 190 c) for 20 mins, until firm and browned. Eat hot, cold, with ice cream, cream, extra figs, or just on its own.
More Recipes with Figs
Sourdough Toasts with Melted Cheese, Figs and Grapes
Make this recipe as an appetizer or a lunch dish served with a green salad.
Check out this recipe

Fig and Tomato Salad
This is a easy and delicious salad that combines sweet fig and tangy tomatoes on one plate.
Check out this recipe

White Chocolate Tart, Red Fruits and Fresh Figs
There is nothing better in this world than a combination of white chocolate and fresh fruits. These tarts are so light and deliciously sweet, you'll be reaching for another one before you even finish the first!
Check out this recipe

Fig and Buttermilk Custard Tart 
The recipe makes a 1-10 inch tart, which should serve 6-8 people.
Check out this recipe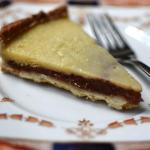 Fig Tart with Orange Flower Custard
This is a delicious tart, easy to make a perfect way to use up those figs that your guests brought to your dinner party.
Check out this recipe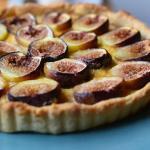 Blue Cheese and Fig Tart Two Ways
This recipe is based on a blue goat cheesecake by Braiden Rex-Johnson found in her "Pike Place Market Cookbook." I made the dessert into more of a tart format, using the same basic ingredients.
Check out this recipe