A Nicoise Classic Pan Bagnat
True Niçoise residents are a combination of French and Italian, but mostly they just love Nissa la Bella and the local food. To some Pan Bagnat might just look like a sandwich, however, to those who have visited Nice it is anything but. This recipe may start with ordinary bread, but it ends with delicious…enough so to catch David's attention on an airplane and inspire him to make it for a picnic a month later. Below is the Cocoa & Lavender version of Pan Bagnat.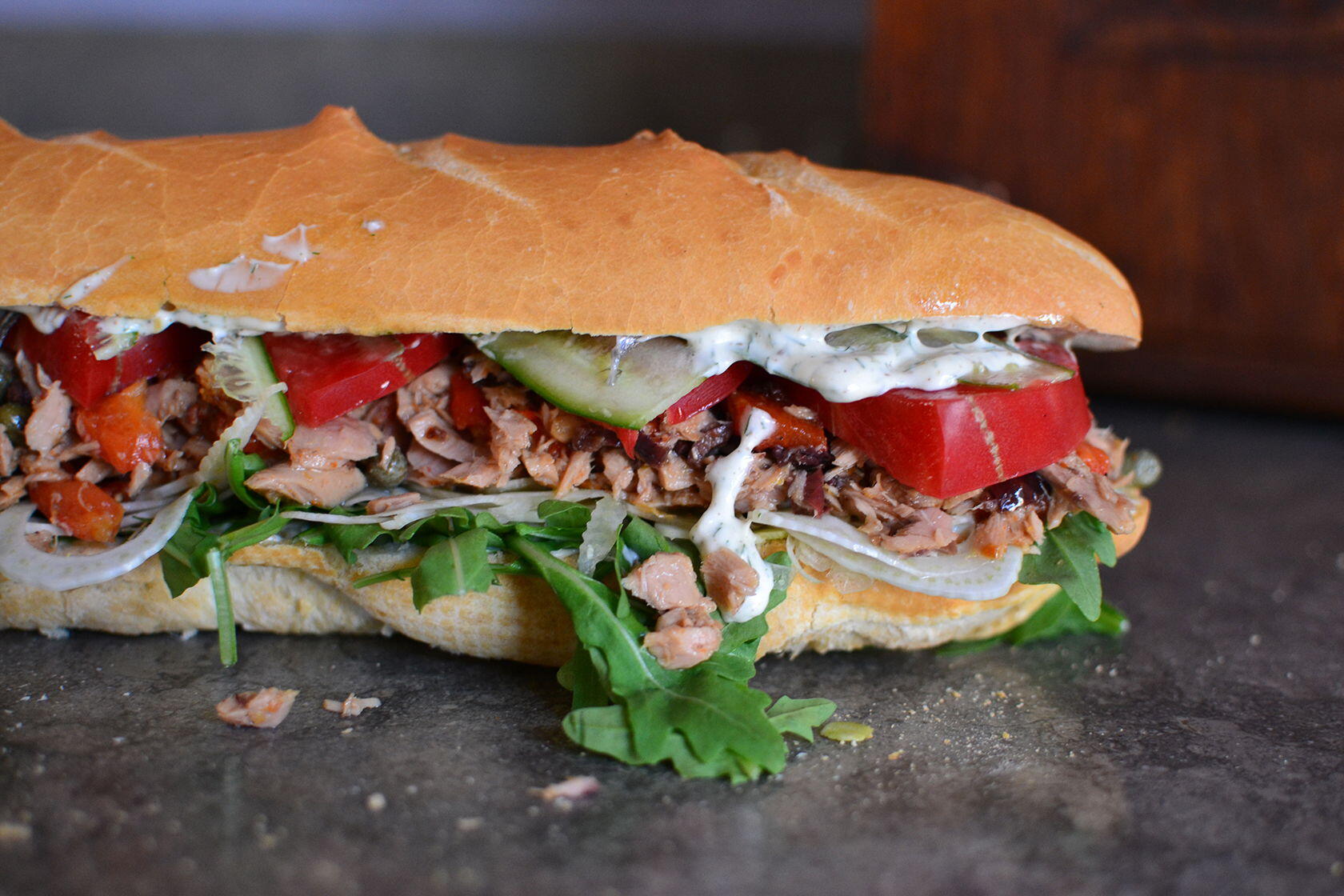 Pan Bagnat
This Cocoa & Lavender recipe for Pan Bagnat was inspired by Food & Wine, June 2015.
Ingredients
2

tsp

fennel seeds

1

Egg

1

tbsp

finely grated lemon zest

divided

2

tbsp

plus 2 tsp lemon juice

divided

3

tbsp

fennel fronds

1 1/2

tsp

Dijon Mustard

1/2

tsp

Salt

1/2

tsp

Black pepper

5

tbsp

Extra virgin olive oil

divided

1

cup

light oil

olive or canola

1/4

cup

Crème fraiche

1

tbsp

Pastis

1

red bell pepper

roasted, peeled and sliced

1/4

cup

Niçoise olives

pitted and chopped

2

tbsp

Capers

1

tsp

Piment d'esplette

(or red pepper flakes)

2

6 oz

jars tuna packed in oil

drained

1

Baguette

halved lengthwise

2

cups

arugula

1

medium

Fennel Bulb

shaved paper thin

2

heirloom tomatoes

thinly sliced

2

Kirby (pickling) cucumbers

thinly sliced

12

white anchovy fillets
Instructions
Start by making the mayonnaise.

Lightly toast the fennel seeds in a dry skillet over medium-low eat until golden.

Let cool, then grind in a spice grinder.

Place egg, 2 teaspoons lemon zest, 2 teaspoons lemon juice, fennel fronds, mustard, salt, pepper, ground fennel, and 3 tablespoons olive oil in the bowl of a food processor fitted with the steel blade.

Purée for 10-15 seconds, or until fennel fronds are finely chopped.

Then, in a VERY slow and steady stream, with processor running, add the light oil. By the time it is gone, the mixture should be a perfect mayonnaise.

Place 3/4 cup of the mayonnaise (reserve the rest for another use, like steamed artichokes), the crème fraîche, and Pastis in a medium bowl.

Mix well and taste for seasoning; add salt and pepper if needed. Refrigerate until ready to use.

Next, in another medium bowl, mix roasted red pepper, olives, capers, Piment d'Esplette, and remaining lemon zest and juice.

Flake in the tuna and remaining 2 tablespoons olive oil.

Set aside to marinate for at least 30 minutes.

To make the sandwiches, generously spread both cut sides of the baguette with the fennel mayonnaise.

Arrange the arugula on the bottom half of the baguette.

Top with sliced fennel, then the tuna mixture.

Top with sliced tomatoes, cucumbers, and white anchovies.

Place the other half of the bread on top, then slice into four sandwiches.

Wrap each individually in parchment and tie with twine.

Keep on ice in a cooler for a couple of hours while you travel to your picnic site.

Unwrap, and grab a taste of summer heaven. Don't forget to bring plenty of napkins - this is a messy sandwich!
Notes
We know it is hard not to dive right into this sandwich after you have made it, but the real tastes require a bit of sitting time to allow for "marinating of flavours." Try and resist for 20-30 minutes.
More Recipes from Nice, France
Salade Niçoise
My version of this meal-sized salad from Nice for the purists and the rest of us.
Check out this recipe

Tourte de Blettes Salée from Nice
This savoury tart's main ingredient is blette (chard), which grows all year near Nice, France. Considered part of traditional Niçose cuisine, there are two variations sweet and savoury (salée). Serve this tart with a green salad for lunch or a light dinner.
Check out this recipe

Petits Farcis a Nicoise Speciality
Les petits farcis may be served warm or at room temperature. Serve the petits farcis, served with the roasted vegetables, a green salad, crusty bread and a bottle of Côtes du Rhône make an excellent lunch or add some roasted chicken and call it dinner.
Check out this recipe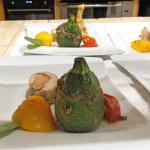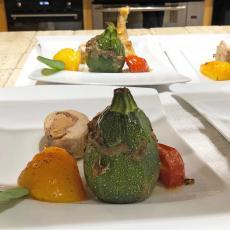 Niçoise Salad
What is a true Niçoise salad? An authentic Niçoise is made with raw vegetables; only the eggs are cooked. You have anchovies or tuna, never the two. This salad can be a complete meal with some good bread and a glass of rosé!
Check out this recipe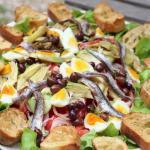 Swiss Chard, Raisin and Pine Nuts Tart
Tarte niçoise aux blettes et pignons de pin is such mouthful, of words, for a dessert. On my last visit to Nice, I tasted this fabulous local délice. French cooking is absolutely regional like its weather, and you can only find certain specialities in specific towns. Ok, I have to say this tart is not for everyone. Dessert with veggies in it does sound strange. Some might sprinkle confectioner's sugar before serving. The tart is even better the next day.
Check out this recipe