Wild about Saffron in Provence
The number of local farmers producing saffron in Provence is increasing – it used to be widely grown in the south of France, but phylloxera wiped it out early in the last century – so it is good to see that it is being produced once more. Harvesting is an incredibly fiddly job for the safranieres, and it has to be done on the morning the crocuses flower.
Continue reading here for Lynne's post on saffron and two producers near Aix-en-Provence in Trets and Gardanne.
Discovering Saffron in Provence
Harvesting the Saffron of Provence in Cotignac
French Saffron – Facts, Fun, History and Legends
Farm Visit to le Moulin de Jarjayes Understanding Saffron in Provence
The Saffron Fields of Provence
Understanding the Cost of Saffron
Cooking with Saffron – Recipes from Provence
Mussels Saffron and Leek Soup by Cook'n with Class
Saffron Chicken with Potato and Courgette Bake by Mirabeau Wine
Fennel and Langoustine Ragoût with Saffron by David at Cocoa & Lavender
Cauliflower Saffron Soup  by David at Cocoa & Lavender
Seared Scallops, Tarragon Beurre Blanc, Saffron Carrots
Seared scallops in a citrus sauce on top of cooked carrot ribbons. It is a delicious combination and pairs perfectly with Clos Beylesse (2020), A Côtes de Provence rosé.
Check out this recipe

Chicken Roasted with Saffron, Rosemary, and Lemon
Really, nothing could be easier to make than a roast chicken. There is very little preparation required, and plenty of time to make your sides while the chicken is roasting. Plus, the bonus is your kitchen will smell delicious.
Check out this recipe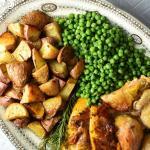 Saffron Chicken with Potato and Courgette Bake
Like many popular sheet-pan recipes this one is simple and tasty. Your guests will love it.
Check out this recipe