French Saffron – Facts, Fun, History and Legends
Contributor blog post by Girl Gone Gallic:
French Saffron was first cultivated in Southern France by the Romans. After the decline of the Roman Empire, its use all but disappeared until the Moors brought it back again during the Black Death Era as a potential cure. In fact, demand became so strong that Pirates would target Saffron import ships instead of those loaded with gold bars or coins.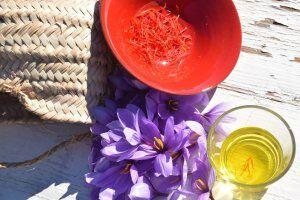 …Continue reading here to learn about the "Saffron War" and details on this crocus with six (6) petals. The work pick the blooms and extract the red pistil cluster (usually 3 stigmas red filaments) is 100% manual. The threads are then dehydrated and packaged for sale. It takes 450 stigmas to make 1 gram of saffron so one starts to understand why the spice has been valuable throughout the ages.
Cannot get enough saffron?
Here are a few more articles and recipes about the saffron producers in Provence:
Understanding the cost of saffron
Cook'n with Class Mussels Saffron and Leek Soup
Farm Visit: Understanding Saffron in Provence
Via:: Girl Gone Gallic