Vegetarian Moroccan Tagine a Recipe from Marrakesh
The word tagine describes two things a heavy earthenware dish with a conical lid, and a slow-cooked stew. The following recipe for Vegetarian Moroccan Tagine is one from our Pitcher & Powell Cuisine & Culture trip to Marrakesh in 2019.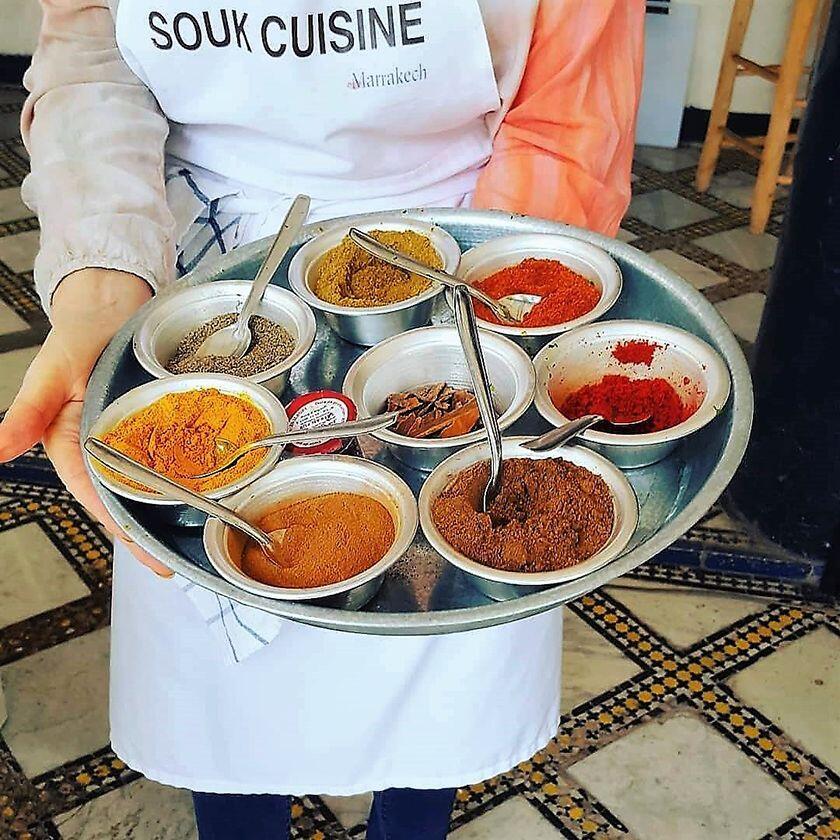 Whether you are in the markets in Provence or the souks in Marrakesh it's almost certain that the tagines with their brightly glazed lids will capture your attention. However, our partners, the owners of the riad and cooking school, feel that the best tagines for North African cuisine are the traditional unglazed ones.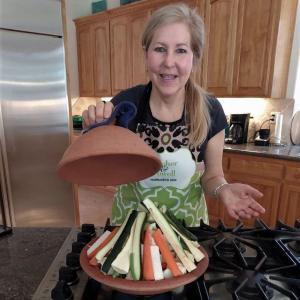 Moroccan Tagine with Seasonal Vegetables
Preparing a tagine requires a bit of effort to clean and cut the vegetables. After that, it is all about layering and allowing the slow-cooking process to take over. Please note that your vegetable selection may vary depending on what is available.
Ingredients
4

lbs (1.8kg)

Mixed Seasonal Vegetables*

3

small

Onions

cut in rings

1

medium

tomato

cut in rings

1

Potato

1

whole head

garlic

1

bunch of

fresh cilantro

finely chopped (3 tbsp for garnish)

1

bunch of

Fresh Parsley

finely chopped (3 tbsp for garnish)

1

pinch of

Saffron

1

tsp

Ground Ginger

1

tsp

Ground Pepper

1/2

tsp

Ground Ras-el-hanout**

2

tbsp

olive oil

1

tsp

Salt

1/2

Lemon Confit

preserved lemon

16

oz (480 ml)

Vegetable stock

1

tbsp

Harissa

North African chili pepper paste

1

cup (240g)

Green Olives
Instructions
Cover the bottom of the tagine with a tablespoon of oil, then add the onion rings and place the garlic head in the middle of the dish.

In a bowl, mix the herbs, the spices (saffron excluded) and the oil; sprinkle a couple of spoons of the mixture on top of the onions, and then add the harissa.

Place the tagine on medium heat on a gas stove, add 4 oz. (120 ml) of the vegetable stock and cook for 5-10 minutes, covered.

Clean the vegetables, then cut in long segments.

Cut the rest of the onions, the tomatoes and the potatoes in 1/4 inch slices.

Place the vegetables in the dish, starting with those requiring a longer cooking time. The order that I used started with white turnips, carrots, green beans, white flower gourds, cauliflower, zucchini, and finally, the green peas.

Then, cover the vegetables with the slices of potato, tomato and onions and the confit lemon cut into wedges. Season with a little bit of salt and pepper.

Place the tagine back on the heat and add hot vegetable stock. Cover the tagine.

Every 10 minutes, remove the cover and distribute the sauce over the vegetables. Simmer for 40 minutes.

Wash the olives and distribute them on the tagine a few minutes before you are ready to serve.

Last touch: crush the saffron by hand over the tagine before serving.
Notes
* For the vegetables: choose your favourites from a seasonal mix that might include zucchini, yellow squash, white turnips, carrots, green beans, white flower gourd, cauliflower, green peas, bell peppers. If you use parsnips, make sure to cut in thin (1/4 inch) slices.
**What is ras el hanout (Arabic for "head of the shop")?
The mixture usually consists of over a dozen spices, in different proportions. Each spice shop varies the exact spices and amounts for its unique blend. Commonly used ingredients include cardamom, cumin, clove, cinnamon, nutmeg, mace, allspice, dry ginger, chili peppers, coriander seed, peppercorn, sweet and hot paprika, fenugreek, and dry turmeric.
Other Moroccan Recipes:
Zaalouk d'Aubergine a Moroccan spiced eggplant salad
Provencal lamb chops with honey and Moroccan couscous
Lamb and chicken couscous a traditional Moroccan recipe
B'stila b'djej a traditional dish from Morocco
How to Make Moroccan Pastillas at Home

All rights reserved. Perfectly Provence articles and other content may not be published, broadcast, rewritten (including translations into other languages) or redistributed without written permission. For usage information, please contact us.
Syndication Information
Affiliate Information
As an Amazon Associate, this website earns from qualifying purchases. Some recipes, posts and pages may have affiliate links. If you purchase via these links, we receive a small commission that does not impact your price. Thank you in advance for supporting our work to maintain Perfectly Provence.