Try This Hot Weather Drink Lavender Lemonade
If there is a drink that defines the best of summer living, it has to be homemade lemonade. And Provencal rosé! So if you are looking for a recipe for a refreshing drink for hot weather, try this lavender lemonade from the Okanagan Lavender & Herb Farm.
Dedicated to making quality products from herbs and botanicals, this multi-generational, family-run operation is in British Columbia, Canada. From planting to the final product – the farm operations reflect the McFadden family's dedication to environmental stewardship, supporting local business and quality production. "We are committed to packaging our products ecofriendly options which can be reused, recycled or composted."
The Okanagan Lavender & Herb Farm grows over 20 herbs and botanicals, including lavender, herbes de Provence (rosemary, thyme, oregano), spearmint, and lemon verbena. At the farm, each year follows a relatively steady cycle from planting to harvest to drying and distilling. As a result, their product line is vast, with over 50 items covering bath and beauty (bath salts, balms, and oils) through culinary (teas and syrups). Order online for shipping across Canada (flat rate shipping $11.95 | free shipping over $75). Alternatively, if you are in the area, stop by as they offer curbside pickup on Tuesdays and Thursdays 10 am – 2 pm.

Lavender Lemonade
The perfect chilled drink to enjoy this summer!
Ingredients
2

cups

Boiling Water

1

cup

White Sugar

3

tbsp

Dried Lavender Buds

8

cups

Cold Water

1

cup

Lemon Juice
Instructions
Steep lavender in boiling water for 15 minutes in a covered pot. Strain infusion; add lemon juice, sugar and water. Chill in the fridge for one hour before serving. Serve with fresh lemon slices and lavender blossoms. Delightful with strawberry ice cubes.

To make strawberry ice cubes, place one strawberry in each hole in a tray, fill it with water and freeze. Add the ice cubes to lemonade just before serving.
Additional Drinks:
Pink Fizz
This is a perfect drink to celebrate with, it's fizzy and fresh and light with fresh fruit and prettiness to add pops of colour to any party or dinner table.
Check out this recipe

Rosé Royale
This drink is festive, slightly stronger than a glsss of wine, and a lovely way to start and evening with friends. The recipe serves 5-6 people depending on the size of glasses.
Check out this recipe

Pure Rosé Cocktail Recipe with rose ice cubes
The most time-consuming part of this drink recipe is making the ice cubes in advance. Find some beautiful miniature roses and freeze them in ice cube trays with water. The cocktail is delicious (of course), but the frozen rose ice cubes make the presentation.
Check out this recipe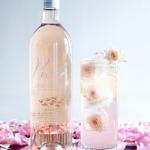 Lavender Mint Meyer Lemonade
Refreshing and tasty this drink may be come your go-to summer beverage.
Check out this recipe