Stuffed Zucchini Flowers a Recipe from Provence
This vegetarian recipe for stuffed zucchini flowers comes from the Rose et Marius blog (with permission). The season for these delicate zucchini flowers is short. When you have the chance, don't hesitate to buy them, but make sure to cook with the flowers the same day as they spoil quickly. The preparation is quick, but for the best results fry the stuffed zucchini flowers just before serving.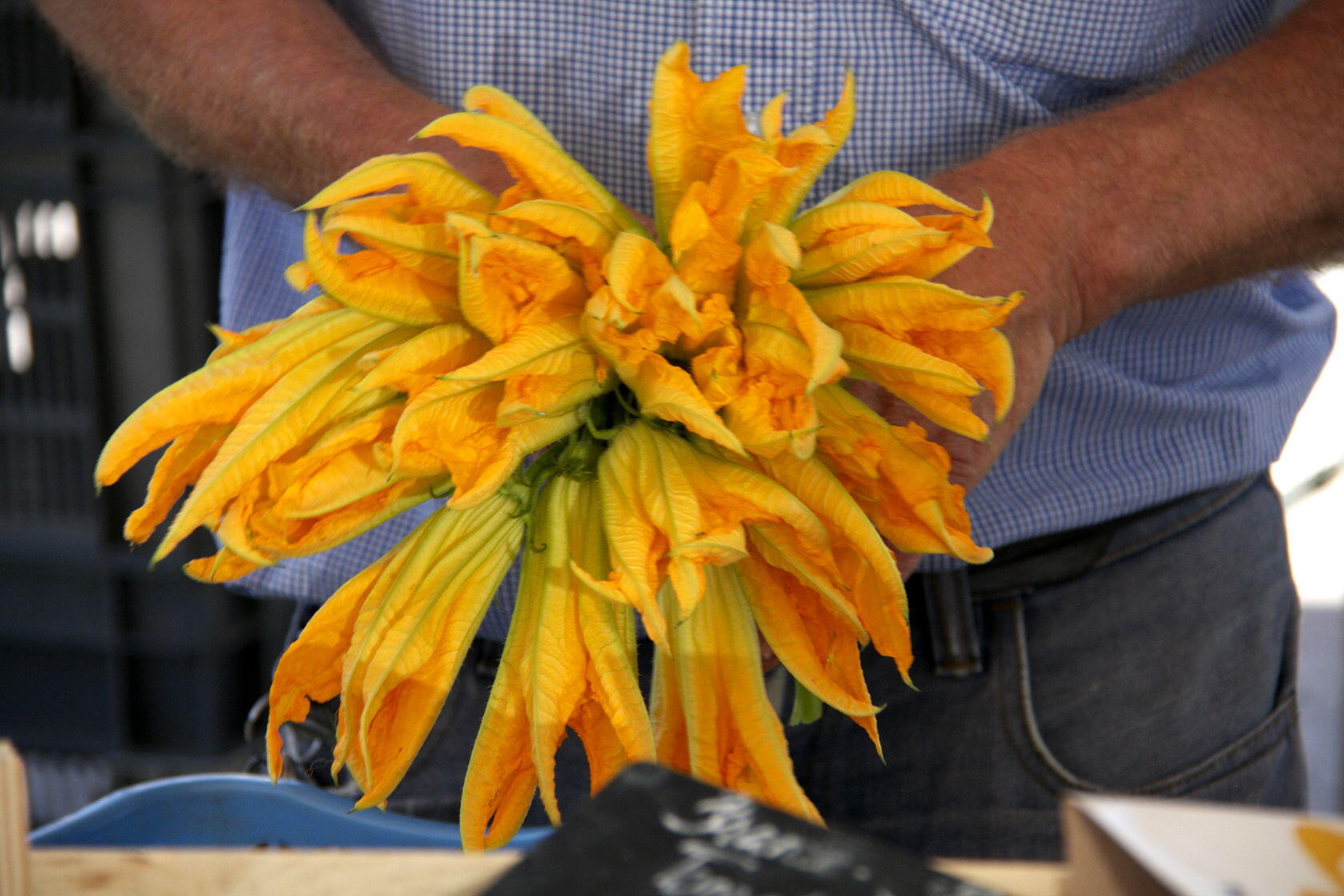 Rose et Marius is a luxury perfume house and home décor brand based in Aix-en-Provence. Founder Magali Fleurquin-Bonnard named the company after her grandmother, Rose, and as a tribute to Provence. Fleurquin-Bonnard's inspiration for the exquisitely designed product line originates from her childhood memories. She spent holidays at the family's country home in Puget sur Argens (in the Var). Make sure to take advantage of the Perfectly Provence 10% reader's discount.


Stuffed Zucchini Flowers from Provence
But we often wonder how to prepare them? Today we share with you a delicious way we cook them in Provence.. Here is the recipe for zucchini flowers stuffed with ricotta. An aromatic recipe, very simple to make, which will create a sensation for your guest as a starter or as an accompaniment to fish or shellfish.
Ingredients
12

Zucchini flowers

50

g (1.8 oz)

Grated Parmesan

200

g (7 oz)

Ricotta

drained

3

Sun-Dried Tomatoes

cut in strips

3

Garlic Cloves

crushed

12

fresh basil leaves

washed and chopped

a dash of

olive oil

Salt and freshly ground pepper
Instructions
In a mixing bowl add the ricotta (drained), crushed garlic cloves, chopped basil, sun-dried tomatoes and the grated parmesan. Mix together well.

Adjust the seasoning with salt and pepper.

Gently take the flowers one by one. Carefully lift the outer layers and remove the pistil and rinse. Delicately, using a small spoon, stuff each flower with the ricotta preparation.

Put the olive oil in a heavy frying pan.

Once the oil is hot, brown the zucchini flowers until they turn a nice golden color.

Serve warm.
Additional Zucchini Recipes:
Grilled Vegetable Salad with Zucchini and Tomatoes
You can make this salad all year by varying the ingredients according to the season. However, we love the combination of zucchini, tomato and lemon-caper dressing.
Check out this recipe

Zucchini Tart
A tasteful dish best filled with seasonable vegetables and served for lunch, Enjoy!
Check out this recipe

Stuffed Zucchini Halves
Easy to prepare and delicious. A side dish or main course serve warm or at room temperature.
Check out this recipe

Zucchini Gratin
This creamy gratin that will tickle your palate from the fall and into the winter months.
Check out this recipe