A Savoury Zucchini Tart Recipe for all Seasons
We all know that French pastry chefs have perfected tempting (and beautiful) fruit tarts, but there is an equally long repertoire of savoury tarts. Perhaps the best known is a classic quiche Lorraine. Then there is the delicious combination of sliced onion, lardon and crème fraîche that makes Flammekueche (Tarte Flambée) from Alsace rival pizza. And, honestly simple tomato tart in the heart of Provence's summer is unbeatable.
Depending on where you live, this savoury tart could work in any season. What I have made today in Arizona, is more of a spring-into-summer tart; in New England, these ingredients would be summer; south of the equator, they'd be available a few months from now.
However, you can play around with different seasonable vegetables to make it in any season: fava beans, thinly-sliced winter squashes, caramelized onions or shallots, sautéed bitter greens, chopped and drained tomatoes. The possibilities are endless. I recommend using what is fresh and seasonal in your market. Enjoy the recipe below and check out the preparation photos on Cocoa & Lavender here.

Zucchini Tart
A tasteful dish best filled with seasonable vegetables and served for lunch, Enjoy!
Ingredients
For the Crust
2

cups

Flour

1

tsp

Kosher Salt

12

tbsp

Unsalted Butter

1

Egg Yolk

1

tsp

White Vinegar

Water

as needed
For the Filling
1/2

cup

Cream

1

tsp

Lemon Juice

16

oz

Zucchini

16

oz

Yellow Summer Squash

2

tbsp

Extra-Virgin Olive Oil

Freshly Ground Black Pepper

1

tbsp

Dijon Mustard

1

tbsp

Chives

snipped

4

large

Eggs

12

Asparagus Spears

cut into 2-inch pieces

1

tsp

Coarsely Grated Lemon Zest
Instructions
Heat the oven to 425°F. Mix cream and lemon juice in a medium bowl and set aside for use in the filling.
For the Crust
Place flour and 1 teaspoon of salt in the bowl of a food processor fitted with a steel blade. Pulse twice to distribute the salt. Add chilled butter into 24 pieces and pulse 10-12 times. Blend the egg yolk and vinegar in a small bowl, then whisk in 1/4 cup of ice water. Add this to the flour and butter mixture and pulse 24 times (long pulses) or until the dough comes together.

Shape dough into a square, then roll it into a 14-inch square. Brush the outer 1/2 inch of the crust with water (all the way around). Roll 1/2-inch of each side over to create a raised border; crimp or pinch the border with a decorative pattern. Transfer to a parchment-lined 13-inch by 18-inch baking sheet. Prick the bottom of the pastry all over with a fork. Place in the refrigerator.
For the Filling
Cut the squashes in half lengthwise and then in 1/4-inch half-moons. Toss the squash with the oil; season with salt and pepper. Transfer to a baking sheet and roast for 10-12 minutes, or until they begin to take on colour.

Remove the pastry from the refrigerator. Add the mustard and chives (or equivalent amount of other herbs that appeal to you) to the thickened cream mixture, and season with salt and pepper. Working within the raised pastry edging, spread the cream mixture evenly over the pastry. Next, spread the roasted zucchini over the cream, making four slight gaps or nests in the four quadrants in which to nestle the eggs.

Break an egg into each indentation. Strew the asparagus overall but the yolks. Sprinkle lemon zest all over, and season with salt and pepper. Bake 20 minutes, or until egg whites are set, and yolks are still runny (or a little longer, if you prefer firm yolks). Cut into four pieces and serve immediately.
Savoury Tarts
Tomato Tarte Tatin
Allow enough time to prepare the key ingredients (onions and tomatoes) in advance. This savoury tart is a great lunch dish with a green salad or s starter course at dinner time. Serve at room temperature or slightly warm.
Check out this recipe

Basic Quiche
You can take this foundational recipe in almost limitless flavour directions. It provides you with the cornerstones of a successful quiche: a flaky crust and a creamy filling. This crust can also be used for making fruit tarts and rustic galettes. For the filling, only use heavy cream; milk has the potential to curdle when it cooks.
Check out this recipe

Fig, Walnut and Lardon Quiche
I love to make seasonal quiches, as there's always a nice combination that will work. Figs are lovely with nuts, so you can make a very tasty number with some crushed almonds or walnuts, figs and some lardons for extra taste.
Check out this recipe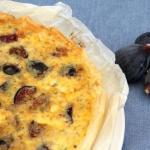 Jacques' Zucchini Tart
This tart is easy to make all you need is a few ingredients for the perfect pairing with a glass of chilled rosé. Easy and very tasty, serve as an appetizer or as a light main with a salad.
Check out this recipe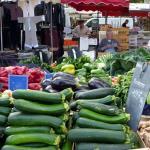 Tarte Soleil - Puff-Pastry Appetizer
From the chef, "Provençals like things sunny and pretty, so this is a popular take on the local, traditional fougasse. It can be filled with any strong-flavoured spreadable mixture such as tapenade or anchoiade or a sundried-tomato paste or even a spinach/ricotta or goat cheese." 
Check out this recipe