Markets and Other Reasons to Visit L'Isle Sur la Sorgue
Our first visit to the famous Sunday market in L'Isle sur la Sorgue was a nippy, blue-sky autumn morning. The summer crowds may have dispersed, but finding parking remained a bit of a contact sport. We got lucky.
Why drag yourself out of bed to visit this Provencal town? Here is why:
The Glorious Markets
The markets in Provence are a magical canvas echoing the vivid hues of the landscape. In the early fall, produce stands groan under the weight of bright orange courge and potimarron squash. Mounds of whole walnuts rival the irresistible whiffs of roasting chestnuts. Root vegetables from carrots to turnips to beets conceal tables in a rainbow of shades.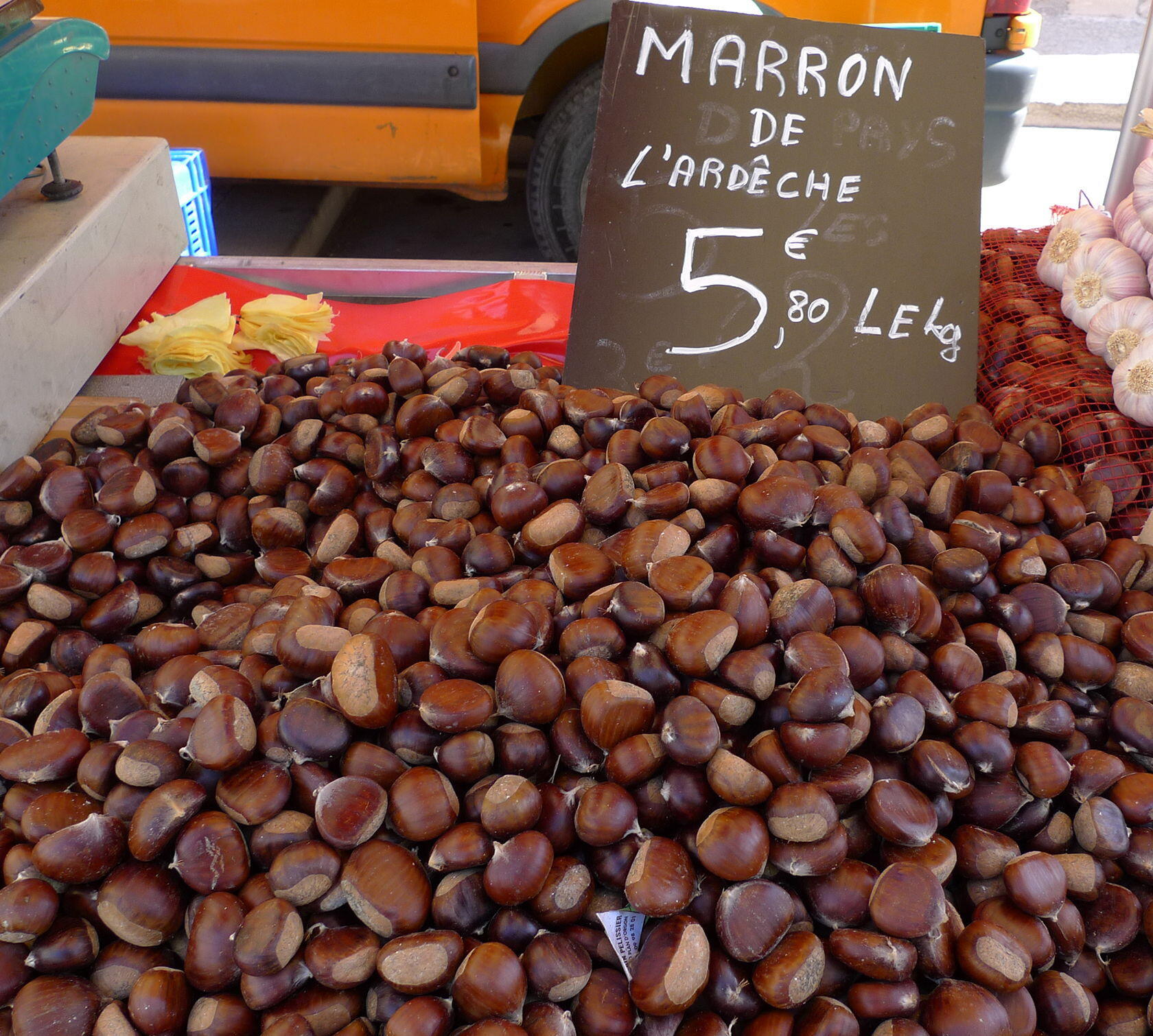 On a Sunday morning in L'Isle sur la Sorgue the market winds through the old town and along the quay (river walk). There are only a few Sunday markets in the region, and this one is the largest, attracting both locals and visitors. Similar to Apt's Saturday market, the line between retail and market is blurred as many boutiques add their wares to the overall temptation. However, L'Isle sur la Sorgue approaches the scale of a Parisian marketplace with the addition of some 300+ antique and bric-a-brac stores within the townsite. It's worth visiting this market but go early.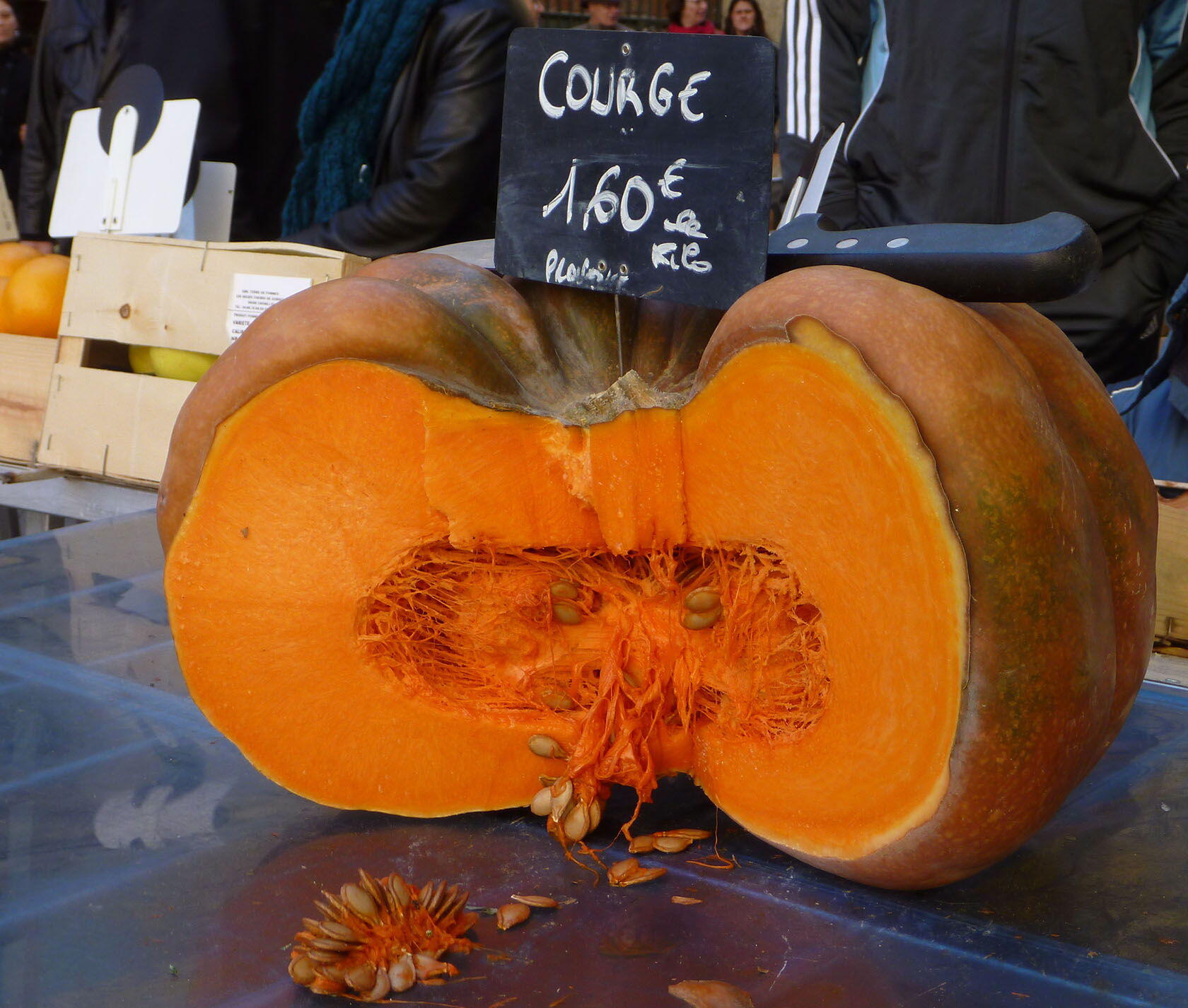 A town the size of L'Isle sur la Sorgue benefits from a second market day on Thursday mornings. This market is smaller, feels more "local," and is generally less crowded. In the spring and summer months, there is also an evening market.
On the 1st Sunday in August, the L'Isle sur la Sorgue floating market (marché flottant) is a nod to Provencal history. Instead of traditional market stands, seasonal produce, flowers, and fabrics are sold from the holds of small boats, the nego chins (translation: dog-drowners). These flat-bottom watercraft are roughly the shape of a kayak, propelled by a standing paddler. The nego chins are ideal for navigating shallow, slow-moving waterways. Enjoy this mid-summer celebration with traditional costumes, folk music and the dynamic floating market.
Antiques Galore
After Paris, L'Isle sur la Sorgue has the most extensive collection of antique dealers in France. With over 300 storefronts selling French antiques and collectables, it is no wonder that this mid-size town features on many tour agendas. The first antique dealer's village was established in 1978. Today, you can peruse furniture, artwork, tapestries, silverware and much more as you wind through a tangle of stores in seven (7) antique villages. The opening hours and days for dealers vary, but on weekends the doors are wide open.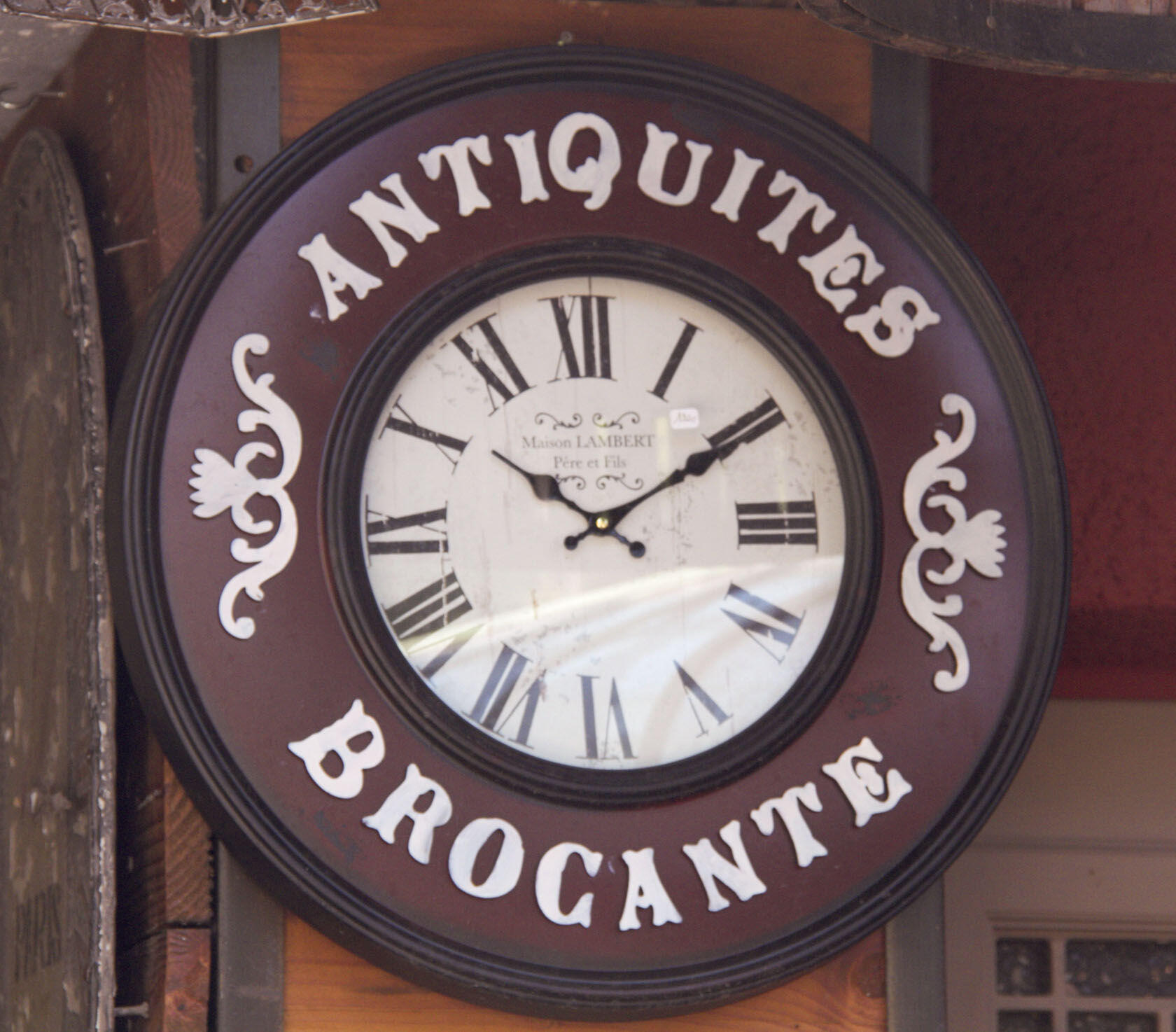 Twice a year, on Easter weekend and on the August 15th public holiday, antique lovers head to Isle sur la Sorgue for Antiques Art and You. Ranked in the top three marketplaces in Europe, these two antique fairs, which started over 100 years ago, attract 500+ dealers and roughly 100,000 visitors.
The Waterwheels
The source of the shimmering turquoise Sorgue River is seven (7) kilometres away at Fontaine-de-Vaucluse. Several tributaries of the river join together, passing by this ancient townsite that was once an island, as noted in an 1126 reference to Insula or Isla. Several iterations of the name followed until August 18, 1890, when L'Isle sur la Sorgue was officially adopted. The Sorgue river and moss-covered waterwheels remain a pretty backdrop, differentiating the town from some of its sun-baked neighbours in the Luberon.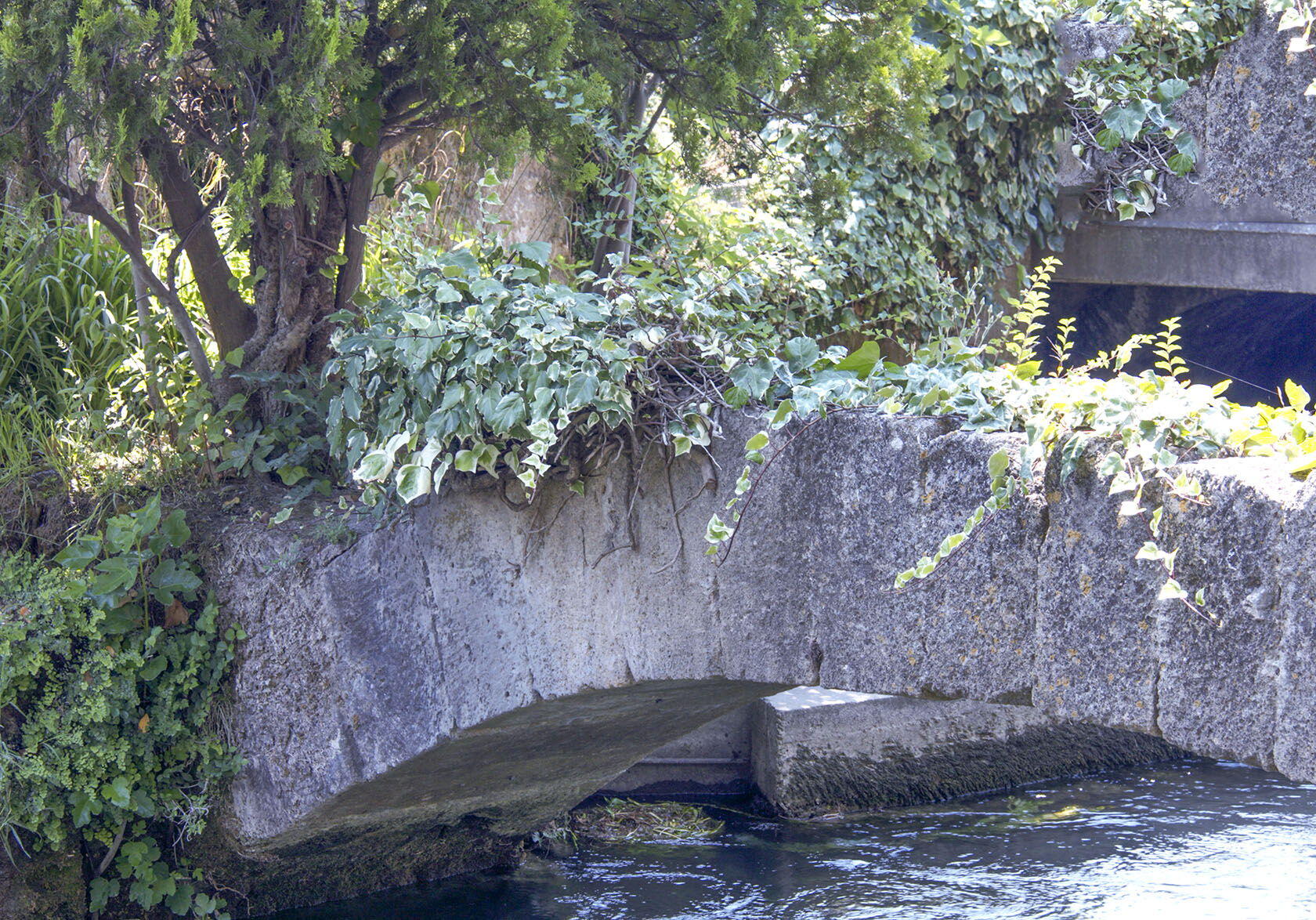 Today, the Sorgue is a shallow meandering river, making it difficult, if not impossible, to imagine a time when this town was an island. During the Middle Ages, the town's inhabitants depended on the river for nourishment (fishing) and commercial production. Water wheels turned to crush olives for oil, mill flour, produce paper, and weave silks and woollens. At one time, 66 wheels operated leveraging the Sorgue's flow for energy to run these mills. Now, the remaining 15 waterwheels highlight the picturesque setting.
Brun de Vian-Tiran maintains L'Isle sur la Sorgue's industrial past. Warm-up with a new wool blanket or throw made right in town. This family-run company has been manufacturing for 200+ years. Plan to visit the on-site museum and explore the boutique.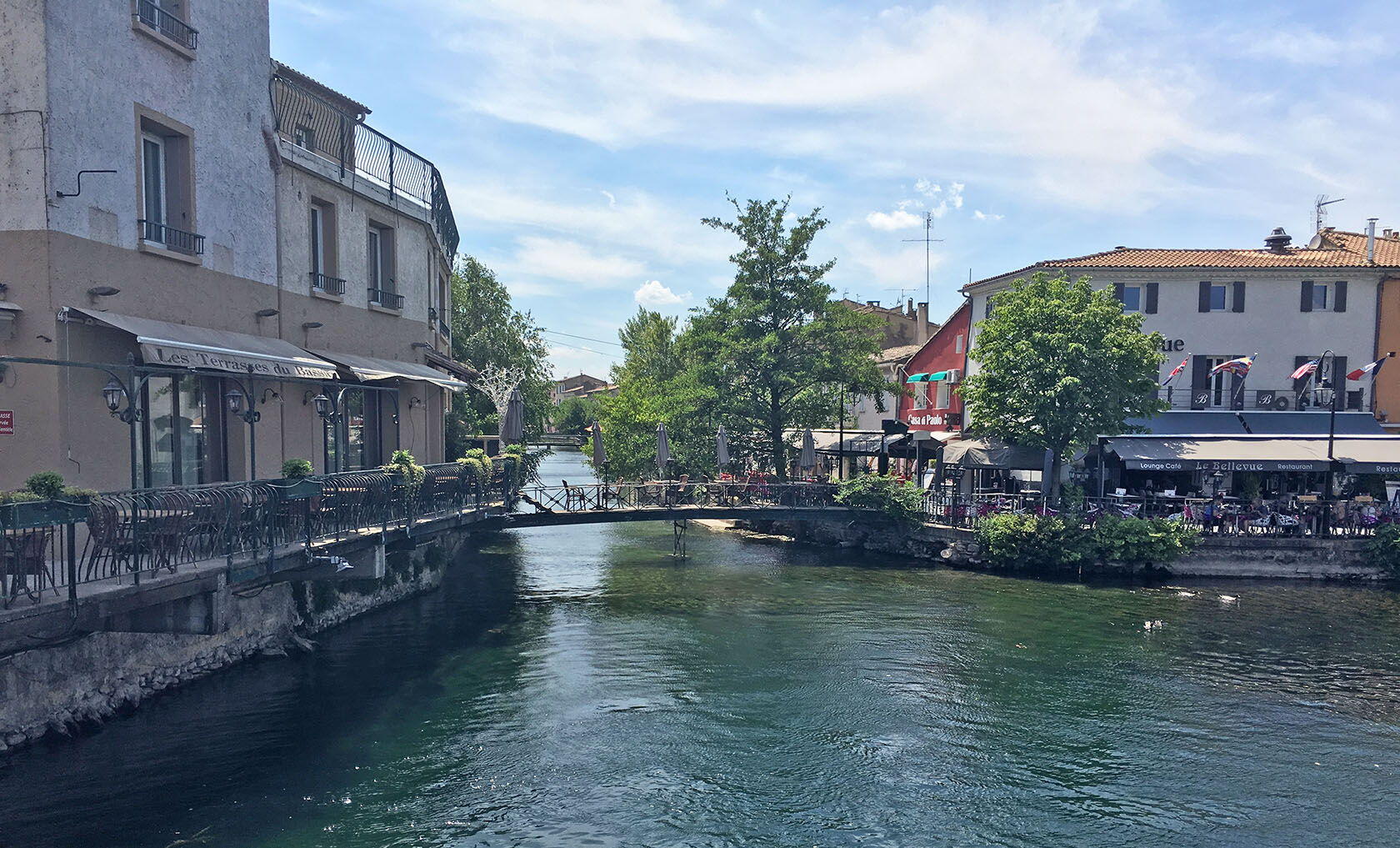 Contemporary Art
Aside from markets and antiques, L'Isle sur la Sorgue treats art lovers to contemporary exhibitions in historical settings.
The Campredon Art Center features rotating exhibitions of emerging artists, workshops, and lectures in an 18th-century mansion. Hôtel Donadeï de Campredon was built as a private residence in 1746 for Charles-Joseph de Campredon. Since 1979, a portion of the structure has been protected as a French Historic Monument. The museum includes a permanent collection devoted to the works of locally-born poet René Char.
Campredon Centre d'art
20 rue du Docteur Tallet
84800 – L'Isle sur la Sorgue
Telephone: +33 04 90 38 17 41
In 2011, contemporary art lovers Danièle Kapel-Marcovici and Tristan Fourtine established a foundation in a stately 19th-century mansion on the banks of the Sorgue. The restoration project retained original architectural elements to unite historical features with modern sculptures and other works. Access to the Villa Datris (a combination of their names) is free. The annual exhibitions typically run from the end of May through October.
Fondation Villa Datris
7 Avenue des Quatre Otages,
84800 L'Isle-sur-la-Sorgue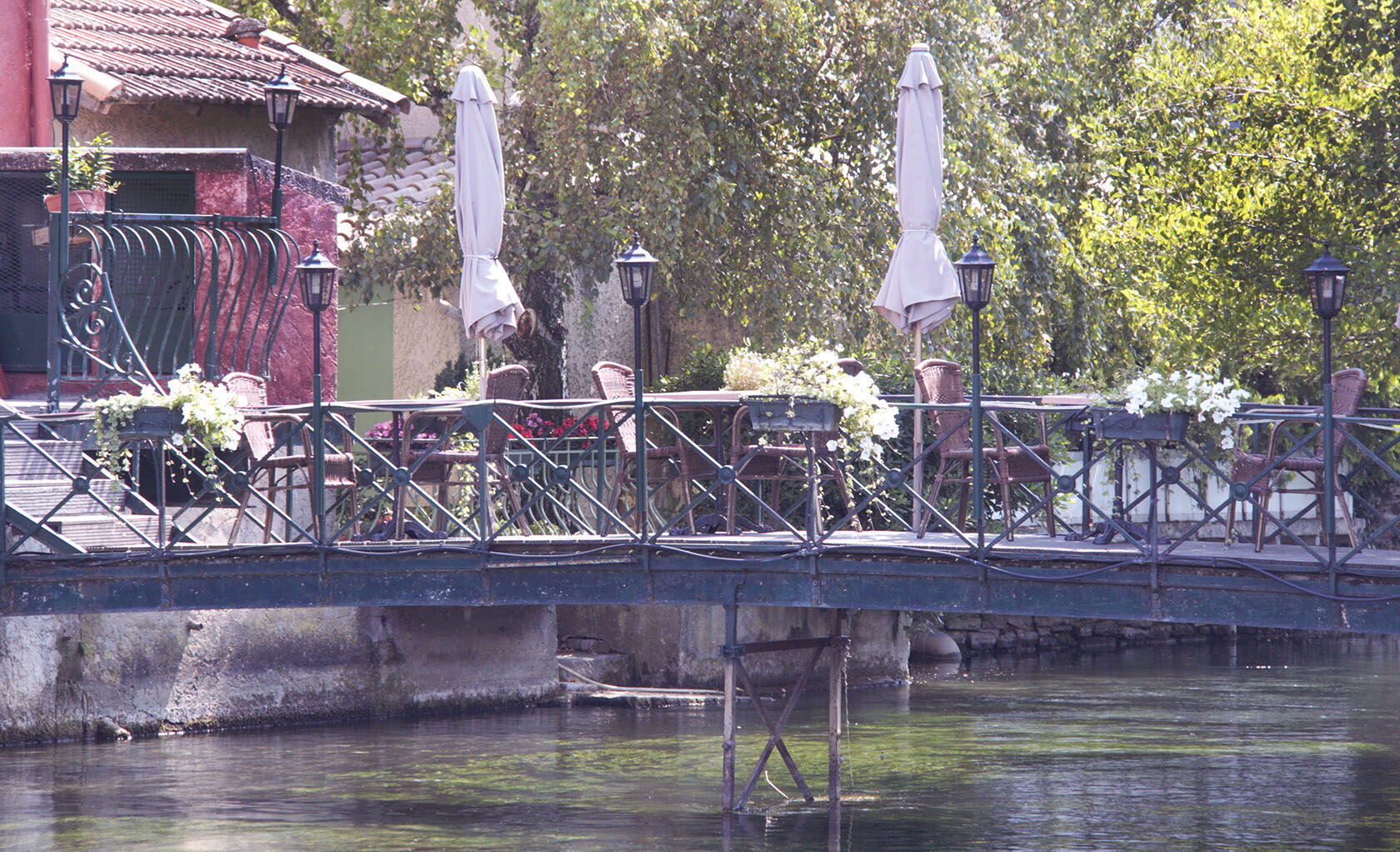 Where to Eat in Isle sur la Sorgue
There is no lack of good food near L'Isle sur la Sorgue. Eric at Domaine de Palerme says there are at least ten (10) great restaurants in the city centre, including Le Carre d'Herbes, which is inside an antique shop. For a meal to remember, book a table at Le Vivier, a local Michelin one-star restaurant.
Looking for pizza? Try Pizzeria Au Fil de L'Eau right on the edge of the Sorgue. They offer vegetarian options, too.
Breakfast onwards – Le Café du Village opens for coffee and welcomes you for an apero. In the heart of one of the town's antique villages, this café-restaurant is popular with dealers and locals. The menu features daily specials and traditional Provencal recipes with a modern twist. Make sure to book a table in advance.
It's time for a cocktail, l'heure de l'apéro. Have an aperitif or a meal at the local's favourite Le Cafe de France. It's right in the town centre at 14 Place de la Liberté.
According to Julie at Vaucluse Dreamer, La Cour au Saveurs (4, rue Louis Lopez) has the best chocolate in Provence.
For a sweet snack, succumb to the temptation at Patisserie Jouvaud at 5 Avenue des 4 Otages. This family-run operation produces fabulous chocolates, candied fruit (fruit confit), and bonbons. Did we mention the cakes?
Grab a snack at Le Cri des Crocs food truck. It's open 10h – 21h30 on Wednesday – Sunday. The menu includes organic salads, tasty hamburgers and croque monsieurs. All items are available for take-away or you can eat by the river. Located at 871 Route d'Apt). Oh, and they have onion rings too!
Visitor Information
Tourist Office (Office de Tourisme)
Place de la Liberté
84800 L'Isle-sur-la-Sorgue
Telephone: +33 (0)4 90 38 04 78
All rights reserved. Perfectly Provence articles and other content may not be published, broadcast, rewritten (including translations into other languages) or redistributed without written permission. For usage information, please contact us.
Syndication Information
Affiliate Information
As an Amazon Associate, this website earns from qualifying purchases. Some recipes, posts and pages may have affiliate links. If you purchase via these links, we receive a small commission that does not impact your price. Thank you in advance for supporting our work to maintain Perfectly Provence.