The Beautiful Colourful Ochres of Roussillon
Another Beautiful Village
Friends and others headed to Provence often ask where they should go during their once-in-a-lifetime visit to Provence. It is a hard question as most visitors have only six (6) days since they usually arrive on Saturday afternoon and depart the following Saturday morning; there are so many wonderful things to see. We usually suggest visitors include a trip to the vibrant red-ochre-coloured town of Roussillon, one of five villages nestled in the Luberon hills, which are classified as Plus Beaux Villages de France (Most beautiful villages of France). Roussillon is one of our favourite villages and is just one hour from Sablet. Continue reading here for Michel's original post on Our House in Provence.
The good news?
There is something for everyone in Provence, regardless of age. The region inspired many famous painters, including Vincent Van Gogh, Paul Cézanne, Marc Chagall, and Pablo Picasso, to name a few. If cities are your thing, the historical importance intertwined with today's urban fabric in Aix-en-Provence, Marseille and Nice continues to fascinate. Food lovers swoon at the daily markets in the region. The perched villages in the Luberon, and hilltop hamlets in the Var and the Alpes-Maritimes pose for willing photographers. All that and we haven't touched on Roman sites, beaches, lavender, olives and family-friendly fun.
The bad news?
It's impossible to see and do it all during a short holiday or even a lifetime. So sadly, you must be selective. However, as Michel points out, don't miss seeing the village of Roussillon in the Luberon Valley.
Roussillon's Colourful Ochres
Roussillon's primary attraction is its location perched on the side of a hill in the Luberon Valley. However, the red-hued cliffs standing guard at the edge of this town create a jaw-dropping vista you won't forget. The first time we visited Roussillon was during a bike trip, I'm sure I had my head down while climbing the hill. It was only at the top when I caught the rest of the group, and my breath, that I was able to take in the stunning view. Natural bands of red, orange and yellow ochre bleed down the cliff edge framing the Luberon views.
This is how artist Sabine Pinon-Amoore describes what nature has given us. Ochre, to say the least, has been around for us a very very long time. It might well be one of, if not the first thing, humans ever exchanged, offered or possibly traded! The colour trails can be followed in many different cultures and on all continents. In the Blombos caves of Africa, evidence of Homo sapiens grinding ochre in shells with an unknown, as by now vanished, binder into a paste goes back some 100,000 years. That's nearly as long as Sapiens have existed! Read more about orange traces of the ochre from Roussillon in a hotel's bathroom.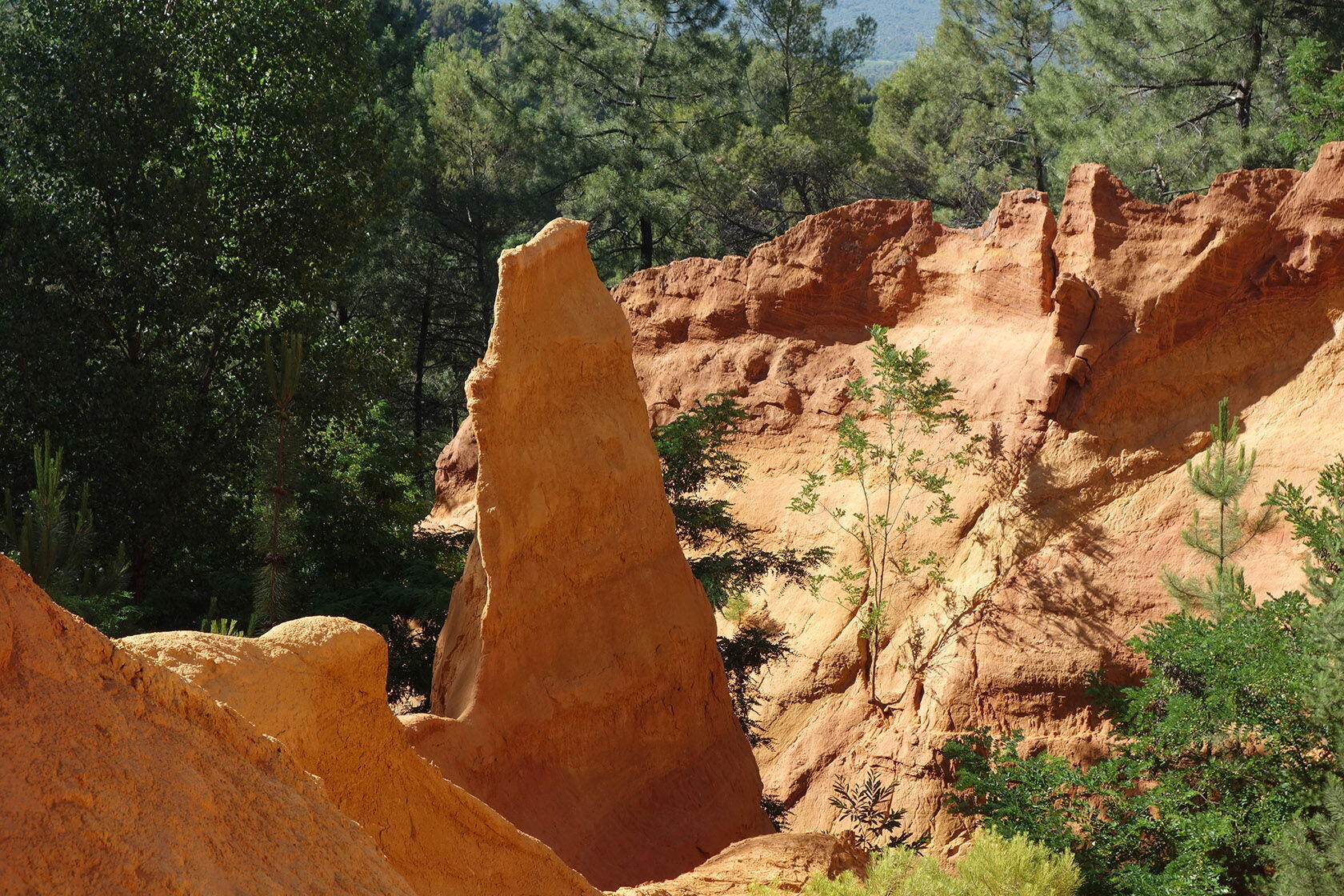 Why Visit Roussillon
The ochre cliffs.
In Roussillon, the multi-hued facades have seen little change since the village was home to Samuel Beckett during WWII.
The Ochre Trail (Le Sentier des Ocres) –  Actually, two trails of different lengths (30 or 60 minutes). Once you have paid the entry fee, you can stay as long as you like. Information signs along the route describe the geology and the history of the ochre deposits in the Luberon. The trail closes on an annual basis in January (exact dates vary from year to year). Tip: leave your visit for late in the day as sunset is stunning.
Mathieu Plant is a former ochre factory, now known as Conservatoire des Ocres et de la Couleur, a not-for-profit co-operative called ôkhra (the Greek word for ochre). It is possible to arrange for a private (or group) tour or to participate in several workshops.
Mines de Bruoux – This journey underground is a unique visit to the galleries (15m high) of the old mining operation.
Take a look at the unique modern sundial.
For the best views in the village, climb to the highest point by the 11th-century St Michel church.
Hike in the Colorado de Provence a fabulous hiking area just outside of Roussillon.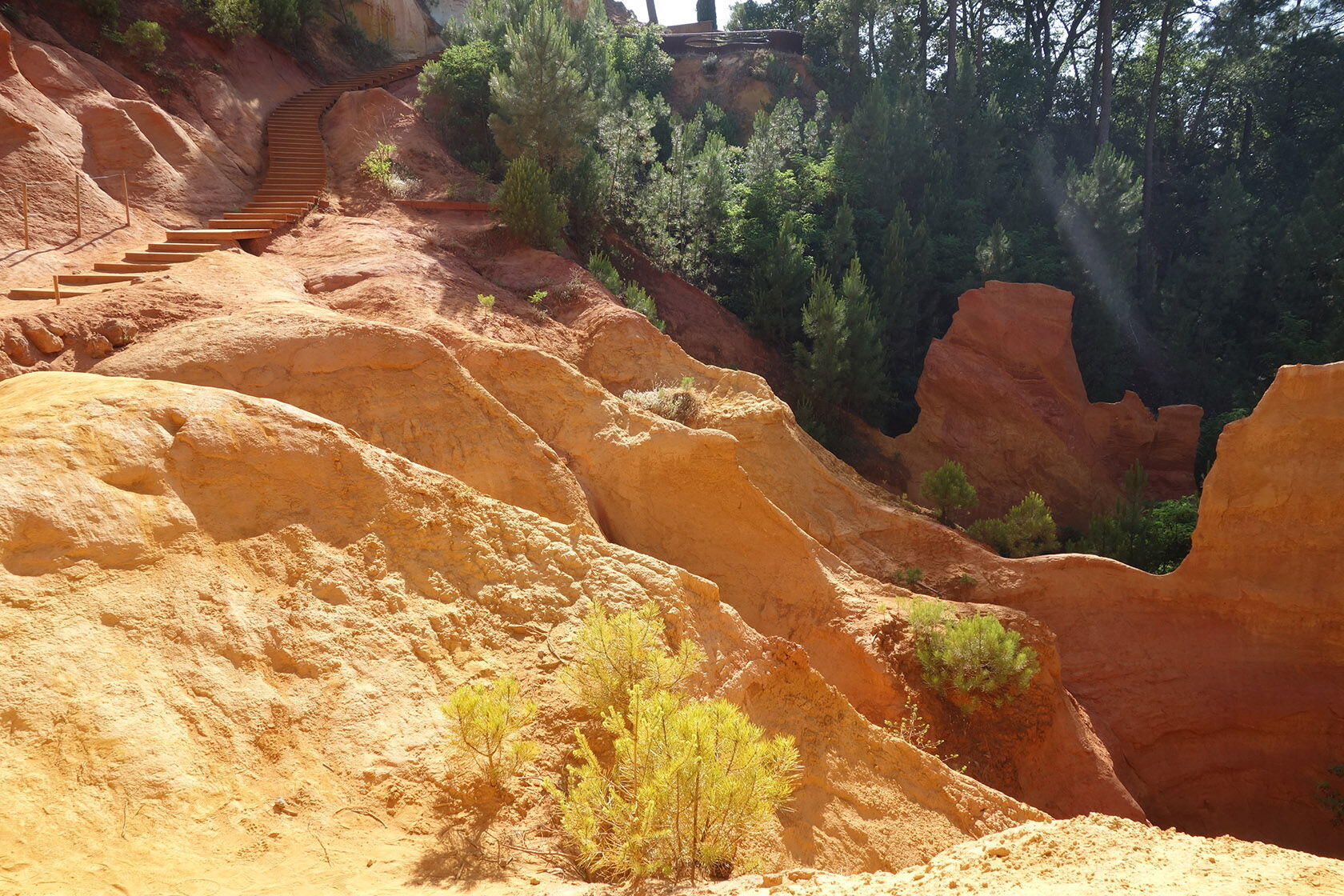 Visitor Information
Tourist Office
Roussillon en Provence Information Services
Place de la Poste
Telephone: +33 (0)4 90 05 60 25
Roussillon has three parking lots (des Ocres, des Sablons and de la Fontaine) in the village. All require payment and expect limited spots during peak season.
All rights reserved. Perfectly Provence articles and other content may not be published, broadcast, rewritten (including translations into other languages) or redistributed without written permission. For usage information, please contact us.
Syndication Information
Affiliate Information
As an Amazon Associate, this website earns from qualifying purchases. Some recipes, posts and pages may have affiliate links. If you purchase via these links, we receive a small commission that does not impact your price. Thank you in advance for supporting our work to maintain Perfectly Provence.