Stuffed Zucchini and Baked Tomatoes for Vegetarians

It is common to find petits farcis, stuffed vegetables, on menus in Provence during the fall and winter months. Residents of Nice claim this dish as a local creation, part of the traditional Niçoise culinary repertoire. My versions of stuffed zucchini and baked tomatoes are suitable for vegetarian diets. These two recipes were on a menu that I created for a Cooking with Tasha online cooking class. Typically, petits farcis are stuffed with a sausage mixture and served with a tomato sauce. The variations (below) are much lighter and well-suited for warmer weather meals.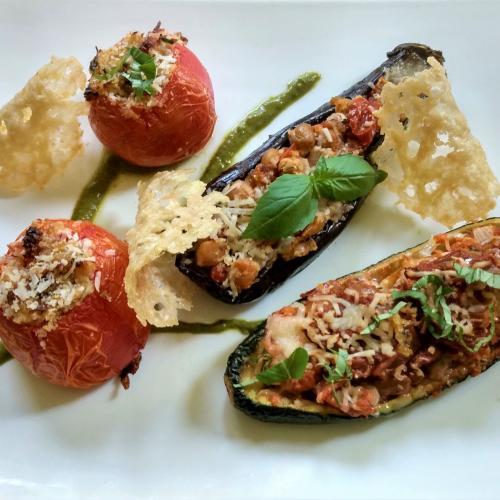 Stuffed Baked Tomatoes
An easy vegetarian dish. Serve as a side or as a main course with other stuffed vegetables. and a salad
Equipment
Cheese grater

Small baking rack

Baking dish

Food processor (if you are making your own bread crumbs)
Ingredients
6

Tomatoes

medium to large
For Stuffing & Top:
1

cup

Bread Crumbs

toasted or use stale bread – grind in a food processor

2

oz

Gruyere Cheese

1/2 for filling and 1/2 for the topping

1

Garlic Clove

chopped very finely

2

oz

Olive oil

Salt & Ground Pepper

½

bunch

Fresh Parsley

chopped – used for filling and garnishing

½

bunch

Fresh Basil

chopped – used for filling and garnishing

Optional:

Finishing Salt
Instructions
Cut the tops off the tomatoes. Scoop out the pulp, leaving ¼ inch shell. Invert onto a small baking rack with paper towels underneath to drain.

Mix the stuffing ingredients, spoon into tomatoes, Use the 1 oz of cheese that was set aside and sprinkle on top.

Place tomatoes in a baking dish and bake at 350°F (175°C) for 35 -40 minutes.

To serve, garnish with chopped basil and parsley.

Optional: use a finishing salt such as the French Fleur de Sel or Maldon Sea Salt Flakes.
Notes
Plating ideas: Tomato emulsion and basil emulsion (use squeeze bottles), Microgreens, edible flowers with multicolour grape tomatoes finished with a drizzle of balsamic reduction.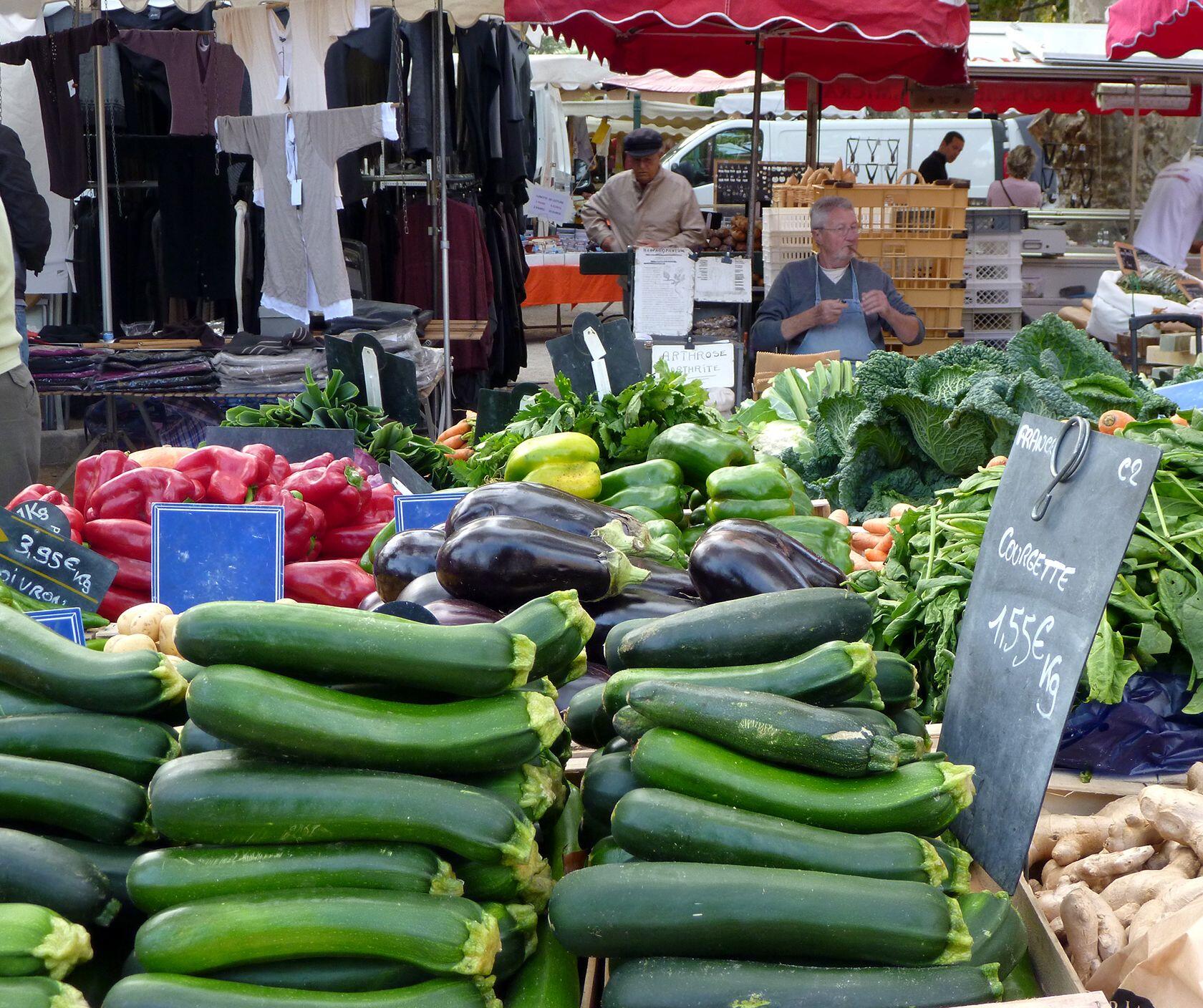 Stuffed Zucchini Halves
Easy to prepare and delicious. A side dish or main course serve warm or at room temperature.
Equipment
Chef's knife

Frying pan

Sheet pan
Ingredients
4

medium

Zucchini

1

tsp

Herbes de Provence *

1

small

Yellow Onion

chopped

¼

cup

Balsamic Vinegar

2

cup

Tomato Sauce

¾

cup

Shredded Gruyere Cheese

1

tbsp

Fresh Parsley

chopped

Cooking spray

vegetable oil
Instructions
Preheat the oven to 400°F (200°C)

Cut the zucchinis in half lengthwise, score (diagonal cuts that don't go through the bottom or to the edges).

Heat the olive oil to high heat and sear the cut edges of the zucchini.

Put on a sheet pan and cook in the oven for 30 minutes. Let the zucchinis cool and carefully scoop out the zucchini from the center of each half, set aside.

Meanwhile, using the same pan – sweat the onions for about 4 minutes and set aside.

Heat the tomato sauce and add the herbs, onions and balsamic vinegar and zucchini pieces that were shelled out, simmer for 10 minutes.

Spoon the zucchini mixture evenly into the zucchini shells and then top with shredded cheese.

Bake for 25 minutes or until tender and the cheese is melted.

Sprinkle with parsley as garnish before serving.
Notes
*

or ¼ teaspoon each of dried marjoram, dried rosemary, dried thyme, dried oregano salt, and pepper
Plating ideas: Serve with edible flowers and microgreens.
Stuffed Vegetables: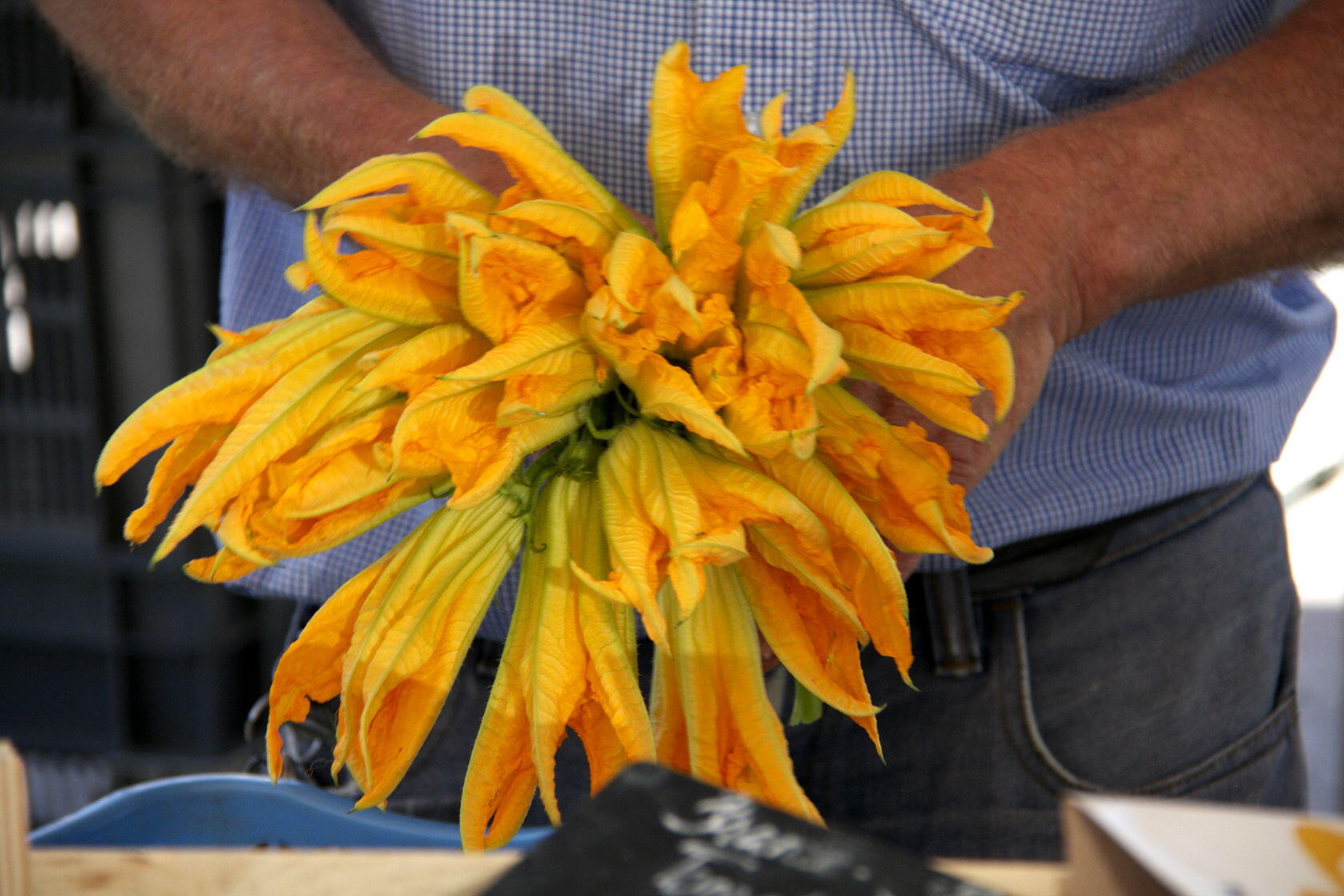 Petits Farcis Provencal Tomatoes Stuffed with Basil
Les Petits Farcis a Provencal Specialty from Nice
Elizabeth Bard's Petits Farcis Stuffed Tomatoes and Zucchini
Zucchini Flowers Stuffed with Artichokes and Goat Cheese
Roasted Tomatoes à la Provençale Stuffed with Zucchini and Fresh Herbs