Steak au Chocolat a Sauce Recipe for Friends
My inspiration for this recipe for Steak au Chocolat came together after a visit to New Hampshire and an introduction to chocolatiers Enna Grazier and her husband Matt, the founders of Enna Chocolate. The sauce is perhaps best described as a French classic – steak au poivre – meets Mexican mole sauce. This recipe borrows a bit from both cultures with a touch of Portugal for good measure.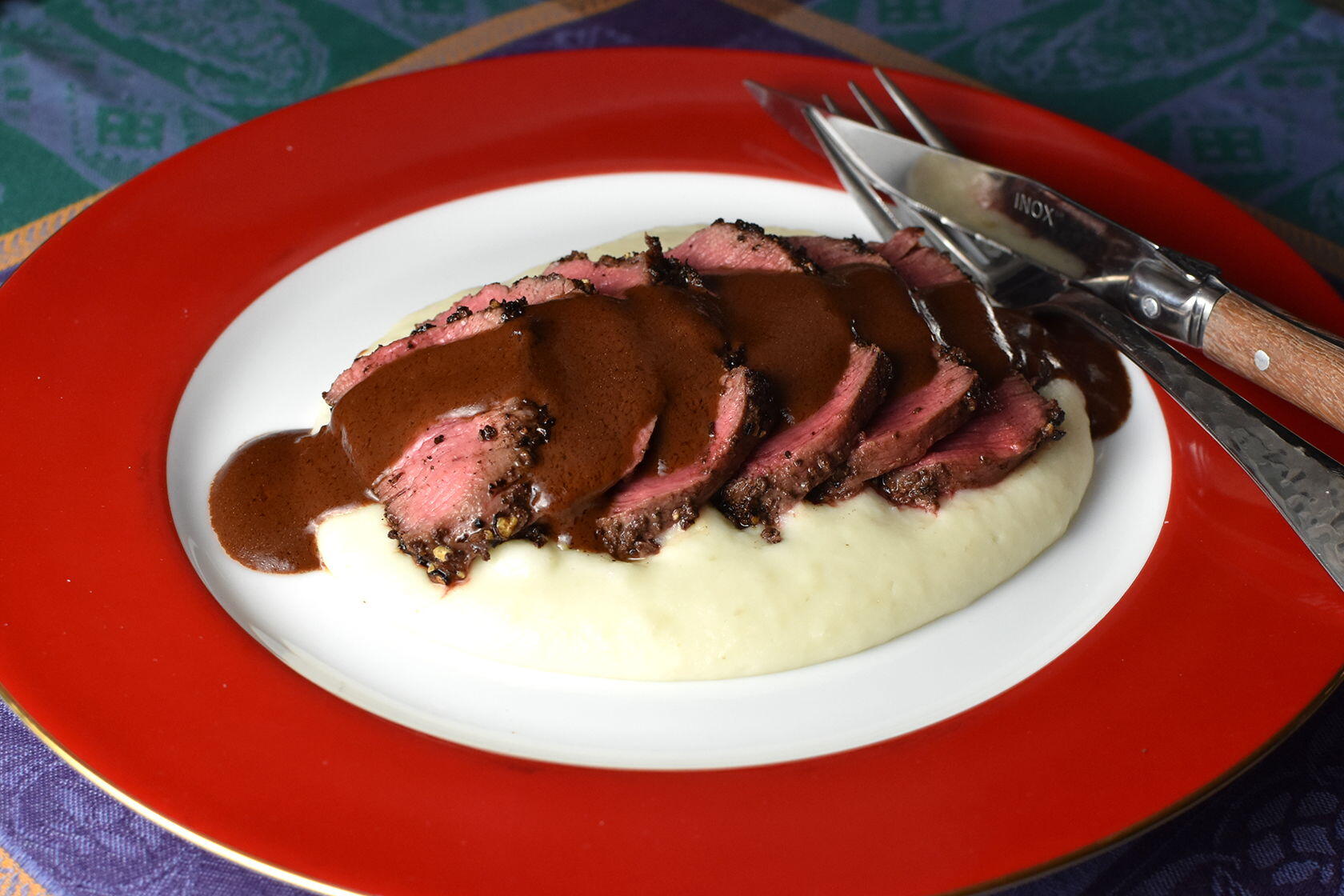 Steak au Chocolat with Sunchoke Purée
This chocolate-based sauce for the steak adds a slightly decadent finish to the grilled meat. The sauce worked well in a pairing with the Hermitage La Petite Chapelle (2012) from Paul Jaboulet-Aîné, a red wine from the Northern Rhône Valley.
Ingredients
For the Sauce:
5

tbsp

Unsalted Butter

divided

2

tbsp

Shallots or Onion

chopped

2

oz (56 g)

Unsweetened chocolate *

100% cacao

1

tbsp

Demiglace Concentrate

1/2

cup (118 ml)

Port or Madeira

1/2

cup (118 ml)

Rosé

1

tsp

Balsamic Crema

or glaze
Steak Coating:
2

tbsp

Black peppercorns

crushed

2

tbsp

Cocoa Powder

1

tsp

Sugar

1

tsp

Salt
For the Purée:
1

tbsp

Salt

1

lb (.45 kg)

Jerusalem Artichokes

2

large

Russet Baking potatoes

3

tbsp

Unsalted Butter

1/2

cup (118 ml)

Cream
Instructions
To Make the Sauce:
Melt 2 tablespoons butter in a 2-quart saucepan.

Add shallots and cook until clear. Break the chocolate into pieces and add to the butter and shallots.

When chocolate is melted, add the demi-glace and stir to combine.

Add the port and rosé, and bring to a simmer.

Add the balsamic crema, stir, and let simmer for about 30 minutes, stirring frequently, until thickened (sauce will continue to thicken as it cools).

Strain into a clean saucepan, add remaining 3 tablespoons butter, stir until melted, and set aside.
Make the Steak Coating:
Place cocoa powder and crushed peppercorns on a plate and add salt and sugar. Mix well with a fork. Press tops and bottoms of the filets into the mixture, leaving sides uncoated. Let sit at room temperature while you prepare the potato-sunchoke purée.
To Prepare the Purée:
Bring a large saucepan of water to a boil.

In the meantime, peel the Jerusalem artichokes, and cut them into 1/2-inch dice.

When the water is boiling, add 1tablespoon salt and the diced Jerusalem artichokes. Cook for 15 minutes.

While the sunchokes are cooking, peel and cut the potato into 1-inch pieces. After the sunchokes have cooked for 15 minutes, add the potatoes to the pot and cook for 20 minutes longer.

Drain, then mash with a potato masher, add butter and cream, then whip using a handheld mixer until smooth. Season to taste, then cover and set aside.
Cook the Steaks:
Place a skillet (large enough to cook the filets uncrowded in a single batch) over medium-high heat. When hot, add the oil. Sear filets - 4 minutes per side for medium-rare. Cover and let rest for 5 minutes.

While the steaks are resting, reheat the sauce and potato-sunchoke purée over medium-low heat. (Most likely, the sauce will have separated a bit - whisk it vigorously to emulsify.)
To Serve:
Place a heaping 1/2 cup of potato-sunchoke purée on each plate. Slice the steaks and arrange atop the purée. Spoon sauce over, and serve immediately.
Notes
* Don't use grocery store unsweetened baker's chocolate - use only the best quality artisanal chocolate. If you can't fine unsweetened chocolate (100% cacao), go for something with as high a cacao content as you can find - 85% works well, too.
Where's the Beef Recipes
Karen Anderson, the president and CEO of Alberta Food Tours, shared her recipe for Braised Bison Stew with Silk Road Spices. The dish was part of the fall dinner party menu that she curated. In her words, "I love the scent of this stew as our native Albertan bison simmers the day away in a slow cooker filled with the warmest flavours spices can impart. If you can't access bison, as we can here in Western Canada, beef will be a wonderful substitute."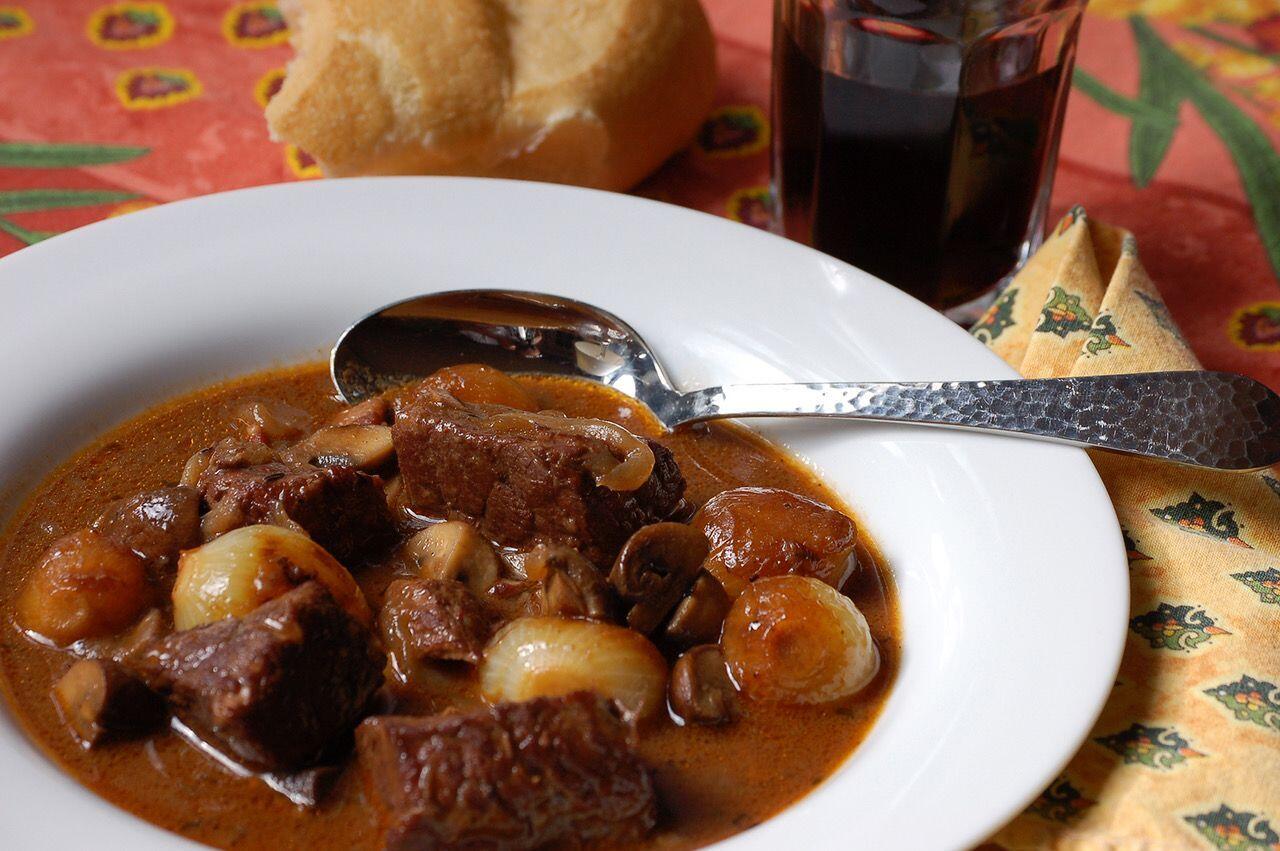 Chef Eric Fradeau cooked Beef Wellington for Valentine's dinner, although, there is no reason to wait that long.
Braised Short Ribs a dish that your guests will love. It is a great weekend meal, as it can (and should) be made in advance and reheated. Shared by Martine of the travel company Gout et Voyage. She runs a "Tastes of Provence" tour where her guests sample local food and wine for a week.
Lunch or dinner this Grilled Steak Sandwich reminds me of summer, but of course, you can make it any time of the year, with or without a BBQ.