Learning to Cook Paella
You are correct if you think paella is not a typical French recipe. The origins of this rice-based dish are certainly Spanish, from the Valencia region. However, as with many culinary traditions, recipes have evolved and travelled within Europe and beyond. Most markets in Provence have at least one vendor who makes and sells paella, starting the recipe from scratch at market opening around 8-8:30 and typically selling out well before the market close.

Making Paella
In Sevilla last year, Mark and I took a paella class with Fernando from Sevilla Food. Okay, paella didn't originate in Sevilla (it's from Valencia, actually). Still, it is enjoyed nationwide, encouraging us to seek an excellent tutorial on making traditional and authentic paella. Everything about the experience was fantastic: meeting Fernando, who was knowledgeable, warm, kind, and good-natured, and making new friends with Matt and Karmyn from Ohio, who also attended the class. And the location? — a rooftop terrace with a perfect view of the Sevilla cathedral and its Giralda tower. Please look at the original Cocoa & Lavender post for photos of Sevilla and our class.

Paella Negra with Squid Ink
Paella is easy to make and a good option for an interactive dinner party. This version includes squid ink to create the "negra" black rice.
Ingredients
Olive Oil

4

large

Calamari Tubes

sliced into 3/8-inch rings

1

lb

Large Shrimp

approximately 3 per person, depending on size

8

oz

Cooked Mussels

weight without the shells

1

small

White Onion

peeled and minced

3

cups

Bomba Rice

see notes below

1

large

Tomato

grated (or finely chopped)

16

grams

Squid Ink

4 packets

1

cup

White Wine

2 1/2

cups

Chicken Broth

5

cups

Fish and/or Seafood Broth

Sea Salt

Freshly Ground Black Pepper

fresh

Parsley

chopped

Lemon Wedges
Instructions
Heat 2 tablespoons olive oil in a 14-inch skillet or paella pan over medium-high heat. When hot, add the calamari rings and sauté for just a minute or two, stirring, then remove from the pan and set aside. Add the shrimp to the pan (and more olive oil if needed), season with salt, and sauté until just turning pink on both sides. When the shrimp are almost pink on both sides, add the cooked mussel meats to warm them and coat them with some oil. Remove the shrimp and mussels from the pan and set them aside with the calamari rings.

Add more olive oil as needed, and sauté the onions until transparent. Next, add the rice, and stir well until it is fully coated with oil. Now, unlike risotto, you are not looking for the rice to be opaque.

Add the grated tomato and stir well. Squeeze in the squid ink and stir to distribute evenly. Add the wine, then spread the rice evenly around the pan. Then, increase the heat to medium-high and carefully pour in the chicken and seafood broth to avoid disturbing the rice. Season with salt and pepper, and cook for 20 to 30 minutes, undisturbed. Paella is never stirred. (In my previous attempts, that was my first of three common mistakes: while cooking paella is cooking, do not stir it, do not cover it, and do not put it in the oven).

As the paella cooks, the broth will reduce, and you will be looking for the moment when the surface of the rice is looking reasonably dry, and you hear a faint crackling sound and see little holes of steam dotted around the top. You can test the bottom to see if the socarrat (crust) is forming. There is a fine line between socarrat and burning, so be careful!

Evenly distribute the seafood on top of the paella, turn off the heat, and cover tightly with aluminium foil. Let it sit for five minutes. Uncover, sprinkle the top with chopped parsley, and serve at the table with lemon wedges.
Notes
Socarrat - The layer of toasted rice at the bottom of a paella.
You may read that you can use arborio rice instead of Bomba rice, but I have found the results are very different. The arborio rice gets quite gummy compared to the Bomba rice.
If you get a 1-pound bag of Bomba rice, it will be about 2 1/4 cups. You can use this and adjust the liquid accordingly (a total of 6 1/2 cups liquid), or open a second bag to get 3 cups of the rice.
Squid ink is not easy to find in most stores but can be found online. Mine is Spanish and came in 4-gram packets. (I use four packets for a batch of Paella Negra.)
Squid ink stains — they call it ink for a good reason!
For my seafood, I used shrimp, calamari, and mussels. Those are what we saw being used in Spain, but you can change them up to meet your taste.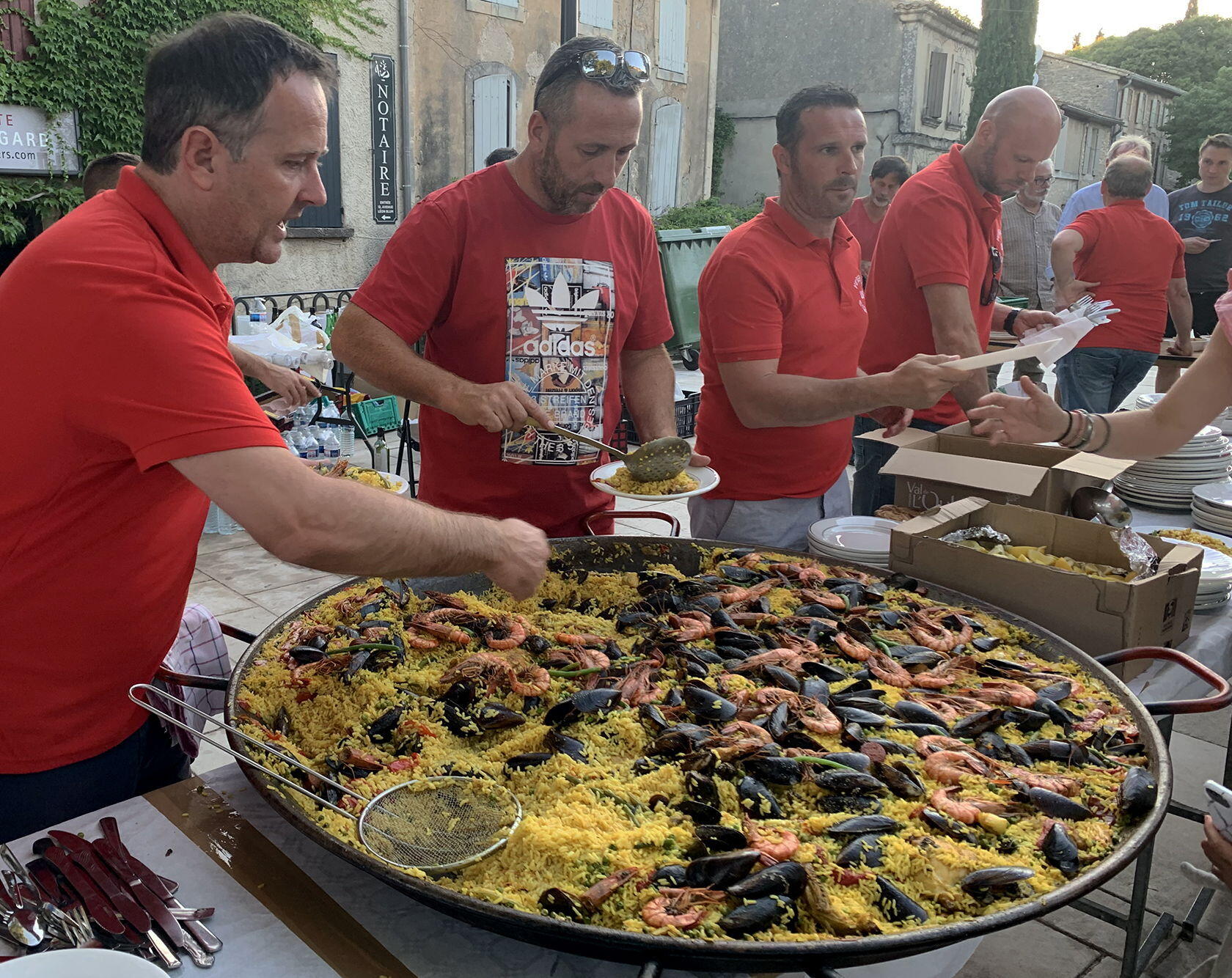 Additional Seafood Recipes:
Mussels Provencal
This bright and flavourful dish is perfect on its own or served as an appetizer. The shallots, garlic, and tomatoes complement the salt from the mussels for a dish perfectly suited for sharing.
Check out this recipe


Zucchini and Shrimp Fritters, Saffron Mayonnaise
Crispy fried zucchini and shrimp fritters topped with a fresh and creamy saffron mayonnaise.
Check out this recipe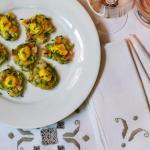 Wasabi Seared Scallops with Tamari Butter
A tasteful seafood recipe that can be served as a first course or light main course with a salad.
Check out this recipe

All rights reserved. Perfectly Provence articles and other content may not be published, broadcast, rewritten (including translations into other languages) or redistributed without written permission. For usage information, please contact us.
Syndication Information
Affiliate Information
As an Amazon Associate, this website earns from qualifying purchases. Some recipes, posts and pages may have affiliate links. If you purchase via these links, we receive a small commission that does not impact your price. Thank you in advance for supporting our work to maintain Perfectly Provence.