A Spring Dinner Menu from Paris Part-Time
Chef, author, and part-time resident of Paris, Lisa Baker Morgan agreed to curate our Spring Menu. She brings together three (3) recipes that celebrate the best of spring flavours, including asparagus, morels and strawberries. Start your evening with a cocktail, perhaps a glass of French champagne or one of these cocktails. Dinner begins with a main course of chicken with morels and asparagus. In the classic French style, the main is followed by a green salad. Finally, enjoy fresh spring strawberries with French meringue for dessert.
Paris Part Time is Lisa Baker Morgan's book about transitioning life to live a portion of the year in France. This California native grew up in the mountain town of Big Bear, where the local economy depends on tourism. The hamlet caters to ski hill visitors in the winter and anyone looking for cooler temperatures and escapes from L.A. in the summer months. Please read her full bio below and our book review here.
Bon Appétit!

Chicken with morels and asparagus (Poulet aux morilles et asperges)
Wild mushrooms are best in the autumn and morels in the spring. Asparagus is one of my favourite ingredients in the springtime. This recipe makes the most of both using a fricassee method, which is (roughly) a combination of a sauté and a stew. You can use white or green asparagus, but make sure that they are not the thin varieties (including wild asparagus) as they will be lost in the dish. As an option, you can add potatoes as well.
Ingredients
4

Chicken Breasts bone-in and skin on

or 1 chicken cut into 8 pieces

Kosher Salt

as needed

Freshly Ground Black Pepper

as needed

2

tbsp

Grapeseed Oil

2

tbsp

Unsalted Butter

16

Garlic Cloves

unpeeled

6

small

Shallots

peeled and trimmed

1/3

cup

Dry White Wine

12

large

Fresh or re-hydrated Morels

cleaned

1

bunch

Fresh Asparagus

cleaned and trimmed

2-3

Fresh French Thyme Sprigs

2

cups

Homemade or low-sodium Chicken Stock

1

Crispy Baguette or Boule

12-14

New Potatoes

optional
Instructions
Preheat oven to 375°F(190°C)

Season chicken on all sides with salt and pepper. Set aside.

Clean and trim asparagus (trim the bottoms and peel off the outer layer about one inch from the spear). Cut into pieces about 4 inches in length.

Place a large ovenproof skillet or Dutch oven over medium-high heat. Once the pan is warm, add grapeseed oil. Add the chicken, skin-side down, to the skillet. Cook chicken until you have reached a deep, golden brown colour on both sides (use tongs to turn the chicken over). Do not rush this step.

Using tongs, remove the chicken from the skillet and place the chicken on a plate. Lower the heat to a medium flame. Pour off the cooking fat from the pan into a bowl/container to discard later.

Add butter to the pan. Add garlic and shallots. Cook 2-3 minutes. Add morels. Add a pinch of kosher salt. Toss morels in butter and cook until the moisture has been cooked out of mushrooms.

Add white wine to the pan. Use a wooden spoon to scrape any fond from the bottom of the pan. Add 1/2 cup of stock. Reduce liquid by half. Add asparagus. Return chicken (skin-side up) to the pan. Add the rest of the chicken stock (Add more chicken stock if necessary as asparagus needs to be covered; the chicken should not be.) Add thyme. Bring to a boil. Turn off the flame.

Place skillet in oven. Bake, uncovered until the chicken and potatoes (if you are adding those) are cooked. This will take about 25-30 minutes.

Carefully remove the skillet from the oven. Remove bay leaf and thyme sprigs. Discard. Adjust the seasoning to suit your taste. Add the fresh thyme.

You can place the skillet on the table and serve it family-style or plate individually by giving each guest a chicken breast with vegetables and garlic.

Serve with crispy bread that has a good crust.

Salad with fine herbs (salade avec fine herbes)
This green salad with its soft leaves and fresh herbs is the perfect complement to a savoury fricassee (or any meat or egg main course).
Ingredients
1

head of

Bibb Lettuce

1

tbsp

Red Wine Vinegar

3

tbsp

Quality Olive Oil

1

tsp

Dijon Mustard

1

tsp

Minced Shallots

1

tsp

Sea Salt

1

tbsp

Minced Tarragon

1

tbsp

Fresh Minced Chives

1

tbsp

Fresh Minced Chervil

1

tbsp

Fresh Minced Italian parsley
Instructions
Leaf and wash the lettuce. Dry well. Set aside.

To make the salad dressing, place vinegar and mustard in a bowl (or liquid measuring cup). Whisk in olive Add shallots, salt, and minced herbs. Adjust seasoning as needed.

Dress salad (right before serving) by slowly incorporating dressing.

Spring Strawberries with French Meringue
French meringue is the easiest of the meringues to make. It requires no stovetop cooking, and this recipe uses an easy 1:1 ratio of sugar and egg whites. You can make the meringue in advance and store them in an airtight container (which makes them perfect for an easy go-to dessert). This recipe will make 6 meringues. The cooking time may vary but count on 3 1/2 hours.
Ingredients
4

oz

Fresh Egg Whites

room temperature

2

tsp

Fresh Lemon Juice

4

oz

Granulated Sugar

1

package

Fresh Strawberries

trimmed and sliced

1

tbsp

Balsamic Glaze

pinch of

Fleur de Sel

4

scoops

Vanilla Ice Cream
Instructions
Preheat oven to 200°F (95°C).

Place the egg whites in the bowl of a stand mixer. Turn on low speed. When the egg whites begin to get some structure, add the lemon juice. Turn up the mixer speed and rain in the sugar. Mix until the egg whites are thick and glossy and hold stiff peaks. Turn off the mixer.

Using a large spoon (or a spatula) and place a large dollop of the whipped whites (about 3-4 inches diameter) on a rimmed baking sheet lined with parchment paper (or a silicone mat). Use the spoon to create a depression in the center. They will look like puffy, shiny white nests. Repeat five more times. Note: If you want to create something more formal in appearance, you can put the whipped whites in a pastry bag and pipe into a disk shape.

Bake on the lower rack in the oven until meringues are dry (you will be able to pick up the edge of the meringue from the paper). If you are using an electric oven, it is recommended that you ajar the oven door with a wooden spoon. Bake for about 3 1/2- 4 hours.

Turn off the oven. Let meringue cool for about 1 hour. Store in an airtight container.

Slice strawberries according to size. Place in a bowl and combine with balsamic glaze and a pinch of salt. Add a quenelle (or scoop) of vanilla ice cream to the center of each meringue. Add a scoop of the strawberries on top of the ice cream.

Serve immediately.
For Pinterest Fans

---
Lisa Baker Morgan Bio
The first of her family to attend college, Lisa Baker Morgan graduated from the University of Southern California with a degree in English Literature. She obtained her Juris Doctorate from Southwestern Law School and her culinary degree from Le Cordon Bleu College of Culinary Arts.
Morgan is the co-author of Homegrown Herb Garden (Quarry, 2014) and the author of Simple Pleasures: Fifty-two weeks of turning ordinary ingredients into extraordinary moments (ciao yummy!, 2012). She has given cooking classes at Chateau Bosgouet in Normandy and worked alongside Chef Bruno Doucet, Paris's La Régalade. Morgan is also the author of a travel and food blog, www.chefmorgan.com, and has written numerous guest articles for food websites and blogs. She was featured in The Mothers of Reinvention (Vanguard Press, 2012) as a mother who faced a change in a positive way.
In addition to her writing and cooking endeavours, Morgan has taken on humanitarian and philanthropic causes in the United States and internationally, including advocacy on behalf of adults and children who have endured childhood sexual assault and trauma. She divides her time between Paris and Los Angeles.
Follow Chef Lisa Baker Morgan on Facebook and on Instagram @chefmorgan.
---
More Spring Recipes from France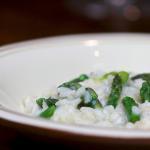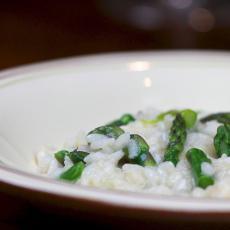 White Asparagus Gratin
Depending on availability and preference, you can use green or white asparagus. This dish is a terrific, tasty way to celebrate spring. It serves 2 as a main course or 4 as a side dish.
Check out this recipe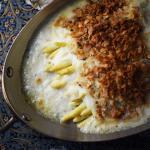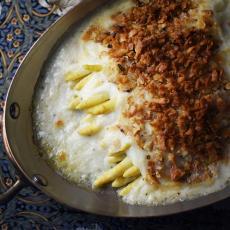 Green Asparagus Salad - Salade d' Asperges Vertes
This simple salad highlights the flavours of the fresh green asparagus with a tangy bite of citrus and hint of parmesan.
Check out this recipe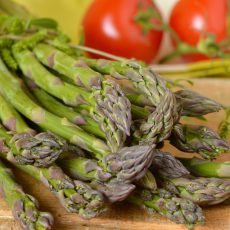 Provençal Asparagus Tart (Tarte aux Asperges)
Light and crisp puff pastry covered in creamy goat's cheese, salty ham and topped with the season's best asparagus gently roasted to perfection.
Check out this recipe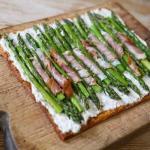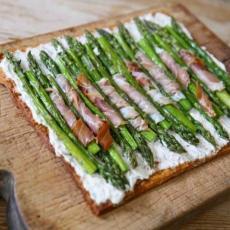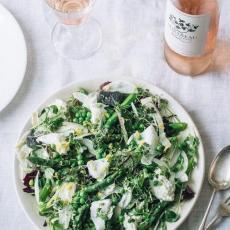 Herbes de Provence Crusted Lamb Lollipop and Spring Vegetables
I call this garrigue-crusted lamb as the topping is made with fresh herbs that you typically find in the hills of Provence. Start the preparation with the oven-roasted tomatoes as that takes a while. During that time prepare the lamb and fresh spring vegetables of your choice.
Check out this recipe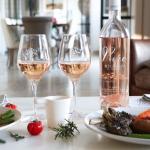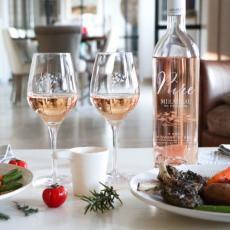 Lamb with Fresh peas
Allow enough time for the lamb to cook slowly until it starts to fall apart.
Check out this recipe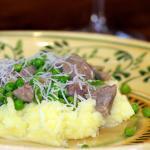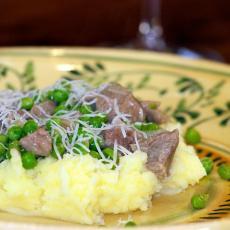 Mom's Dijon Chicken
This poultry dish is a no-fail, quick dinner that your guests will love every time.
Check out this recipe