Recipe for a Classic Pot au Feu
 The pot-au-feu is a very traditional Provençal dishes. Pot-au-Feu is literally translated to "pot on the fire", which is essentially a French stew. Typically, it is made with beef although can easily be made with pork as well. Many countries have a variation on pot-au-feu, as it is typically a way to use low cost (less desirable) cuts of meat. The French pot-au-feu is easy to make, it is really intended to be left on the fire, as more ingredients are added and servings dished out.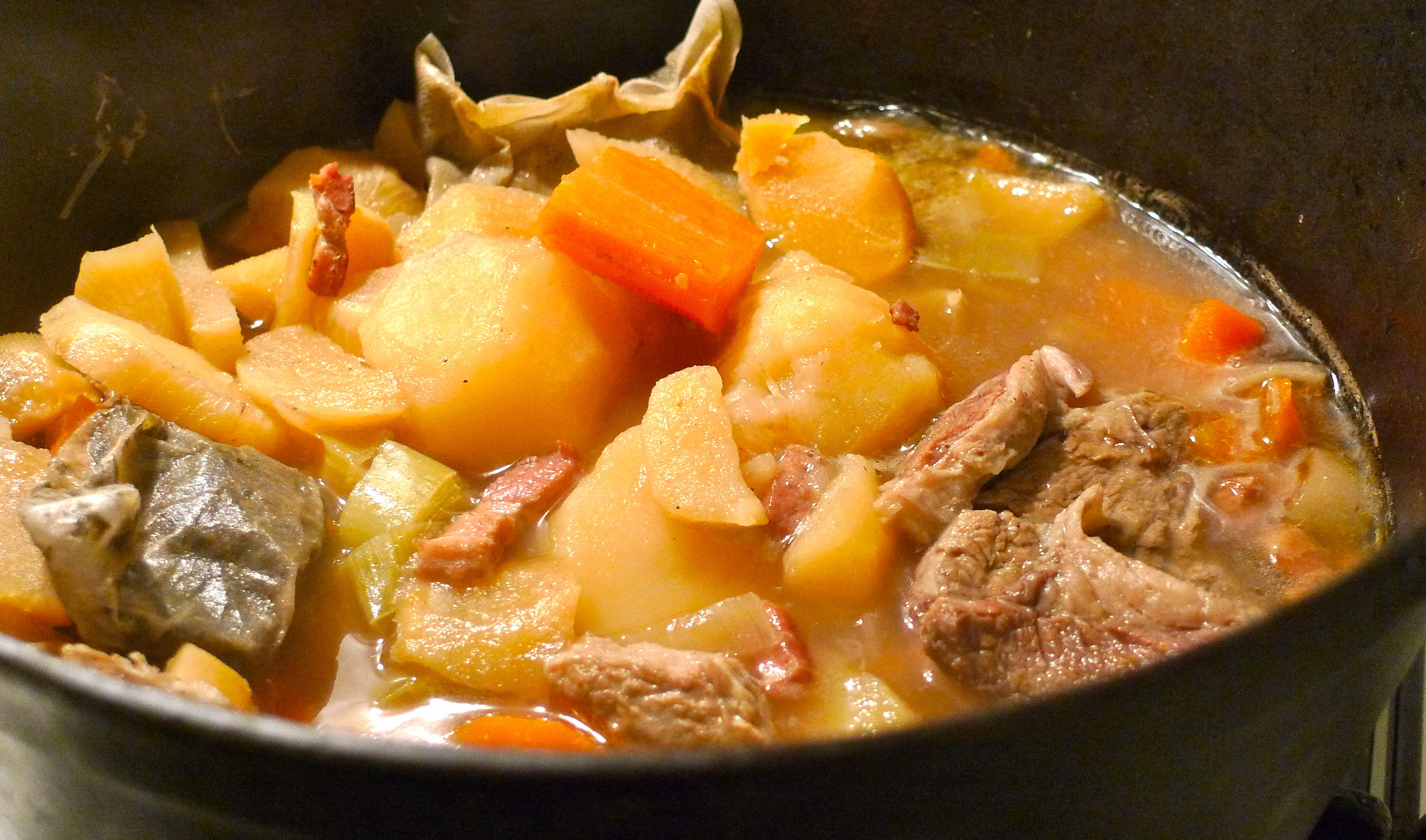 Pot au Feu
This is a very traditional French main meal. Like a stew it is easy to make and you can vary the ingredients depending what you have in the fridge.
Ingredients
2

Pieces

Oxtail or sliced bacon

3

Pounds

Rump Roast or small Pork Roast

1

Whole Large

Onion

peeled and sliced

3

Medium

Leeks

cleaned and sliced

3

Medium

Carrots

peeled and cut in large pieces

6

Small

Turnips

peeled and chopped

2

Whole

Celery stalks

cleaned and sliced

2

Garlic Cloves

crushed

1

Bouquet Garni

1

tbsp

Ground Black Pepper

2

tbsp

Herbes de Provence

2-3

Cups

Water

2-3

Cups

White Wine

6

Small

Potatoes

cleaned

2

Fresh

Baguettes
Instructions
In a large stockpot on high heat cook the oxtail or bacon slightly

Add the meat (beef or pork) and brown on all sides

Add the onion and cook until translucent

Add the leeks, carrots, turnips, celery, garlic, bouquet garni, black pepper, herbes de Provence

Add enough water and white wine to cover the ingredients and bring to a boil

Reduce the heat to simmer and cook partially covered for about 3 hours, until the meat is tender

Skim foam off the surface occasionally

Strain the vegetables from the meat and broth and set-aside for later

Return the meat and broth to the pot and bring to a simmer. Cook partially covered for another hour, add the potatoes after 30 minutes

Remove the meat from the broth, discard the trussing strings and carve

While carving warm the vegetables in the broth for a few minutes until warm

Serve the meat and vegetables along with some crusty bread
Please share this with friends and family.