Zarzuela Fish Stew is the Catalan Version of Bouillabaisse
Similar to Marseille's bouillabaisse, Zarzuela from Catalan is hard to pin into a category it's either a hearty soup or a stew with a tasty broth. And with both soup/stews, there are endless different recipes. The following recipe for Zarzuela Fish Stew comes from Emma Kershaw's Taste of le Sud cookbook.

Both Zarzuela and bouillabaisse include local ingredients (tomatoes, fennel), Mediterranean rockfish and a fish stock created from the shells and heads. In the case of an authentic bouillabaisse from a chartered Marseille restaurant, the fish, as well as the serving method, are prescriptive.

Zarzuela Catalan Fish Stew
There seem to be as many versions of Zarzuela out there as there are days in the year! I am adding my version to the collection, enjoy!
Ingredients
2

Fillets of Firm White Fish

choose from monkfish, sea bream, hake, blue ling

2

medium

Cuttlefish

cleaned, the bodies cut into rings and the tentacles chopped

1

large handful each of

Mussels, Clams and Prawns

1

small

Fennel Bulb

finely diced

1

medium

Onion

finely diced

2

large

Garlic Cloves

diced plus an extra for rubbing on the toast

1

Red Pepper

finely diced

4

large

Tomatoes

peeled, seeded and diced (or 1 tin chopped tomatoes)

1

tbsp

Tomato Purée

175

ml

Fish Stock *

large pinch of

Saffron

to taste

Paprika

1

large handful of

Fresh Chopped Parsley

plus extra for serving

1

tbsp

Pastis

an aromatic aniseed spirit

1

small glass of

White Wine

Salt and Pepper

to taste

Olive Oil

for frying and drizzling on the toasts

Bread

to make garlic toasts
Instructions
Fresh Cuttlefish: Remove the heads and clean out the body under cold water, chop the tentacles and add to a bowl of cold water with the bodies and let soak for as long as possible to remove any sand. Drain, rinse and drain again before using.

Rinse and soak the mussels and clams and soak in cold water until you are ready for them, then drain and rinse and drain again. Next, chop all your vegetables so that they are ready.

Start by adding a couple of tablespoons of olive oil to a heavy-bottomed pan on medium heat, then add the cuttlefish rings (keep the tentacles aside for now), cook for 2 to 3 minutes until translucent. Remove from the pan with a slotted spoon and keep aside for later

Add more oil to the pan if needed and a small pinch of salt and the onions. Soften for 2 to 3 minutes. Add the fennel, pepper, garlic, paprika and saffron. Cook for a further five minutes.

Pour the Pastis over and stir. After about five minutes, the alcohol will have burned off, and you are left with an aromatic aniseed aroma. Add the tomatoes and purée, stir well and cook for another five minutes.

Add the wine and stock. You may not need all of the stock at this point so hold some back to add later on, especially if you are making this in advance and then reheating. Cook for 10 to 15 minutes until the liquid has reduced and the sauce thickened. Add the fish, parsley and black pepper.

Lower the heat, put the lid on and cook gently for five minutes. (If you are doing this in advance turn the heat off now and put it aside) Add the rest of the seafood, mussels, cuttlefish rings and tentacles, prawns and clams. Cook until the shells open.

Check the seasoning at this point, the seafood is naturally salty so you may not need to add any extra salt. If the sauce has thickened too much loosen it with some of the reserved fish stock.

Sprinkle with parsley and serve with garlic croutons. You can serve with a mix of garlic croutons, tapenade and radish leaf pesto.
Notes
*Fish stock – you can make your own using the prawn shells and any bones/heads from the fish, just throw it all into a pan with cold water, a glass of wine, parsley stalks, an onion, carrot and the parts of the fennel that you would normally throw away. Cook on medium heat while you prepare the rest of the Zarzuela.
Wine to Match:
This dish works equally well with a robust white or a full-flavoured rosé. For the white I recommend Domaine de la Rectorie's L'Argile, an elegant Grenache Gris dominated wine, with notes of fennel and white fruits, mineral and sea salt. Alternatively Domaine Ollier Taillefer do a delicious rosé, Les Collines. A blend of Grenache, Syrah and Mourvèdre, lightly spicy and again the wafts of fennel work very well indeed here.
Additional Fish Recipes:
Cod Fish Steamed in Spinach Leaves and Ratatouille
This is a quick and easy way to enjoy cod, a light white fish that is made for pairing with colourful vegetables! Enjoy it with rice, pasta, or zucchini noodles for a lighter version. The white wine cream sauce is so full of flavour, you'll be sure to bookmark the page to make it again!
Check out this recipe


Pan roasted fish with provençal savoury crumble
This easy recipe from the Jeanny at Mirabeau Wine is easy to make even if you are typically afraid to cook fish.
Check out this recipe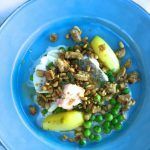 Mediterranean Fish with a Vegetable Tian
A tian is the Provencal name for an clay casserole dish (oven friendly). It is also the name used to describe a layered baked dish, which can be savoury or sweet.
Check out this recipe