Explore these Options for Culinary Holidays in Provence
Provence's natural beauty, rich cultural history and agreeable weather are some of the many reasons that one might choose to visit the region. However, it is the food and wine that will make you want to come back time and again. This article outlines a variety of available options for a culinary holiday in Provence.
Spend a week cooking with some new foodie friends.
Enjoy a morning in the kitchen followed by a delicious meal.
Join a quick workshop.
Or, have someone else take care of the meals.
The following directory is a cookery resource for food lovers hoping to enjoy the tastes of Provence. We explore several ways to improve your chef skills, learn about local products and the traditional foods in Provence. Given the size of the region, the list is hardly comprehensive, but we plan to continue to add details over time.
---
Spend Your Holiday Cooking
Uzès
Cook'n with Class is a cooking school with two locations (Paris and Uzés). After a 30-year culinary career, which included work in major hotel chains (Montreal and Toronto) and highly-acclaimed Michelin kitchens (Alain Ducasse and Joel Robuchon) it was time for Chef Eric Fraudeau to run his own school. Ten years ago, the Cook'n with Class Paris location opened (2007) and Uzés eight years later in 2015. The team includes Chef Eric, his wife Yetunde (marketing guru) and a Frédéric Duverger a certified sommelier (for speciality wine and cheese classes).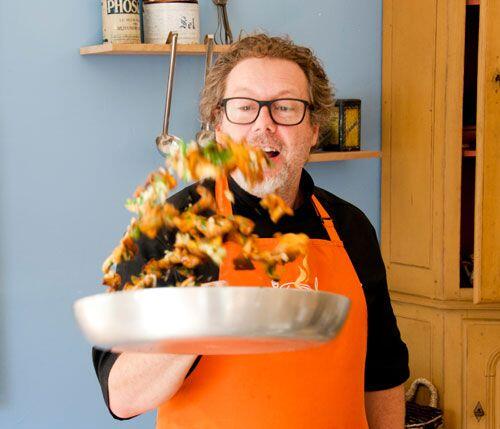 During any Cook'n with Class course you should expect to participate, these are hands-on sessions with a delicious finish. In Uzés, Cook'n with Class offers individual classes such as Provençal Desserts or Food & Wine Pairing (here is the link for details). However, their signature offering is the French Culinary Vacation Package. Enjoy a week in Uzes (seven (7) nights) which includes five (5) days of cooking, visits to local farms, markets, and unique food and wine tastings. Here are the full details for the culinary weeks.
"The Week in Uzès – French Culinary holiday package is an opportunity for food lovers of all levels to partake in a 5-day intensive French cuisine experience, in the beautiful Occitanie's Medieval city of Uzès. You are on the doorstep to Provence, and you can feel it and taste it! Our focus will be on Mediterranean and Provençal cuisines."
Perfectly Provence readers can take advantage of a 10% discount on these gastronomic week packages as well as individual classes. Use this discount code when you book: PERFPROV10 (valid for all classes except cheese & wine and private lessons).
Tel: +33 (0)4 66 01 35 15
Email: info-uzes@cooknwithclass.com
Vaison la Romaine (Vaucluse)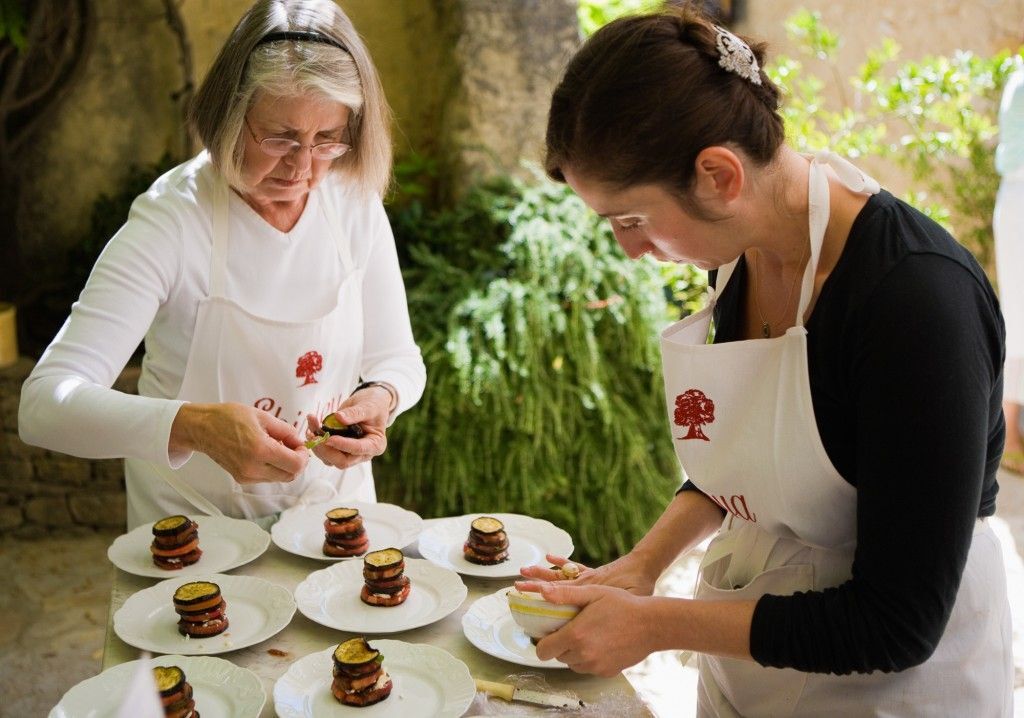 James Beard Foundation Award winner Patricia Wells knows a thing or two about excellent food. If Michelin awarded stars to cooking schools, cookbook writers, and restaurant critics, there would be a galaxy named after Patricia Wells. She is also the author of 15 cookbooks. Since 1996, Patricia and her husband Walter have hosted week-long cooking schools in Provence and Paris. More recently they added black truffle extravaganzas these sessions take place during the heart of winter in Provence. Read more about Patricia Wells' Provencal kitchen here. These Patricia Wells classes in Provence are an intensive program of cooking, eating, sampling, sipping and doing it all over again. Her courses are top-rated. Here is the link for future classes. Note: at time of writing the class 2018 schedule was sold-out.
---
Culinary-Focused Guided Tours
Let someone else take care of the travel and food-related details.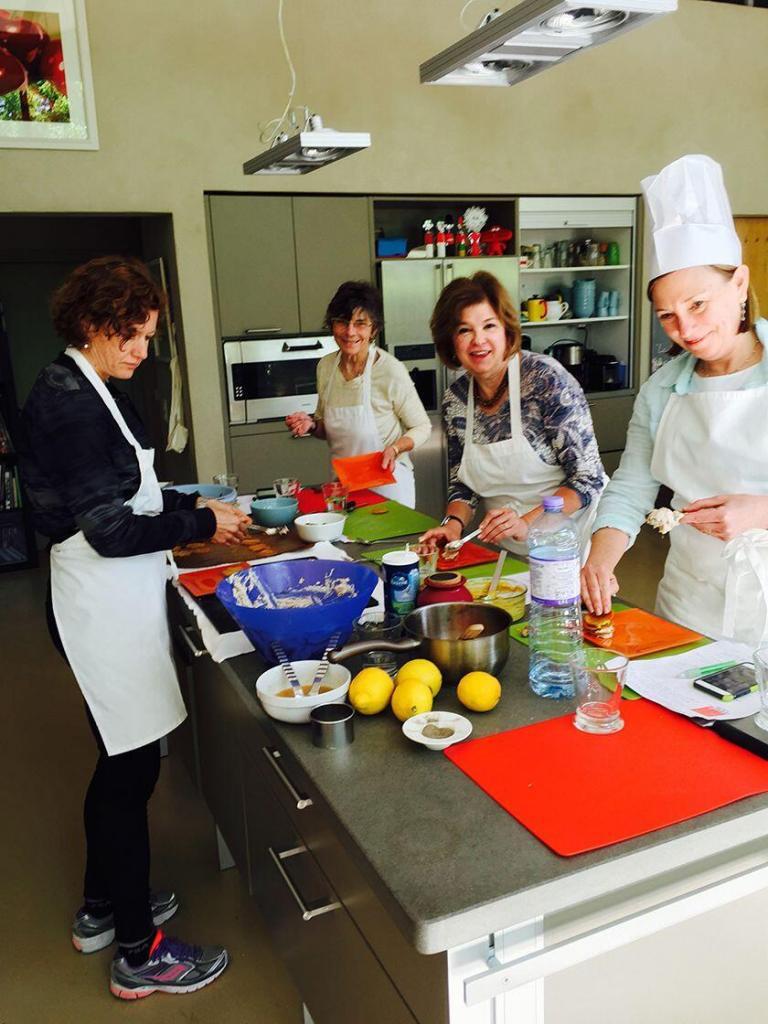 Goût et Voyage is a tour company for small-groups run by Martine Bertin-Peterson, who is a talented cook and food lover.
"Part of the joy of travel is to experience the culture and the food of a foreign country. In France, food is inextricably tied to the culture."
These Provence tours are organised for a maximum of six (6) people, allowing Martine to customise the itinerary to suit specific tastes and interests. Goût et Voyage tours typically run from mid-May through mid-June, a timeframe that Martine feels can deliver perfect Provencal weather and avoids the crush of summer visitors. When you join a Goût et Voyage tour, you can expect a week in Provence with hand-selected accommodation. You will visit some authentic restaurants, cook with local chefs and meet guides who specialise in aspects of the region. No trip to Provence would be complete without a chance to visit the cultural capitals of Avignon and Aix, a look at the perched villages of the Luberon and the wine country of Chateauneuf du Pape. Read more about Martine and her company here.
Goût et Voyage trips website
Email: info@goutetvoyage.com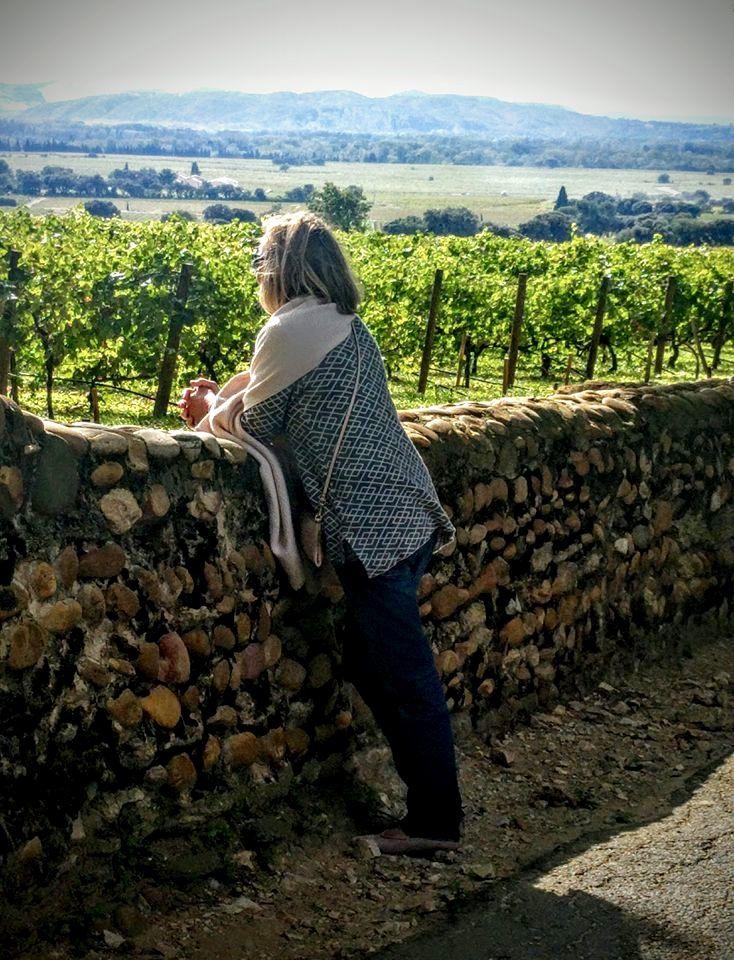 Simply France with Dawn is a boutique travel company that hatched from a trip that Dawn and Scott Slieter took in 1999. This vacation included the couple's first visit to Provence while touring Europe with their mothers. It was during that trip that Dawn says she fell in love Provence, read the backstory here. The inaugural "Simple Pleasures of Provence" tour was in June 2014. These tours designed for small groups (eight (8) maximum) are based out of well-appointed villas that are large enough to provide both comfort and privacy. Dawn and Scott are food and wine aficionados, so their tours are concentrated around culinary experiences.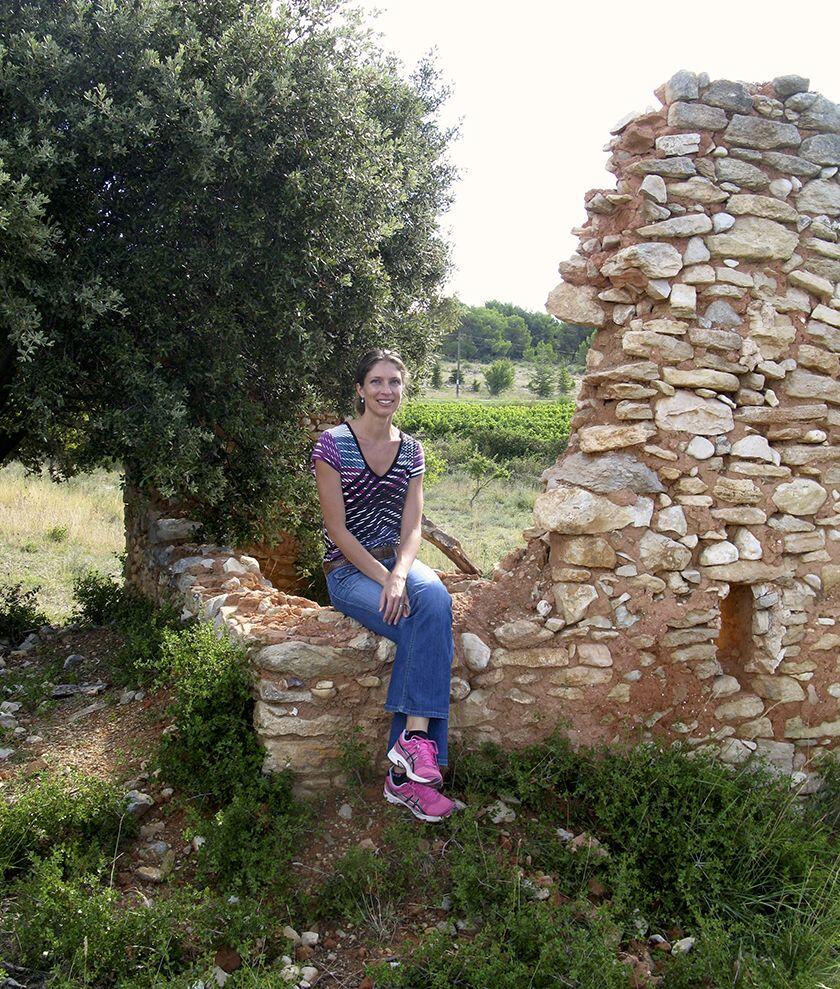 Your Private Provence is a company run by Emily Durand an American who has lived in France for 20+ years. Emily is fully bilingual, has her chauffeur's license in France (no small feat), and she arranges bespoke guided tours in Provence (read more about this accomplished lady here). If you are looking for an exclusive culinary tour in Provence, Emily will create a custom itinerary to uncover the traditional tastes, regional markets and local producers. Or, join a Your Private Provence group tour during grape harvest season and enjoy the flavours of fall in Provence. Indulge your taste buds with the four-day Wine and Truffle experience for a perfect winter getaway for foodies. Explore Your Private Provence culinary tours here.
---
Market Tours and Cooking Classes
Learn some new kitchen skills before lunch.
Aix-en-Provence/Alpilles/Marseille/Nimes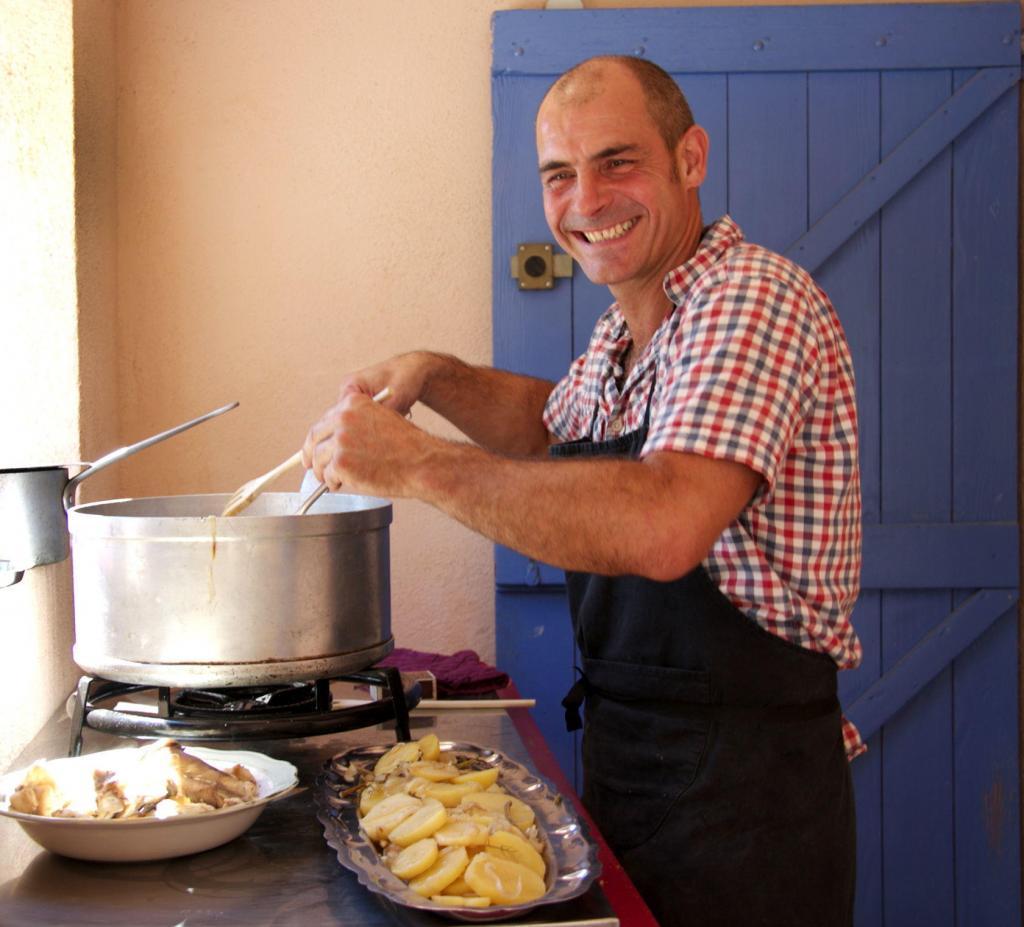 Gilles Conchy says Provencal food and family ties tugged him back to Provence after four years in California. Returning to the South of France with his wife, they set down roots just outside of Aix-en-Provence, where they plant an organic potager (vegetable garden) read more about his story in this post — Bouillabaisse Discovery at Provence Gourmet. Gilles Conchy is known as the Provence Gourmet; he runs regular market tours and cooking classes in Marseille, Aix-en-Provence and the Alpilles. Provence Gourmet classes are hands-on and hands-down fun. You will learn a few new recipes and enjoy a tasty meal at the end. Gilles also provides private customised cooking classes. Explore the Provence Gourmet culinary offerings here.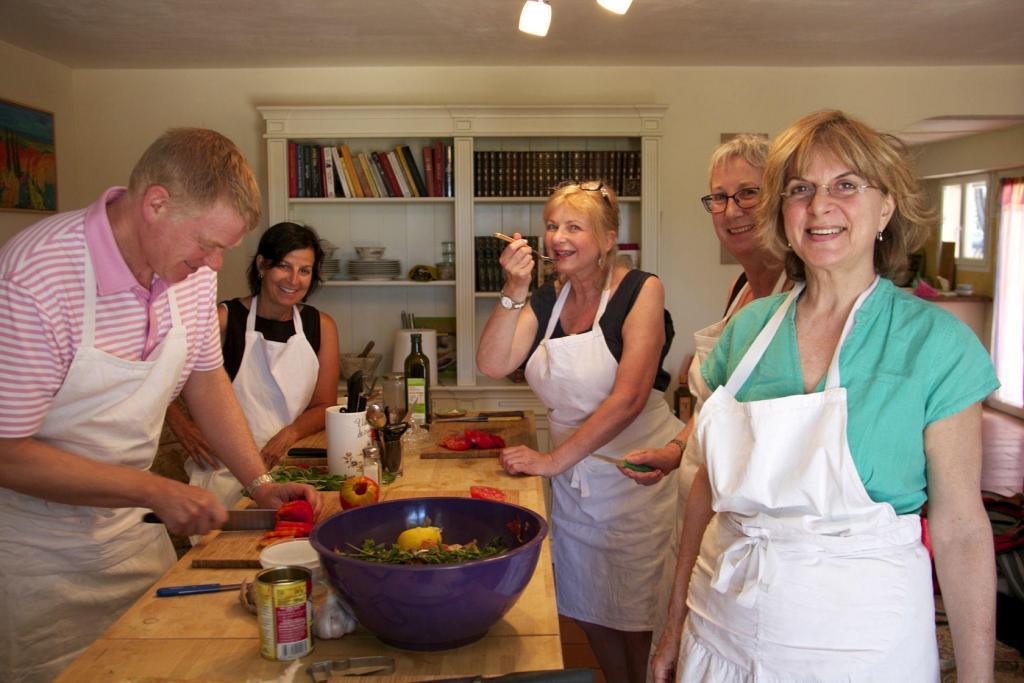 Cavaillon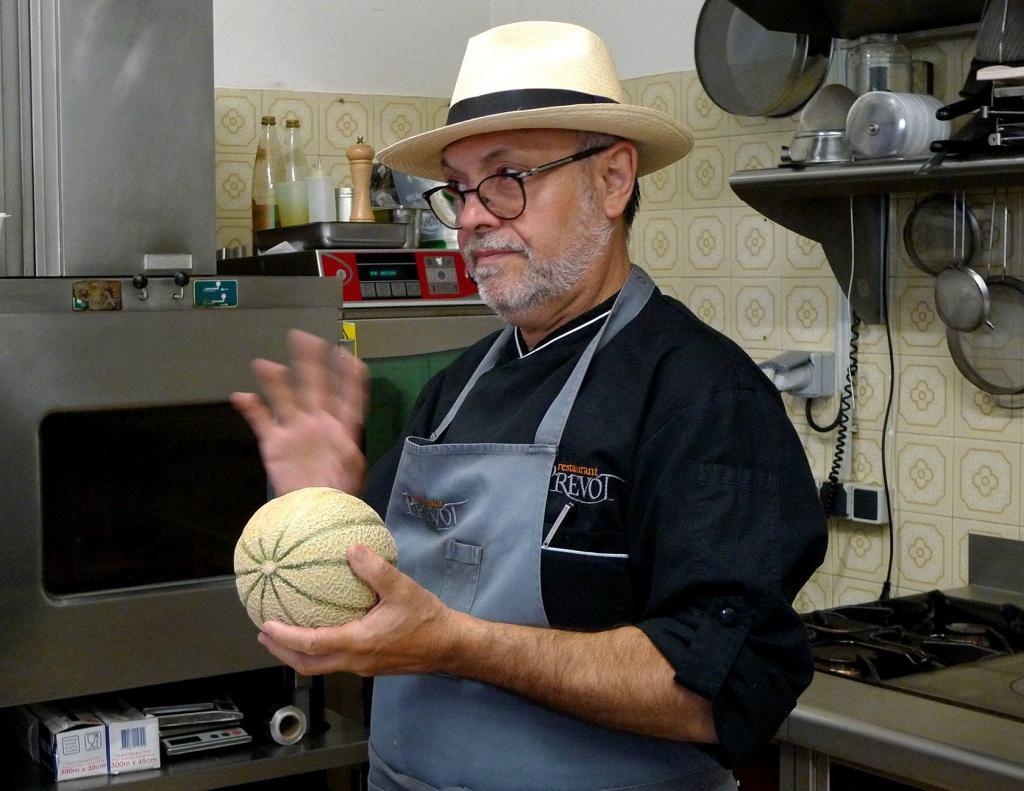 Jean Jacques Prévôt did not plan to stop in Cavaillon, but his car broke down, and he met a lady. The rest one might say is history. More than 35 years ago, he opened a restaurant bearing his name "Prévôt" in a space that had previously been used by a fruit and vegetable merchant. M. Prévôt's restaurant has a well-deserved Michelin star (1997) for its "cuisine d'une grande finesse." We concur that his dishes are almost too beautiful to eat. Join a Saturday morning cooking class (9:15 – 12h) and then sit down to eat the delicious creations with wine pairings by the sommelier Sandra-Rose (his daughter). Read more about M. Prévot and the Cavaillon melon here. Discover this charming chef's secrets during a Prévôt cours de cuisine. Here is the list of upcoming classes. Tel: +33 (0)4 90 71 32 43.
Curcuron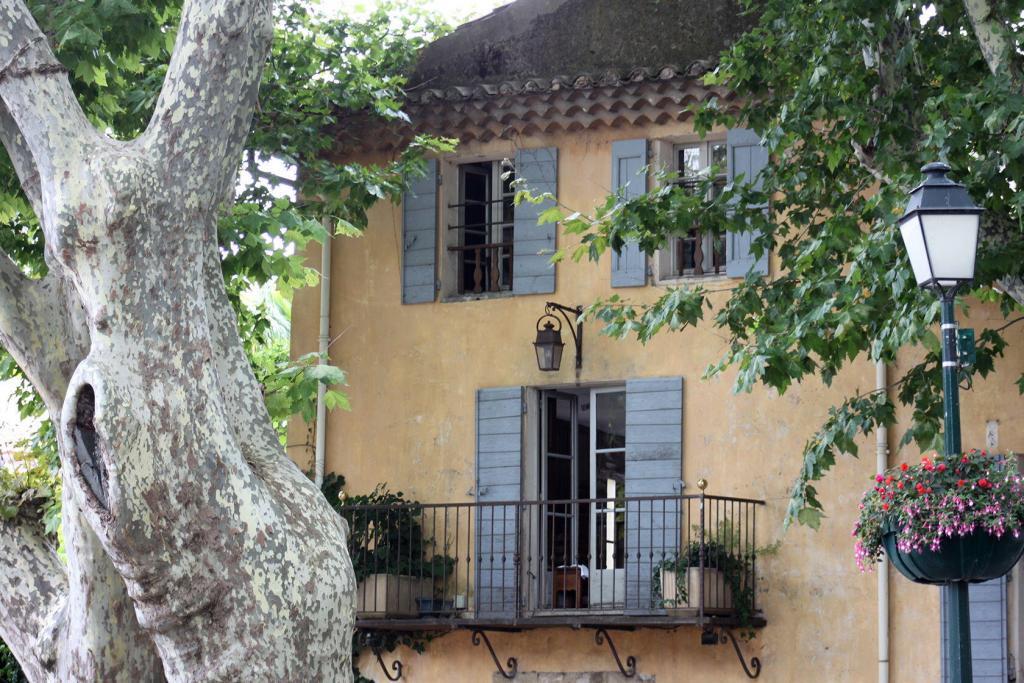 No one should need an excuse to visit the charming Luberon village of Curcuron. The town is distinct, with a large étang (pond) in the centre of its principal plaza. Surrounding the watery focal point are cafés, a few stores, a restaurant with an accomplished chef (Eric Sapet), and a Michelin star restaurant La Petite Maison. Read the Ginger and Nutmeg backstory about this dining room and its culinary master.
La Petite Maison in Cucuron offers a range of fun cooking classes that are finished off with a beautiful meal. Trust us, you will not need to eat dinner afterwards. The classes include roughly 2 1/2 hours of cooking time, where you are expected to put on an apron roll up your sleeves and participate in the prep. The bonus? Your hard work is followed by the opportunity to sample the creative menu over a long, lazy lunch – accompanied by excellent wine pairings. The cooking classes at La Petite Maison are often booked months in advance. Reserve your spot here. Tel: + 33 (0)4 90 68 21 99 Email: info@lapetitemaisondecucuron.com
Goult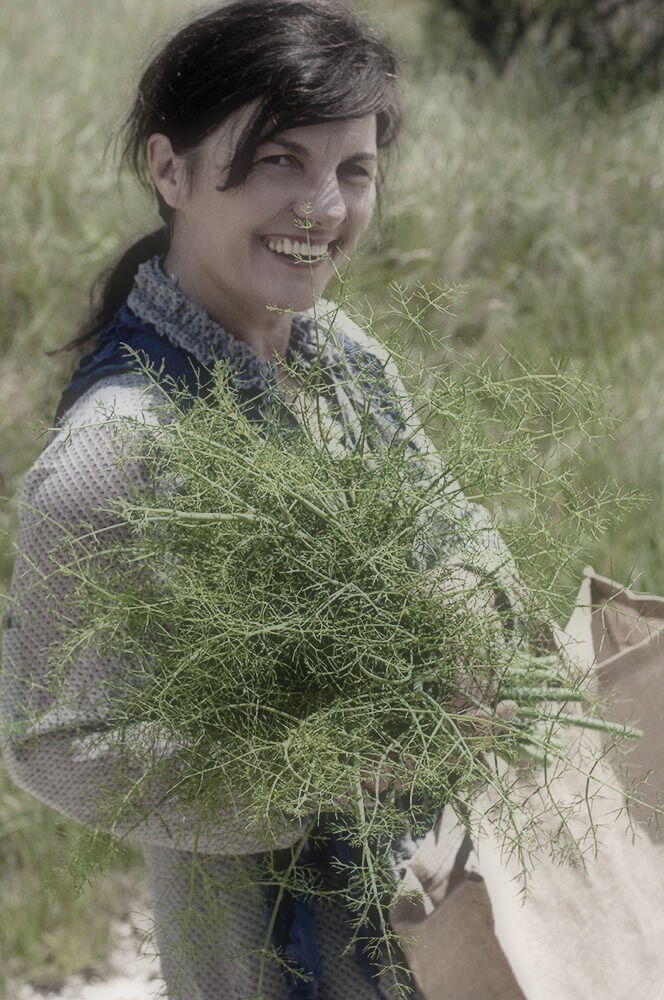 Venise en Provence the flavours of Italy in Provence. Giuseppina Mabilia first started coming to Provence (from Italy) in 2004. The Provencal way of life, Mediterranean cuisine and an invitation to cook for some clients on holidays (in 2007) slowly evolved into the next chapter for Giuseppina a cookery school – Venise en Provence. We asked Giuseppina about her school,
"What makes my school different is I love to discover forgotten recipes both in Provençal and Italian cooking. I create a "fusion" between French and Italian."
Read more about her cooking classes in the village of Goult here and explore her market tours and cooking experiences here. Make a culinary holiday out of your trip and stay in her Bed & Breakfast.
Maubec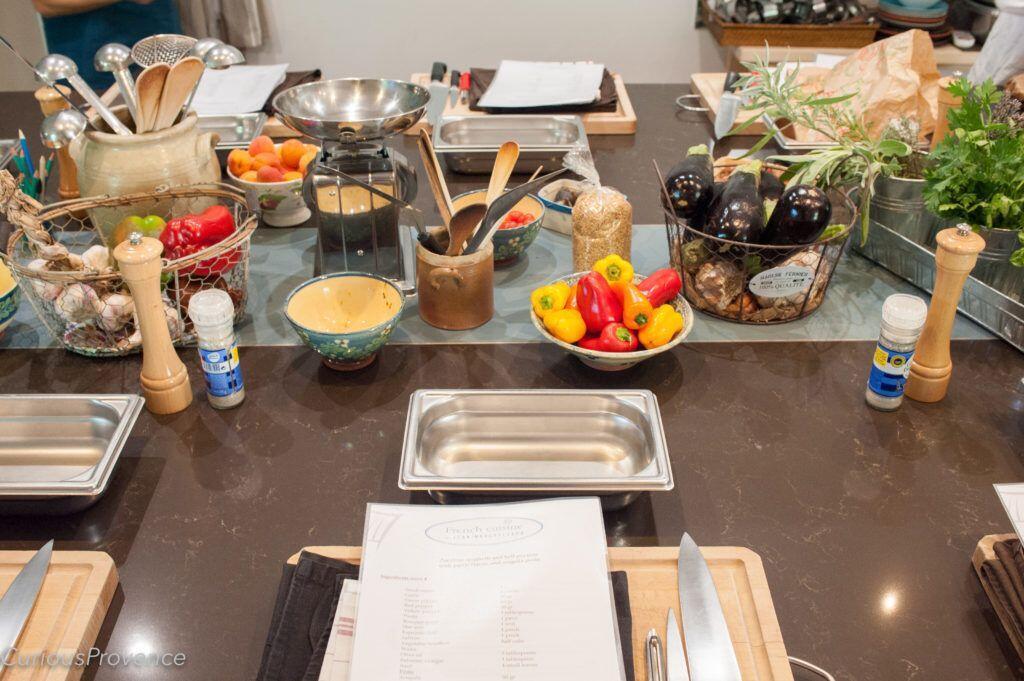 Learn French cuisine techniques at a full-day cooking class with Chef Jean-Marc Villard a post by Ashley at Curious Provence. She attended a one-day cooking class as a guest of the school. Jean-Marc Villard is a classically trained chef who is passionate about French cuisine, sharing culinary techniques and using local ingredients (when practical). His years of work in Lyon the "cradle of French Gastronomy" provided the foundation for his philosophy and approach to cooking and teaching. French Cuisine by Jean-Marc Villard opened its Provencal doors in the spring of 2015 in the small village of Maubec.
Nimes (St Remy and other)
Anne Challier and her twin sister Véronique (Vero) are a team who offer culinary services in the comfort of your home. In 2009, the two sisters combined their skills and warm personalities to offer homemade and healthy food for their clients. They launched Un air de famille (Cuisine à Domicile). The menus are completely flexible based on your tastes, the number in your party, the occasion, and budget.
Uzés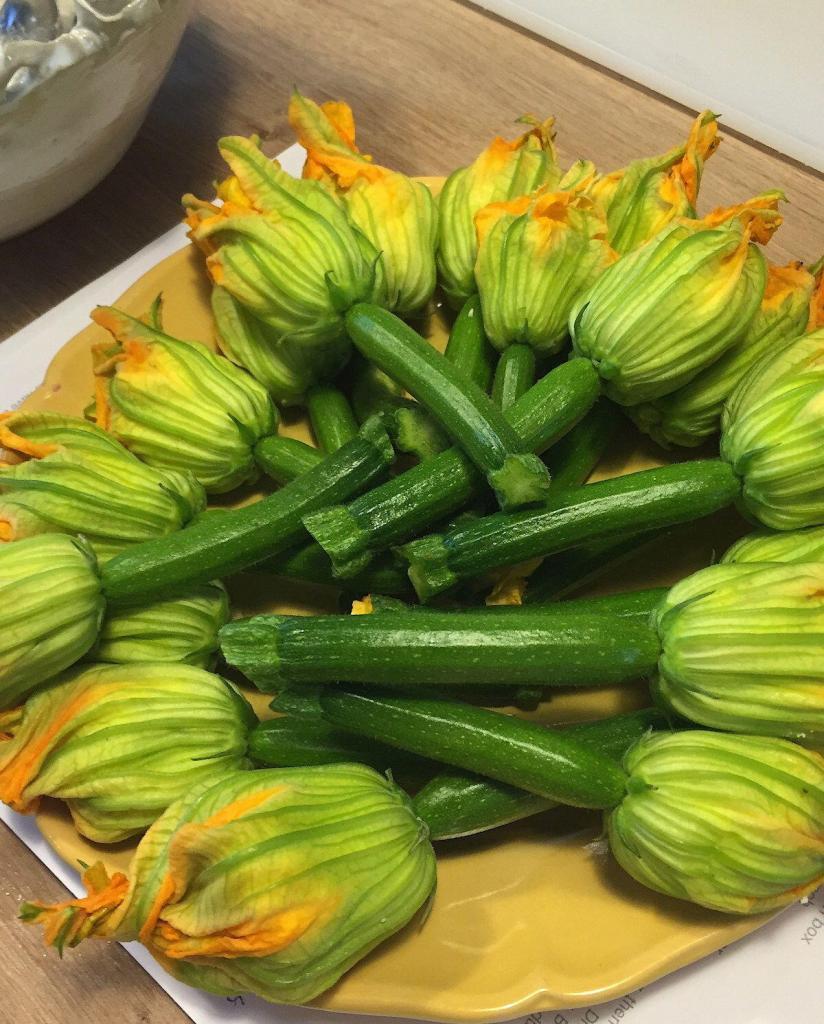 Le Pistou Cooking School founder Petra Carter is a passionate chef. She has cooked for clients in tent camps in the wilds of Tanzania, ran a successful Bed & Breakfast in Narbonne and more recently settled in Uzés where she offers cooking classes on demand (minimum four (4) people). The typical class runs for three (3) hours starting at 9:30 am followed by lunch. Deborah, our Barefoot Blogger, said, "If you're headed for Uzes, and you want to learn to cook Provençal dishes you can easily prepare back home, meet Petra Carter. She's the brains and bubbly personality behind Le Pistou Cooking School." Read the full post here and explore Petra's class offerings here. Tel: +33 (0)7 77 23 41 57.
Vaison la Romaine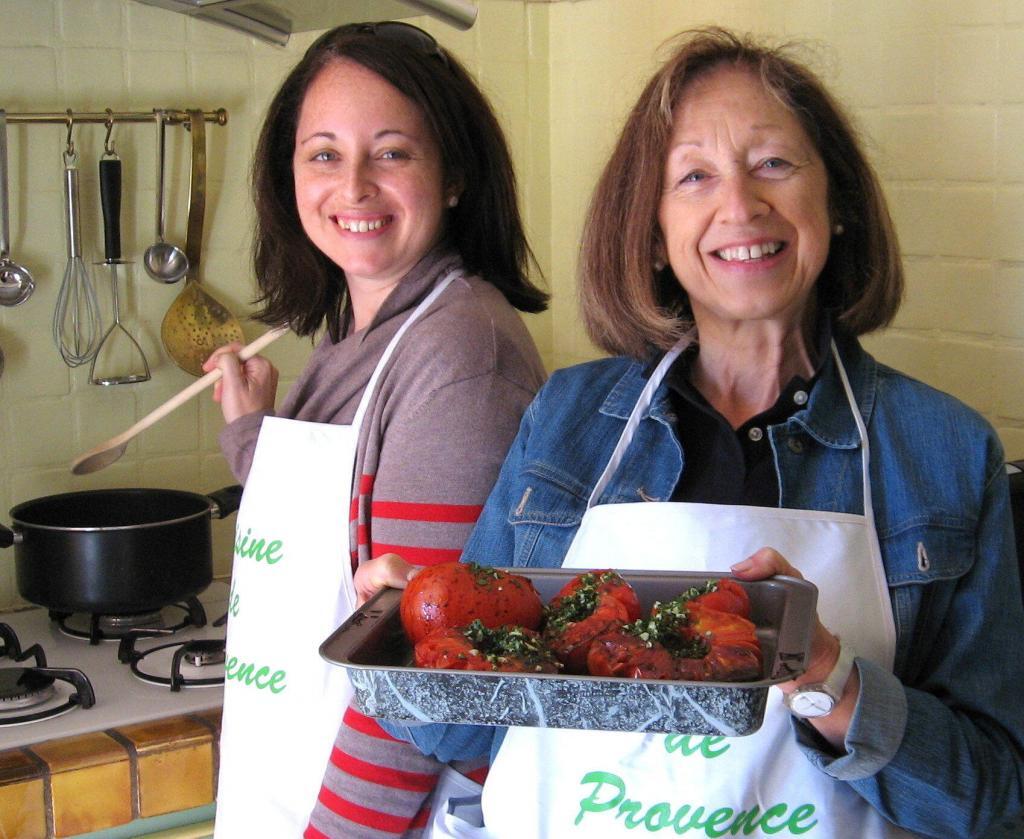 Barbara Schuerenberg says, "I always joke that I learned to cook out of self-defence as our mother was a terrible cook."  Clearly, she was successful in that pursuit as she runs her cooking school Cuisine de Provence (read the full story here) in Vaison la Romaine. These classes start at 9:30 and run until about 14h (including lunch). Cuisine de Provence classes are participative your group will prepare a few traditional Provencal recipes, and then enjoy the results over a relaxed lunch. Barbara is a Perfectly Provence contributor (follow this link for some of her delicious recipes).
---
Quick Cooking Classes and Workshops
Maussane les Alpilles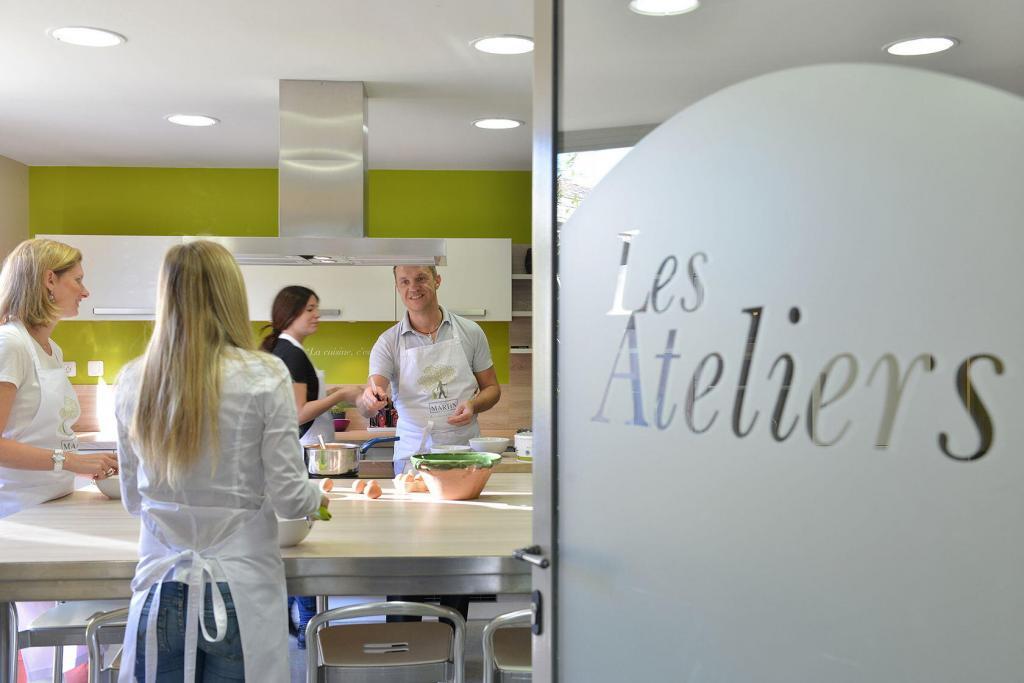 It has been almost 100-years since Jean Martin founded his company in the village of Maussane. In 1920, this town on the southern flank of the Alpilles range had a population of just over 1200 people. When M. Martin senior launched his business of preserving and selling the local olives grown in Les Baux de Provence, Maussane was heavily agriculturally focused. Headquarters for the Jean Martin company remains Maussane. However, the sales funnel stretches far beyond to customers in grocery stores throughout France (80% of the sales are in retail centres). Read about the history of the Jean Martin Company and their healthy products here. Sign-up for one of their cooking classes here. The classes start at 10 am, in 2 1/2 hours, under Yvan Gilardi's (see Toquadom below) guidance the group will prepare three dishes (a full menu) and then enjoy results. Tel: +33 (0)4 90 54 34 63.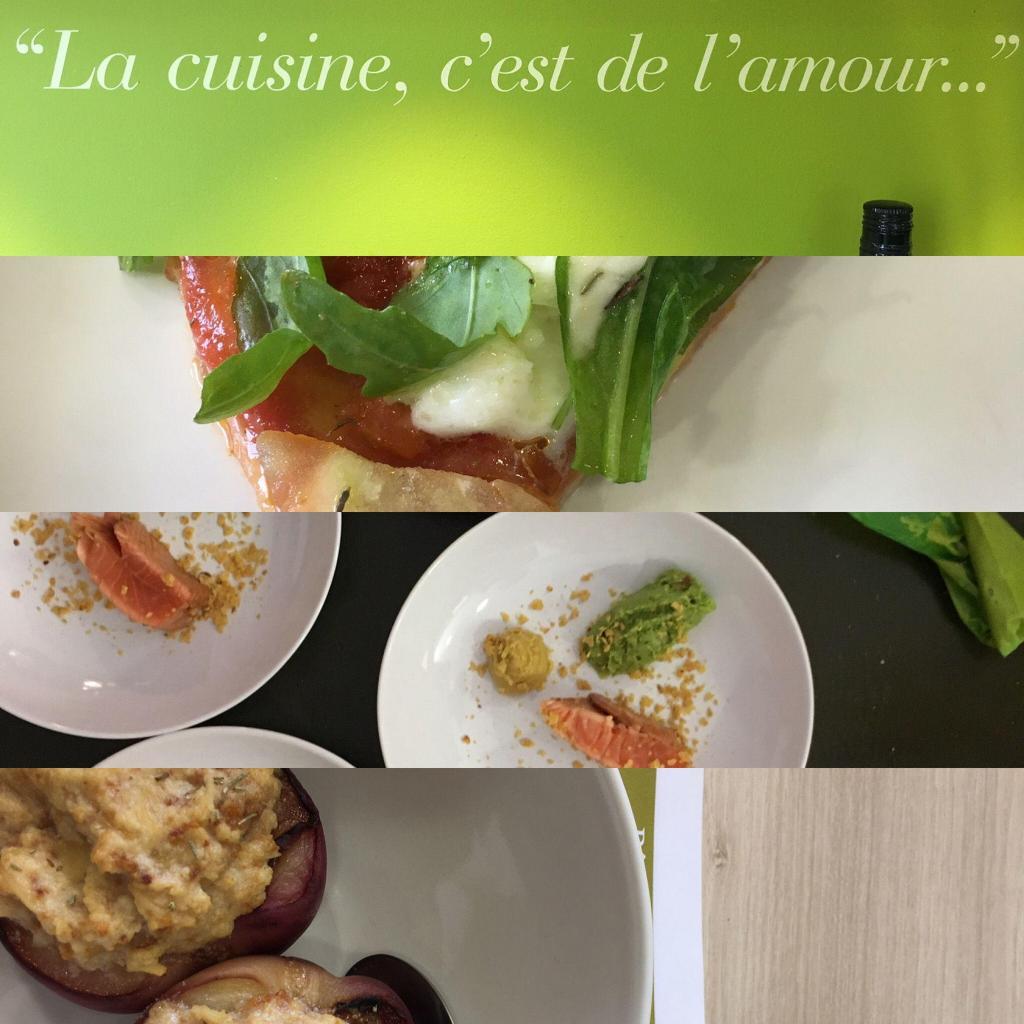 St Remy de Provence
Are you missing a kitchen gadget? Do you need a housewarming present for a friend? Art & Cook is a boutique in St Remy de Provence that offers a wide range of products and small appliances. Adjacent to the store is a bright demonstration kitchen used for short (2-3 hour) cooking workshops. The cours de cuisine at Art & Cook thematic, examples: how to make macarons or the perfecting bûche de Noël (Yule log). Art & Cook also offers classes for kids, or you can book the kitchen for a private session with friends.
---
Let Someone Else do the Cooking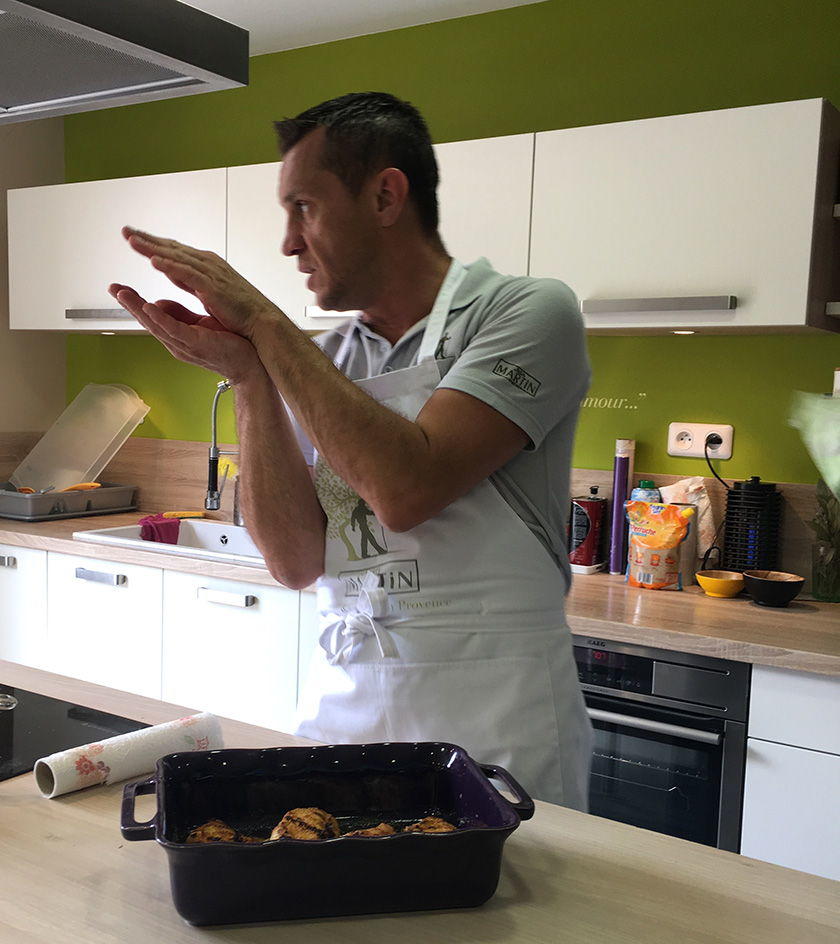 Bring on the chef at home! Toquadom is the name of Yvan Gilardi's chef à domicile (chef-at-home) company. Gilardi appreciation for good food and excellent service started at an early age with an uncle who owned a restaurant. An intensive culinary program followed by work in several restaurants gave Gilardi the confidence to launch his chef-at-home service in 2003. Read his backstory here. Whether you want an intimate dinner with a few friends or a large celebration, Yvan Gilardi delivers excellent quality menus to suit your needs. Contact details and website here.
---
Make the Flavours of Provence at Home
Discover our full "Tastes of Provence" recipe directory.
All rights reserved. Perfectly Provence articles and other content may not be published, broadcast, rewritten (including translations into other languages) or redistributed without written permission. For usage information, please contact us.
Syndication Information
Affiliate Information
As an Amazon Associate, this website earns from qualifying purchases. Some recipes, posts and pages may have affiliate links. If you purchase via these links, we receive a small commission that does not impact your price. Thank you in advance for supporting our work to maintain Perfectly Provence.