Northern Rhone Wines and the Allure of Hermitage
Standing guard with a fabulous view looking south over the Rhône Valley is the magnificent hill of Hermitage, crowned by the famous chapel of St Christopher.
Geologically, the hill was part of the right bank Massif Central until the Rhône River burrowed its way to the west, ensuring Hermitage as the only granitic terroir on the Rhône's left bank. The Romans won a decisive battle against the Gauls here in 121 BC and to celebrate, built a temple to Hercules. No doubt Hermitage's steep slopes with the southerly aspect soon gained a reputation for grape growing and great wines. Invaders destroyed the temple and vineyards at the fall of the Roman Empire. The first chapel of St Christopher was constructed on the hill in the Middle Ages.
The appellation of Hermitage was decreed in 1937, and covers 137 hectares.  Production is about 75% red wine from Syrah (aka Shiraz) and 25% white wine mainly from Marsanne but sometimes with added Roussanne.  Both red and white wines are quite long living. Continue reading here for Neil Allanby's in-depth article on the allure of Hermitage wines from the Northern Rhône Valley.
What should you pair with a Rhône Valley Syrah from Hermitage?  David at Cocoa & Lavender suggests a Steak au Chocolat.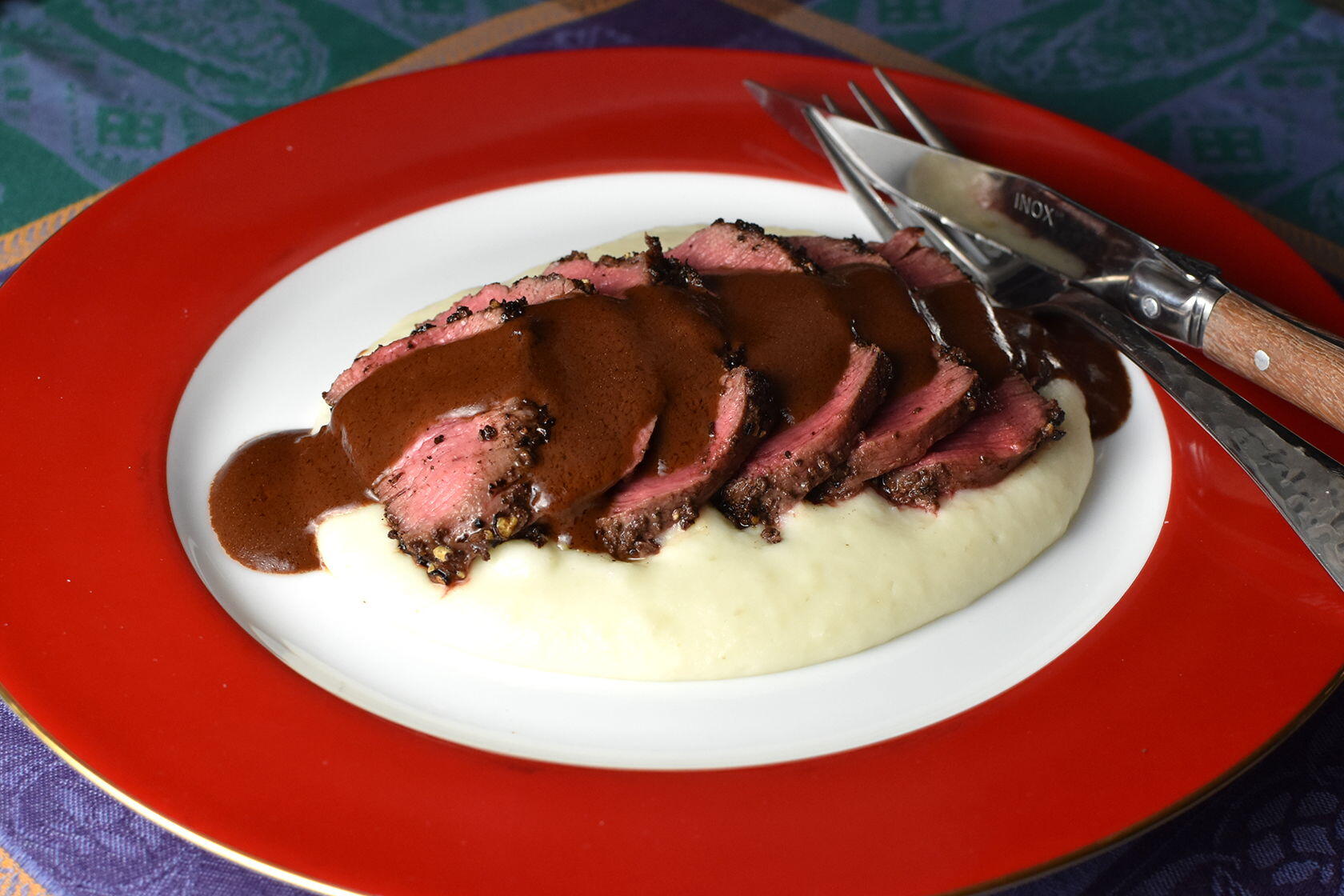 Steak au Chocolat with Sunchoke Purée
This chocolate-based sauce for the steak adds a slightly decadent finish to the grilled meat. The sauce worked well in a pairing with the Hermitage La Petite Chapelle (2012) from Paul Jaboulet-Aîné, a red wine from the Northern Rhône Valley.
Ingredients
For the Sauce:
5

tbsp

Unsalted Butter

divided

2

tbsp

Shallots or Onion

chopped

2

oz (56 g)

Unsweetened chocolate *

100% cacao

1

tbsp

Demiglace Concentrate

1/2

cup (118 ml)

Port or Madeira

1/2

cup (118 ml)

Rosé

1

tsp

Balsamic Crema

or glaze
Steak Coating:
2

tbsp

Black peppercorns

crushed

2

tbsp

Cocoa Powder

1

tsp

Sugar

1

tsp

Salt
For the Purée:
1

tbsp

Salt

1

lb (.45 kg)

Jerusalem Artichokes

2

large

Russet Baking potatoes

3

tbsp

Unsalted Butter

1/2

cup (118 ml)

Cream
Instructions
To Make the Sauce:
Melt 2 tablespoons butter in a 2-quart saucepan.

Add shallots and cook until clear. Break the chocolate into pieces and add to the butter and shallots.

When chocolate is melted, add the demi-glace and stir to combine.

Add the port and rosé, and bring to a simmer.

Add the balsamic crema, stir, and let simmer for about 30 minutes, stirring frequently, until thickened (sauce will continue to thicken as it cools).

Strain into a clean saucepan, add remaining 3 tablespoons butter, stir until melted, and set aside.
Make the Steak Coating:
Place cocoa powder and crushed peppercorns on a plate and add salt and sugar. Mix well with a fork. Press tops and bottoms of the filets into the mixture, leaving sides uncoated. Let sit at room temperature while you prepare the potato-sunchoke purée.
To Prepare the Purée:
Bring a large saucepan of water to a boil.

In the meantime, peel the Jerusalem artichokes, and cut them into 1/2-inch dice.

When the water is boiling, add 1tablespoon salt and the diced Jerusalem artichokes. Cook for 15 minutes.

While the sunchokes are cooking, peel and cut the potato into 1-inch pieces. After the sunchokes have cooked for 15 minutes, add the potatoes to the pot and cook for 20 minutes longer.

Drain, then mash with a potato masher, add butter and cream, then whip using a handheld mixer until smooth. Season to taste, then cover and set aside.
Cook the Steaks:
Place a skillet (large enough to cook the filets uncrowded in a single batch) over medium-high heat. When hot, add the oil. Sear filets - 4 minutes per side for medium-rare. Cover and let rest for 5 minutes.

While the steaks are resting, reheat the sauce and potato-sunchoke purée over medium-low heat. (Most likely, the sauce will have separated a bit - whisk it vigorously to emulsify.)
To Serve:
Place a heaping 1/2 cup of potato-sunchoke purée on each plate. Slice the steaks and arrange atop the purée. Spoon sauce over, and serve immediately.
Notes
* Don't use grocery store unsweetened baker's chocolate - use only the best quality artisanal chocolate. If you can't fine unsweetened chocolate (100% cacao), go for something with as high a cacao content as you can find - 85% works well, too.
Quick Guide to Northern Rhône Wines
The Northern Rhône wines are world-class and often with price tags reflecting that notoriety. Starting in the north vineyards stretch along the west side of the Rhône and starting at Crozes-Hermitage on the other bank. It may be a small geographic area but the steep, terraced vineyards, temperate weather and suitable grapes result in excellent wines. There are eight (8) AOCs/AOPs in descending order:
Côte Rôtie (steepest slopes)
Condrieu (white wines only)
Chateau Grillet (single vineyard)
St Joseph (largest area)
Hermitage (probably the best known)
Crozes-Hermitage (largest production)
Cornas (the smallest)
Saint-Péray (sparkingly and white wines only)
Please share this with friends and family.