Valentine's Day Menu from a Chef's Wife and Wine Pairings
Yeah, I won't lie, there are certainly some perks to being a chef's wife. You get to be the guinea pig for his latest recipe obsession for one. I get to watch him perfect his talents while I indulge in little tastings. And while my wardrobe may not always be as forgiving after years of decadent delights, my taste buds will more thank me over and over again.
People often suppose that because I am married to a chef, I must eat extraordinary meals everyday. It isn't always a gourmet dinner at our house and I do do my share of the cooking, being an avid cook myself, but after almost 14 years together including 10 years of marriage, 10 years after the creation of a French cooking school in Paris and a second one in Uzès two years ago, plus a 3-year old son, I can safely say that (at last), my husband knows my tastes. There are still surprises which is wonderful after knowing each other so intimately and that is ultimately why I stopped shunning Valentine's Day and all the effort that we try to put into it each year.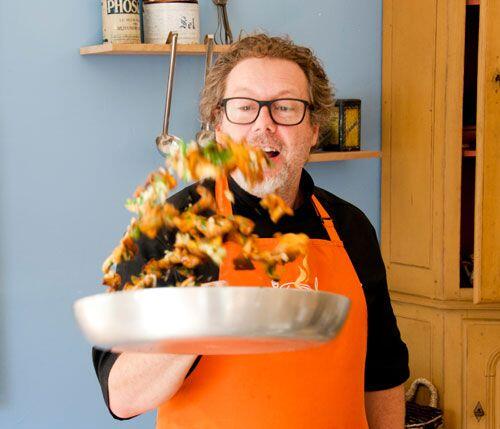 Let's face it, it is easy to become cynical over this pseudo-holiday. Why do we need one day a year to remember to say, I love you. Sure you could have your own anti-valentine's day party but frankly does it hurt to have one more occasion to try to let someone know that you care? Not to mention that some of us need that little alarm on the calendar to remember to do something extra special – you know who you are.
So let's make this event THE event. Something a little special for that special someone. Anyone knowing me would tell you that I love any chance to create an occasion. So when Carolyne asked us if we could offer up an idea for a Valentine's Menu I was more than ready . . . to ask Eric to get to work that is. And we don't do things the easy way. We could have pulled out any old recipe from our database of recipes and handed them in and I'm sure Carolyne and her readers would have been happy. But we thought, here's a chance to try something we haven't before – at the same time helping out a friend and also building on what we have with photos to boot!
It ended up being pre-Valentine, Valentine's Day dinner (lunch really – better lighting), but in our line of work you often have to anticipate these things well ahead of when the general public starts thinking about it. This is the time of year that though classes are fewer, we are still working liking crazy. Refining recipes, doing small renovations and planning the year of cooking (and entertaining). We are pretty much thinking about food from Breakfast to bedtime.
I am particularly pleased with Eric's selection this year – it was delicious and our son also eagerly wanted to take someone photos.
So what do we have on the Valentine's menu?
(click on links below for full recipe details)
Starter: We start with our 1st course, a sole and salmon tresse. elegantly woven strips of fresh fish served with supremed orange and an orange, butter cream sauce.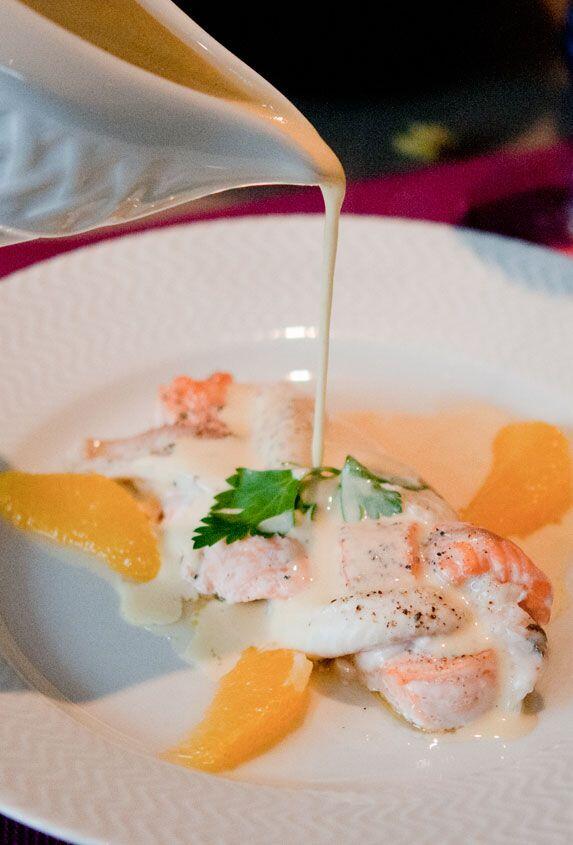 Main: Our second course is the famous beef wellington – a succulent beef tenderloin cooked just right, enrobed in mushrooms and foie gras and then wrapped in pâte feuillitée.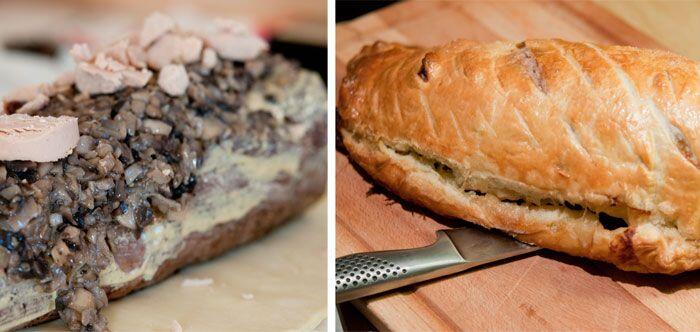 Dessert: And to finish it all off, a chocolate banana charlotte cake – rich, delicious and a perfect way to end a perfect meal.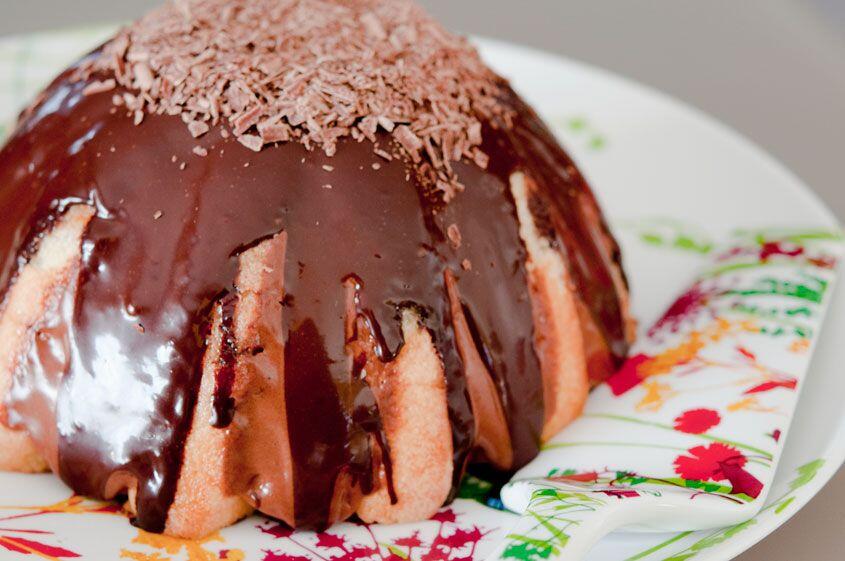 While you mouth is still watering (mine too), think about which special someone you want to share this meal with and have a happy Valentine's Day, we'll see you in class.
And, what to drink with the Valentine's menu?
We have moved a bit beyond Provence in the wine category, but you will not be disappointed.
Wine match for the Sole and Salmon Starter:
Simple and fresh seafood needs a simple and fresh wine but with the beautiful sole and salmon tresse, something you make for a special occasion, take things up a notch from your usual weeknight village Chablis and try a Chablis 1e cru. These wines hail from the more hilly portions of the region with better sun exposure and soil, making for more rich and weighty, yet still un-oaked and fresh Chardonnay. One of my favorites, and a great value for money are the 1e crus from Charly-Nicolle. Many others are available on the export market, so don't think you need to find this exact wine. 
Wine pairing with Beef Wellington:
With this classic dish, I'd opt for a classic wine, such as a Bordeaux. Red Bordeaux goes best with these types of dishes that are simple, yet have rich meaty flavor. The mushrooms also call for a wine with some depth of flavor. We need something easy drinking and supple but with some structure. Something like Franck Phélan, the "second" wine from Phélan-Ségur in St. Estephe. Often the second wines are made from the younger vines of prestigious estates. Mostly merlot with the rest split between cabernet franc and cabernet sauvignon, this delicious red has red fruity flavors complemented with coffee, tobacco and cedar notes from the 14 months the wine has spent in French oak. 
Dessert wines with Chocolate Banana Charlotte:
As with all dessert and wine pairings, the wine needs to be as sweet or sweeter than the dessert you're eating. With the creamy interior of this charlotte, I'd suggest a sweet white, rather than a sweet red. A good pairing would be a Muscat Beaumes de Venise from Domain de Durban, for example. This is a fortified white wine made from the succulent, sweet and fruit muscat grapes. Fortified whites often still have a freshness that can pair with creams and custards.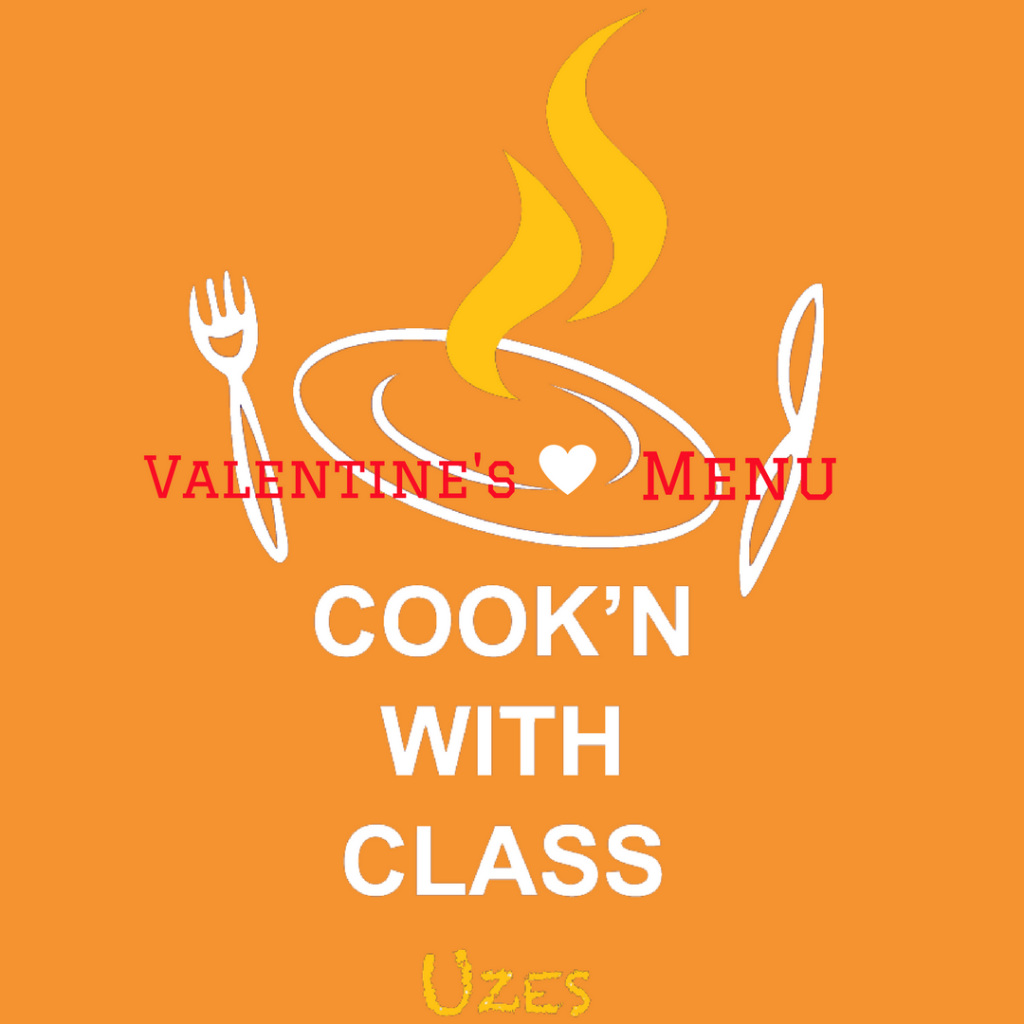 All rights reserved. Perfectly Provence articles and other content may not be published, broadcast, rewritten (including translations into other languages) or redistributed without written permission. For usage information, please contact us.
Syndication Information
Affiliate Information
As an Amazon Associate, this website earns from qualifying purchases. Some recipes, posts and pages may have affiliate links. If you purchase via these links, we receive a small commission that does not impact your price. Thank you in advance for supporting our work to maintain Perfectly Provence.