Make this Molten Chocolate Cake for Your Valentine
You should, of course, celebrate your sweetheart every day, not just on Valentine's. However, if you want to create an occasion out of February 14th, make this molten chocolate cake for that special person. The fondant au chocolat was the conclusion to a delicious Valentine's menu from the Mirabeau Wine kitchen.

Fondant au chocolat
This melting-in-the-middle chocolate cake is such a crowd-pleaser. Steps 1 and 2 can be done a few hours in advance. Then, when you're ready for dessert, take the batter out of the fridge and move to step 3.
Ingredients
140

g

Dark Chocolate

70% cocoa

110

g

Butter

40

g

Double Cream

25

g

Flour

60

g

Corn Starch

50

g

Golden Sugar

4

Eggs

5

g

Butter for greasing

1

tub

Vanilla Ice Cream

the best you can find

20

g

Roasted and crushed hazelnuts
Instructions
Beat the eggs and sugar until the mix becomes light and pale; sieve in the flour and corn-starch and beat again.

Meanwhile, melt the chocolate and butter over a bain-marie and add the cream. Finally, add the chocolate mix to the egg mix and fold until completely incorporated and smooth. At this point, we'd put the mixture in the fridge as it will make it easier to handle for the next stage.

Take two ring moulds (ramekins are just as good) and butter them. When ready to bake, preheat your oven to 180°C (350°F), fill the moulds halfway with the mixture and bake for 6-7 minutes. Remove and serve immediately.
Ramekins:
If using ramekins pop some ice cream on top and serve on a plate.
Ring Mould:
If in a ring mould, carefully remove the mould. Use a pie server to lift your fondant onto a plate and serve next to a scoop of ice cream and garnish with hazelnuts.
Other Chocolate Desserts:
Chocolate Mousse
This easy recipe was adapted from "Around My French Table" by Dorie Greenspan. Enjoy chocolate mousse as the finale for your holiday menu or any time of the year.
Check out this recipe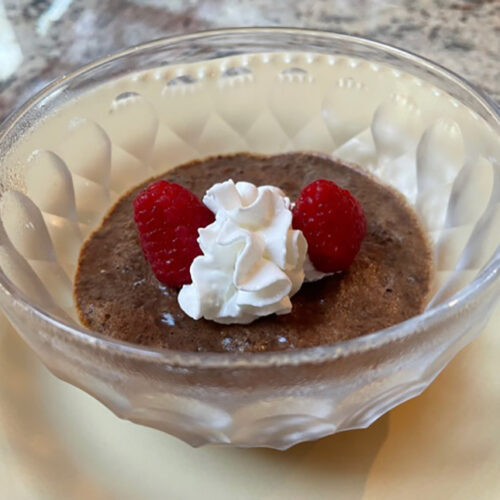 Chocolate and Pear Tarts
These tarts are easy to make and a delicious finish to a fall menu. Make sure to leave enough time to prepare and rest the dough.
Check out this recipe

Warm Chocolate Tart
Learn how to make the perfect warm chocolate tart. It is a simple and decadent dessert with the most amazing creamy texture. It is best served 30 minutes after it comes out of the oven and is still warm.
Check out this recipe

Chocolate Mousse with Cocoa Nib Brittle
This recipe involves two steps, make the brittle in advance and the chocolate mousse takes very little time.
Check out this recipe