Lemongrass Crème Brûlée a Delicious Variation
Chef Liz Thompson and I had lots of fun delivering "Baking with Herbs," an online cooking demonstration. One of the recipes was a twist on the French classic a Lemongrass Crème Brûlée.
In just over an hour, we showed participants how to use fresh herbs and flowers from their garden to infuse sugar, heavy cream and butter to make custards, baked goods, chocolate confections, compound kinds of butter and cocktails syrups! Some of the herbs we used were basil, lavender, rose petals, lemongrass, Tahitian vanilla, and a variety of citrus. These virtual classes are delivered via Zoom and include a package of recipes.

Lemongrass Crème Brûlée
Crème Brûlée is one of the perfect desserts, although there is way too much "mystery" behind it. The unexpected flavour of lemongrass, in this version, shines through very subtly. Once you make crème brûlée for the first time, you will see that it's easy to make. The recipe is from Chef Liz Thompson.
Ingredients
9

oz

Egg Yolks

2 3/4

cups

Heavy Cream*

3/4

cup

Granulated Sugar

1/2

cup

Ground Lemongrass

cut into 1 " pieces**
Instructions
Preheat the oven to 320°F (160°C).

Pour the heavy cream into a high-sided stockpot (heavy cream rises fast when boiled); add lemongrass pieces and bring it to a boil. Turn off heat and let sit for 20 minutes to allow for lemongrass flavour to "infuse" into the heavy cream.

In a separate bowl, whisk the sugar and egg yolks.

Bring the heavy cream back to a boil, turn heat to low. Temper the sugar/egg yolks by adding 1/3 hot, heavy cream at a time very slowly into the sugar/egg mixture and whisk. When all the heavy cream has been added to the sugar/egg yolk mixture, return to the pot and whisk on very low heat for just a minute.***

Strain through a fine-mesh strainer to remove minor egg pieces and lemongrass. Place your ramekins into a "hotel pan" or pan with sides at least 4 inches high to accommodate water around the ramekins.

Place the pan on a sheet pan and into the oven; carefully pour the mixture with a vessel with a spout such as a Pyrex measuring cup into ramekins close to the top of each. Pour water into the pan to the halfway mark around each ramekin.****

Bake for approximately 30 minutes, or until crème brûlée has "set" like custard and does not move when jiggled; do not overcook.

Cool, refrigerate overnight and use the next day.

To finish, sprinkle granulated sugar on top lightly and burn with a propane torch that can be purchased at your local hardware store.
Notes
*When making a crème brûlée with a less "porous" herb than lemongrass that will not soak up the Heavy Cream so much, use 2 1/2 cup Heavy Cream. The chopped lemongrass absorbs a lot of the liquid and must be compensated for.
**Lemongrass can be found at most Asian Markets.
***If you leave the heat on for too long the eggs will "cook," and you will have curdled your crème brûlée!
****This is called a "water bath," if any water gets into the mixture it will not bake properly!
More Delicious, Creamy Desserts
Vanilla Crème Brûlée
Custards are easy to make, but you need to allow enough time for the mixture to cool an set. For this Crème Brûlée version I used a vanilla bean, but feel free to play with the flavourings.
Check out this recipe

Apple Creme Brûlée Tart
There are several steps to creating this dessert, and the dough should rest overnight. The end result is delicious, so don't rush the process. Enjoy the results!
Check out this recipe

Roasted Pears with Crème Anglaise
Serve one to two pear halves per person, adjust the proportions after deciding the serving size. In this case, I used 1/2 pear per person, but it doesn't hurt to make extra.
Check out this recipe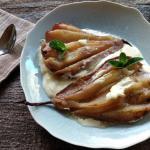 Coeur à la crème au chocolat
This dessert is straightforward to make, but you need to allow for enough time (overnight) for the liquid to drain from the cheese mixture.
Check out this recipe